Vietnam News Today (Dec. 27): Promoting Digital Transformation Seen as 'Vaccine' for Economic Recovery
Vietnam News Today (Dec. 27): Vietnam confirms 15,182 new Covid-19 cases; Chile aspires to cooperate with Vietnam on renewable energy; Promoting digital transformation seen as 'vaccine' for economic recovery; Southern localities make efforts to diversify tourism products in 'new normal'.
Vietnam News Today (Dec. 27) notable headlines
Vietnam confirms 15,182 new Covid-19 cases
Chile aspires to cooperate with Vietnam on renewable energy
Promoting digital transformation seen as 'vaccine' for economic recovery
Southern localities make efforts to diversify tourism products in 'new normal'
Vietnam's exports to EU forecast to grow further in 2022
Domestic travel key to recovering tourism post pandemic: officials
Vietnam has 23 more national treasures
Khanh Hoa welcomes Russian tourists with 'vaccine passports'
Vietnam Airlines Group to offer nearly 2 million tickets for Tet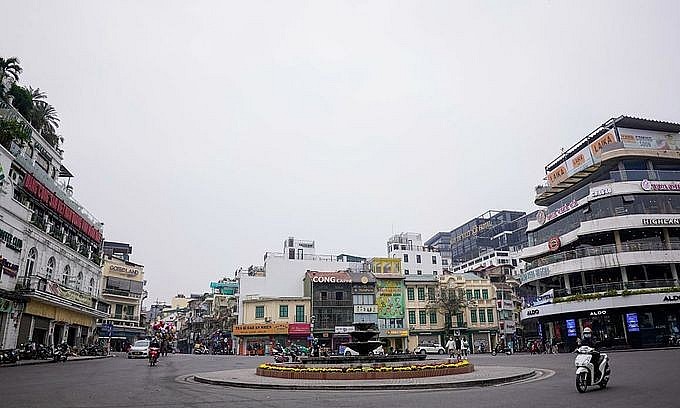 Vietnam confirms 15,182 new Covid-19 cases. Photo: VOV
Vietnam confirms 15,182 new Covid-19 cases
Vietnam reported 15,182 new Covid-19 cases Sunday in 62 cities and provinces, with Hanoi leading the tally for the sixth consecutive day.
The Health Ministry said that Hanoi had 1,910 new cases, followed by the southern provinces of Tay Ninh with 928 and Vinh Long with 889 cases.
Ho Chi Minh City reported 544 new cases, down 341 from the previous day, raising the total number of infections in the southern metropolis in the fourth novel coronavirus wave to 500,057.
The ministry also confirmed 207 Covid deaths Sunday, including 36 in HCMC and 24 in An Giang, pushing the national Covid death toll to 31,214, or 1.9 percent of the total infections, cited VnExpress.
The fourth wave that hit Vietnam late April has until now seen over 1.64 million Covid cases and more than 1.24 million have recovered.
Over 65.9 million people of Vietnam's 96 million population have been vaccinated with two doses, and more than 2.5 million have received the third dose.
Chile aspires to cooperate with Vietnam on renewable energy
Chile, the second country in the world in terms of having most electric vehicles, desires to co-operate with the nation in the field of renewable energy, an area where it is very advanced with wind energy, solar energy, and green hydrogen.
Chilean Ambassador to Vietnam Patricio Becker made the statement during a recent interview given to a VOV reporter to mark the occasion of the 50th anniversary of the establishment of diplomatic relations between the two countries.
Both sides officially established diplomatic relations on March 25, 1971, and Chile became the second country in the Western hemisphere to officially recognize and establish full diplomatic ties with the Democratic Republic of Vietnam, now the Socialist Republic of Vietnam.
Chilean Ambassador Patricio Becker pays a visit to VOV headquarters and meets with VOV President Do Tien Sy. Photo: VOV
Recently, both nations upgraded their relationship to a comprehensive partnership in 2018 as a way of helping to ramp up closer co-operation.
The Vietnam - Chile Free Trade Agreement was signed in 2011 and officially came into force in 2014, a factor which has helped bilateral trading ties enjoy annual growth, with this now being at a very good level despite obstacles caused by the Covid-19 pandemic.
With regard to current co-operative ties between the two nations, the Chilean diplomat stated that the bilateral relationship between is currently experiencing one of its best moments amid both nations celebrating 50 years of diplomatic ties this year. Recent times has seen the two sides sign a range of co-operation agreements, as well as establishing a strategic alliance, according to VOV.
"Unfortunately, it is impossible for us to launch many activities this year due to the impact of the Covid-19 pandemic. We hope that more activities will be held next year in the build up to the 15th anniversary of Vietnam and Chile elevating their relationship to a comprehensive partnership," the Ambassador said.
With regard to efforts aimed at deepening the relationship between the two countries, Ambassador Becker highlighted the free trade agreement between as a contributory factor in helping trade exchanges enjoy annual growth of approximately US$1.6 billion.
Chile remains keen to continue to co-operate and enhance trade exchanges with the Vietnamese side, particularly as it is beneficial for both nations, he added.
"We not only want to ship Chilean agricultural products to Vietnam and vice versa, Vietnam exports a number of items such as mobile phone components, clothing, and shoes to Chile, but we are also keen to expand to other products and other fields.
We know that Vietnam is planning to change the source of energy and is also developing the electric car industry. Chile, as you know, is the second country in the world with the most electric vehicles for the time being. Therefore, we want to cooperate and trade with Vietnam more deeply in other fields such as energy and mining," the Chilean diplomat went on to say.
Concerning the pandemic situation, the Chilean diplomat affirmed the South American nation's readiness to help competent Vietnamese agencies in joint efforts to combat Covid-19.
According to him, experience through exchanges amid the challenging period has can be viewed as an essential pillar in relations between the two countries, especially for maintaining the longstanding friendship.
Promoting digital transformation seen as "vaccine" for economic recovery
Digital transformation can be regarded as a necessary "vaccine" that needs to be increasingly used in order to aid the economic recovery process in the near future to allow it to be faster and more sustainable than expected.
Coming off the back of 2021, a tumultuous year that has seen both bright spots and disruption for the national economy,, agriculture and exports are contributory factors to creating momentum for economic recovery.
It must therefore be affirmed that digital transformation of all types can be viewed as a practical and effective solution to the situation, thereby contributing the most to this joint effort.
Since the end of 2020, the first year affected by the Covid-19 pandemic, the People's Committee of District 3 in Ho Chi Minh City has prioritized the processing of handling documents via an online platform, thus making it possible for all grassroots staff to effectively carry out the process this year.
Dealing with administrative procedures, particularly those based on information technology and in general those relating to digital platforms is part of the digital transformation process for production and business activities.
Livestream-based sales serves as a practical example that affirms the usefulness of digital transformation for trading activities over the past two years, especially during the fourth pandemic wave.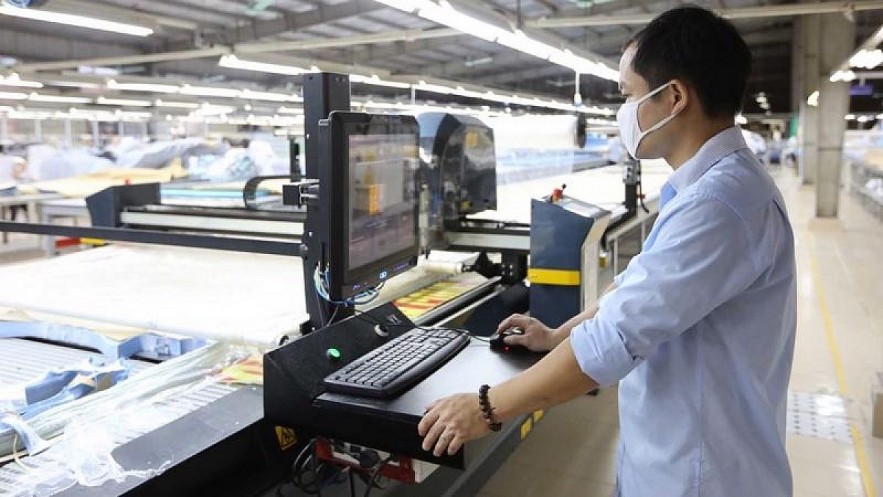 Digital transformation can be seen as a necessary "vaccine" that needs to be increasingly used in order to aid the economic recovery process in the near future. Photo: VOV
This represents a form of product promotion, connecting buying-selling demand, and performing goods transactions based on e-commerce platforms, one of the fields that has significantly contributed to spurring economic growth.
Similarly, digital transformation has made an important and prominent impression on an array of activities in most fields and industries, ranging from central to local levels in various forms such as online diplomacy, online meetings, online export promotion, online education, and remote medical examination.
Nguyen Thi Huong, general director of the General Statistics Office (GSO) under the Ministry of Planning and Investment, said in learning from previous experiences, the Government and localities have remained more active in responding to the pandemic. In areas which are free from the pandemic, normal production and daily life activities can take place without the risk of lockdown as was seen in 2020.
This comes amid Vietnamese businesses becoming increasingly flexible in applying information technology and boosting the use of electronic trading floors, thereby helping to ensure smooth trade exchanges amid the Covid-19 pandemic as a means of boosting economic growth, reported VOV.
Over the past two years, with unpredictable developments being recorded in terms of the fourth pandemic wave, digital transformation activities have been widely conducted in all three aspects as expected by the Government, including digital government, digital society, and the digital economy, Huong said.
A survey conducted by the GSO indicates that, more than 30% out of 152,000 Vietnamese enterprises have invested in technology, especially digital technology, thereby transforming the way they operate production and business activities at different levels. This marks a hugely positive sign, according to economist Dr. Vo Tri Thanh.
Dr. Le Duy Binh, director of the Economica Vietnam Center for Economic Research, believes Covid-19 is a 100-year push for the entire economy to realize the superiority of digital transformation, meaning greater efforts should be made for this process.
Furthermore, digital transformation should be considered as a "vaccine" to support socio-economic recovery and acceleration, especially in the post-pandemic period, he emphasized.
"However, in order to become a country with strong digital industry transformation, difficulties, advantages or catalysts which have impacted the economy during the pandemic in the past time, are initial signs. We still have a lot of work to do," said Dr. Binh.
Southern localities make efforts to diversify tourism products in 'new normal'
The tourism sectors of southern provinces and cities are exerting efforts to reform and diversify products to attract visitors while ensuring safety in the 'new normal', as the 2022 New Year and traditional Tet (Lunar New Year) holidays approach.
Numerous travel companies and tourist destinations have resumed on-the-spot tours and multi-day ones to northwestern and central localities, together with those in Vietnam's southwest coastal areas like Phu Quoc and Ha Tien of the Mekong Delta province of Kien Giang, cited VNA.
A representative of Saigontourist said that it has designed various tourism products to meet demand of customers in different market segments, ranging from programs serving small groups of family members and friends to those of meetings, incentives, conferences and exhibitions (MICE) tourism.
The tourism programs have been carried out in a flexible manner in open space with preventive measures being in place.
In December, more than 1,200 tourists of 14 delegations registered to participate in Saigontourist's MICE tourism programs in Ha Long of the northern province of Quang Ninh; Da Nang and Quy Nhon of Binh Dinh in the central region; and Ben Tre, HCM City and Phu Quoc in the south.
Hop on-hop off bus in HCM City. Photo: VNA
General Director of Vinpearl Nguyen Thu Phuong said the success in welcoming nearly 200 tourists from the Republic of Korea to Phu Quoc in late November helped bolster the hospitality-recreation developer and operator's confidence in rolling out new products for domestic and foreign holiday-makers.
Director of HCM City Department of Tourism Nguyen Thi Anh Hoa said the southern economic hub is home to more than 360 tourist attractions, including top natural and cultural heritage sites in Vietnam and the region.
In addition to existing tourism products favored by tourists, HCM City authorities are working to develop other types, namely culinary tourism, shopping tourism, waterway tourism, eco-tourism and medical tourism to attract visitors in the 'new normal'.
Vietnam's exports to EU forecast to grow further in 2022
Vietnam's goods exports to the European Union (EU) market are expected to get brighter than in 2021 as Vietnamese businesses are better taking advantage of incentives of the EU-Vietnam Free Trade Agreement (EVFTA), according to trade experts.
They also said that after 2 years of the Covid-19 outbreak, both Vietnam and the EU are adapting better and better to the pandemic and speeding up the vaccination of basic and booster shots.
In particular, the Vietnam - EU economic and trade ties with a solid foundation from the EVFTA will enjoy many promising opportunities after the pandemic, thus bringing practical benefits to the business communities of both sides.
Thee EVFTA officially became effective on August 1, 2020, marking an important milestone during 30 years of cooperation and development between the two sides, and opening up a new promising stage for the bilateral comprehensive partnership.
Statistics from the Vietnam Customs show the trade turnover between Vietnam and the EU reached US$51.3 billion in the first 11 months of 2021, up 13.8 percent over the same period of 2020; of which exports hit US$35.96 billion, up 12.6 percent and imports US$15.34 billion, up 16.6 percent. In particular, Vietnam enjoyed a trade surplus of US$20.6 billion, up 9.8 percent compared to the same period last year, VNA reported.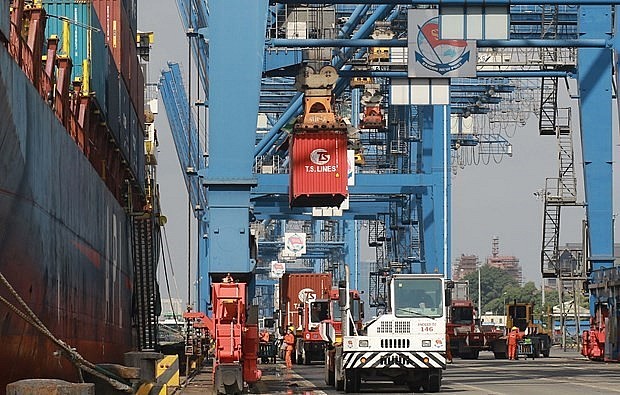 Trade turnover between Vietnam and the EU reaches US$51.3 billion in the first 11 months of 2021. Photo: VNA
According to trade experts, in the context that the Covid-19 pandemic has negatively affected all trade and investment activities of the world as well as Vietnam, the implementation of the EVFTA is of significance to help offset the economic downturn and bring more diversified market opportunities for businesses and create post-pandemic growth momentum.
This is also an opportunity for businesses to join new supply chains to replace the traditional ones that have been interrupted or stalled due to the long-lasting pandemic.
At present, the EU is the world's second largest import market in 2020. Meanwhile, the market share of Vietnamese exports in the EU is only about 2 percent, and the import and export structure of Vietnam and the EU is also mostly complementary and not directly competitive.
Therefore, room for Vietnam's exports to the EU remains large in the coming time, when the EU economy recovers and grows again and its demand for import of goods increases.