Vietnam News Today (December 25): Vietnam Targets Five Million Foreign Visitors Next Year
Vietnam News Today (December 25): Vietnam reports 16,142 more domestic Covid-19 cases; Vietnam tightens immigration control over Omicron; Vietnam targets five million foreign visitors next year; Impressive reversal seen in import-export activities in 2021.
Vietnam News Today (December 25) notable headlines
Vietnam reports 16,142 more domestic Covid-19 cases
Vietnam tightens immigration control over Omicron
Vietnam targets five million foreign visitors next year
Impressive reversal seen in import-export activities in 2021
National team ends year among top 100 of FIFA rankings
Domestic investors help to create records in securities market
Fishery exports projected to near US$8.9 billion this year
Short-stay visitors not subject to quarantine but must follow anti-pandemic measures: MoH
Vietnam eyes raising average floor area per person to 27 sq.m by 2025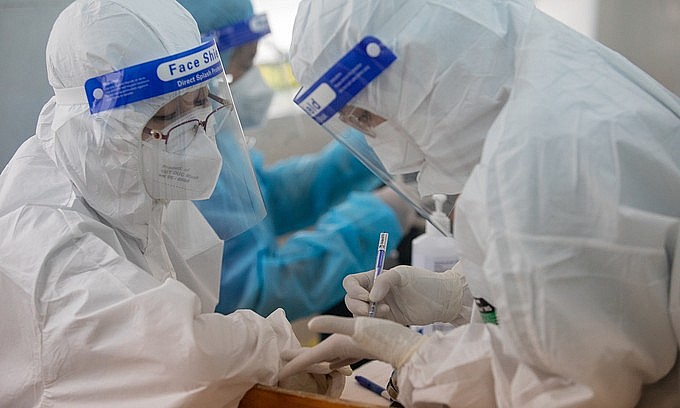 Health workers perform Covid-19 vaccination in HCMC's District 1, October 27, 2021. Photo: VnExpress
Vietnam reports 16,142 more domestic Covid-19 cases
Vietnam confirmed 16,142 local Covid-19 cases Friday in 62 cities and provinces, and Hanoi continued to lead the tally, the Health Ministry data showed.
Hanoi recorded 1,834 cases, followed by the southern province of Ca Mau with 1,334 cases and HCMC's neighboring province of Tay Ninh, with 948 cases.
HCMC recorded 679 cases.
The ministry confirmed 235 more Covid-19 deaths, including 44 in HCMC and 20 in Dong Nai, raising the national death toll to 30,766, or 1.9 percent of the total infections, cited VnExpress.
The fourth wave that hit Vietnam in late April has until now been responsible for over 1.61 million cases. Of them, more than 1.21 million have recovered.
Over 64.8 million people of the nation's 96-million population have been vaccinated with two doses, and more than 2 million have received the third dose.
Vietnam tightens immigration control over Omicron
The government has requested heightened immigration control for those who have traveled through regions where the Omicron variant was detected.
The Government Office on Thursday cited the decision by Prime Minister Pham Minh Chinh, adding the Ministry of Health, Ministry of Transport, Ministry of Public Security, Ministry of National Defense and Ministry of Foreign Affairs need to bolster immigration management through all routes, to perform quick Covid-19 tests on air passengers and perform gene sequencing to detect the Omicron variant, according to VnExpress.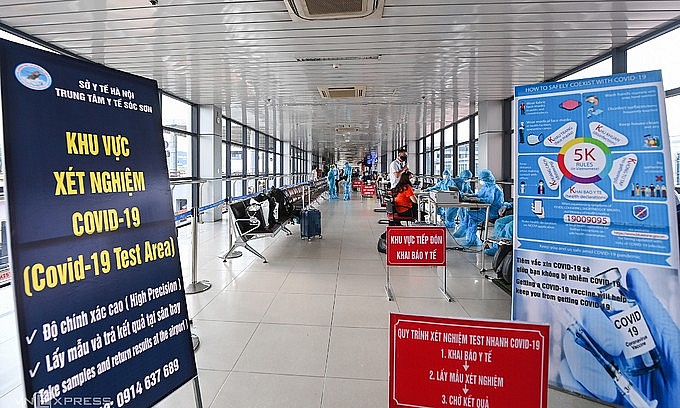 A Covid-19 testing area at Hanoi's Noi Bai Airport, July 2021. Photo: VnExpress
Chairpersons of city/provincial People's Committees need to hasten Covid-19 vaccination, with all adults eligible for vaccination to receive their second shots by the end of 2021, all children aged 12 and above their second shots within January 2022, and all adults their third shots within the first quarter of 2022.
Vietnam is expected to resume commercial flights to certain international markets with high coronavirus safety starting Jan. 1, 2022. All entrants (except children below two) must test negative for the coronavirus within the last 72 hours. Those who have either been fully vaccinated or recovered from Covid-19 would undergo three-day home quarantine, while those who don't enter seven-day home quarantine.
Vietnam targets five million foreign visitors next year
The Vietnamese tourism sector aims to welcome five million international visitors and 60 million domestic tourists in 2022.
The past decade has seen the country welcome 3.7 million and 5.04 million foreign travelers in 2009 and 2010, respectively. The local tourism sector enjoyed impressive results after the arrival of a record 18 million international tourists in 2019. However, the ongoing Covid-19 pandemic is seen as a big hurdle for the sector to reach the target set for next year.
Since the country reopened to international tourism last month, approximately 3,500 foreign visitors have arrived in the nation. According to Vietnam National Administration of Tourism (VNAT), the country will continue to attract international arrivals from the Republic of Korea, Russia, Uzbekistan, Kazakhstan, Thailand, and India in January, 2022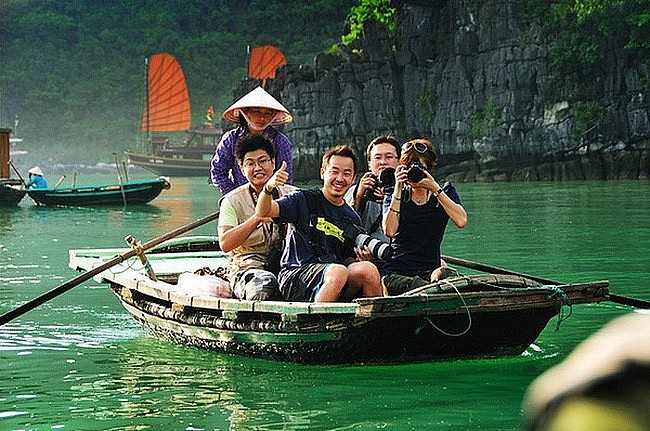 Photo: VIR
Nguyen Trung Khanh, VNAT director general said that the Ministry of Culture, Sports and Tourism has asked the Government to resume the visa exemption period of less than 15 days for visitors from designated markets.
It also suggested the Government permit travel operators to welcome the return of foreign tourists via regular commercial flights, by sea or land, and allow the south central coastal province of Binh Dinh and Ho Chi Minh City to welcome back foreign tourists in the second phase of the vaccine passport program that started from December 15, reported VOV.
Furthermore, outbound tourism activities must also be restored as a means of promoting inbound tourism.
Currently, fully-vaccinated foreign arrivals recording negative Covid-19 test results will only be subject to home isolation or in their places of residence for three days upon entry by air, according to the latest guidance provided by the Ministry of Health and issued on December 16.
The latest regulations will be effective from January 1, 2022, the day the country is set to resume regular international flights on a pilot basis.
In line with the guidance, the arrivals must have proof of negative Covid-19 test results, using the gold-standard PCR method, within 72 hours prior to entry, except in the case of children under two years old. In addition, they must ensure health declaration before entry by using Vietnam's PC-COVID app.
Impressive reversal seen in import-export activities in 2021
Despite Covid-19 impacts, Vietnam has seen an impressive reversal in import-export activities in the last months of the year, securing trade surplus for the sixth consecutive year.
According to Deputy Minister of Industry and Trade Tran Quoc Khanh, 2021 was a tough year for businesses due to Covid-19 impacts.
However, thanks to the drastic direction from the Government as well as efforts from ministries, sectors, localities and businesses, Vietnam has not only reversed the export situation but also made a new record in revenue, he said.
This year, total import-export revenue is estimated at about 660.1 billion USD, up 21 percent year on year, including US$331.1 billion of exports, a rise of 17.2 percent over 2020, resulting in a trade surplus of about US$2.1 billion, a year on year increase of 0.64 percent, cited VNA.
Vice Director of the Import-Export Agency under the Ministry of Industry and Trade Tran Thanh Hai said that previously, agro-fisheries products played the core role in export growth, but this year, they were replaced by processed products.
Domestic firms have made big investment in manufacturing-processing and focused more on producing products with high added value and high brainpower and technology contents, he said.
Along with the increased diversity in export products that meet the market demands, Vietnamese firms have optimized free trade agreements (FTA), especially new generation FTAs, to promote exports, he noted.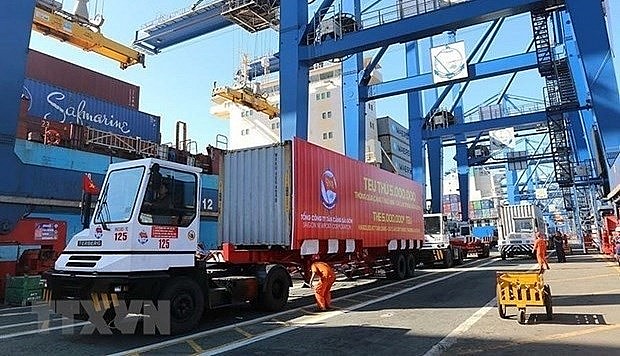 This year, total import-export revenue is estimated at about US$660.1 billion, up 21 percent year on year, including US$331.1 billion of exports. Photo: VNA
According to economist Can Van Luc, thanks to the recovery of major trade partners such as the US, China, the EU and ASEAN, in 2022, import-export revenue growth may reach 13-15 percent.
Meanwhile, Andrew Jeffries, Asian Development Bank (ADB)'s Country Director in Vietnam predicted that next year, Asian countries, including Vietnam, will see strong export recovery.
He underlined that 15 new generation FTAs such as the Comprehensive and Progressive Agreement for Trans-Pacific Partnership (CPTPP) and EU-Vietnam FTA will be a leverage for Vietnam to promote trade with many large markets.
Many experts have also shown optimism about Vietnam's exports in 2022 thanks to the global trade recovery, the effectiveness of the Regional Comprehensive Economic Partnership (RCEP) and reduced logistics cost.
They asserted that Vietnam will maintain high growth in exports, which will be the major motivation for the country's economic development in 2022.
Truong Van Cam, Vice President of the Vietnam Textile and Apparel Association (VITAS) said that the association has built three scenarios for the sector's exports in 2022. In the most optimistic one, the industry may bring home US$42.5-43.5 billion in export revenue.
According to Minister of Industry and Trade Nguyen Hong Dien, the ministry will continue to support businesses by working to expand export market, effectively implementing FTAs, updating businesses on market developments and strengthening trade promotion activities.
National team ends year among top 100 of FIFA rankings
The Vietnamese national team concluded the year in 98th place in the FIFA rankings, a total of 17 spots higher than regional rivals Thailand, according to the global rankings released by football's governing body FIFA on December 23.
Vietnam was the only Southeast Asian representative among the top 100 teams in the FIFA rankings. This comes after they added 3.32 points to their total of 1,212.54 and climbed from 99th in November to 98th position in December, VOV reported.
In terms of Southeast Asia, Thailand gained 7.53 points to jump three places to 115th in the world, the region's second team behind Vietnam.
Photo: VOV
Elsewhere, the Philippines are down at 128th in the world, followed by Myanmar in 152nd, and Malaysia down at 154th.
In terms of Asia as a whole, Iran remained the continent's leading team at 21st place in the globe, followed by Japan in 26th, the Republic of Korea in 33rd, Australia in 35th, and Qatar in 48th.
The five countries at the top of the latest FIFA rankings include Belgium, Brazil, France, England, and Argentina.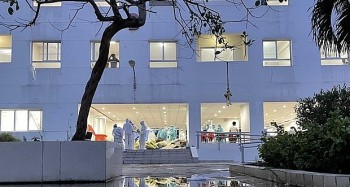 National
Vietnam News Today (Aug. 16): More than 251 million doses of Covid-19 vaccines administered in Vietnam; HCM City ready to reactivate Covid-19 treatment hospitals; Vietnam Airlines opens ticket sales for upcoming Tet Holiday; Demand for logistics real estate increases sharply: Savills Vietnam.