Vietnam News Today (December 13): Vietnam Sees Boom in E-wallet Market
Vietnam News Today (December 13): Vietnam records 14,621 new domestic Covid cases; Vietnam, Laos hold first border defense friendship exchange; Vietnam sees boom in e-wallet market; Short food supply chain model set for success in Vietnam.
Vietnam News Today (December 13) notable headlines
Vietnam records 14,621 new domestic Covid cases
Vietnam, Laos hold first border defense friendship exchange
Vietnam sees boom in e-wallet market
Short food supply chain model set for success in Vietnam
Vietnamese student wins first prize at French Olympiad
NA Chairman's visits to RoK, India to promote Vietnam's multilateral diplomacy
New mindset needed in agricultural production
Winners of Make in Vietnam Digital Technology Product 2021 Awards announced
Local film "Maika" to attend 2022 Sundance Film Festival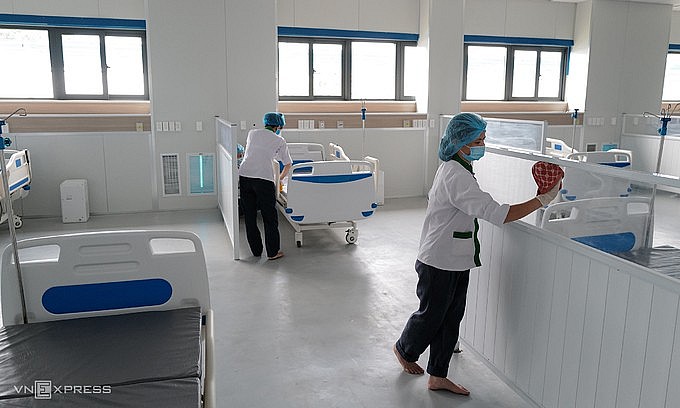 Photo: VnExpress
Vietnam records 14,621 new domestic Covid cases
The Health Ministry announced another 14,621 local Covid-19 cases in 58 cities and provinces Tuesday, with Hanoi recording the highest daily infection tally ever.
Of the patients confirmed Tuesday, the most are in HCMC, at 1,216, followed by Hanoi with 980, marking the highest daily tally ever for the capital city, and HCMC's neighboring province of Tay Ninh with 920.
The ministry announced 228 more Covid-19 deaths Tuesday, including 78 in HCMC and 23 in its neighbor Binh Duong Province, raising the nation's total death toll since the pandemic began to 27,839, or 2 percent of the total infections, cited VnExpress.
So far in the fourth wave that hit Vietnam in late April, more than 1.4 million cases have been detected and over one million have recovered.
The country has fully vaccinated 57.4 million people with two doses.
Vietnam, Laos hold first border defense friendship exchange
The first Vietnam-Laos border defense friendship exchange was held on December 12 in Huong Hoa district, Quang Tri province of Vietnam and Sepon district, Savannakhet province of Laos.
Prominent figures in attendance at the event were Vietnamese Minister of National Defense Gen. Phan Van Giang and his Lao counterpart Chansamone Chanyalath.
Within the framework of the first friendship exchange, a wide range of major activities are launched such as saluting sovereignty milestones, planting souvenir trees, conducting joint patrols of both nations' border guards, and offering gifts to Lao and Vietnamese students.
During the meeting, the two defense ministers appreciated the results of the 2nd Defense Policy Dialogue, affirming that this is an important mechanism to unify a common perception on regional security issues of shared concern.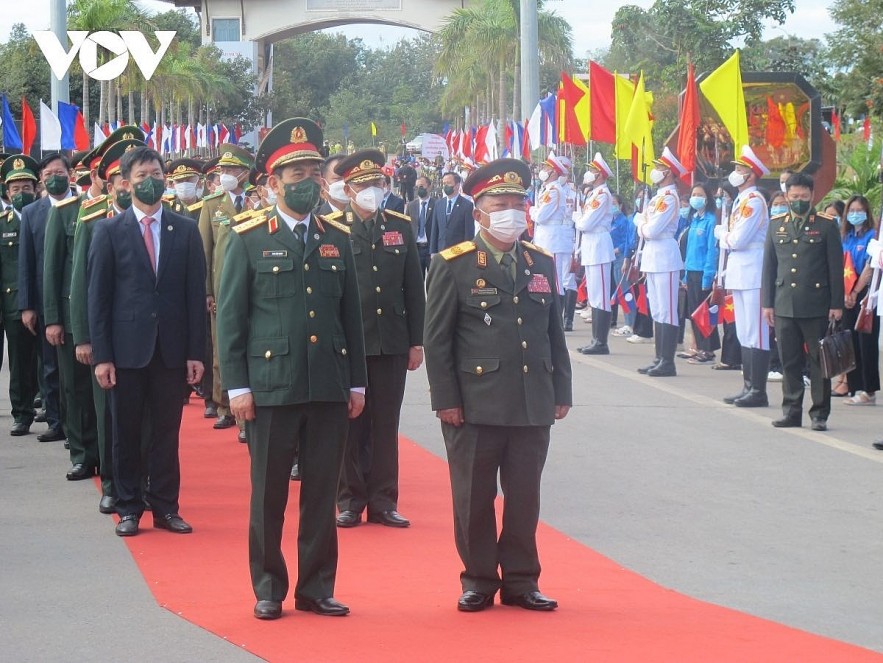 A welcoming ceremony for the two Defense Ministers of Vietnam and Laos Photo: VOV
Despite suffering the complicated developments of the Covid-19 pandemic, defense cooperation between the two countries has been effectively deployed and achieved positive outcomes.
Minister of National Defense Gen. Phan Van Giang emphasized Vietnam's readiness to share difficulties that Laos is facing in the fight against Covid-19. In its capacity, the Ministry of National Defense of Vietnam is ready to support Laos both in terms of manpower and resources on request.
Immediately after the meeting, the two ministers signed a number of important documents to further step up bilateral defense cooperation and cooperation between border guards of the two countries in the coming time, according to VOV.
The organization of the first Vietnam-Laos border defense friendship exchange comes from the direction of the two Parties and States on building a Vietnam-Laos borderline of peace, friendship and stability and cooperation for common development.
The exchange program is also part of the defense diplomacy activities launched by the two defense ministries in 2021.
Vietnam sees boom in e-wallet market
Vietnam records one of the highest e-payment growth rates in the world, about 35% per year.
The electronic wallet, in particular, represents a modern, convenient payment option.
"I think I'm addicted to using e-wallets of various kinds, which I find very convenient. Each type has its own advantages. I use MoMo, for example, to buy phone cards because the app offers lots of discounts and allows money to be transferred easily from one phone number to another. Using an e-wallet is very beneficial for small transactions if you know how to use it properly," said Nguyen Viet Anh, one of the many urban young people who are familiar with e-wallets.
She conducts almost all her financial transactions - purchasing goods in a store or online, booking travel tickets, and paying utility bills – with an e-wallet.
Vietnam's e-wallet market saw robust growth between 2015 and 2020 and is expected to continue this rapid growth in the next 5 years, according to IMARC, the International Market Analysis Research and Consulting group.
By the end of 2019, Vietnam had 32 non-banking organizations that were authorized by the State Bank to provide e-wallet services. Most of them provide e-wallet services, online payment gateways, support for money collection and payment, and electronic money transfers.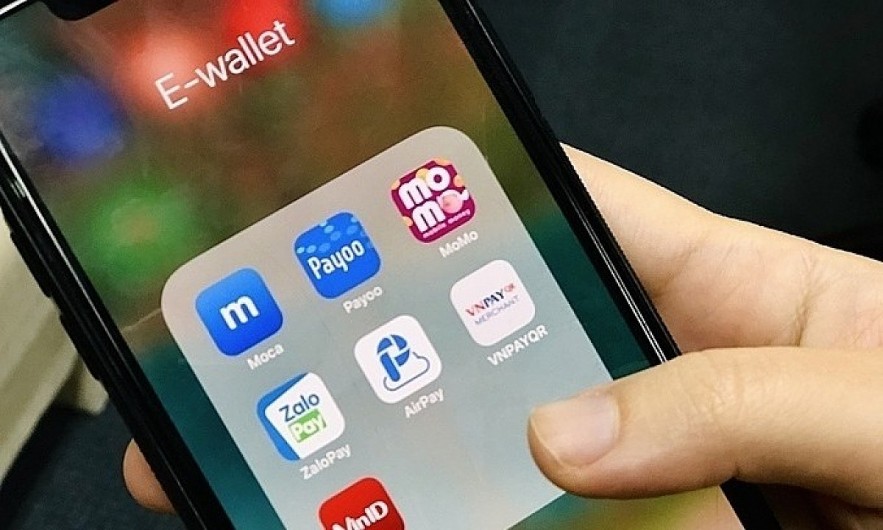 Photo: VOV
MoMo, Vietnam's most popular e-wallet, has more than 12 million users, 10,000 partners, and more than 100,000 points of sale. It has partnered with banks to increase the number of customers and created more points of sale, reported VOV.
Nguyen Ba Diep, Executive Vice Chairman and Co-founder of MoMo, said, "It's not easy to change consumer habits. We're glad that there are many e-wallet providers and the Government is supporting the trend. We began this service more than 10 years ago and now MoMo has a developed ecosystem. We're happy that more and more partners are agreeing to deploy our electronic payment services."
In Vietnam, the e-wallet market has both foreign and domestic suppliers rushing to join the trend.
Financial technology companies have launched products like MoMo, VNPayQR, NextPay, Payoo, an Pay365.
Domestic banks introduced products like Bank Plus, a cooperation between telecom giant Viettel and MBBank, Timo by VPBank, and MEED by Maritime Bank.
Telecom enterprises Vinaphone, Viettel, VTC, and FPT have launched VNPT Pay, ViettelPay, VTCPay, and Pay FPT. Even Zalo, which provides messaging services, has made a move, launching ZaloPay.
As a late comer to the market, Zalo leveraged the 100 million users on its social network to convince retail partners to accept its ZaloPay e-wallet.
Zalo intends to have 1,000 points of sale this year, including very small points like coffee shops and grocery stores.
But convincing users to conduct transactions at these 1,000 points is a headache, said Truong Cam Thanh, CEO of ZION, the owner of ZaloPay.
"Around 30%-40% of adults in Vietnam have bank accounts but a small number of them use their bank accounts to make electronic payments. Putting cash in bank accounts won't be able to activate electronic payments. This is one of the biggest hurdles," said Thanh.
MoMo, Moca, ZaloPay, AirPay, Viettel Pay, and Payoo are now the best known e-wallets in Vietnam.
MoMo, Moca and ZaloPay have advantages in payment at the counter. Moca holds Grab service booking. AirPay is the e-wallet with the largest number of users (Shopee). Payoo is a platform for making payment for services like water, electricity, and internet.
Every e-wallet has its own advantages, but none is powerful enough to dominate the market.
Short food supply chain model set for success in Vietnam
A new research by the Konrad Adenauer Stiftung and Institute for European Studies shows that the short food supply chain (SFSC) model, although newly implemented in Vietnam, has had promising results.
The research was published at a recent seminar, with attendance from Vu Thi Thu Phuong, Programme Director, KAS Vietnam; Dang Minh Duc, Deputy Director of the Institute for European Studies; Nguyen An Ha, former Director of the Institute for European Studies; as well as representatives from the Ministry of Commerce, the Vietnam Farmer's Union, universities and businesses.
Short food supply chain (SFSC), is a term for a system which involves a direct relationship between the producer and the consumer, including but not limited to in-farm stores and farmers' markets.
SFSC is considered a more sustainable supply chain for agricultural products. Some examples of successful SFSCs can be seen in Europe such as Italy's Campana Amica with more than 10,000 direct stores, and France's Pays de la Loire and Le Gout d'Ici.
SFSC shortens the time and decreases intermediaries between producers and consumers, so that consumers can benefit from better and cheaper products, and farmers can better diversify and aim towards greener production and a more stable revenue model.
Governments can also benefit from SFSCs as a better tool in developing agriculture, and creating sustainable livelihoods for the farmers.
"SFSCs, however, have a whole new definition in Vietnam and have not garnered enough attention," said Dang Minh Duc, Deputy Director of the Institute for European Studies.
Vietnam currently has no policies that encourage the development of a sustainable SFSC. Also, as SFSCs focus on the relationship between farmers and businesses, such relationships in Vietnam are still weak.
Farmers and businesses are limited in accessing knowledge involving safety protocols and quality assurance, therefore cannot be eligible for EU standards.
Agriculture supply chains in Vietnam are defined through government decrees such as the "National target programme on new-style countryside building during 2016-2020," which gave farmers better working conditions and better distribution of agricultural products. However, these policies are not designed specifically for the development of SFSCs, nor do they encourage them.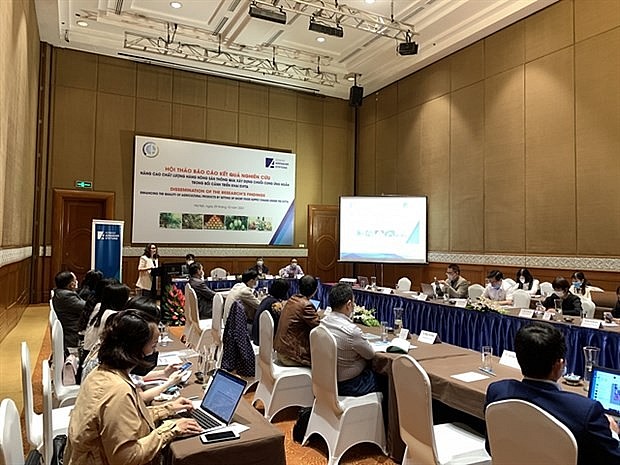 An overview of the seminar. Photo: IFS/KAS
The fact that SFSCs are mostly ignored is incomprehensible, since Vietnam has the necessary resources, both naturally and artificially, to further progress the agriculture sector, as research groups have concluded.
Such research was conducted in Son La province which is well-known for its variety of fruit, such as mangos, oranges, tangerines and plums. These fruits are planted in great numbers across the province, with 181 production unit codes (PUCs) eligible for export, totaling 4,670 hectares, cited VNA.
A total of 130 PUCs of longan fruits, mangos, bananas and papayas will be exported to China, whereas 51 PUCs of longan fruits, mangos, plums and avocados are aimed at US and Australian markets.
Although initial successes were recorded, such as with Son La's passion fruits passing EVFTA requirements and being available in French supermarkets, other fruit products are not so lucky.
Most of the northern province's fruits are only eligible for VietGAP standards, but not GlobalGAP - the quality standard for European agricultural exports.
"Twenty-one per cent of farmers admitted that they used pesticides, but this number is on the decrease, as farmers are looking into alternatives such as organic fertilizers," said Dr. Bui Viet Hung of the IES.
Many of the seminar's private sector delegates share an eagerness to apply Sơn La's model to their businesses. Researchers and agricultural entrepreneurs share the consensus that government agencies should take a look at their policies, especially in developing SFSCs with the goal of eligibility for the European Union's rigorous quality standards.
Vietnamese student wins first prize at French Olympiad
Ngo Minh Long, a 12th grader from Hon Gai High School in the northern province of Quang Ninh, has won the first prize at the French Olympiad 2021.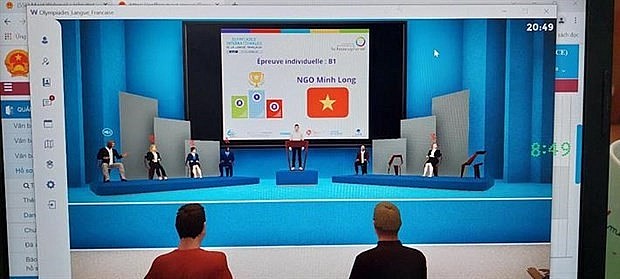 Ngo Minh Long, a 12th grader from Hon Gai High School in the northern province of Quang Ninh, receives the first prize at the French Olympiad 2021. Photo: Ministry of Education and Training
The Vietnamese delegation was also ranked second in the contest for making a video clip introducing the country. The video has been appreciated by international jurymen who all expressed their wish to visit Vietnam in the future.
The French Olympiad 2021 was held virtually from December 7-9 with the participation of 94 students from 20 countries in Africa, Europe and Asia, VNA reported.
The French Olympiad is a competition for high school students aged between 16 and 18. It aims to enhance the value of learning French and create opportunities for cultural exchange between students from different countries in the Francophone space. This is also a way to honor students who are fluent in French and help connect young people in the Francophone community.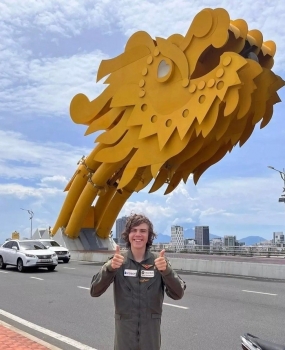 Expats in Vietnam
Mack Rutherford relished the chance to eat cuisine from the area and explore Da Nang on a motorbike. Meanwhile, Vietnamese citizens were happy to host the pilot.