Vietnam News Today (December 10): No Concentrated Isolation Required for Incoming Visitors with Vaccine Passport
Vietnam News Today (December 10): Vietnam to inoculate all adults with third Covid shot by mid-2022; Vietnam, Brazil seek new business co-operation opportunities; No concentrated isolation required for incoming visitors with vaccine passport; Hanoi 2025 motorbike ban contingent on public transport availability.
Vietnam News Today (December 10) notable headlines
Vietnam to inoculate all adults with third Covid shot by mid-2022
Vietnam, Brazil seek new business co-operation opportunities
No concentrated isolation required for incoming visitors with vaccine passport
Hanoi 2025 motorbike ban contingent on public transport availability
Quang Ninh to welcome foreign visitors back in January
Vietnam, Russia foster cooperation at UN forums
Enterprises urged to together build community for sustainable development
Tourism sector recovers at year's end
Vietnam formulates strategy to reduce Covid-19 related deaths
A health worker prepares a Covid-19 vaccine shot in HCMC. Photo: VnExpress
Vietnam to inoculate all adults with third Covid shot by mid-2022
Vietnam aims to give all adults their third Covid-19 vaccine shots by mid-2022, the health ministry revealed Wednesday.
Currently, 97 percent of adults have received their first Covid-19 vaccine doses, 70 percent their second, and around 5 million children aged 12-17 their first, said Deputy Minister of Health Do Xuan Tuyen.
In 2022, Vietnam would focus on administering third doses to adults, those who have not had the chance to be vaccinated yet, and children aged 12-17. It would also try secure more vaccine doses to inoculate children aged 5-11, cited VnExpress.
Starting December, the health ministry has approved the administration of third Covid-19 vaccine shots for high-risk groups, including those with underlying conditions, those aged 50 and above and frontline health staff.
Vietnam has vaccinated around 73.6 million people with at least one Covid-19 vaccine shot. A total 55 million people have received two.
Vietnam, Brazil seek new business co-operation opportunities
The Vietnam - Brazil Business Conference 2021 was recently held to help businesses from both sides seek fresh co-operation opportunities across multiple fields.
During the conference jointly held by the Vietnamese Trade Office in Brazil and the Sao Paulo Trade Association, Vietnamese and Brazilian firms examined ways of ramping up trade promotion and boost co-operation in the fields of farm produce processing, textile & garment leather and footwear making, electronics manufacturing, as well as building materials production.
Addressing the event, Vietnamese Ambassador Pham Thi Kim Hoa expressed hope discussions would help accelerate bilateral economic ties, promote trade exchanges, and expand import and export activities between the two countries.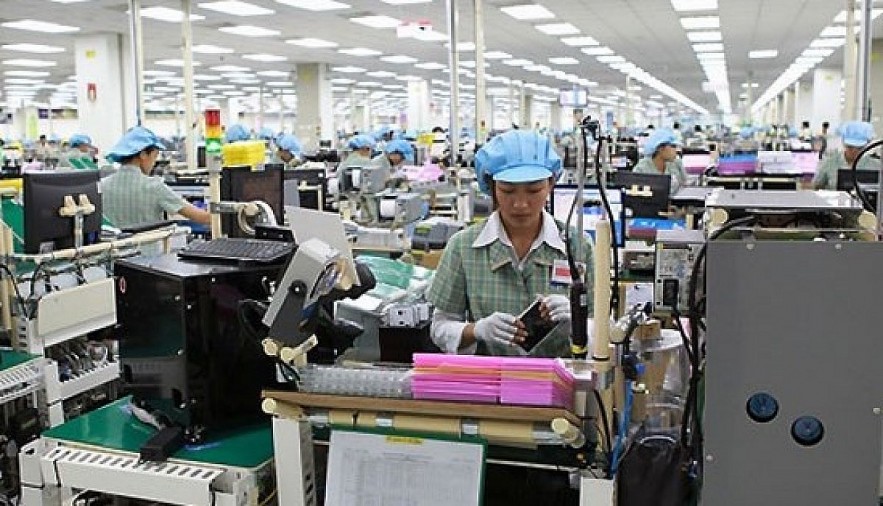 Photo: VOV
Most notably, representatives of various Vietnamese localities introduced their potential and strengths to Brazilian enterprises, affirming they are keen to support co-operation projects with their Brazilian partners.
Vu Ba Phu, director of the Vietnam Trade Promotion Agency, spoke highly of the trade turnover between the two countries amid the continued global economic downturn due to the Covid-19 pandemic. Indeed, he said there remains plenty of room for both countries to increase trade turnover in the future thanks to the complementary nature of their economies.
Meanwhile, Vo Hong Anh, deputy director of the European - American Market Department, highlighted a range of positive results recorded in bilateral trade, especially the diversification of products, from mobile phones, electronic equipment, iron and steel of all types kinds, to shoes, chemicals, farm produce, processed foods, and raw materials for the livestock.
Truong Van Cam, vice president of the Vietnam Textile and Apparel Association (VITAS), used the occasion to introduce the potential for textile & garment co-operation between the two sides and proposed numerous trade promotion activities next year.
Concluding the event, Alfredo Cotait Neto, president of the Sao Paulo Trade Association, and Ngo Xuan Ty, head of the Vietnamese Trade Office in Brazil, signed a memorandum of understanding aimed at strengthening trade exchanges between the two countries, according to VOV.
According to data released by the General Department of Vietnam Customs, two-way trade turnover between Vietnam and Brazil during the initial 10 months of the year surged by nearly 40% to approximately US$5.2 billion against the same period from last year.
At present, Vietnam is Brazil's largest trading partner in ASEAN. The two countries are now examining the possibility of negotiations on a free trade agreement between Vietnam and the Southern Common Market (MERCOSUR).
No concentrated isolation required for incoming visitors with vaccine passport
Foreign nationals wishing to enter the country will no longer be required to undergo a period of concentrated quarantine, providing that they have already received full doses of the Covid-19 vaccine and have a negative Covid-19 test.
Instead, they will be permitted to self-quarantine and monitor their health at their place of residence for a certain period of time. Unvaccinated visitors will remain subject to concentrated quarantine in line with current guidelines.
Under the Ministry of Health (MoH)'s existing instructions, visitors with a vaccine passport and a negative PCR test will be required to undergo a period of concentrated quarantine for seven days, whilst they will also have to monitor their health for another seven days upon arriving in the country.
The MoH will therefore have to issue fresh guidelines on December 15 at the latest, said Deputy Prime Minister Vu Duc Dam while giving instructions at a working session held on December 8 with leaders of the MoH and other relevant agencies.
Vietnam has received more than 200,000 foreign business executives, experts, and engineers for socio-economic development projects since the start of the Covid-19 outbreak.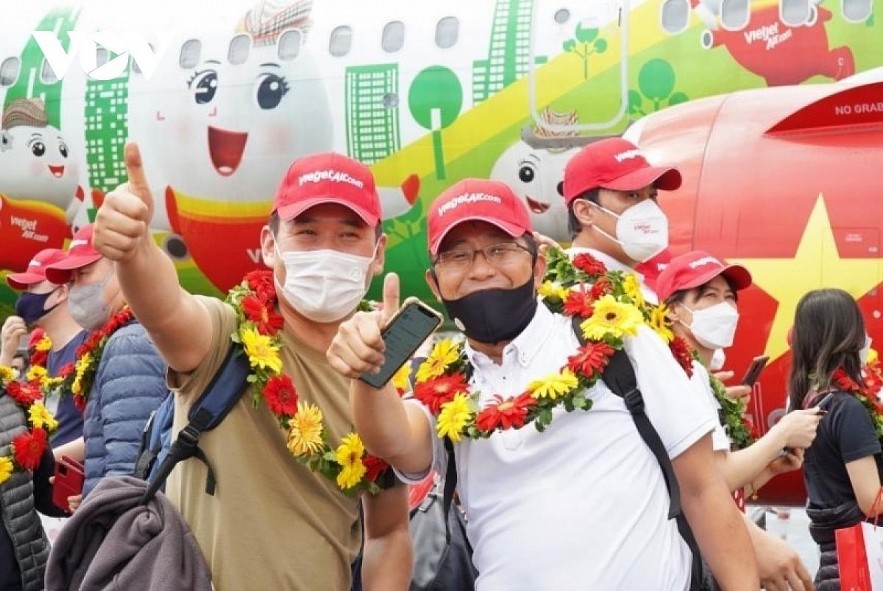 Phu Quoctourist resort has received first vaccinated visitors after nearly two years of service closures due to Covid-19. Photo: VOV
Since November it has been undergoing a pilot scheme aimed at receiving foreign arrivals once again in an effort to revitalize both aviation and tourism services following a hiatus caused by the prolonged outbreak.
However, a lot of Vietnamese nationals have been left stranded overseas due to Covid-19 and have a strong desire to return home, especially ahead of the upcoming Lunar New Year holiday, said Deputy PM Dam, noting, "This is a very legitimate need and we have a responsibility to address it very urgently."
According to the Deputy PM, though the number of new infections locally remains high, the outbreak has basically been brought under control. In addition, Vietnam is speeding up vaccinations in order to better protect people from virus infection and reduce numbers of critically-ill patients and deaths, VOV reported.
"It is necessary to fundamentally change our thinking on organizing the return of Vietnamese citizens abroad," Deputy PM Dam stressed.
At present, Vietnam has yet to officially reopen international commercial flights pending the results of negotiations with other countries. Currently, it is actively working alongside its partners as a means of operating these flights once again in the near future.
Hanoi 2025 motorbike ban contingent on public transport availability: experts
Hanoi can only go ahead with its plan to ban motorbikes by 2025 if it can rapidly create infrastructure for public transport, experts have said.
The Hanoi People's Committee plans to reduce congestion by banning motorcycles in core districts in 2025, five years earlier than according to a previous plan announced in 2019.
The city of eight million people now has 6.4 million vehicles, including 5.6 million motorbikes, cited VnExpress.
Phan Le Binh, a traffic planner, said Hanoi should consider if its public transport infrastructure could hold up to the challenge in four years' time.
The recently opened Cat Linh-Ha Dong metro service, along with the proposed Nhon-Hanoi Railway Station route, would each be able to meet 5-7 percent of travel demand in the city, he said.
But the eastern and northern areas still lack the capability to satisfy demand, he pointed out.
He recommended limiting personal vehicles, and only ban them on routes where public transport is adequate.
"It means there must be designated areas to limit or ban motorbikes, instead of having a carpet ban in entire districts. Only when public transport can meet 60-70 percent of travel needs should Hanoi ban personal vehicles."
The city should speed up its metro projects and encourage people to use them, he said.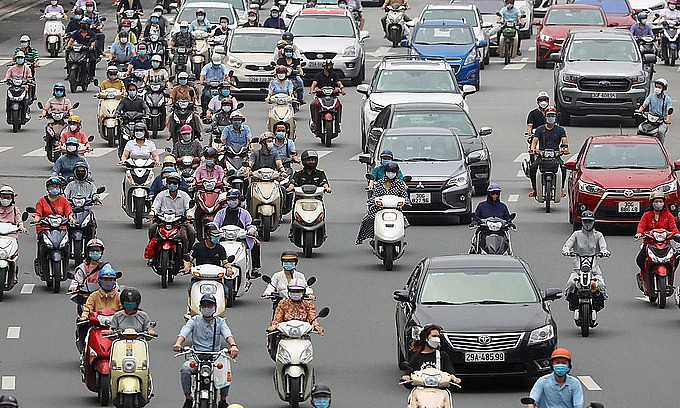 People ride motorbikes on Hanoi's Nguyen Chi Thanh Street, September 2021. Photo: VnExpress
"In the next seven or eight years the city should have two or three more metro lines before banning motorbikes. That means starting in 2030."
Banning motorbikes when public transport is inadequate could cause people to switch to cars, he warned.
He cited the example of Myanmar's Yangon where a motorbike ban caused the number of personal cars to skyrocket, worsening traffic jams in the city.
"Car prices are going down, meaning people will buy them more, but a car takes up five times the space of a motorbike. There is also no guarantee that banning motorbikes will help relieve traffic congestion."
Nguyen Van Quyen, head of the Vietnam Automobile Transport Association, said: "Hanoi should provide a solution to convince people to switch vehicles. That is the issue to be debated about, not just a motorbike ban."
The capital should diversify its public transport vehicles, for instance using smaller buses in narrow streets, encourage people to walk and cycle by providing bike lanes and maintain sidewalks well to making walking a convenient option, he said.
Quang Ninh to welcome foreign visitors back in January
Quang Ninh has issued guidelines for safely serving international tourists as the northern coastal province is set to welcome the first group of foreign visitors in January 2022 after months of closure due to the COVID-19 pandemic.
The province is among five destinations in Vietnam, including Phu Quoc (Kien Giang), Nha Trang (Khanh Hoa), Quang Nam and Da Nang, re-opening to foreign tourists under a pilot scheme. It plans to give priority to promising markets, such as China, Japan, Taiwan (China), Thailand, Singapore, Malaysia and Indonesia.
Quang Ninh has issued a temporary set of safety standards for tourists, providing 24 compulsory and 11 recommended criteria. Member companies of the Quang Ninh Tourism Association have also set their own safety guidelines which specifically require guests to be fully vaccinated against Covid-19 with two doses and test negative with the virus.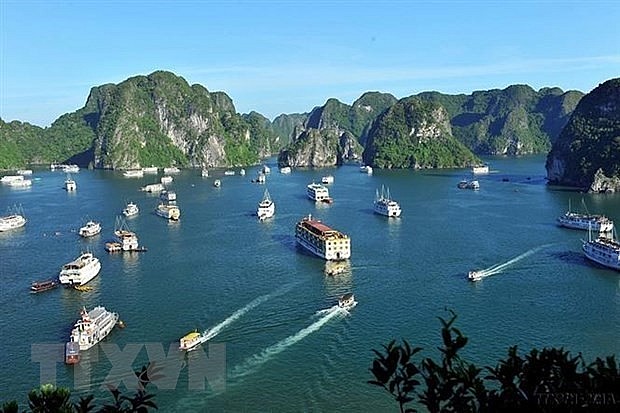 Ha Long Bay. Photo: VNA
Director of Vietfood Travel Hanoi Pham Duy Nghia said at a tourism seminar recently held by the province that his firm plans to arrange a charter flight to fly international tourists directly to Van Don International Airport in Quang Ninh. From there, the tourists can embark on package tours lasting up to seven days and six nights to Ha Long city and its iconic Ha Long Bay, he noted.
Le Trong Thanh, Deputy General Director of Tung Lam Development JSC – a service provider at Yen Tu Complex of Monuments and Landscapes in Quang Ninh's Uong Bi, said the company has been focusing on training its staff on Covid-19 safety rules, VNA reported.
Tourists are no longer in favor of traveling with a large group like before the pandemic, said Vice Chairman of the Vietnam National Administration of Tourism Ha Van Sieu, so tourism authorities are promoting small-group and family holiday tours. "Less-touch" travel with sustainable use of natural resources is the current trends, he added.