Vietnam News Today (December 14): HCM City Monitors Foreign Arrivals, No Omicron Cases Detected
Vietnam News Today (December 14): Vietnam records 15,349 new Covid cases; Vietnam, Rok to establish comprehensive strategic partnership in 2022; HCM City monitors foreign arrivals, no Omicron cases detected; Conference to discuss measures to promote Vietnam-Germany trade via EVFTA.
Vietnam News Today (December 14) notable headlines
Vietnam records 15,349 new Covid cases
Vietnam, Rok to establish comprehensive strategic partnership in 2022
HCM City monitors foreign arrivals, no Omicron cases detected
Conference to discuss measures to promote Vietnam-Germany trade via EVFTA
Vietnam wins Best Music Video at Asian Television Awards
Hanoi district suspends on-site dining amid Covid surge
HCMC students apply Covid-19 prevention protocols to re-enter class
Hue to allow foreign tourists from later this month
Saigonese reconcile to life with Covid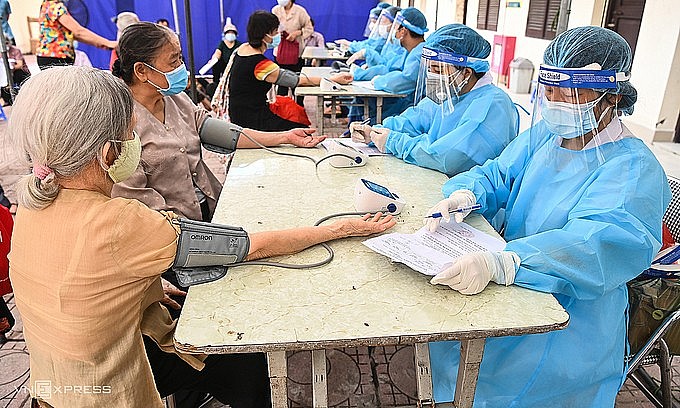 Two elderly women have their blood pressure checked before vaccination at a Covid-19 testing site in Hanoi's Ba Dinh District, September 10, 2021. Photo: VnExpress
Vietnam records 15,349 new Covid cases
The Health Ministry confirmed 15,349 new local Covid-19 cases Monday, with Hanoi recording the highest newly daily infection tally ever.
The three localities with the highest number of new cases were Hanoi with 1,000 cases, Binh Phuoc with 998 cases, and Tay Ninh with 919 cases.
Of the day's tally, 8,891 cases were detected in the community.
The number of new cases pushes the ongoing Covid wave's tally to 1,422,091.
The Health Ministry also confirmed 1,192 recoveries the same day, bringing the total number of recovered cases so far to 1,055,912, cited VnExpress.
The Covid-19 death toll in Vietnam rose to 28,081 with the confirmation of 242 deaths Monday.
The average number of new cases in the country for the past seven days has been 14,946 a day while the national death rate has been 228 a day on average.
Over 74.9 million people have been vaccinated, with more than 58 million receiving two doses.
Vietnam, Rok to establish comprehensive strategic partnership in 2022
The legislative bodies of Vietnam and the Republic of Korea (RoK) have supported the two countries' efforts to lift their relationship to a level of comprehensive strategic partnership in 2022 to mark 30 years of their diplomacy.
The agreement was reached during talks in Seoul on December 13 between Park Byeong-seug, Speaker of the RoK National Assembly, and his Vietnamese counterpart Vuong Dinh Hue who is in Seoul for an official visit.
The two leaders shared the view that the Vietnam – RoK relations have developed positively over the years despite the impact of the Covid-19 pandemic, especially in the fields of politics, economy, and people-to-people exchanges.
Park said the RoK considers Vietnam as a key partner in its New Southern Policy and wishes to promote all-round cooperation with Vietnam.
Meanwhile, Hue suggested that the RoK share its economic development experience, including green growth and innovation, with Vietnam.
They held that the two countries will strive to raise trade exchanges to US$100 billion in 2023 and US$150 billion by 2030 toward balancing bilateral trade.
The RoK will create favorable conditions for Vietnamese farm products to enter its market and for Vietnamese businesses to engage in the global supply chain of RoK businesses.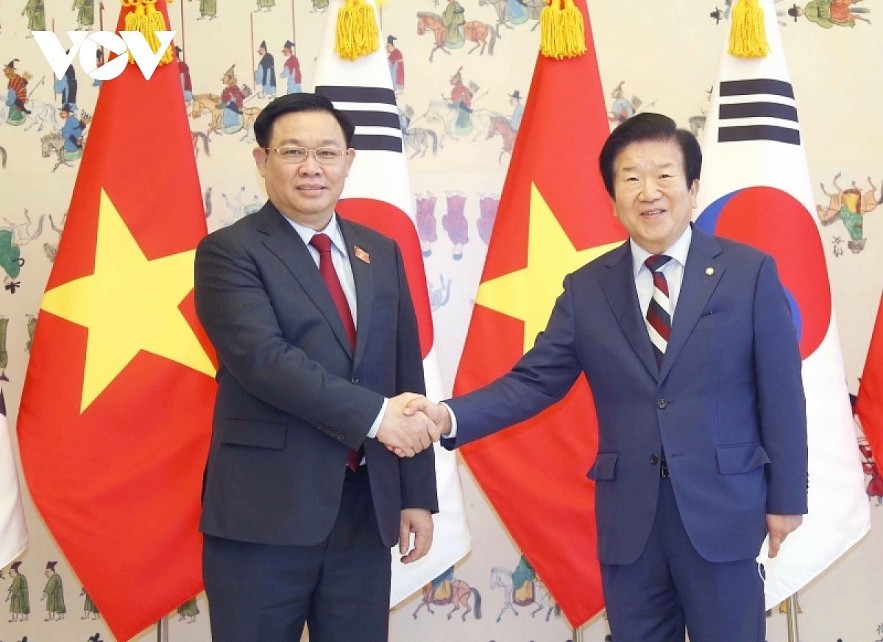 Park Byeong-seug, speaker of the RoK National Assembly (R), welcomes his Vietnamese counterpart Vuong Dinh Hue in Seoul on December 13. Photo: VOV
They will encourage RoK businesses to continue to invest and expand their investment in Vietnam, especially in the fields of supporting industries, high technology, smart city development, agriculture and technology transfer to Vietnam.
Both host and guest highly appreciated the two countries' regular maintenance of dialogue mechanisms in the field of security and national defense, along with jointly strengthening cooperation in UN peacekeeping, crime and terrorism prevention, and supporting Vietnam in wartime landmine and UXO clearance, according to VOV.
They agreed to increase Vietnam – RoK cooperation in labour export, and Covid-19 control, including vaccine production and technology transfer, as well as in enhancing the capacity building of Vietnam's public health.
Park said the RoK will support Vietnam in implementing its national digital transformation program to 2025, with a vision to 2030, carrying out a number of key transport infrastructure projects in 2021-2025, and gradually restoring direct flights between the two countries after the epidemic is under control.
The two leaders consented that both Vietnam and the RoK will continue working closely at multilateral forums, and share the common vision of ensuring security, safety and freedom of navigation and overflight in the East Sea.
They support efforts to maintain a peaceful, stable environment and legal order and settle sea-related disputes by peaceful means in accordance with international law and the 1982 United Nations Convention on the Law of the Sea (UNCLOS).
The RoK side voiced its support for Vietnam in well performing its role as coordinator of ASEAN - Korea relations for 2021-2024.
Both sides agreed to strengthen cooperation between the two legislative bodies and coordination at multilateral parliamentary forums such as IPU, APPF, ASEP, MSEAP, and AIPA.
On this occasion, Hue respectfully conveyed the invitation of the Vietnamese high-ranking leaders to visit Vietnam to the President and Prime Minister of the Republic of Korea.
Following their talks, National Assembly Chairman Park Byeong-seug held a banquet in honor of NA Chairman Vuong Dinh Hue and his entourage.
HCM City monitors foreign arrivals, no Omicron cases detected
As many as 1,597 foreigners have arrived in Ho Chi Minh City during the past three days, with nine of them testing positive for the SARS-C-V-2 virus and no Omicron cases detected.
The information was unveiled on December 13 at a regular meeting of the HCM City Steering Committee for Covid-19 Prevention and Control.
Genome sequencing shows all nine foreigners have been infected with the common Delta strain, not Omicron, said Nguyen Thi Huynh Mai, an official of the HCM City Department of Health, playing down worried about a possibility of a new virus outbreak in the city, reported VOV.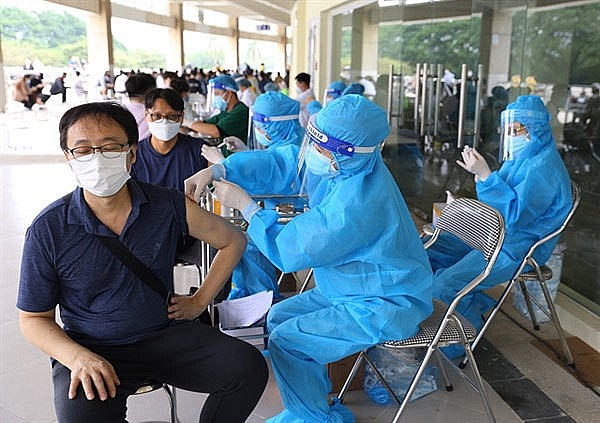 Photo: VNN
Ho Chi Minh City is currently the largest coronavirus hotspot in Vietnam as it has so far confirmed nearly 500,000 infections or around one third of the country's total.
It has tightened Covid-19 prevention and control measures at all border gates to prevent Omicron penetrate its territory.
First detected in South Africa not long ago, the new variant has bene found in more than 60 countries and territories across the globe, according to the World Health Organization.
Given the current available data, it is likely that Omicron will outpace the Delta variant where community transmission occurs, WHO said in a document.
The variant might reduce the effectiveness of Covid-19 vaccines based on preliminary data, but this strain is less dangerous than Delta, it added.
Conference to discuss measures to promote Vietnam-Germany trade via EVFTA
A conference on the promotion of the Vietnam-Germany trade through optimizing the EU-Vietnam Free Trade Agreement (EVFTA) will be virtually held by the Vietnam Chamber of Commerce and Industry and the Friedrich Naumann Foundation for Freedom (FNF) on December 14.
The event aims to provide necessary information to enable businesses to optimize the EVFTA to increase export to Germany, cited VNA.
According to the General Department of Vietnam Customs, in the third quarter of this year, trade between Vietnam and the EU reached 13.6 billion USD, down 2.9 percent over the second quarter but rising 4.4 percent year on year. In the first nine months of 2021, the figure hit US$41.3 billion, a year on year increase of 13.4 percent. In the period, Vietnam enjoyed trade surplus of US$16.41 billion.
Trade between Vietnam and the EU is expected to recover in the last quarter of the year. Experts held that in the fourth quarter and 2022, the EU's import of Vietnamese goods will continue to rise.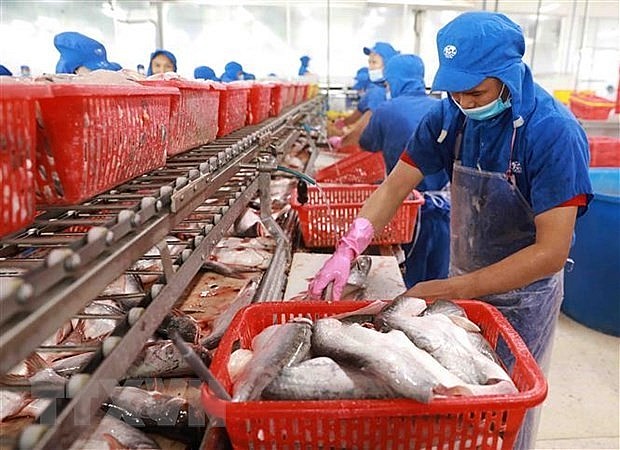 Processing tra fish for export. Photo: VNA
Germany is currently one of the most important partners of Vietnam in the EU with two-way trade rising over 80 percent in a decade. The EVFTA is hoped to help Vietnam further tap this potential market.
However, experts advised that Vietnamese businesses should equip themselves with knowledge and full information of the choosy market, while optimizing advantages from the EVFTA.
The conference expects the participation of the Vietnam Import-Export Agency representatives who will report the impacts of the deal on the Vietnam-Germany trade relations and the optimization of preferential tariff from the agreement, as well as regulations regarding goods origin for exports to the German market.
On the occasion, a business handbook on tapping advantages from the EVFTA to increase import-export activities between Vietnam and Germany will be introduced.
Vietnam wins Best Music Video at Asian Television Awards
'Chim Quy Trong Long' (Precious Birds In Cage) by singer Van Mai Huong has won the Best Music Video award at the 26th Asian Television Awards, VnExpress reported.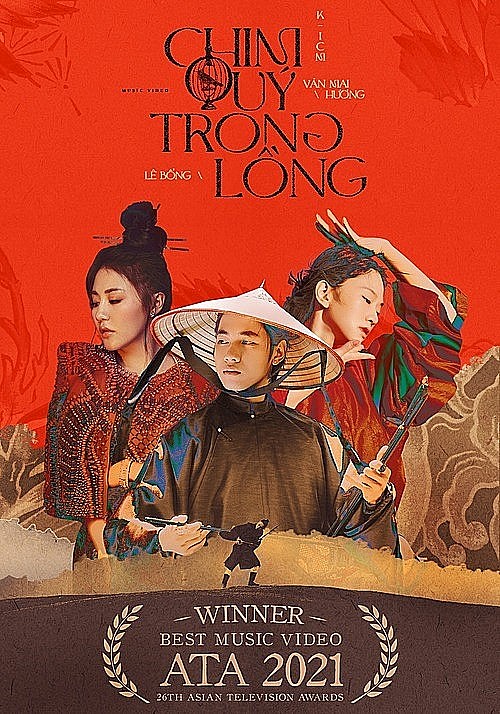 'Chim Quy Trong Long' (Precious Birds In Cage) wins Best Music Video at ATA 2021. Photo: Van Mai Huong
At the weekend it beat the challenge from nominees from the Philippines, Taiwan, Singapore, and India to win top honors.
It speaks about how modern life has become a big cage that restricts young people's freedom and implicitly imposes judgments and language violence, and each person is a precious being but is held back by prejudices like a precious bird locked in a cage.
The video has raked in over 6.7 million views on YouTube since premiering in July.
Due to Covid-19, the event was held online this year on Dec. 10 and 11, and 51 awards were given away.
Launched in 1996 the Asian Television Awards recognize excellence in programming, production and performance.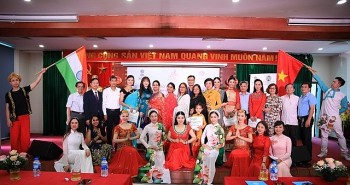 Friendship
On June 28, a Friendship Exchange Program was organized by the Hanoi Union of Friendship Organizations, the Vietnam-India Friendship Association in collaboration with the Embassy of India in Hanoi to commemorate the 50th anniversary of the establishment of Vietnam - India diplomatic relations (January 7, 1972 - January 7, 2022).