Vietnam News Today (December 17): Vietnam Allows 3-day Home Quarantine for Vaccinated, Recovered Arrivals
Vietnam News Today (December 17): Vietnam records 34,059 new local Covid cases; Vietnam, US work to improve aviation weather forecasting capacity; Vietnam allows 3-day home quarantine for vaccinated, recovered arrivals; Hanoi, Moscow look to bolster cooperation.
Vietnam News Today (December 17) notable headlines
Vietnam records 34,059 new local Covid cases
Vietnam, US work to improve aviation weather forecasting capacity
Vietnam allows 3-day home quarantine for vaccinated, recovered arrivals
Hanoi, Moscow look to bolster cooperation
Vietnam to pilot reopening of nine international routes
Vietnam, Colombia share experience in Covid-19 containment efforts
Vietnam records major achievements in gender equality promotion
Vietnam treasures comprehensive strategic partnership with India
Vietnam calls for full implementation of South Sudanese Revitalized Peace Agreement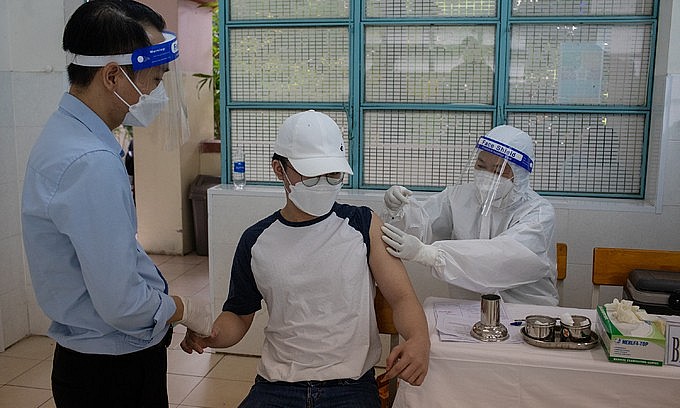 A student receives a Covid-19 vaccine shot in HCMC's District 1, October 27, 2021. Photo: VnExpress
Vietnam records 34,059 new local Covid cases
Vietnam on Thursday added 34,059 local Covid-19 cases to the national database, bringing the infection tally in the fourth wave to 1,486,875 cases.
15,627 new local Covid-19 cases were recorded in 60 cities and provinces, while the southern Tay Ninh Province added 18,792 cases recorded from previous days to the national database, making it the place with the highest number of cases in the day, 19,724.
It was followed by Ca Mau with 1,339 cases and Ho Chi Minh City with 1,175 cases.
241 deaths were recorded on Thursday: 65 in HCMC, 26 in Dong Nai, 20 in An Giang, 19 in Tay Ninh, 15 in Tien Giang, 14 in Binh Duong, 12 in Can Tho, 10 each in Dong Thap and Kien Giang, nine in Soc Trang, seven in Binh Thuan, six in Vinh Long, five in Long An, four each in Tra Vinh and Bac Lieu, three each in Binh Dinh, Binh Phuoc and Ca Mau, two each in Ba Ria-Vung Tau and Hanoi, and one each in Quang Ngai and Khanh Hoa.
The total number of Covid-19 deaths so far is 28,616, cited VnExpress.
1,033 Covid-19 patients were announced recovered, bringing the number of recovered cases to 1,064,461.
Vietnam has vaccinated 75.2 million people with at least one vaccine shot. 59.4 million have received two shots, and 1.1 million have received three shots.
Vietnam, US work to improve aviation weather forecasting capacity
The Vietnam Air Traffic Management Corporation (VATM) and the US Trade and Development Agency (USTDA) have signed a US$1.3 million non-project agreement aimed at providing pilot technical assistance in local aviation weather forecasting.
The aeronautical meteorology service is one of five flight operations assurance services provided by the VATM.
Over recent years and in line with the direction of the Government and the Ministry of Transport on orientations and development plans for aviation meteorological services, the VATM has focused on carrying out plans aimed at improving the aviation weather forecasting capacity. This is done in order to ensure the safety of flight operations within the airspace responsibility.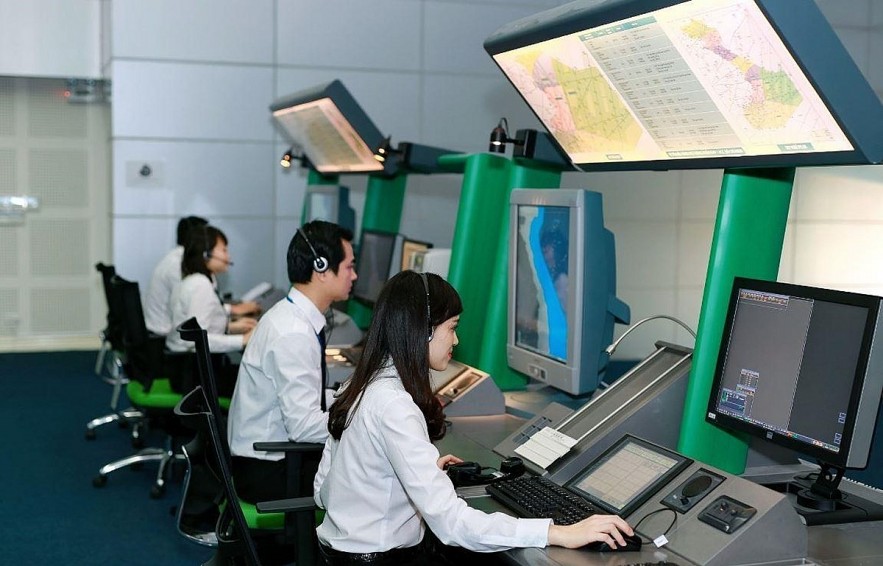 The Vietnam Air Traffic Management Corporation has carried out plans to improve aviation weather forecasting capacity. Photo: VNP
However, the VATM has admitted that the overall quality of the aviation weather forecasting capacity and warnings have seen little improvement, whilst they have made no a breakthrough due to using traditional methods.
Under the signed agreement, meteorological forecasters will be able to access the advanced forecasting technology, with these products notable for their high accuracy, as well as being suitable for exploitation needs.
The USTDA's technical assistance project aims to test a properly designed solution in line with the export potential of the United States, thereby being of national interest, according to VOV.
According to leaders of the VATM, once the agreement is signed, the corporation will work alongside the contractor to agree on the project implementation.
The project is therefore expected to be implemented within 21 months from the date of signing the contract, but no later than December 31, 2023.
Vietnam allows 3-day home quarantine for vaccinated, recovered arrivals
Fully vaccinated people and those who have recovered from Covid-19 will only need to self-isolate for three days instead of enter centralized quarantine for seven days, the health ministry announced Thursday.
Under guidelines that the ministry has issued regarding Covid-19 prevention rules starting January 1, 2022, all arrivals must have tested negative for the novel coronavirus within the previous 72 hours and installed the PC-Covid app for health monitoring.
The PCR test requirement will not apply to children below two.
Those who have been fully vaccinated or recovered from Covid-19 will only need to self-monitor their health for three days, either at home, hotels or other facilities.
They will be tested on the third day. If results are negative, they will be required to monitor their health for the next 11 days, free to move about, but required to avoid large gatherings or crowded places.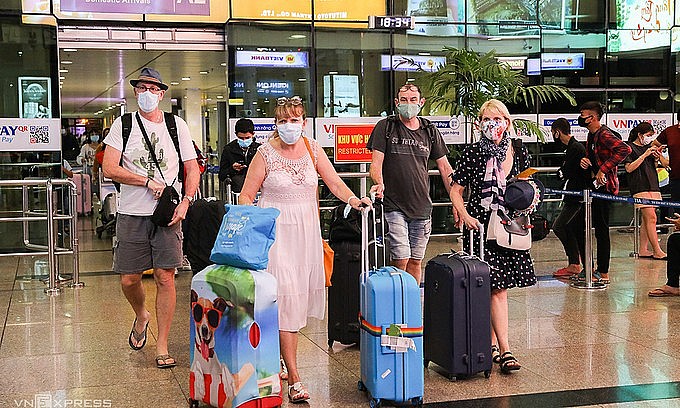 Foreigners arrive at HCMC's Tan Son Nhat Airport, March 2020. Photo: VnExpress
Fully vaccinated people and recovered cases must have relevant certificates to prove their status.
Arrivals who are not fully vaccinated will be quarantined at home or other facilities for seven days, then be tested on the 3rd and 7th days.
Those under 18, above 65, pregnant women and those with underlying conditions can be quarantined with caretakers. However, the caretakers must be fully vaccinated or have recovered from Covid-19.
Foreign entrants will have to pay for their own tests, quarantine and Covid-19 treatment. They are recommended to take their own rapid tests on the first day of arrival, reported VnExpress.
Vietnam has agreed to resume international flights for nine destinations that have managed high vaccination rates and good pandemic control on January 1.
They are San Francisco or Los Angeles (the U.S.), Singapore, Bangkok (Thailand), Phnom Penh (Cambodia), Vientiane (Laos), Beijing/Guangzhou (China), Tokyo (Japan), Seoul (South Korea), and Taipei (Taiwan).
Vietnam grounded international flights in March last year, for a long time allowing in only its nationals, foreign experts, investors, and highly-skilled workers coming by special flights.
Hanoi, Moscow look to bolster cooperation
Secretary of the Hanoi Party Committee Dinh Tien Dung on December 16 hosted a reception for a delegation of the Communist Party of the Russian Federation (KPRF).
Dung highlighted the close traditional ties between Vietnam and the Soviet Union in the past and the Russian Federation at present.
He added that the signing of a free trade agreement between Vietnam and the Eurasian Economic Union (EAEU), of which Russia is a member, has opened up cooperation chances in trade, investment and tourism for both sides.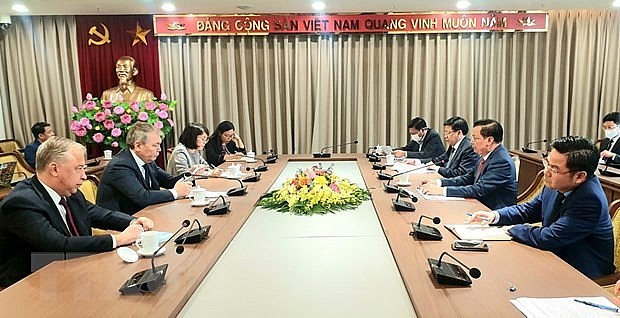 At the event. Photo: VNA
The Hanoi leader said the Vietnamese capital city is home to more than 5,920 cultural and historical relics together with rich intangible heritage, which holds enormous potential for the capital city and Moscow to bolster cooperation in tourism and services so as to promote economic growth, cited VNA.
The Russia-Vietnam relations are thriving, especially after Vietnamese President Nguyen Xuan Phuc's successful visit to Russia earlier this month, affirmed Leonid Kalashnikov, Vice Chairman of the KPRF and head of Russian State Duma's Committee on Commonwealth of Independent States Affairs, Eurasian Integration and Relations with Compatriots.
He announced that a Duma delegation is set to visit Vietnam next year to further strengthen the bilateral relations.
He urged Hanoi authorities to pay heed to accelerating the construction of a Moscow Centre in Hanoi which will help promote Russian culture and trade in Hanoi in a way similar to the Hanoi Centre in Moscow.
In reply, Dung said Hanoi has introduced a land lot spanning more than 4.6 ha in Me Tri ward of Nam Tu Liem district for the project, and pledged to work for its prompt implementation.
Vietnam to pilot reopening of nine international routes
Vietnam is set to reopen regular international flights in two phases, with the first connecting the country to nine markets, said Vo Huy Cuong, deputy head of the Civil Aviation Authority of Vietnam at a seminar on December 16 to seek solutions for the reopening of international routes.
Cuong revealed that during the initial phase, the nation will resume nine international routes to traditional markets such as Beijing/Guangzhou, Tokyo, Seoul, Taipei, Bangkok, Singapore, Vientiane, Phnom Penh, and San Francisco/Los Angeles.
During the second phase, along with these nine markets, the transport sector proposes reopening additional routes both to/from Kuala Lumpur, Hong Kong (China), Paris, Frankfurt, Sydney, and Moscow.
Based on evaluation relating to the implementation of the two pilot phases and pandemic containments efforts, the CAAV will propose increasing the frequency of flights.
Priority will duly be given to fully-vaccinated arrivals or those who record a negative RT-PCR test, said Cuong, adding that the move will create favorable conditions for Vietnamese people abroad who wish to return home to visit their relatives at the end of the year.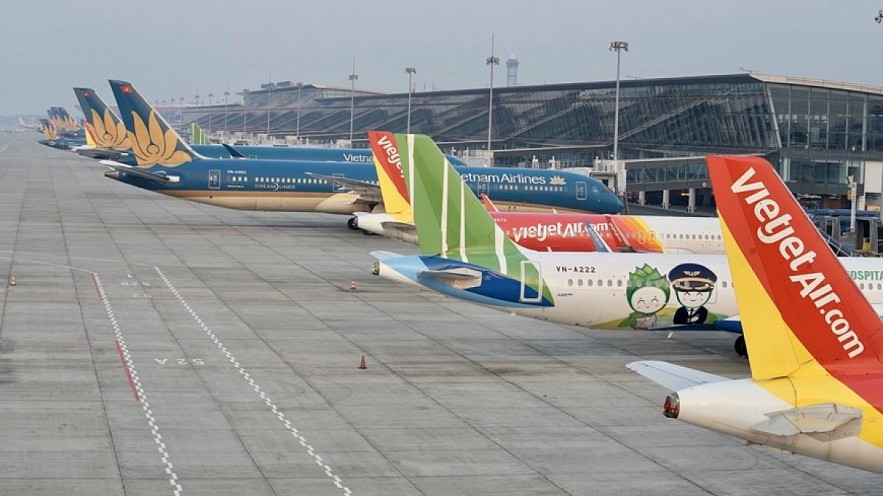 Photo: VOV
He also pointed out that 98% of people nationwide have got their first Covid-19 dose, while there is high rate of people receiving two jabs, noting that the reopening of international flights will facilitate travel and gradually restore normal life.
The Health Ministry of Health is expected to adopt a draft regulation on entry and quarantine rules for entrants on December 16, according to VOV.
Under the terms of the draft regulation, people entering the country who are fully vaccinated and have tested negative for SARS-CoV-2, will be able to self-quarantine at home for three days.
Entrants who have not been fully vaccinated will be isolated at home for seven days, while people under the age of 18 and older than 65 years old, pregnant women, and people with underlying diseases will undergo quarantine with their caregivers.
Representatives of local airlines also affirmed their readiness to operate regular international flights while partnering alongside travel firms and accommodation establishments in a bid to design concrete programs for passengers.
Hoang Ngoc Thach, commercial director of Bamboo Airways, said Vietnamese people's travel demand overseas remains high, adding that the carrier has already reserved slots to major airports in the United States and France to meet the rising demand.
The airline has also purchased wide-body aircraft and made full preparations for the resumption of international flights in the future.
Currently, people entering the nation still have to be isolated for seven days and have their health monitored during this period, in line with regulations of the Ministry of Health.
The Government has recently agreed upon a plan to restore regular international passenger flights to countries with a high safety factor as of January 1, 2022.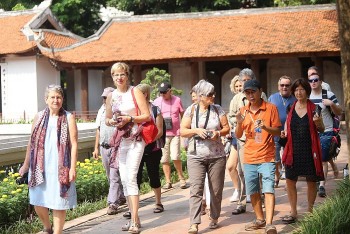 National
Vietnam News Today (May 24): Covid-19: Vietnam records 1,179 new cases, 3,862 recoveries on May 23; Foreign arrivals soar two months after border reopening; Vietnam, Cambodia boost defense ties; Heavy rain floods parts of northern Vietnam.