Vietnam News Today (December 18): Phong Nha-Ke Bang Listed Among Best Travel Destinations in 2022
Vietnam News Today (December 18): Vietnam confirms 15,215 new Covid-19 cases; Vietnam, India eye resumption of direct flights; Phong Nha-Ke Bang listed among best travel destinations in 2022; Typhoon Rai entering Bien Dong Sea, making U-turn.
Vietnam News Today (December 18) notable headlines
Vietnam confirms 15,215 new Covid-19 cases
Vietnam, India eye resumption of direct flights
Phong Nha-Ke Bang listed among best travel destinations in 2022
Typhoon Rai entering Bien Dong Sea, making U-turn
Vietnamese Embassy in France supports family of boat accident victim
Vietnam, India sign MoU on IT, electronics cooperation
Vietnam, New Zealand boast huge potential for trade, investment
Bamboo Airways to launch Vietnam – Australia non-stop flights
FDI firms optimistic about Vietnam's economic recovery
Vietnam confirms 15,215 new Covid-19 cases
The Health Ministry announced 15,215 new Covid-19 patients Friday in 59 cities and provinces, bringing the number of infections in the fourth wave to more than 1.5 million.
Southern Ben Tre Province recorded the most number of cases at 1,246, followed by Ca Mau with 1,071 cases and HCMC with 1,040 cases.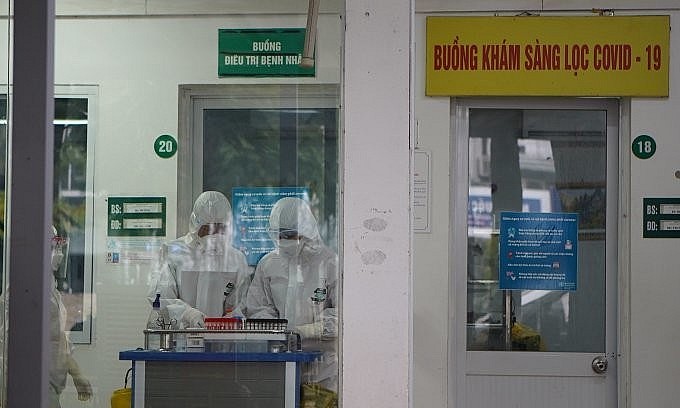 The Covid-19 testing room in Thanh Nhan Hospital, Hanoi, December 9, 2021. Photo: VnExpress
Most of the new cases were detected in three southern localities: Ben Tre (1,246); Ca Mau (1,071); and HCMC (1,040).
In the past 24 hours, 246 Covid-19 patients have died, including 60 in HCMC.
Since the pandemic started last year, the death toll in Vietnam has climbed to 29,103, or 2 percent of all infections.
On Friday, 31,057 patients have recovered, cited VnExpress.
In the latest wave that hit the country in late April, more than 1.5 cases have been confirmed and over one million of them have recovered.
So far, over 60 million people have been fully vaccinated.
Vietnam, India eye resumption of direct flights
Vietnam and India have agreed to work toward recognizing each other's vaccine passports and soon resume direct flights to facilitate travel demand.
During a meeting in New Delhi on Thursday, Vietnam's National Assembly Chairman Vuong Dinh Hue and Speaker of the Lok Sabha (House of Representatives) of India Om Birla agreed both countries should soon reopen direct flights and recognize each other's vaccine passports in order to enhance exchanges and meet travel demand.
Hue is on a five-day official visit to India starting Wednesday.
Australia, Belarus, Japan, the U.K. and the U.S. have officially accepted Vietnam's vaccine passport while India and Canada have agreed in principle, according to the Foreign Affairs Ministry.
In 2019, Indian carrier IndiGo launched direct flights from the eastern Indian city of Kolkata to Ho Chi Minh City and Hanoi, the first ever direct flights between the two countries.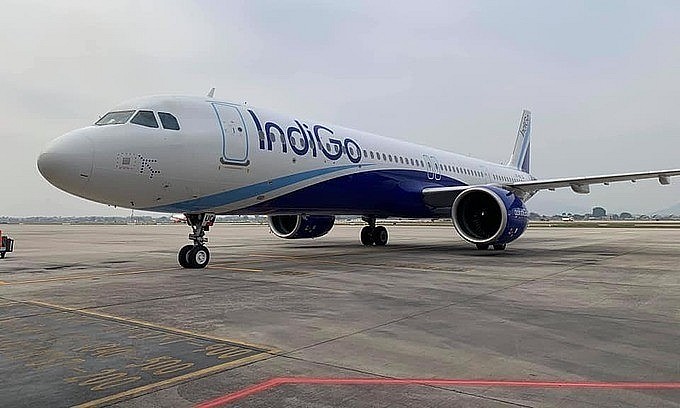 An aircraft of IndiGo Airlines at Noi Bai International Airport, Hanoi, 2020. Photo: IndiGo Airlines
The number of Indian visitors to Vietnam has grown steadily over the past years from 19.9 percent year-on-year in 2015 to 30 percent in 2018, and 28 percent in 2019, according to the Vietnam National Administration of Tourism (VNAT).
Many Indian investors have been eyeing the Vietnamese market in recent years.
Vietnam grounded all international flights in March last year, allowing only Vietnamese citizens, foreign experts, investors, and highly-skilled workers to enter on special flights, according to VnExpress.
The government last week approved the resumption of commercial flights between Vietnam and nine destinations with high vaccination rates and good pandemic control measures in place from Jan. 1.
Regular flights are scheduled to resume to Bangkok (Thailand), Beijing/Guangzhou (China), Phnom Penh (Cambodia), San Francisco or Los Angeles (the U.S.), Seoul (South Korea), Singapore, Taipei (Taiwan), Tokyo (Japan), and Vientiane (Laos), .
In the second phase from Jan. 16, flights would be added on routes connecting Vietnam and Frankfurt (Germany), Hong Kong, Kuala Lumpur (Malaysia), Moscow (Russia), Paris (France), and Sydney (Australia).
Phong Nha-Ke Bang listed among best travel destinations in 2022
Digital travel magazine Afar of the United States has chosen Phong Nha-Ke Bang, the UNESCO-recognized global heritage site in the central province of Quang Binh, as one of the world's 39 best places in which to travel in 2022.
According to the magazine, Phong Nha–Ke Bang National Park, which is a geologically-famous site in central Vietnam, has tempted daredevils since 2013, when Son Doong, the largest cave on the planet and big enough to hold a Boeing 747, opened for multi-day tours.
The publication reveals that the Phong Nha–based company Oxalis Adventure is hoping to launch a fresh adventure ahead in 2022 that could rival the Son Doong Expedition, its flagship experience.
Entrance to Pygmy cave, the fourth largest cave on earth, located inside Phong Nha–Ke Bang National Park in central Quang Binh province. Photo: NDO
"On the new Hang Ba tour, which is still in development, Oxalis guides will lead spelunkers through upwards of five caves with gigantic limestone chambers and dangling stalactites. When cavers aren't crawling, swimming, or paddle boarding, they'll be camping and trekking through jungles," says Afar.
The magazine also quotes Howard Limbert, who led the expedition team that discovered the caves in the early 1990s, saying it took a total of 15 hours to reach the cave cluster from Phong Nha village. However, thanks to the development of a new road, the journey may only take between five to six hours, reported VOV.
Limbert added that collective efforts aimed at protecting the caves and hiring people from the local community have reduced the rate of illegal logging and instilled conservationist attitudes.
"Phong Nha-Ke Bang can serve as a model for other protected areas in Vietnam," Limbert said, "including the newly-recognized biosphere reserves Nui Chua and Kon Ha Nung."
Typhoon Rai entering Bien Dong Sea, making U-turn
Super typhoon Rai that pounded the Philippines on December 16-17 is entering the Bien Dong Sea and is expected to make a U-turn when it moves closer to Vietnam's central coast, according to weather forecasters.
At 07am on December 17, Rai was sweeping across the central coast of the Philippines, packing winds of 185kph near its eye.
The typhoon is forecast to move west and north-west and lose its strength a bit in the coming hours before entering the East Sea in the evening.
Rai is set to sustain winds of 150kph on its path towards Vietnam's central coast in the next 48 hours and suddenly change its direction toward north and north-west, VOV reported.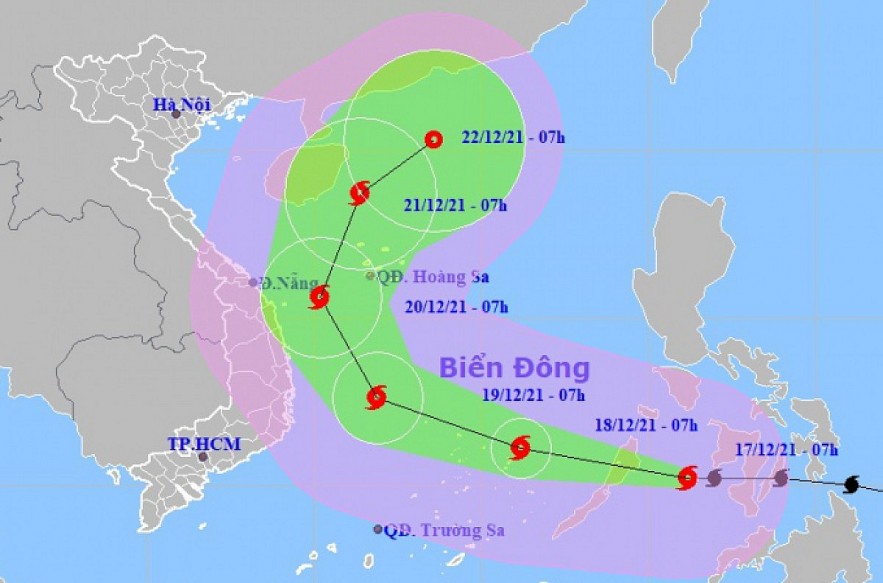 Super typhoon Rai is forecast to make a U-turn when it moves close to central Vietnam. Photo: VOV
The typhoon is likely to go northward, which is an abnormality in its path compared to other storms that hit Vietnam in previous years, Tran Quang Nang, an official of the National Centre for Hydro-Meteorological Forecasting.
In an urgent telegram released on December 16 evening, Prime Minister Pham Minh Chinh requested localities from Quang Ninh to Ca Mau to closely monitor the development of the typhoon and draw up response plans.
Top priority will be given to protecting local people's life, said the PM.
Rai packing winds of more than 200kph slammed into the Philippines on December 16-17, flooding parts of the central region and bringing down power transmission lines. Nearly 200,000 people have evacuated from their homes to safe shelters.
Vietnamese Embassy in France supports family of boat accident victim
The Vietnamese Embassy in France will continue working closely with the host and authorities in Vietnam to support the family of a Vietnamese victim who was killed when a rubber boat capsized off the coast of Pas de Calais province.
The accident occurred on November 24 (local time), leaving 27 dead, cited VNA.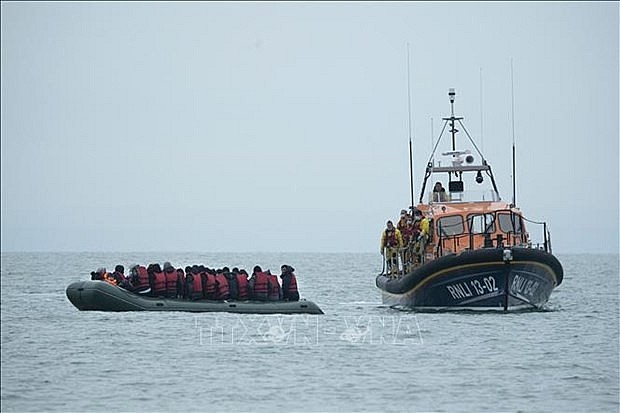 Search for victims following the accident. Photo: VNA
On December 16, the French police informed that one of the victims is a 29-year-old Vietnamese who came from the central province of Nghe An.
The Foreign Ministry's Consular Department already contacted the victim's family to verify the information and instruct necessary procedures.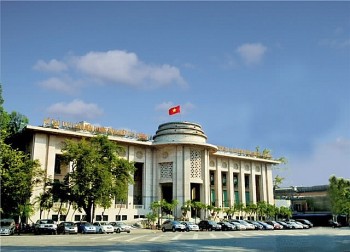 National
The State Bank of Vietnam (SBV) has used the bill issue channel again to net withdraw money out of the banking system for the first time since June 2020.