Vietnam News Today (December 2): Vietnam Applies Satellite Data to Monitoring Air Quality
Vietnam News Today (December 2): Single-day new Covid-19 cases second highest ever; Vietnam, RoK look to beef up comprehensive cooperation; Vietnam applies satellite data to monitoring air quality; Vietnam to welcome first Thai vaccine passport tourists this month.
Vietnam News Today (December 2) notable headlines
Single-day new Covid-19 cases second highest ever
Vietnam, RoK look to beef up comprehensive cooperation
Vietnam applies satellite data to monitoring air quality
Vietnam to welcome first Thai vaccine passport tourists this month
HCM City Travel Fair to take place virtually this month
Vietnam attends int'l inter-party videoconference
Deputy Prime Minister Le Van Thanh meets Russian counterpart
Hoa Lo Prison hosts exclusive Hanoi war exhibition
Disbursement of public investment capital up 14.7 percent in November
Medical staff prepare to vaccinate students in District 1, Ho Chi Minh City on October 27, 2021. Photo: VnExpress
Single-day new Covid-19 cases second highest ever
Health authorities confirmed 14,506 new local Covid-19 cases in 60 localities Wednesday, second-highest since the beginning of the pandemic.
HCMC led with 1,675 cases, followed by two other southern localities: Can Tho (989 cases) and Soc Trang (757 cases).
Hanoi saw 467 new cases.
Except for the days when prior number cases were added to the data base, this is the second highest single-day record behind Sep. 3 with 14,894 cases.
196 deaths were confirmed, with 68 in HCMC, bringing the national tally to 25,448 since the beginning of the pandemic, or 2 percent of total number of infections, cited VnExpress.
2,704 cases were discharged Wednesday, bringing the total in the fourth Covid-19 wave to 992,052.
53.6 percent of the population have received two vaccine doses.
Vietnam, RoK look to beef up comprehensive cooperation
The Republic of Korea (RoK) has always been an important partner for ASEAN and Vietnam, Foreign Minister Bui Thanh Son told RoK Deputy Foreign Minister Yeo Seung-bae at a meeting in Hanoi on November 30.
Seung-bae, head of ASEAN Senior Officials (SOM) of the RoK, paid a courtesy visit to the Vietnamese FM on the occasion of his trip to Vietnam for attending the Vietnam-RoK consultation on the coordination of the ASEAN-RoK relationship in the 2021-2024 period, and the ASEAN high-level forum on sub-regional cooperation for sustainable and inclusive growth.
Minister Son affirmed that Vietnam will make every effort to fulfill its responsibility as coordinator of the ASEAN-RoK relations in the next three years, actively work to elevate the ASEAN-RoK strategic partnership and the Vietnam – RoK strategic partnership, and contribute to strengthening the Mekong-RoK Partnership, according to VOV.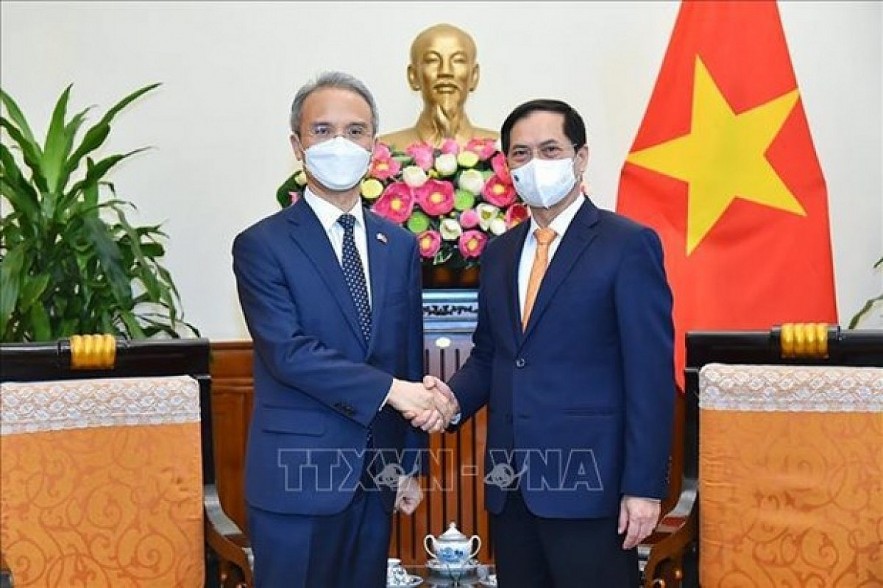 Foreign Minister Bui Thanh Son (R) and RoK Deputy Foreign Minister Yeo Seung-bae. Photo: VNA
The Vietnamese official highlighted the significance of the RoK's active cooperation and support, which he said bring practical effects to ASEAN and Vietnam.
He also applauded the New Southern Policy Plus (NSPP) of the Asian country.
Minister Son suggested ASEAN and the RoK maintain trade and investment exchange, support and create favorable conditions for Korean investors and businesses to overcome impacts of the Covid-19 pandemic and stabilize and expand their production and business activities.
Vietnam proposes organizing the ASEAN-RoK Day in Vietnam and the RoK in the next three years, he said.
For his part, Seung-bae affirmed that his country attaches great importance to Vietnam's coordinating role, saying that the RoK will continue to work closely with Vietnam and other ASEAN countries in responding to the Covid-19 pandemic and promoting recovery, and lifting its partnership with ASEAN to a higher level in the coming time.
He suggested the two sides continue to support RoK firms in expanding investment and business in Vietnam, promote people-to-people exchange, labour and tourism, and strengthen security cooperation.
Vietnam applies satellite data to monitoring air quality
A workshop on the application of satellite data in monitoring pollution and research was held in Hanoi on December 1 as part of the projects "Join hands for clean air" and "Improving air pollution monitoring and management of Vietnam with satellite PM2.5 observation".
The event was jointly organized by the Vietnam Live and Learn Centre for Environment and Community, the University of Engineering and Technology under the Vietnam National University – Hanoi (VNU-UET), the Vietnam Clean Air Partnership (VCAP) and the "Tia Sang" magazine of the Ministry of Science and Technology.
In recent years, the situation of PM2.5 fine dust in Vietnam has been studied and published in reports and scientific journals by State management agencies, universities, institutes and scientists as well as a number of social organizations.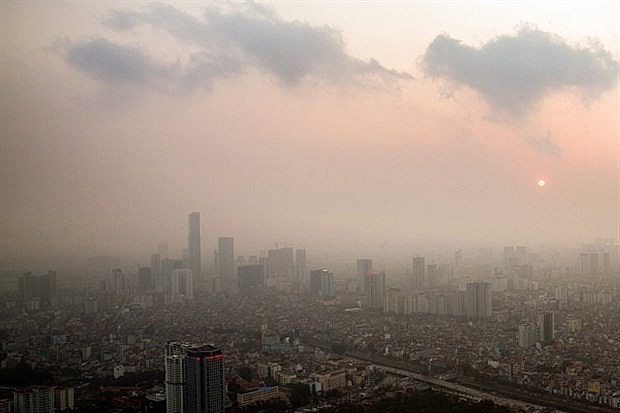 Photo: Vietnamnet
However, reports and studies remain limited in terms of data sources due to the lack of monitoring data and exploitation of open data sources from satellites or sensor stations.
In this context, a report on PM2.5 fine dust matter in Vietnam in the 2019 -2020 period using multi-source data was published, giving a more complete picture of air pollution in both space and time. This was the first report that provides information on the situation of PM2.5 fine dust in all localities nationwide with data collected and analyzed by standard monitoring stations, sensors, and satellites, reported VNA.
Based on the report's findings and referring to international experience, experts discussed and proposed specific recommendations such as the application of multi-source approach and computational model data from satellite images to monitor air quality, and development of detailed distribution maps of PM2.5 fine dust in districts and township in provinces and cities affected by PM2.5 fine dust pollution,
They also underlined the need to strengthen air quality monitoring stations meeting the State's standards in localities across the country.
Vietnam to welcome first Thai vaccine passport tourists this month
Vietnam is expected to welcome the first group of Thai tourists under an ongoing vaccine passport trial program this month, a top tourism official says.
Vietnamese tourism officials would work with Thai counterparts to set up a 'travel bubble' scheme as Thailand has proved successful in welcoming international tourists amid Covid-19 with the 'Phuket Sandbox' model, Nguyen Trung Khanh, head of the Vietnam National Administration of Tourism, said at a seminar on Vietnam's tourism recovery plan.
The 'Phuket Sandbox" program allows travelers who are fully vaccinated to enter the island city of Phuket without quarantine from July 1 and the tourism model has since been expanded across Thailand. Foreign tourists with vaccine passports from over 60 countries and territories, including Vietnam, are exempt from mandatory quarantine upon arrival.
The Vietnamese government also plans to resume regular international flights to 15 countries and territories with high vaccination rates, including Thailand, from December.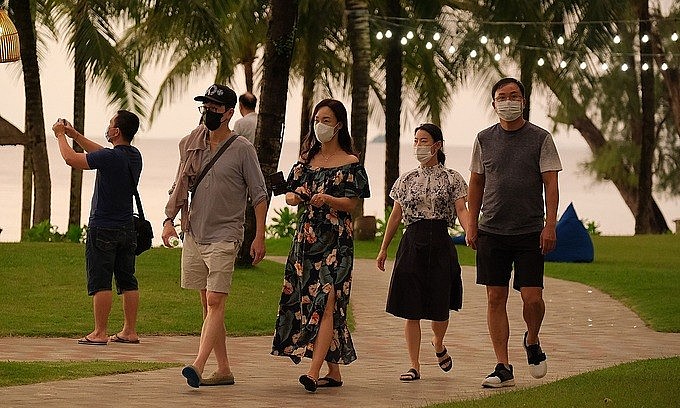 South Korean tourists walk inside Vinpearl Resort & Spa on Long Beach in Phu Quoc Island, November 22, 2021. Photo: Vinpearl
Thailand was Vietnam's fastest growing tourist market before the pandemic, with the number of visitors from that country rising by 46 percent year-on-year to 509,000 in 2019.
In less than three weeks of international tourism reopening under the vaccine passport program, Vietnam has welcomed 978 foreign tourists to Quang Nam, Khanh Hoa, and Kien Giang.
"This is a good sign of tourism recovery during the new normal period and proves that Vietnam remains a favorite and attractive destination for foreign tourists," Khanh said.
Khanh Hoa, Kien Giang and Quang Nam are three of five localities that are allowed to welcome fully vaccinated foreign tourists from November onwards. The two other localities are Quang Ninh and Da Nang.
By the end of December, Da Nang is expected to welcome 11,500 foreign tourists followed by Khanh Hoa with 9,400 and Kien Giang's Phu Quoc Island with 3,500, cited VnExpress.
Speaking at the seminar, Nguyen Quoc Ky, CEO and chairman of tour company Vietravel, said international visitors arriving in Vietnam was really a good sign, but the small number of tourists in November was not enough to restore the tourism industry to health after a hiatus of nearly two years due to border closures.
He suggested that the industry set up a travel bubble with ASEAN countries and focus on South Korean and Japanese tourists, Vietnam's biggest tourism feeder markets.
HCM City Travel Fair to take place virtually this month
The annual Ho Chi Minh City Travel Fair will be held virtually for the first time from December 4 to 25, according to the city Department of Tourism.
It will be held on websites of the fair, the department at www.visithcmc.vn, e-commerce site Shopee, and Traveloka app, Le Truong Hien Hoa, deputy director of the department, said.
Visitors at the HCM City Travel Fair last year. Photo: VNA
The festival, with the theme 'Safe destinations- Fantastic itineraries' this year and organized jointly with the HCM City Tourism Association, is aimed at reviving tourism as the country seeks to safely adapt to Covid.
It will have more than 100 stalls put up by travel and tourism businesses and the tourism sectors of 27 cities and provinces, offering local travel products at discounted prices, according to VNA.
Nguyen Thi Khanh, chairwoman of the HCM City Tourism Association, said travel firms will offer attractive discounts to revive demand after the Covid-related travel restrictions.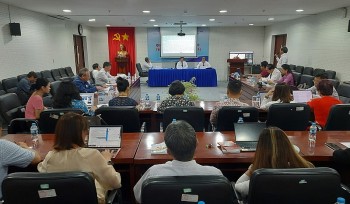 Friendship
The Vietnam - India Friendship Association's Ho Chi Minh City branch, the Ho Chi Minh City Union of Friendship Organizations (HUFO) and the Southern Institute of Social Sciences on March 21 held a scientific seminar themed "Vietnam - India relationship: tradition and present".