Vietnam News Today (December 23): Vietnam to Welcome Back Foreign Tourists via Sea, Road
Vietnam News Today (December 23): Vietnam confirms 16,522 new Covid-19 cases; Vietnam, Cambodia solidify defense cooperation; Vietnam to welcome back foreign tourists via sea, road; Vietnamese carriers brace for peak Tet travel rush.
Vietnam News Today (December 23) notable headlines
Vietnam confirms 16,522 new Covid-19 cases
Vietnam, Cambodia solidify defense cooperation
Vietnam to welcome back foreign tourists via sea, road
Vietnamese carriers brace for peak Tet travel rush
Northern region braces for severe cold spell on weekend
Vietnam urges promoting Middle East peace process
Vietnam supports Cambodia's role of ASEAN Chair 2022
Vietnam International Fashion Week 2021 kicks off
Vietnam becomes RoK's major trading partner in textile, footwear sectors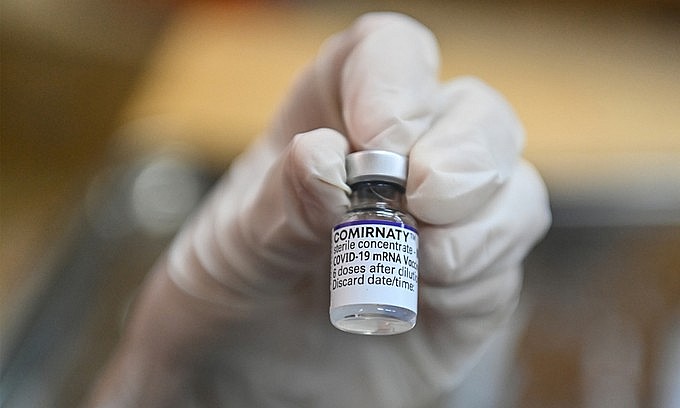 A medical staff holds a bottle of Covid-19 vaccine in Hanoi, November 2021. Photo: VnExpress
Vietnam confirms 16,522 new Covid-19 cases
The Health Ministry announced 16,522 new domestic Covid-19 patients Wednesday in 60 cities and provinces, up 206 from Tuesday.
Most of the new cases were detected in Hanoi, at 1,646. This was the third day in a row that the capital led in the number of new cases.
It was followed by Ca Mau with 1,193 new cases and HCMC with 979 cases, cited VnExpress.
In the past 24 hours, 210 Covid-19 patients have died, including 46 in HCMC. Hanoi recorded five deaths.
Since the pandemic started last year, the death toll in Vietnam has climbed to 30,251, or 1.9 percent of all infections.
In the latest wave that hit the country in late April, more than 1.58 million cases have been confirmed and 1.17 million them have recovered.
So far, 65.6 percent of the population have received two doses of vaccine.
Vietnam, Cambodia solidify defense cooperation
Vietnamese Minister of National Defense Phan Van Giang and his Cambodian counterpart Tea Banh have agreed to enhance bilateral defense-security ties in the principle of not allowing any hostile force to use one's territory to sabotage security of the other.
During a bilateral meeting in Phnom Penh on December 22, the two ministers pledged to effectively implement existing defense and security agreements, improve the efficiency of border protection and management, uphold existing cooperation mechanisms and strive to search, unearth and repatriate remains of Vietnamese voluntary soldiers and experts who died in Cambodia.
Tea Banh expressed his thanks for the strong support and assistance that various generations of leaders and people of Vietnam have given to Cambodian people in the past and at present, affirming that Cambodia will always keep in mind the Vietnamese volunteer soldiers' assistance to the Cambodian people in liberating Cambodia from the Khmer Rouge genocide regime in 1979.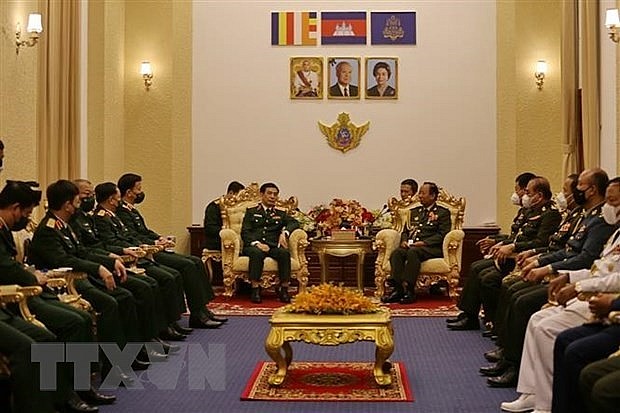 At the meeting. Photo: VNA
He announced that Cambodia has decided to reopen its whole economy since November after effectively curbing Covid-19 pandemic, according to VNA.
In his capacity as Chairman of the Cambodia SEA Games Organizing Committee next year, Tea Banh wished to visit Vietnam to learn from its experience in organizing the biggest sport event in Southeast Asia.
Minister Giang spoke highly of Cambodia's economic development, especially in urban infrastructure.
He suggested the two countries jointly hold a border exchange next year on the occasion of the 45th anniversary of Cambodian PM Samdech Techo Hun Sen's national salvation journey at his stopover X-16 in the southern province of Binh Phuoc.
The Vietnamese minister highlighted a need to continue holding drills against non-traditional risks, search and rescue exercises, enhancing discussions on holding Vietnamese and Khmer languages to the two countries' trainees.
On the occasion, Minister Tea Banh invited Minister Phan Van Giang to pay an official visit to Cambodia in the near future.
Vietnam to welcome back foreign tourists via sea, road: ministry
The Ministry of Culture, Sports and Tourism plans to welcome back international tourists via sea route and roads in the time ahead, after piloting the "vaccine passport" program on the air route.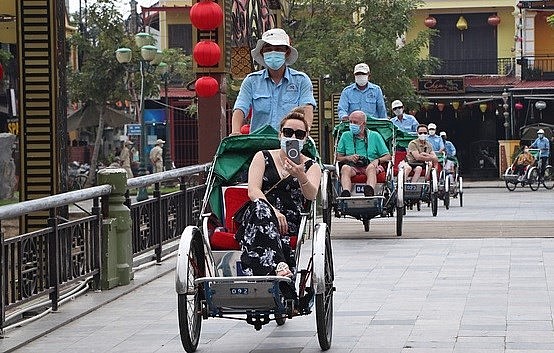 Foreign tourists visit Hoi An ancient city in Quang Nam province. Photo: VNN
According to the ministry, three out of the five localities included in the program, namely Kien Giang, Quang Nam and Khanh Hoa, have reopened to foreign visitors.
Meanwhile, Da Nang city and Quang Ninh province are scheduled to begin the resumption next month.
The ministry reported that the first phase of the program was rolled out in line with the Covid-19 prevention and control measures, with the quality of services ensured.
Foreign holiday-makers have shown their positive response to Vietnam tours, as well as their confidence in pandemic prevention and control measures taken by the country, reported VOV.
Ho Chi Minh City and the south-central province of Binh Dinh are expected to join the second phase that will kick off next month. Other localities should propose the resumption once they satisfy necessary requirements, the ministry said.
The ministry has also proposed the Prime Minister consider restoring visa exemption for tourists from a number of countries, who stay in Vietnam for less than 15 days.
Vietnamese studying and living abroad with Vietnamese passports, Vietnamese holding US green cards or permanent residence cards in certain countries should be allowed to join the pilot program, it said.
Vietnam's tourism market will fully open to international tourists in the last phase, the starting time of which will be based on the pandemic situation on the evaluation of the two previous phases.
Vietnamese carriers brace for peak Tet travel rush
Domestic carriers have opened their ticket sales for Tet, Vietnam's biggest holiday, and increased flight frequency to meet peak travel demand.
Vietnam Airlines and its subsidiaries Pacific Airlines and Vietnam Air Services Company (VASCO) plan to operate 10,000 to 11,000 flights, or around two million seats, from Jan. 16 to Feb. 15 to serve customers during the Tet (Lunar New Year) holiday. The figure was down 10 percent from the same period last year amid the worsening pandemic.
Currently, Vietnam Airlines has been selling 1.2 million tickets, with the figure to continue rising depending on market demand, cited VnExpress.
Tet, which peaks on Feb. 1 this time, often sees millions of migrant workers from major cities and industrial hubs return to their homes for family reunions or holiday-goers flock to tourist hotspots.
Bamboo Airways also increased the frequency on several domestic routes to meet growing travel demand during the peak season.
The carrier has increased the frequency to five daily flights on the Hanoi-Ho Chi Minh City route from Dec. 15 while other routes connecting Hanoi, HCMC with Da Nang being increased to three flights per day.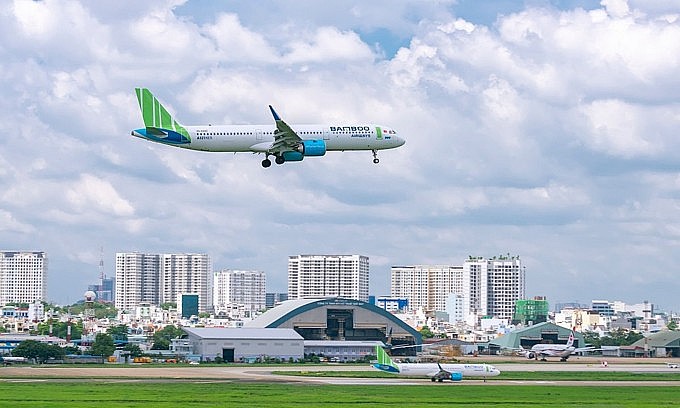 Bamboo Airways aircraft at Tan Son Nhat Airport in HCMC. Photo: Bamboo Airways
For other routes from Hanoi, HCMC to beach tourist hotspots Cam Ranh, Phu Quoc and Da Nang City, Bamboo Airways doubled in frequency to two return flights a day.
On the peak days of Tet, Tan Son Nhat International Airport in HCMC and Noi Bai International Airport in Hanoi, the country's largest, are expected to receive 1,100 and 600 flights a day respectively, an increase of 20 percent compare to weekdays.
Since early this month, the government allowed domestic carriers to increase domestic flight frequency to meet higher travel demand during the year-end season.
Currently, passengers need to satisfy one of three conditions: a negative test obtained 72 hours prior, a certificate showing they are fully vaccinated with the second shot between 14 days and 12 months or a certificate proving they recovered from Covid-19 more than six months before.
But those from high-risk or locked-down areas, along with HCMC and Can Tho, need to furnish a negative coronavirus test before boarding, even if they have been fully vaccinated or have recovered from Covid-19.
Passengers are required to make medical declaration before boarding, using the PC-Covid application. Passengers will not be allowed to board the flight if they show symptoms of cough, fever, shortness of breath, muscle ache, sore throat or loss of taste.
Northern region braces for severe cold spell on weekend
Both northern and northern central regions are anticipated to endure a significant cold spell this weekend, according to the National Centre for Hydro-Meteorological Forecasting.
Starting from the evening of December 25, cold weather is forecast to hit the region, bringing with it rain and lowering temperatures.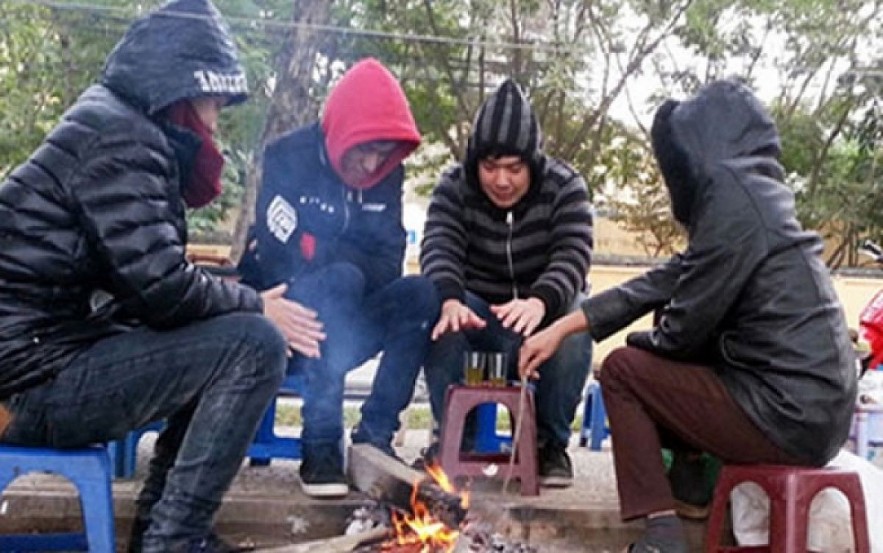 Photo: VOV
According to the forecast, temperatures might drop to below 10 degrees Celsius in mountainous areas and frost may be seen in some places.
The northeastern and northwestern regions will be the most-severely impacted areas, with temperatures around 13 to 16 degrees Celsius.
In the capital, the cold spell will likely cause temperatures to tumble to between 14 and 16 degrees Celsius between December 26 and December 28, VOV reported.
In anticipation of this harsh fall in temperature, citizens residing in many northern localities, especially the elderly and children, are advised to don warm clothes in order to protect their health. In addition, local authorities are taking swift measures aimed at helping residents in rural areas to protect their plants, animals and livestock.