Vietnam News Today (December 20): Vietnam's Trade Value to Hit Record High in 2021
Vietnam News Today (December 20): Coastal localities brace for super typhoon Rai; Vietnam's trade value to hit record high in 2021; Vietnam can help connect EAEU, ASEAN; Genome sequencing required to detect Omicron variant.
Vietnam News Today (December 20) notable headlines
Coastal localities brace for super typhoon Rai
Vietnam's trade value to hit record high in 2021
Vietnam can help connect EAEU, ASEAN
Genome sequencing required to detect Omicron variant
Schedule of SEA Games 31 announced
Vietnam, Cambodia witness sharp increase in two-way trade revenue
Activities held nationwide to celebrate National Resistance Day
National statistical development strategy approved
Good Vietnam-Cambodia relationship contributes to each country's development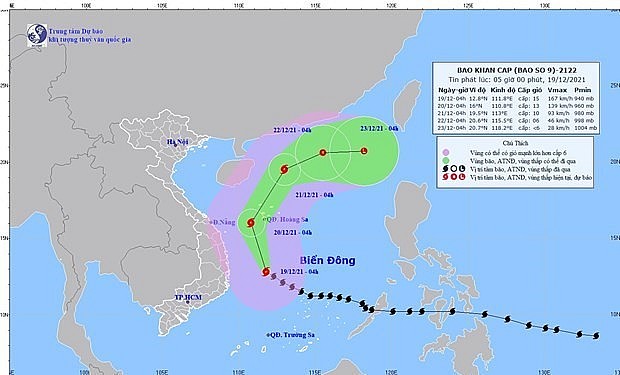 Moving direction of typhoon Rai. Photo: nchmf.gov.vn
Coastal localities brace for super typhoon Rai
As typhoon Rai is changing its moving direction in the waters to the northwest of Truong Sa (Spratly) archipelago, coastal localities are bracing for the impacts of the super typhoon.
At 10am December 19, Rai, the ninth storm of this year's hurricane season in the East Sea, was about 210km to the east of the central coastal provinces of Binh Dinh and Phu Yen, with gust near the eye of the storm reaching 150-185 km per hour.
The typhoon is forecast to move northwest and then change direction to head west at a speed of 15-20km per hour until December 20.
By 10am December 22, Rai will change direction again to move east-northeast at 10-15km per hour, and then weaken into a tropical depression and late a low pressure zone.
As the typhoon approaches, strong wind and torrential rains are expected in the central region, with high-level warnings issued for flooding, cited VNA.
The central province of Quang Nam has seen big rains for the past two days, with more to come until December 21, with total rainfalls ranging from 80mm to 150mm, reaching 200mm in some areas.
The provincial People's Committee has issued a dispatch directing competent agencies to take measures to alleviate damage from the natural disaster.
Local fishermen have mostly returned to land to take shelter from the storm.
Vietnam's trade value to hit record high in 2021
Despite the impact of the Covid-19 pandemic, Vietnam's total import-export value is expected to reach a record high at US$660 billion this year, according to the General Department of Vietnam Customs.
Statistics from the department show the country's total import-export turnover was US$602 billion in the January-November period, surpassing the US$500 billion mark recorded two years ago. Of the total, the export value was US$299.67 billion, up 17.5%, and the import value was US$299.45 billion, up 27.5%, resulting in a trade surplus of US$225 million.
The agency forecasts that the 2021 import - export turnover is likely to surpass the US$660 billion mark, making Vietnam one of the 20 leading economies in terms of international trade.
The past 11 months saw 34 groups of commodities rake in US$1 billion each from exports, accounting for 93.5% of the total export turnover. Notably, there were seven groups of export products earning more than US$10 billion each, representing 66.4% of the total.
Processed industrial products took the lead, earning US$266.75 billion from exports, representing a year-on-year increase of 18% and accounting for 89% of the country's total export turnover.
The United States was Vietnam's largest export market in 11 months with a turnover of US$84.8 billion, up 22.2%. It was followed by China (US$50.5 billion, up 16.8%), the European Union (US$35.7 billion, up 11.9%), ASEAN (US$25.9 billion, up 23.3%), the Republic of Korea (US$20 billion, up 14.6%), and Japan (US$18 billion, up 3%).
The Ministry of Industry and Trade says Vietnam will have a great chance to increase its exports in the last month of 2021 on the back of economic recovery in major global powers such as the United States and the European Union which are Vietnam's leading trading partners.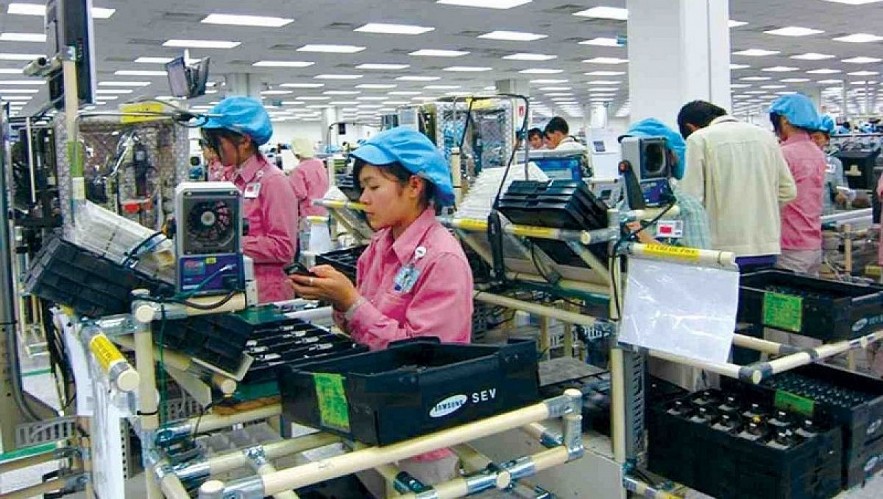 Phones are among key hard currency earners for Vietnam this year
In addition, an increasing market demand especially for a range of highly competitive products of Vietnam in the year-end shopping season will help boost exports for the whole year.
Indeed, domestic businesses have taken advantages of opportunities from free trade agreements, especially new-generation FTAs, that Vietnam has signed with its partners, to increase their exports. They have gradually adapted to the agreements' commitments along with preferential tariffs to be eliminated or reduced by partners, creating more competitive advantages for their products.
According to the Ministry of Industry and Trade, Vietnam's goods-for-export structure has changed dramatically over the past 10 years, and the US$100 billion mark has been surpassed every two years, according to VOV.
Back in 2011, there were 21 groups of commodities that earned more than US$1 billion each from exports, of which only garment exports bagged US$14 billion. However, 10 years later the number of groups of commodities earning more than US$1 billion each from exports rose to 34, with seven of them raking in US$10 billion or more each (November 2021 statistics).
It is a good sign that the goods-for-export structure has changed significantly, from labour intensive sectors such as garment, footwear and fisheries, to high-tech commodity groups like phones, computers, and machinery, says a representative of the Ministry of Industry and Trade.
Vietnam can help connect EAEU, ASEAN: Russian scholar
Vietnam is a model in Asia-Europe cooperation and can act as a bridge for the Eurasian Economic Union (EAEU) to get closer to the ASEAN, according to Anton Viktorovich Bredikhin, political scientist and editor-in-chief of the Russian scientific journal Arkhont.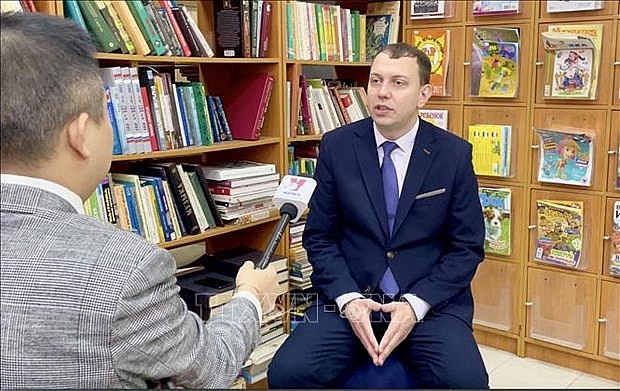 Anton Viktorovich Bredikhin, political scientist and editor-in-chief of the Russian scientific journal Arkhont (R) answers Vietnam News Agency correspondent's interview. Photo: VNA
In an interview with a Vietnamese News Agency (VNA) correspondent in Moscow, Bredikhin noted that the EAEU has signed free trade agreements (FTA) with many countries including Vietnam, Singapore, Serbia, Iran and Cuba.
As the first country to sign a FTA with the union, Vietnam can become a bridge connecting the EAEU and the ASEAN, and help lay the foundation for a broader FTA area between the two groupings, reported VNA.
He stressed that Russia has driven its pivot to the East since 2014 and given priority to expanding its relations with Asia-Pacific countries.
Genome sequencing required to detect Omicron variant
The Ministry of Health has requested domestic epidemiology and Pasteur institutes to conduct genome sequencing for positive cases entering Vietnam from November 18 to detect the Omicron variant.
Localities were asked to review all arrivals from overseas and send positive test samples if confirmed to epidemiology and Pasteur institutes for genome sequencing, cited VOV.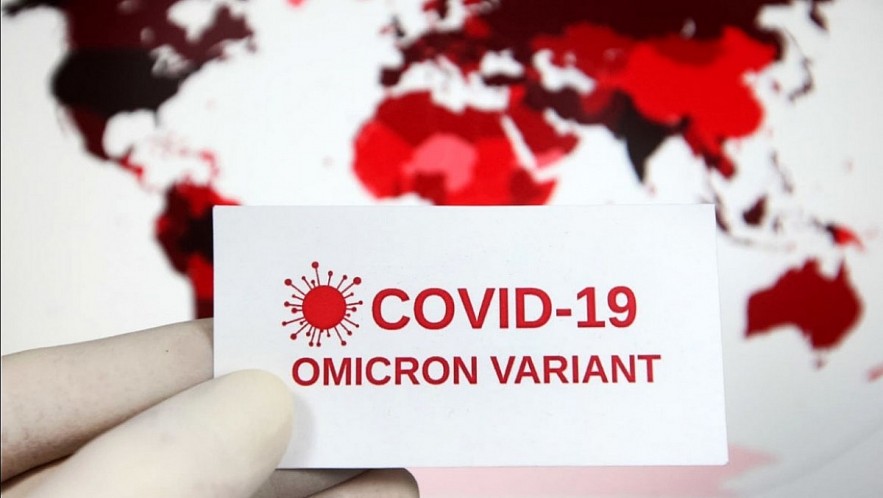 The Omicron variant has been reported in nearly 100 countries and territories. Photo: Reuters
In case a person is positive for the Omicron variant, genome sequencing will be continued for those who had direct contact with the positive case through the RT-PCR method.
The MoH requested the epidemiology and Pasteur institutes to update the results of gene sequencing to the Global Science Initiative and Primary Source (GISAID) to share genetic data and receive information on related variants of the virus causing the pandemic.
Omicron which is considered a variant of concern by the World Health Organization has been reported in nearly 100 countries and territories.
"Omicron is spreading at a rate we have not seen with any previous variant," WHO Director-General Tedros Adhanom Ghebreyesus said during a Covid update in Geneva.
Although Vietnam has yet to detect any Omicron cases, experts say the infection risk is high as some regional and neighboring countries such as China, Cambodia, Thailand and Singapore have reported first cases.
Schedule of SEA Games 31 announced
Minister of Culture, Sports and Tourism Nguyen Van Hung has just signed Decision No. 3299/QD-BVHTTDL, announcing the schedule of sports matches for the 31st Southeast Asian Games (SEA Games 31) in Vietnam.
Accordingly, the regional event will take place in Hanoi and neighboring localities including Bac Ninh, Hai Duong, Hai Phong, and Quang Ninh, Ha Nam, Nam Dinh, Ninh Binh, Hoa Binh, Vinh Phuc, Phu Tho and Bac Giang from May 5 to May 23, 2022. This will be Hanoi' second time hosting the Southeast Asian Games since 2003.
SEA Games 31 will have 40 subjects and 526 contents with 10,000 participants. In which, Hanoi will hold the opening and closing ceremonies on May 12 and May 23, respectively. These two important ceremonies will take place at My Dinh National Stadium.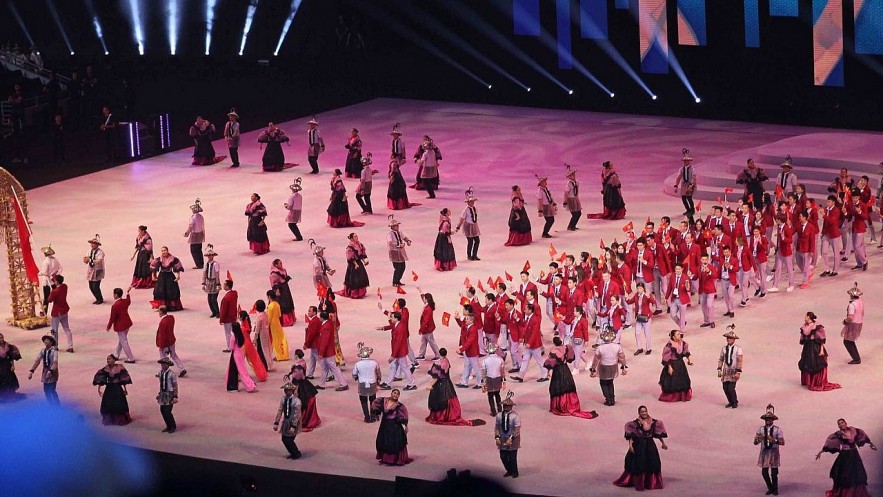 The opening ceremony of the SEA Games 30 took place at the Philippine Arena Stadium. Photo: B.L
Most notably, the men's football event will be held from May 6 to May 22, while women's football is set to take place from May 11 to May 21. Other sports include track-and-field, basketball, vovinam, and volleyball, all of which have fixed dates, with medals to be awarded to the winners.
At the present time, all the preparation of facilities is being carried out on schedule under the close and regular supervision and inspection of the Ministry of Culture, Sports and Tourism, the General Department of Sports and Physical Education. My Dinh stadium, where the opening ceremony, closing ceremony and men's football final will take place, is currently being actively repaired and upgraded to ensure the set plan, NDO reported.
The organizers have set the target of completing all preparations for the SEA Games by April next year, including trialling the competition venues to make sure they are ready for the games.
The organization of the event is being actively prepared by the host country, Vietnam, as an affirmation of the highest responsibility to the ASEAN family in general and regional sports in particular, with determination towards effectiveness in pandemic prevention efforts.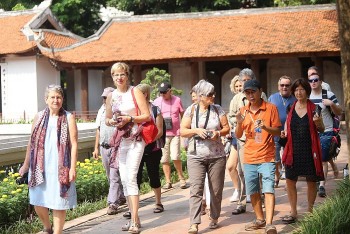 National
Vietnam News Today (May 24): Covid-19: Vietnam records 1,179 new cases, 3,862 recoveries on May 23; Foreign arrivals soar two months after border reopening; Vietnam, Cambodia boost defense ties; Heavy rain floods parts of northern Vietnam.