Vietnam News Today (Feb. 14): Vietnam's Aviation Ready to Fully Recover International Flights
Vietnam News Today (Feb. 14): Vietnam adds 26,372 Covid-19 cases to domestic tally; Bright prospects ahead for fruit and vegetable exports to US; Vietnam's aviation ready to fully recover international flights; Da Lat, Hoi An among Vietnam's most romantic places for Valentine's Day.
Vietnam News Today (Feb. 14) notable headlines
Vietnam adds 26,372 Covid-19 cases to domestic tally
Bright prospects ahead for fruit and vegetable exports to US
Vietnam's aviation ready to fully recover international flights
Da Lat, Hoi An among Vietnam's most romantic places for Valentine's Day
OVs in Belgium, Luxembourg help promote EU-Vietnam ties
Ninh Thuan strives to become renewable energy hub
Cuc Phuong named Asia's leading national park
Labour market recovery looks toward flexible, safe adaptation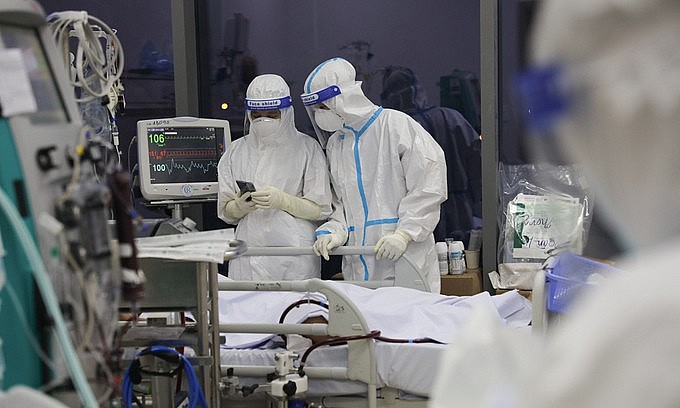 Medical staff at HCMC Covid-19 Resuscitation Hospital in September 2022. Photo: VnExpress
Vietnam adds 26,372 Covid-19 cases to domestic tally
Vietnam recorded 26,372 Covid-19 local cases on Sunday in 58 cities and provinces.
Hanoi led the tally with 2,940 cases, followed by Hai Duong with 1,906 and Nam Dinh with 1,894.
On Sunday, 84 deaths were confirmed, raising the death toll to 38,946, or 1.6 percent of the total infections.
The number of recoveries has increased to 2,226,754 after 7,815 cases were recovered on the same day.
Vietnam has recorded 197 Omicron infections to date, including 97 in HCMC, cited VnExpress.
74.7 million have received their second shots and 31.7 million have received their third shots.
Bright prospects ahead for fruit and vegetable exports to US
There remains plenty of room for local enterprises to expand their market shares in the US in the future thanks to its diversification in distribution systems and the openness of American culture, with local fruit and vegetables being a culinary trend, according to insiders.
With the US market home to 332 million customers, it also boasts a high per capita income and a three-million-strong overseas Vietnamese community.
Statistics compiled by the General Department of Vietnam Customs show that Vietnamese fruit and vegetable exports to the US market during the 11-month period last year surged by 33.2% on-year to reach US$203.2 million.
Six types of fresh Vietnamese fruits are permitted to enter the US market, including mangoes, longans, lychee, dragon fruit, rambutan, and star apples.
Most notably, Ke Sach star apples from the Mekong Delta province of Soc Trang have been exported to the US and Singaporean markets in huge quantities, said Vu Ba Quan, head of Ke Sach district's Agriculture and Rural Development Department.
Deputy Minister of Agriculture and Rural Development Tran Thanh Nam revealed that Vietnamese pomelos will officially enter the US market, while the US authorities will also consider opening the door to Vietnamese coconuts in the near future.
The Deputy Minister therefore recommended that local businesses work closely with local plant quarantine units to complete necessary documents to soon export pomelos to the US, according to VOV.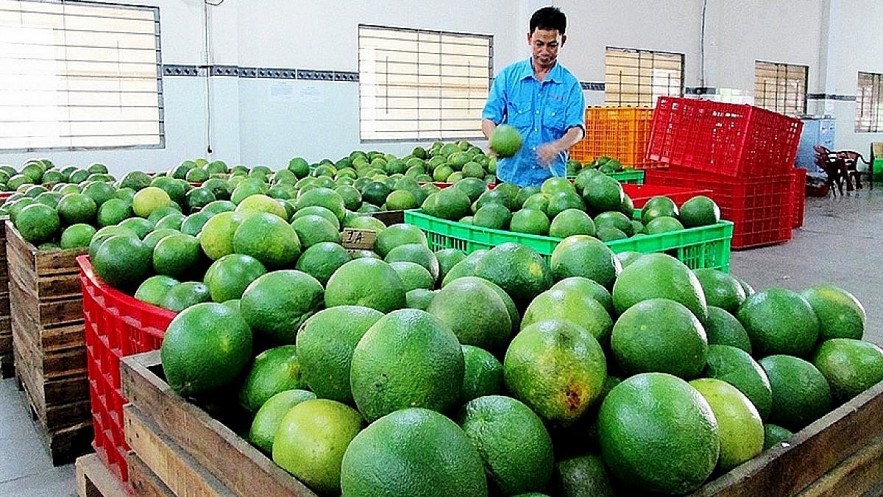 Pomelos are expected to gain entry to the US market in the coming time. Photo: VOV
Aside from advantages, Vietnamese enterprises have also encountered numerous difficulties in exporting fruit and vegetables to the demanding market amid tough competition from states such as Florida and California, as well as South American countries with natural conditions similar to Vietnam, and products from other Asian countries.
Moreover, due to geographical distance, high transportation and storage costs, Vietnamese fruit and vegetable products have yet to make a significance presence in the market.
As a means of increasing the export of fruit and vegetables to the US market, Vietnam's Trade Office in the US has advised domestic enterprises to co-ordinate efforts with US importers and distributors to study flexible payment methods whilst supporting risk sharing in the early stage of market access.
Furthermore, the trade office emphasized the necessity of investing in cold storages in order to set up a distribution centre for Vietnamese goods at a large port in the West Coast.
This move is anticipated to reduce costs and facilitate the entry of local goods to the market in a convenient manner in the time to come.
Vietnam's aviation ready to fully recover international flights
The Vietnamese aviation industry is currently ready in all aspects to operate the entire international flight network like before the Covid-19 outbreak, the Civil Aviation Authority of Vietnam (CAAV) has told Deputy Transport Minister Le Anh Tuan.
Deputy Minister Tuan assigned the CAAV to discuss with aviation management agencies of partner countries on the resumption of regular international flights to markets that had already opened direct flights to Vietnam before the Covid-19 outbreak, in addition to those launched in January.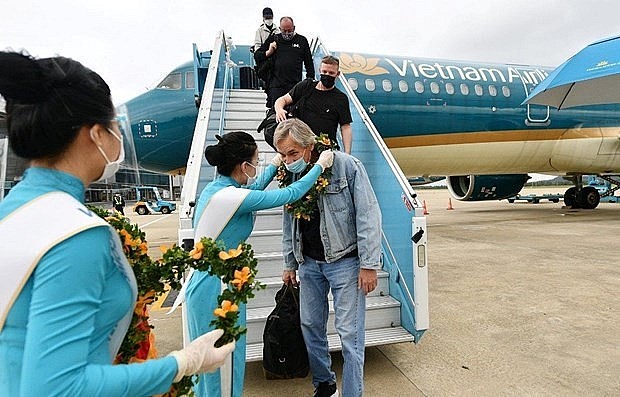 Foreign tourists visiting Vietnam on Vietnam Airlines plane. Photo: VNA
The frequency of these routes will increase gradually to ensure the principles of safe and flexible adaptation to and effective control of the pandemic.
The CAAV must report to the Ministry of Transport on the results of the resumption of international routes in February so that the ministry can summarize and report it to the Prime Minister, the official requested.
Regarding this issue, a CAAV leading official said that the authority has just worked with the Thai aviation authorities, and this country has also agreed to reopen air routes and with no limit of the number of flights, reported VNA.
Thus, to date, except for China, all countries that Vietnam proposed to restore air routes have shown their agreement.
Notably, in the near future, international flights to new markets such as the Middle East, Turkey will be opened, the CAAV leader added.
He cited the direction of the Prime Minister as saying that the reopening of international routes as normal is not later than March 30.
Da Lat, Hoi An among Vietnam's most romantic places for Valentine's Day
Da Lat, Hoi An, and Da Nang are among 10 most romantic tourist hotspots for Valentine's Day as endorsed by Vietnamese travelers, according to online travel agency Booking.com.
Da Lat topped the most romantic destinations list for Valentine's Day.
"This beautiful land of flowers has fascinated and attracted couples from all walks of life with its peaceful life, picturesque sceneries, and year-round cold weather," the U.S.-based agency stated.
Some activities ideal for couples are taking a swan-shaped boat ride on the iconic Xuan Huong Lake, taking a dip at beautiful waterfalls like Pongour or Prenn or visit Valley of Love.
Hoi An ancient town in central Vietnam came in second on the list. Couples are recommended to stroll around streets full of colorful lanterns or enjoy a cyclo tour or release lanterns onto the Hoai River, cited VnExpress.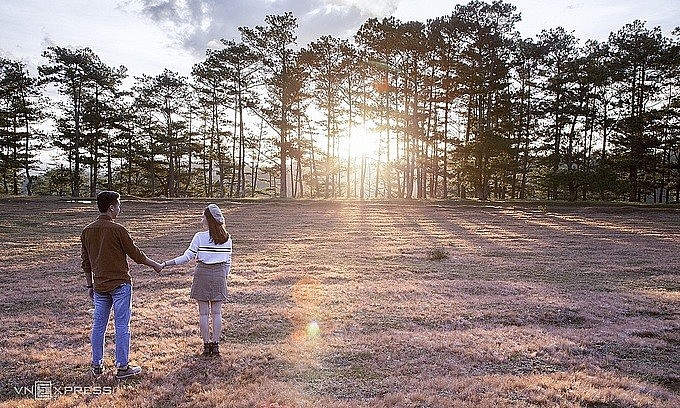 A couple walk on a pink grass hill in Da Lat, 2021. Photo: VnExpress
Hoi An also made it into the list of 21 most romantic places in the world as voted by editors of U.K.-based Time Out Magazine.
Da Nang City, which neighbors Hoi An, came in third in the domestic list; described as "all-in-one heaven for couples who like to do it all" by Booking.com.
"Blessed with a variety of natural landscapes like the sea, mountains, rivers, islands, Da Nang will offer couples the opportunity to create different types of beautiful memories all on one trip," it wrote.
Da Nang is famous for long, sandy beaches like My Khe and major tourist attractions like Han River and Golden Bridge.
Sa Pa, a popular tourist town in northern Lao Cai Province famed for rice terraces and cloudy landscapes, secured fourth spot, followed by beach town Nha Trang.
The rest of the top 10 were Phu Quoc, Hanoi, Hue, Mui Ne and Cat Ba Island in the northern Hai Phong City.
OVs in Belgium, Luxembourg help promote EU-Vietnam ties
A get-together was held on February 11 in Brussels, with the participation of more than 50 overseas Vietnamese in Belgium and Luxembourg, on the occasion of the new lunar year.
Vietnamese Ambassador to Belgium and Luxembourg Nguyen Van Thao updated the participants on Vietnam's achievements in recent times, underlining contributions of the OVs in every field.
He said that 5.3 million Vietnamese people who are living abroad, of whom 13,000 stay in Belgium and Luxembourg, is an inseparable part of the nation.
Earlier, the Vietnamese Embassy hosted a meeting with officials and representatives from businesses of the European Union (EU), Belgium and Luxembourg, and from some friendship organizations.
Ambassador Thao, who is also head of the Vietnamese delegation to Belgium and the EU, briefed socio-economic accomplishments of Vietnam in the previous year, particularly in the Covid-19 fight and economic recovery.
He recalled important cooperation results between Vietnam and the EU as well as Belgium, VNA reported.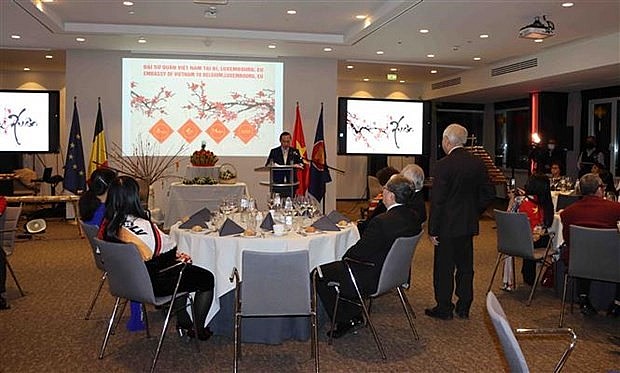 At the get-together held in Brussels. Photo: VNA
Affirming ample room for cooperation, the diplomat called on them to strengthen coordination so as to maintain the momentum along with collaboration in new areas such as climate change adaptation, digital transformation and innovation, as well as culture, education and people-to-people exchange.
Gunnar Wiegand, Managing Director for Asia and Pacific at the European External Action Service; and Andries Gryffroy, First Vice President of the Senate of Belgium and President of the Belgium-Vietnam Alliance, spoke highly of efforts and outcomes of Vietnam in the realization of socio-economic targets in 2021, notably in the fight against Covid-19 with a high vaccination rate.
They highly valued Vietnam's role, position and relations with the country, affirming their wish to bolster cooperation with Vietnam in the coming time towards recovery in the post-pandemic period and sustainable development.
Despite the adverse impacts of Covid-19, Vietnam-EU trade turnover hit 63.6 billion USD in 2021, posting a year-on-year surge of 15 percent. Vietnam became the 15th leading trade partner of the EU and the largest one in ASEAN.
Belgium continued to be among major partners of Vietnam in the EU with new investment projects announced last year in renewable energy.