Vietnam News Today (Feb. 15): Vietnam Calls for International Support to Realize Energy Commitment at COP26
Vietnam News Today (Feb. 15): Vietnam records 29,403 new Covid cases; Vietnam calls for int'l support to realize energy commitment at COP26; Vietnam ready for vaccination campaign for children aged five to 11; Vietnam new Asian tiger: Business Times.
Vietnam News Today (Feb. 15) notable headlines
Vietnam records 29,403 new Covid cases
Vietnam calls for int'l support to realize energy commitment at COP26
Vietnam ready for vaccination campaign for children aged five to 11
Vietnam new Asian tiger: Business Times
Hanoi to reopen heritage sites from February 15
COP26 president highly appreciates Vietnamese response to climate change
UNESCO-recognized Ha Long Bay popularized at EXPO 2020 Dubai
Local image claims prize at CEFF International Environmental Photography
University students eager to return to school after months of online learning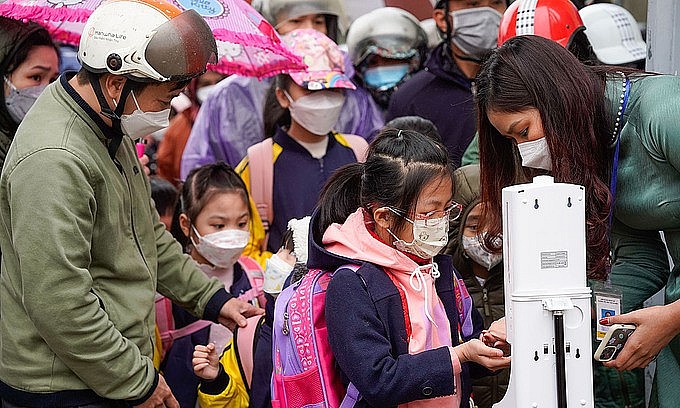 Hanoi first graders disinfect their hands and have their temperature checked before attending school for the first time, Feb. 10, 2022. Photo: VnExpress
Vietnam records 29,403 new Covid cases
The Health Ministry confirmed 29,403 new local Covid-19 cases in 63 cities and provinces Monday, pushing the ongoing wave's tally to 2,510,662.
The three localities with the highest number of new cases were Hanoi with 3,507 cases, Hai Duong with 1,915 cases, and Hai Phong with 1,489 cases.
Of the day's tally, 20,924 cases were detected in the community.
Vietnam has recorded 198 cases infected with the Omicron variant, with 97 of them in HCMC.
The Covid-19 death toll in Vietnam rose to 39,040 with the confirmation of 91 deaths Monday, cited VnExpress.
The Health Ministry also confirmed 6,193 recoveries the same day, bringing the total number of recovered cases so far to 2,232,947.
Over 74.7 million people of Vietnam's 96 million population have been vaccinated with two doses, and more than 32 million have received the third dose.
Vietnam calls for int'l support to realize energy commitment at COP26
Vietnam needs considerable international support in terms of concessional capital to take measures for concurrently ensuring national energy security and achieving net zero emissions by 2050, said Minister of Industry and Trade Nguyen Hong Dien.
The official made the remark during a meeting on February 14 with British Minister Alok Kumar Sharma, President for the 26th United Nations Climate Change Conference (COP26), who is on a working visit to Vietnam.
Dien noted right after the COP26 in the UK last November, under the Prime Minister's directions, the Ministry of Industry and Trade (MoIT) has been working to update the draft Power Development Plan VIII in a way that continues reducing coal-fired power generation and strongly developing gas-fired power generation, especially the liquefied natural gas (LNG)-fired one, so as to guarantee energy security and increase the capacity of using electricity from renewable energy sources.
He added it is also moving to promote the power created by renewable energy, especially wind and solar power, and balance power generation sources among regions.
The solar and wind farm complex in Thuan Bac district. Photo: VNA
Sharma recognized Vietnam's efforts in drafting Power Development Plan VIII and success in developing renewable energy as seen in the impressive growth of solar and wind power.
He called on the MoIT to support renewable energy projects, including the Thang Long offshore wind power project of Enterprize Energy.
Regarding the high financial demand to carry out Power Development Plan VIII towards net zero emissions by 2050, the COP26 President suggested funding be mobilized from public and private sources to invest in green infrastructure projects so as to realize the commitment made at the UN conference, according to VNA.
Minister Dien asked the COP26 leader to help electricity businesses of Vietnam to access British and international financial sources.
Vietnam also wishes to receive technical assistance from developed countries to make plans on reducing the development of coal-fired power plants, control greenhouse gas emissions in the industry and trade sector, improve the country's capacity for implementing carbon evaluation mechanisms under the Paris Agreement on climate change, and enhance its capacity to carry out a competitive electricity retail market, according to the host official.
Vietnam ready for vaccination campaign for children aged five to 11
The Ministry of Health is outlying procedures to immunize children aged five to 11 against Covid-19 in line with recommendations made by the World Health Organization (WHO).
The Ministry's Health Strategy and Policy Institute has recently conducted an online poll that indicates 60.6% of parents with children under 12 agreed with the need to inoculate their children against Covid-19. Roughly 29.1% of the respondents said they were considering the plan, whilst just 1.9% of polled parents said they did not agree.
According to Prof. Dr. Phan Trong Lan, head of the General Department of Preventive Medicine under the Ministry of Health, if vaccinated children aged five to 11 years old show fewer symptoms and milder symptoms than adults in the event that they are infected.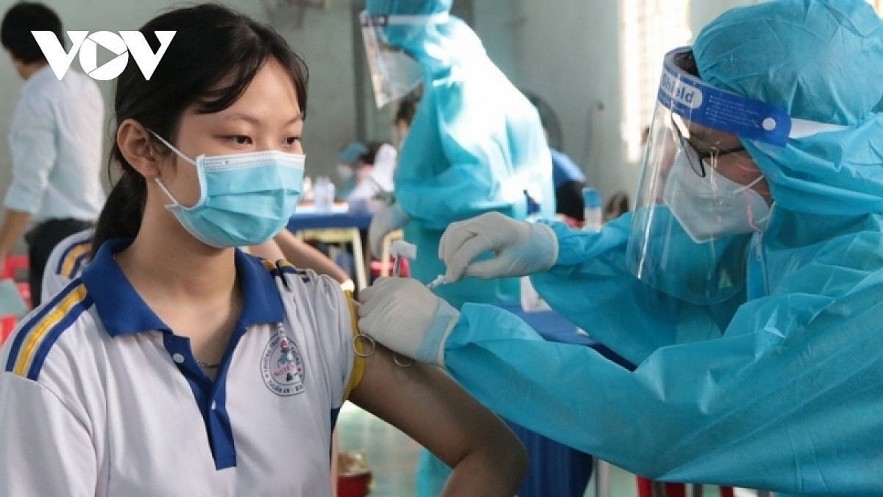 Vietnam will purchase 21.9 million doses of the Pfizer vaccine to immunize children aged 5-11. Photo: VOV
"Vaccination for children is of great significance as it helps limit infection and reduce transmission of the virus to family members, especially those at high risk," said Lan, pointing out that infection is more common among unvaccinated children.
Furthermore, he said the Pfizer vaccine that will be used for child immunization has been approved by the WHO and the Food and Drug Administration of the United States, as well as the European Medicines Agency.
The vaccine will therefore be given to children in this age group via two injections, at an interval of eight weeks apart. Each jab contains 10 micrograms of the Covid-19 vaccine, one third of the dose given to those aged 12 and older, reported VOV.
Pfizer reported last year that clinical trials of its vaccine in more than 2,000 children aged five to 11 showed the vaccine was "safe, well tolerated" and "it showed robust neutralizing antibody responses."
More than 40 countries worldwide have now approved the vaccine for children aged five to 11, with three quarters of them having carried out the vaccination plan.
"Vaccination against Covid-19 for children aged five to 11 will help children to be more confident when they engage in other activities, such as attending school or participating in outdoor activities," said Prof. Dr. Lan.
Official data released by the Ministry of Health indicate that more than 95% of students between the ages of 12 and 18 have received their first jab, with 88.5% having now received their second jab.
The Ministry of Health is detailing procedures for Covid-19 vaccination of children aged five to 11 to ensure physical learning will be safe as soon as they return to school after months of online learning due to the prolonged impact of the Covid-19 outbreak, said Minister of Health Nguyen Thanh Long.
Prime Minister Pham Minh Chinh has granted approval to the Ministry of Health's proposal to purchase 21.9 million doses of the Pfizer vaccine to inoculate children in this age group. The PM requested that the Ministries of Health and Education work closely together to ensure the vaccination campaign will take place in a safe and effective manner.
Vietnam new Asian tiger: Business Times
Vietnam is expected to accelerate its economic recovery from the pandemic this year after having recorded a 2.6 percent increase in gross domestic products (GDP) in 2021, Singapore's Business Times reported.
Once among the poorest countries in the world, its economy is now booming and the World Bank describes it as one of the most dynamic and emerging countries in the entire East Asia region, Business said in an article published last week, calling Vietnam a "new Asian tiger."
Singapore's DBS Group Research forecasts Vietnam's GDP growth to reach 8 percent in 2022, boosted by an accommodative monetary policy. The International Monetary Fund (IMF) has predicted that Vietnam will climb three spots to rank third in GDP among ASEAN member states this year, thanks to the fast-growing middle class and the rise of ultra-rich people.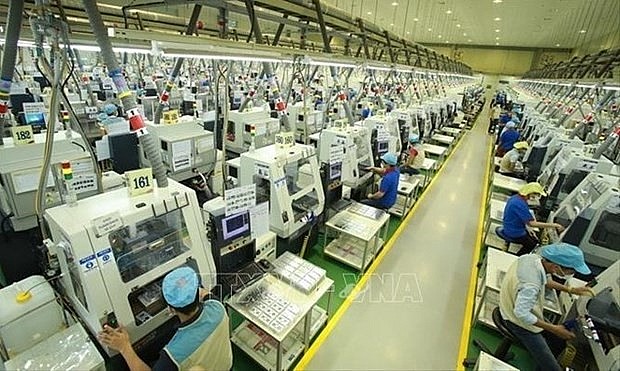 Illustrative photo. Photo: VNA
Knight Frank's latest Wealth Report estimates there were about 19,500 high-net-worth individuals in Vietnam in 2020, defined as those with assets of at least US$1 million, the article said. By 2025, that number is expected to grow by almost 25 percent to top 25,000, it added.
Business Times attributed the robust growth of the economy to increasing flows of foreign investment into the country. Many Singapore companies, including CapitaLand and Keppel, have invested heavily in the country as they seize the abundant opportunities.
"Vietnam has long been known as Southeast Asia's coding farm, where talent and wages are in a sweet spot for companies to use it as a base for their technical development," it noted.
The article also referred to Vietnam as the largest solar power producer in Southeast Asia today with 16.6 gigawatts of installed capacity as of 2020. Vietnam's construction industry is set to continue its recovery in 2022 as several large-scale infrastructure projects move through different stages of development, it further said.
Hanoi to reopen heritage sites from February 15
An array of historical and cultural sites across Hanoi, including Van Mieu - Quoc Tu Giam (Temple of Literature) and Hoa Lo Prison (Maison Centrale) will reopen to visitors as of February 15.
A representative from Hoa Lo Prison revealed that the site will also relaunch its night tour called "Sacred Night - Glorious Vietnamese Spirit", starting on weekend.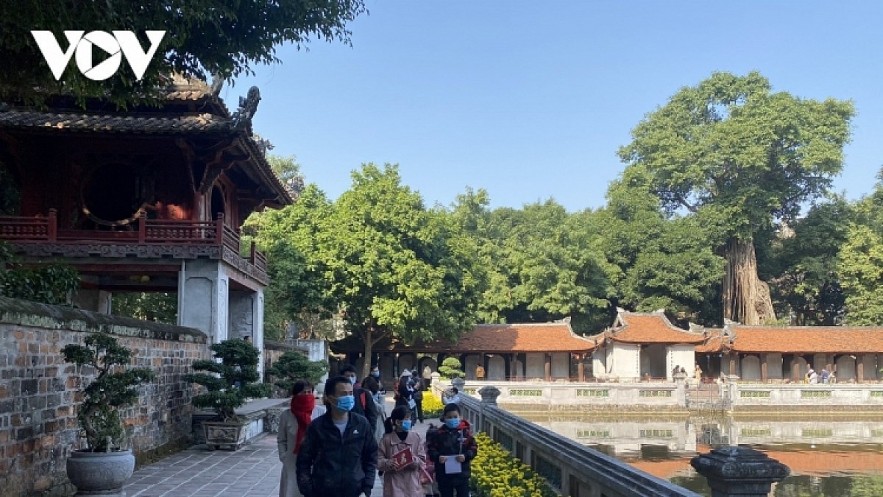 Temple of Literature, the first university in Vietnam, is expected to reopen to visitors as of February 15. Photo: VOV
Meanwhile, several museums in the capital city have devised plans to receive visitors again. The Vietnam Women's Museum has been open since February 8, with guests visiting thematic exhibitions or taking a 3D-virtual tour, cited VOV.
The Vietnam Museum of Fine Arts is also offering free tickets to thematic exhibitions, while the Vietnam Museum of Ethnology is expected to reopen on February 19.
The Hanoi Department of Culture and Sports has requested that all historical and cultural sites abide by pandemic prevention and control measures. Visitors are required to scan QR codes, make medical declarations, wear face masks, and thoroughly wash their hands with disinfectant.
Friendship
In Da Nang, the Vietnam-Laos Solidarity and Friendship Year 2022 was celebrated on July 2. Collectives and individuals of the Lao Women's Union were also awarded medals of Vietnam.