Vietnam News Today (Feb. 18): Vietnam Calls for Enhanced Solidarity to Build Strong, Resilient ASEAN Community
Vietnam News Today (Feb. 18): Vietnam's single-day Covid tally keeps rising since Tet; Vietnam calls for enhanced solidarity to build strong, resilient ASEAN Community; Vietnam to play Thailand, South Korea in U23 Asian Cup; All restrictions on passenger flights removed.
Vietnam News Today (Feb. 18) notable headlines
Vietnam's single-day Covid tally keeps rising since Tet
Vietnam calls for enhanced solidarity to build strong, resilient ASEAN Community
Vietnam to play Thailand, South Korea in U23 Asian Cup
All restrictions on passenger flights removed
Vietnamese trade balance remains in surplus in early 2022
Vietnamese firms strengthen presence within Indian market
Hoi An ranks among top 10 most welcoming places on earth for 2022
Reopening international fights - a "golden" opportunity for domestic airlines
UNICEF Representative: children should be in school for their best interests ​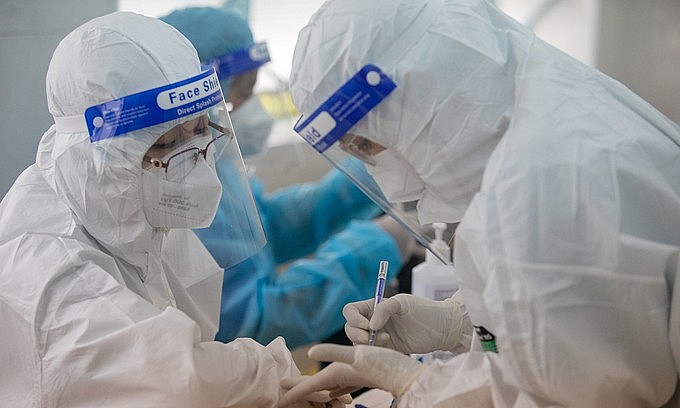 Health workers conduct Covid-19 vaccination at a high school in HCMC's District 1, October 27, 2021. Photo: VnExpress
Vietnam's single-day Covid tally keeps rising since Tet
Vietnam on Thursday recorded 36,190 new local Covid-19 cases, the highest single-day infection tally ever.
The day's tally was up nearly 2,500 from Wednesday and 5,000 from Tuesday. The total infection tally in the fourth wave so far is 2,613,362 cases.
The three localities with the highest numbers of infection on Thursday are Hanoi with 3,893 cases, Thai Nguyen with 2,478 cases and Quang Ninh with 2,477 cases.
90 deaths were added to the national database on Thursday, with 19 cases in Hanoi, eight in Da Nang, seven in Nam Dinh, six in Kien Giang, five in Binh Thuan, three in Binh Phuoc, two each in Ba Ria-Vung Tau, Bac Ninh, Dong Nai, Dong Thap, Hai Duong, Hai Phong, Khanh Hoa, Lang Son, Ninh Binh, Quang Nam, Quang Ngai and Soc Trang, and one each in Bac Giang, Ben Tre, Binh Dinh, Binh Duong, Can Tho, Dak Lak, Dak Nong, Ha Nam, Hau Giang, Phu Yen, Quang Tri, Thai Binh, Thai Nguyen and Tien Giang, cited VnExpress.
Ho Chi Minh City, a former epicenter, recorded four deaths, two of which were transferred from Binh Thuan and Binh Dinh.
The total number of coronavirus deaths so far is 39,278 cases, or 1.5 percent of all infections.
5,810 Covid-19 patients were announced recovered on Thursday, bringing the number of recovered cases to 2,254,965.
79.8 million people have received their first Covid-19 vaccine shots, 75.7 million have received their second shots and 34.1 million have received their third shots.
Vietnam calls for enhanced solidarity to build strong, resilient ASEAN Community
Minister of Foreign Affairs Bui Thanh Son has called for solidarity, unity, dialogue, and cooperation to be enhanced to serve as the basis for a strong and resilient ASEAN Community.
He made the call while addressing the ASEAN Foreign Ministers' Meeting Retreat (AMMR), which was held both in person and virtually in Phnom Penh capital of Cambodia - Chair of the bloc in 2022, on February 16 and 17.
Speaking at the event, Minister Son asked ASEAN to press on with implementing Covid-19 response initiatives such as the ASEAN Comprehensive Recovery Framework and the ASEAN Travel Corridor Arrangement Framework. He also proposed mutual recognition of "vaccine passports" in the region so as to resume travel soon and facilitate comprehensive recovery, adding that attention should be paid to capacity building and technology transfer in order to stay ready to cope with new emergencies similar to the pandemic.
With regard to the building of the Post-2025 ASEAN Community Vision, he urged that the bloc early consolidate the high-level task force and make thorough preparations so that the ASEAN Community can adapt to and effectively respond to emerging complex challenges amid the fast-changing geo-political situation in the region and the world.
He recommended reinforcing solidarity, unity, dialogue, and cooperation to serve as the basis for a strong and resilient Community; upholding the bloc's centrality; improving the effectiveness of ASEAN-led mechanisms; and keeping balance in its relations with partners, thereby contributing to regional and global peace, cooperation, and development.
Son also called for continued cooperation to narrow the development gap in the region and boost sustainable development and inclusive growth in sub-regions of ASEAN.
Sharing other countries' concern about the complicated developments and unexpected incidents in the East Sea, the Vietnamese official stressed the importance of ensuring peace, security, and safety of navigation and overflight in the waters; complying with international law, including the 1982 UN Convention on the Law of the Sea (UNCLOS), so as to maintain the East Sea as a sea of peace, stability, and cooperation; continuing to fully and effectively implement the Declaration on the Conduct of Parties in the East Sea (DOC); and soon achieving a substantive and effective Code of Conduct (COC) that matches international law, including the 1982 UNCLOS.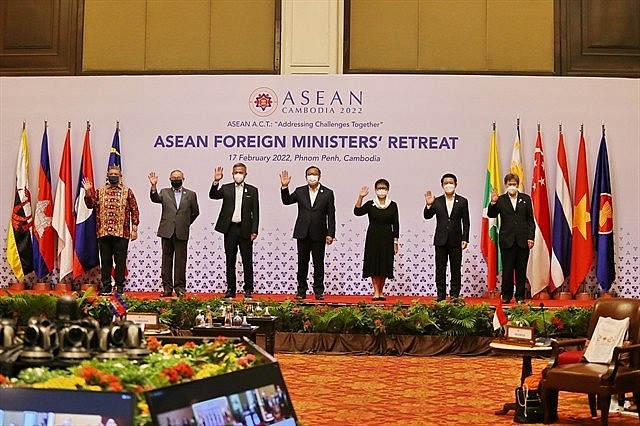 The ASEAN Foreign Ministers' Meeting Retreat (AMMR) was held both online and in-person in Cambodia on February 16-17. Photo: VNA/VNS
He also welcomed the proposal to celebrate the DOC's 20th anniversary and the UNCLOS's 40th anniversary in 2022.
Regarding the Myanmar issue, Minister Son affirmed Vietnam's readiness to join hands with other countries to assist Myanmar to overcome these trying times, voicing support for the continued effective implementation of the Five-Point Consensus, according to VNA.
He also proposed stronger cooperation within ASEAN and between the bloc and partners to deal with emerging non-traditional security challenges, including those related to cyber security, maritime security, water resource security, climate change, and environmental pollution, as well as new challenges caused by the Covid-19 pandemic.
During the AMMR, participants highly valued the ASEAN theme for 2022, "ASEAN A.C.T.: Addressing Challenges Together", expressing their support for the priorities and initiatives suggested by Cambodia. They pledged close cooperation with the Chair of the bloc to carry out the initiatives.
They agreed on the need to sustain solidarity and unity in ASEAN; expand and intensify the bloc's external relations; strengthen its centrality in an open, transparent, inclusive, and rules-based regional architecture; promote multilateralism; improve ASEAN-chaired and -led mechanisms; and effectively help promote peace, stability, sustainable development, and prosperity in the region.
The ministers also discussed some international and regional issues of common concern, including the Bien Dong Sea and Myanmar issues.
Vietnam to play Thailand, South Korea in U23 Asian Cup
A draw on Thursday placed Vietnam in group C of 2022 AFC U23 Asian Cup with Thailand, South Korea and Malaysia.
All three Southeast Asian teams are in group C with defending champions South Korea, who won the tournament in 2020.
2022 AFC U23 Asian Cup will take place from June 1 to 19 in Uzbekistan with the participation of 16 teams, divided into four groups. The top two teams of each group will advance to the quarterfinals.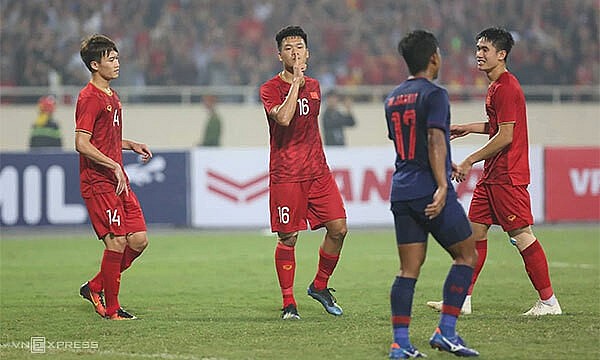 Vietnam players celebrate a goal in the U23 Asian Cup qualifiers against Thailand on March 23, 2019. Photo: VnExpress
Vietnam will play Thailand on June 2 before facing South Korea on the 5th, and Malaysia on the 8th.
In the 2020 tournament, U23 Vietnam exited the group stage early with two draws and one loss. The 2018 edition saw the team achieve their best result, finishing as runner-ups, reported VnExpress.
Coach Park Hang-seo won't be coaching the team in this tournament. When Park extended his contract, he only sought to coach the U23 team until May 2022, when SEA Games 31 concludes. Later, the Vietnam Football Federation would seek another coach for AFC U23 Asian Cup, most probably a South Korean.
All restrictions on passenger flights removed
The Civil Aviation Authority of Vietnam (CAAV) has notified aviation authorities and airlines of countries and territories of the resumption of regular international passenger flights to Vietnam.
The CAAV has asked the Vietnam Air Traffic Management Corporation (VATM) to issue a Notice To Airmen (NOTAM) on the lifting of all restrictions on international flights from February 15, returning to the normal situation as before the outbreak of Covid-19.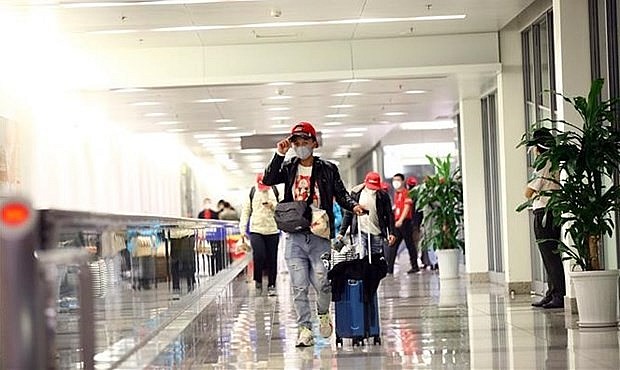 Passengers at Noi Bai international airport. Photo: VNA
According to the authority, limits on the number of inbound and outbound international flights in Vietnam will be cleared.
Domestic travel demand surged during the Tet (Lunar New Year) holiday as overloading was reported in some locations, particularly Tan Son Nhat airport in Ho Chi Minh City.
Preparations have been made since mid-2021 for the lifting of restrictions in the fourth quarter of the year, starting with the domestic market, cited VNA.
Deputy Prime Minister Vu Duc Dam has agreed with the Ministry of Culture, Sports and Tourism's plan to reopen tourism activities from March 15 in the context of safe, flexible adaptation to and effective control of the Covid-19 pandemic.
The CAAV has proactively reported to the Ministry of Transport on domestic and international air route resumption plans as well as preparing equipment and personnel to meet demand and ensure aviation safety and security.
Vietnamese trade balance remains in surplus in early 2022
Vietnam's merchandise trade balance remains in surplus, despite an export slowdown, while FDI commitment and disbursement enjoyed a solid start to the year, according to the "Vietnam Macro Monitoring" monthly report released by the World Bank.
In a positive sign, all major mobility indicators rose sharply ahead of the Lunar New Year, known locally as Tet, as the country's vaccination coverage surpassed 73% of the population.
Industrial production continued to record strong growth, though at a slower pace and with a mixed performance across various sub-sectors, while retail sales posted the first positive annual growth rate since the COVID-19 outbreak hit the nation back in late April, 2021.
The country attracted US$2.1 billion of FDI commitments in January, an increase of 4.2% on-year. Growth was driven by large investment in the expansion of existing businesses, particularly in electronics, and through active M&A activities. Indeed, the latter doubled in value in January compared to a year ago, reaching over US$400 million, equivalent to 20% of total FDI commitments.
Manufacturing continued to make up roughly 60% of total commitments, followed by real estates with 22.5%. In addition, the disbursement of approved FDI projects continued to recover from their slump in the third quarter of 2021, thereby increasing by 6.8% on-year in January, according to VOV.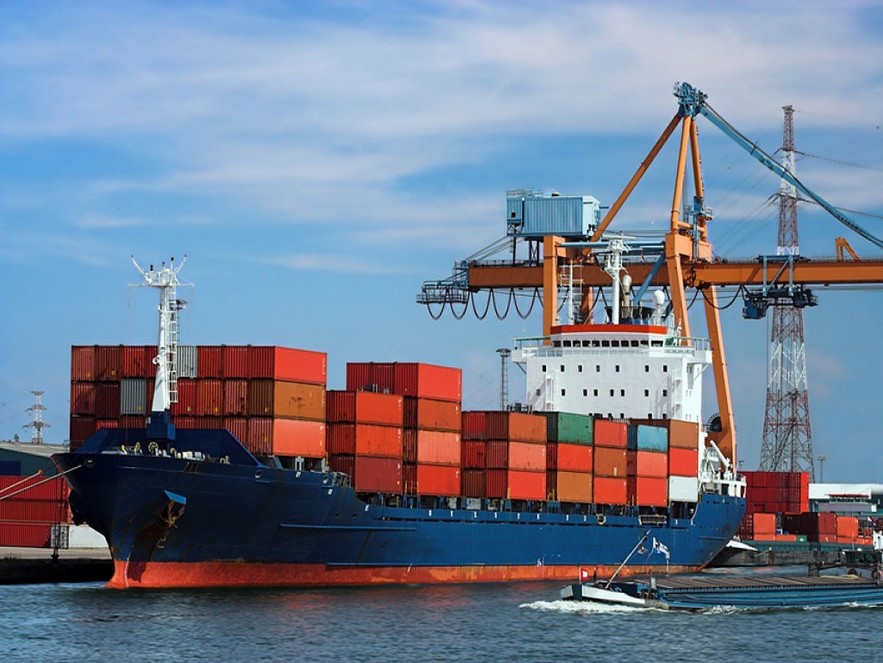 Photo: VOV
Rising energy prices continued to be the main contributor to CPI inflation, while food prices remained consistently stable as they kept inflation in check.
Credit growth accelerated in January to meet the increased demand from businesses and local households ahead of Tet, causing overnight the interbank interest rate to rise sharply.
In January, a new Economic Recovery Support Program was adopted for the 2022 to 2023 period, with on-budget fiscal measures totaling some 4.5% of revised GDP. The main components of the Program include continued tax and land rent deferrals, a two-percentage-point reduction in VAT rate and additional public investment, while direct cash transfers are limited.
Health measures, such as the vaccination scheme and the "5K message", should continue as the country opens local schools and plans to lift border restrictions on international visitors to revive the tourism sector. However, the risk of another Covid-19 variant outbreak negatively impacting the economy continues to exist.
According to economists, the new Economic Recovery Support Program could be enhanced through adding further social protection measures which serve to support workers and households affected by the pandemic.
Additionally, in a bid to ensure that the scheme has the intended impact on the economy, its implementation should be monitored closely.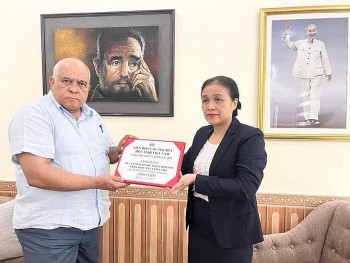 Focus
According to Cuba's News Agency Prensa Latina, on August 16, President of Vietnam Union of Friendship Organizations Nguyen Phuong Nga said that Vietnamese people will always stand by and support Cuba no matter what difficulties our friend is facing.