Vietnam News Today (Feb. 16): Vietnam Officially Resumes International Flights on Feb.15
Vietnam News Today (Feb. 16): Vietnam's single-day Covid case count highest since pandemic began; Vietnam officially resumes international flights on Feb.15; Over 90 percent of students nationwide have returned to school; Trade surplus sees strong figure of US$1.4 billion in first month of Lunar New Year.
Vietnam News Today (Feb. 16) notable headlines
Vietnam's single-day Covid case count highest since pandemic began
Vietnam officially resumes international flights on Feb.15
Over 90 percent of students nationwide have returned to school
Trade surplus sees strong figure of US$1.4 billion in first month of Lunar New Year
HCM City to pilot electric bus services within this quarter
Ministry seeks resumption of pre-pandemic visa waiver policy for tourists
Collective economy gradually established in national economy: PM
Newly-established enterprises surge in January
Vietnam willing to promote cooperation with UN on peacekeeping: Ambassador
A teacher guides a student to disinfect her hands before entering class at an elementary school in HCMC's Binh Thanh District, February 14, 2021. Photo: VnExpress
Vietnam's single-day Covid case count highest since pandemic began
Vietnam confirmed 31,787 new local Covid-19 cases on Tuesday in 62 cities and provinces, marking the highest daily tally ever.
Tuesday case count is more than twice a week ago.
Hanoi accounted for most of the new cases in the day, 3,972, followed by the northern province of Hai Duong with 1,807 cases and its neighbor Hai Phong City with 1,417 cases. Tuesday's caseload in Hanoi also marks the highest single-day tally the capital city has ever reported.
The ministry confirmed 85 Covid-19 deaths on Tuesday, including 11 in Hanoi, raising the national death toll to 39,125, or 1.5 percent of the total infections, cited VnExpress.
The fourth wave that hit Vietnam last April has until now been responsible for over 2.56 million cases. Of them, almost 2.24 have recovered.
Of 268,229 active patients in the country now, 2,926 are severe cases.
More than 74.7 million people of the nation's 96-million population have been vaccinated with two doses, and more than 32.4 million have received the third doses.
Vietnam officially resumes international flights on Feb.15
Despite Vietnam officially lifting Covid-19 restrictions on international flights from February 15, the restoration of international air routes will largely be dependent on bilateral negotiations with its partners, according to insiders.
A representative of a major Vietnamese airline revealed that although the Civil Aviation Authority of Vietnam (CAAV) has informed about removing Covid-19 curbs, there will be no spike in the number of international flights during the early days of reopening.
The representative affirmed that it will take time for Vietnamese authorities to successfully conduct negotiations with their partners, noting that local airlines will be unable to resume a large number of international air routes soon.
According to several carriers, local businesses are in the process of preparing their aircraft fleet, flight crews, and logistics services to restart and launch new routes as soon as the country successfully conducts bilateral negotiations with its partners in the time ahead.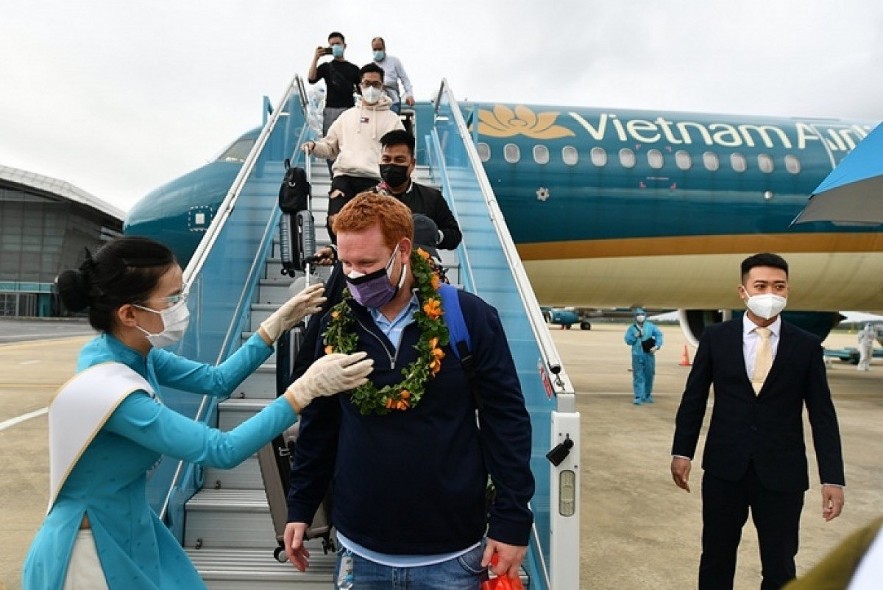 Photo: VOV
Specifically, Vietravel Airlines is co-ordinating with domestic travel partners and its overseas agents in order to bring in tourists from abroad and from the nation to other regional countries such as Thailand and Indonesia at the end of the second quarter, as well as markets in Northeast Asia in the third and fourth quarters, according to VOV.
Previously, national flag carrier Vietnam Airlines announced that it has moved to reopen international routes to the UK, Australia, Japan, Thailand, and Malaysia, while Bamboo Airways also launched international flights to the Republic of Korea (RoK), Taiwan (China), Singapore, Germany, and Australia.
Furthermore, low-cost carrier Vietjet Air has also resumed connecting routes to Japan, Singapore, the RoK, and Taiwan (China), with further plans in the pipeline to operate air routes to markets such as India, Russia, and Australia in the near future.
According to details given by the Southern Airports Authority, there will be 735 flights taking off and landing at Tan Son Nhat International Airport as of February 15, with an estimated 78,000 passengers passing through the airport.
Tan Son Nhat international airport is expected to operate roughly 24 international flights on the first day of reopening all international routes, with the number of passengers reaching nearly 2,600.
Over 90 percent of students nationwide have returned to school: ministry
Up to 93.71 percent of the students from preschool to high school levels nationwide had come back to school as of February 14, after a long hiatus due to the Covid-19 pandemic.
The Ministry of Education and Training (MoET) reported 85.71 percent of the kindergarten children have returned to school. The rate stood at 93.65 percent among primary school pupils, 94.41 percent among junior high school students, and 99 percent among senior high school ones.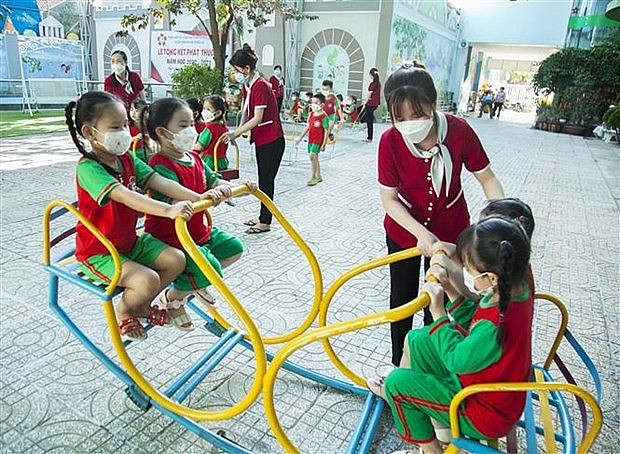 Children play at a kindergarten in Kien Giang province. Photo: VNA
It added that all the provinces and cities have made plans on school reopening in February.
As of February 14, nine localities hadn't reopened kindergartens, namely Hau Giang, Tra Vinh, Hung Yen, Vinh Long, Hanoi, Phu Yen, Da Nang, An Giang, and Tien Giang.
Meanwhile, primary school students in Hau Giang, An Giang, Da Nang, and Tien Giang hadn't returned to face-to-face learning, reported VNA.
All the 63 provinces and cities have resumed in-person teaching and learning for junior and senior high school students.
The MoET noted 100 percent of the tertiary education establishments have also devised reopening plans.
All the localities and their education and training departments have built and applied pandemic safety criteria for face-to-face learning. They have prepared flexible teaching plans in adaptation to the Covid-19 situation. Besides, infrastructure has also been geared up for welcoming students back, according to the ministry.
Trade surplus sees strong figure of US$1.4 billion in first month of Lunar New Year
The nation's imports and exports achieved an impressive figure of more than US$60 billion during the first month of the Lunar New Year, in which the country recorded a trade surplus of nearly US$1.4 billion.
This represents a far better result than previously forecasted by the General Statistics Office (GSO), with exports reaching US$29 billion, imports at US$29.5 billion, and the country's trade deficit at US$500 million.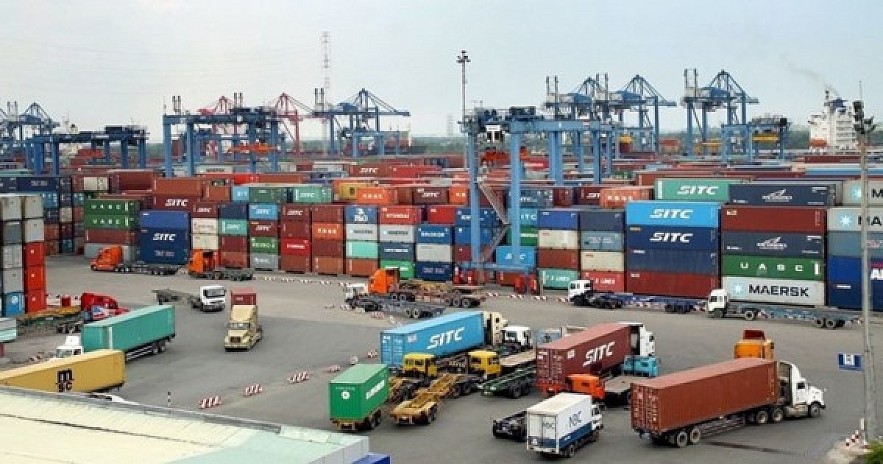 Photo: VOV
Specifically, export turnover hit US$30.845 billion, up 8.1% over the same period from 2021. There were seven groups of export goods with a turnover of US$1 billion or more in the first month of the year, in which some groups enjoyed high double-digit growth, such as textiles and garments, wood and wood products, means of transport and spare parts, seafood, coffee, pepper, and rice.
In the opposite direction, import turnover in January reached US$29.45 billion, a rise of 11.3% over the same period from last year. In line with this, there were six commodity groups with a turnover from US$1 billion, with computers, electronic products and components achieving the highest figure of US$7.12 billion, representing an annual rise of 25.8%.
Most notably, during the nine-day period of the first lunar month, Vietnamese goods were exported to a total of 109 countries and territories, with the majority going to the Chinese market reaching a figure of US$400 million, trailed by the United States, the Republic of Korea, Hong Kong (China), and Japan, cited VOV.
Promoting the results achieved in import and export activities in 2021, this year the Ministry of Industry and Trade aims to exploit and take advantage of opportunities from free trade agreements (FTAs) in a bid to find solutions which can boost market development. This is in addition to removing barriers to gain entry into new markets and closely monitoring the global developments relating to the COVID-19 pandemic to take timely response measures.
The Ministry will primarily focus on diversifying export and import markets, especially small and niche one, along with the structure of export products to improve the competitiveness of export products, and promoting brand building.
HCM City to pilot electric bus services within this quarter
The first electric-bus route in Ho Chi Minh City is scheduled to open within the first quarter of this year, the municipal Department of Transport has said.
It is one of the five electric-bus routes to be piloted in the southern economic hub for a duration of two years, with the plan recently approved by the municipal People's Committee.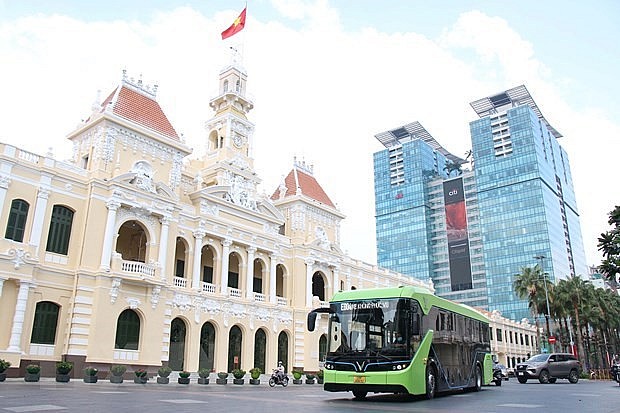 Illustrative image. Photo: VNA
Proposed by Vinbus Ecology Transport Services Ltd Co, a subsidiary of Vingroup, the five routes would link Vinhomes Grand Park, a residential area in Thu Duc city, with E-mart Mall, Tan Son Nhat International Airport, Saigon Bus Station in District 1, the new Mien Dong (southeastern region) Bus Station, and the precinct of Vietnam National University – HCM City in Thu Duc.
About 77 electric buses would be used, with each having a capacity of 65-70 passengers
The suggested ticket price is VND3,000 (US$0.13) per trip for students and VND5,000-7,000 for others.
For now, bus stations already exist at five destinations and if approved, the investor only needs to establish a station at Vinhomes Grand Park, according to the department.
The People's Committee has assigned the department to coordinate with relevant departments and agencies in the implementation, VNA reported.
The routes are to serve the traveling demand of the public, especially in new residential areas, high-tech parks, administrative areas in Thu Duc city and those that have yet to access public transport services.
The department said the services will receive subsidy of 44.1 percent of the operation cost during the trial phase, and the rate will be adjusted after the municipal People's Committee issues technical norms and unit cost for electric bus.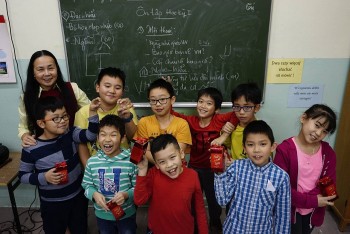 Overseas Vietnamese
For more than 5.3 million overseas Vietnamese, Vietnamese is the soul and pride of the nation. Teaching and learning Vietnamese helps the overseas Vietnamese community to preserve their national cultural identity, maintain a connection with their homeland and country, introduce the Vietnamese language and culture to the world.