Vietnam News Today (Feb. 21): Hanoi Prepares to Treat Rising Number of Covid Patients
Vietnam News Today (Feb. 21): Vietnam confirms 47,192 new local Covid-19 cases; Businesses expect tourism market to gather steam in Quarter II; Cao Bang: Frost covers top of Mount Phja Oac; Cashless payment for restaurant, catering services on the rise; Hanoi prepares to treat rising number of Covid patients.
Vietnam News Today (Feb. 21) notable headlines
Vietnam confirms 47,192 new local Covid-19 cases
Businesses expect tourism market to gather steam in Quarter II
Cao Bang: Frost covers top of Mount Phja Oac
Cashless payment for restaurant, catering services on the rise
Hanoi prepares to treat rising number of Covid patients
Vietnam prepares for safe resumption of tourism
HCMC gears up for possible Covid surge
International schools reopen, brace for Covid
Recruitment rush as hospitality, travel firms eye full tourism reopening
ietnam confirms 47,192 new local Covid-19 cases
The Health Ministry announced 47,192 new domestic Covid-19 patients in 63 cities and provinces Sunday, marking a new high in single-day tally.
Hanoi continues to lead the number of infections with 5,102 cases, followed by the northern provinces Bac Ninh with 2,360 and Phu Tho with 1,981.
The Ministry of Health confirmed 78 Covid-19 deaths on the same day, raising the national death toll to 39,504. Hanoi and HCMC recorded no deaths.
On Sunday, 13,414 patients recovered, pushing the number of recoveries to over 2.28 million, cited VnExpress.
The fourth wave that hit Vietnam last April has infected over 2.74 million cases now.
Nearly 76 million people in the country have been vaccinated with two doses and over 36.5 million with three doses.
Businesses expect tourism market to gather steam in Quarter II
Many experts and leaders of travel firms believe that the local tourism sector will recover quickly from the second quarter of this year following the Government's decision to reopen borders to travel from March 15.
The National Tourism Administration of Vietnam reports that more than six million Vietnamese people chose to travel to domestic destinations during the recent nine-day Lunar New Year holiday.
Statistics from local agencies indicate that the island city of Phu Quoc in Kien Giang province welcomed more than 120,000 visitors, while Khanh Hoa served approximately 98,000 holiday-makers. This represents a good signal for the tourism sector as it offers the prospect for a positive recovery in the year ahead.
Tran Doan The Duy, general director of Vietravel, says that the Government has moved to ease travel restrictions after adopting a strategy of living safely alongside the pandemic late last year, thereby creating conditions for tourism services to get back on track.
Along with traditional and package tours, Vietravel anticipates a new trend in the sector and has therefore started offering combos of air ticket and hotel room or car rental. It will also provide retail services and changes in distribution channels, thereby offering online services to better suit customers during the pandemic period.
Sharing this viewpoint, Mauro Gasparotti, director of Savills Hotels Asia - Pacific, says the tourism sector continues to show positive signs of recovery, noting that there is high demand for travel among people after months of restrictions due to the impact of the Covid-19 pandemic.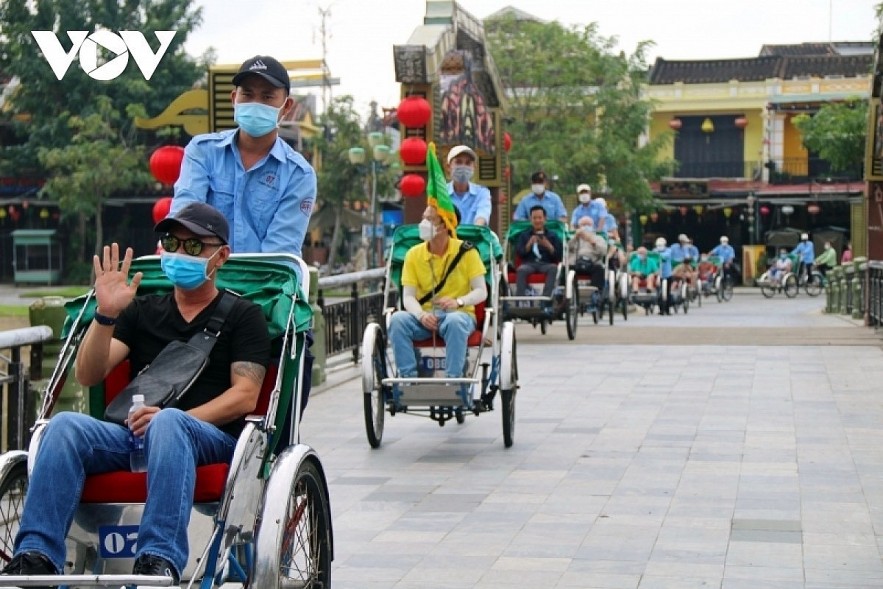 Foreign tourists travel around UNESCO-recognized Hoi An ancient town in November 2021. Photo: VOV
Thanks to the country's high vaccination coverage, individual and family tours will recover first, while group tours will require more time to return to pre-pandemic levels, says Gasparotti.
In terms of international tourism, Tran Doan The Duy, CEO of Vietravel, believes that inbound and outbound tours are starting to show some initial signs of recovery, although they need more time to pick up steam.
Vietnam has attracted approximately 150,000 foreign travelers under a pilot scheme aimed at welcoming back foreign travelers with vaccine passports which started in mid-November, 2021. In addition, the recent decision made by the Civil Aviation Authority of Vietnam to reopen all international air routes starting on February 15 is expected to support the tourism sector's recovery efforts, according to VOV.
However, health quarantine and visa policies are major barriers to attracting foreign tourists to local destinations. For instance, many foreign travelers hesitate to choose Vietnam as a destination as they are required to self-isolate at their places of residence for a period of three days.
Moreover, Vietnam has so far recognized vaccine passports of nearly 80 countries and territories, while only 14 countries have approved similar local documents. In Southeast Asia alone, Singapore has yet to recognize the Vietnamese vaccine passport. The Republic of Korea, Japan, and China have also yet to fully open their door to tourism with Vietnam, according to the Vietravel CEO.
International tourism therefore requires more time to recover to pre-pandemic levels, says Duy.
To help the tourism sector get back on track, experts and leaders of various travel firms requested at a recent meeting that the Government move to relax health quarantine and visa policies to allow the country to keep up with the recovery trend and not lose out to rivals.
Cao Bang: Frost covers top of Mount Phja Oac
Thick ice and frost have appeared on the peak of Mount Phja Oac in the northern mountainous province of Cao Bang since early February 20, as temperatures dropped to below zero degree Celsius.
At a height of 1,930m above sea level, Phja Oac is the roof of Cao Bang. Frost and ice are normal phenomena here in winter.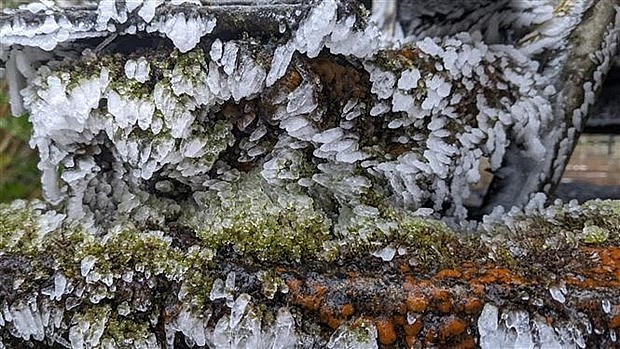 A close look at frost on the top of Mount Phja Oac. Photo: VNA
Also on February 20, the National Centre for Hydro-Meteorological Forecasting predicted the cold air will continue to affect other parts of the central and south central regions.
From February 20 to February 21, the areas from Quang Binh to Thua Thien-Hue will see rain, showers and thunderstorms, with possible whirlwinds, lightning, hail, and strong winds, reported VNA.
From February 20 to 22, in the North and the north central province of Thanh Hoa, the lowest temperatures are forecast at 8-11 degrees Celsius, even zero degree Celsius in the high mountains with a high possibility of frost and snowfall. Meanwhile, the temperatures of areas from Nghe An province to Thua Thien-Hue province in the central region will be 13-16 degrees Celsius at the lowest.
Cashless payment for restaurant, catering services on the rise
Cashless payment has become more popular in all sectors, including restaurant and catering services, according to Winnie Wong, Mastercard's Country Manager for Vietnam, Cambodia and Laos.
Speaking at the recent Food and Beverage Conference 2022 in Hanoi, Wong noted that in Southeast Asia, payment for restaurant and catering services in cash fell 60-70 percent due to safety and hygiene reasons.
She said that 2021 was a tough year for catering service sector due to Covid-19 impacts. However, the sector has found the way to adapt to the situation and overcome difficulties, she said, stressing that payment methods of customers have gradually changed.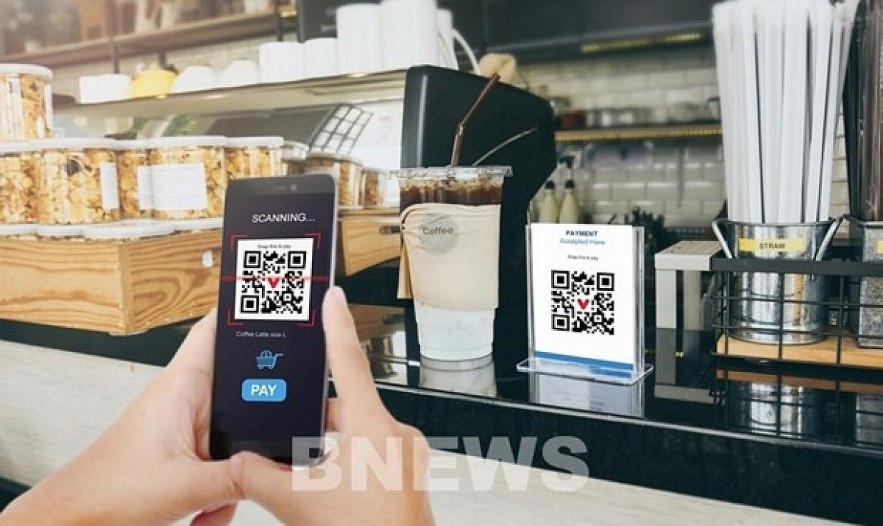 Photo: Bnews
In order to avoid direct contacts, customers tend to switch to online shopping and cashless payment. Meanwhile, sellers in all scales have also applied digital technologies to enable themselves to conduct online selling and receive cashless payment, meeting the demand of customers and safety requirements amid the complicated development of Covid-19, said Wong.
She commented that before Covid-19 broke out, Vietnam had developed cashless payment in transactions in all sectors, which paved the way for the expansion of the method in the country amid the pandemic.
New technologies have made cashless payment faster and more convenient compared to cash payment. Particularly, payment using QR codes has become more popular, especially in the context of the pandemic, making it easier for both buyers and sellers in conducting transactions, cited VOV.
A recent survey revealed that 72% of customers become more loyal to retailers that accept many payment methods, while 85% of shoppers wish to pay in their own way and 61 percent said they often avoid sellers that do not accept any e-payment methods.
Hanoi prepares to treat rising number of Covid patients
With nearly 250 critical Covid patients, Hanoi has adjusted the treatment system to be ready for the situation of 100-500 critical cases per day.
On Feb. 19, Hanoi recorded more than 4,800 new infections, with more than 800 critical cases. This is the highest number of new and critical cases recorded in the city since March 2020.
Among the critical cases, 705 cases had to rely on oxygen masks and 46 cases had to use non-invasive mechanical ventilation, up 27.9 percent and 120 percent compared to the average of seven days ago, respectively.
In addition, 19 cases must be on high flow nasal cannula (HFNC), 36 cases of invasive mechanical ventilation, two cases of dialysis, and one case must resort to ECMO.
Hanoi Department of Health has adjusted hospital admission amid the rising number of Covid infections. Hospitals treating moderate to critically ill patients must prepare beds for intensive care.
Duc Giang General Hospital, which has been assigned by the department to take care of critical cases, is treating about 110 Covid patients, receiving an average of 15 severe cases per day. The hospital has about 250 beds in the intensive care unit (ICU) and 150 beds for Covid patients, VnExpress reported.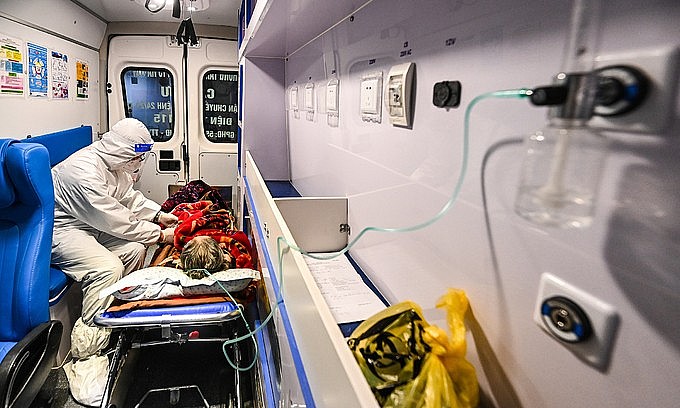 A doctor attends to a Covid-19 patient on an ambulance in Hanoi. Photo: VnExpress
Dr Nguyen Thi Lan Huong, deputy director of Thanh Nhan General Hospital, said 140 critical Covid patients are being treated. The hospital receives about 20 severe cases per day and its current number of ICU beds is 250.
Dr Hoang Bui Hai, deputy director of the Hanoi Medical University, said that the number of critical patients has increased rapidly recently.
The hospital has prepared 500 beds, divided into 19 units; each has ICU beds, beds for severe patients, and negative-pressure rooms for special cases. The hospital also deploys a separate air-conditioning system to reduce cross-infection risk for each room.
According to the leaders of these three hospitals, most of the hospitalized patients are elderly with many underlying medical conditions.
They have not been vaccinated or haven't received enough doses.
Dr Nguyen Van Thuong of Duc Giang General Hospital said many elderly and immunocompromized patients are hospitalized late, so their conditions worsen.
"To reduce the overload of critically ill patients, it is necessary to vaccinate people with booster shots for high-risk groups, and at the same time, maintain good treatment for other patients on other levels," said Thuong.
Thuong said that Hanoi could still manage the situation.
The number of Covid patients increased, but the number of deaths decreased by 30 percent compared to pre-Lunar New Year period.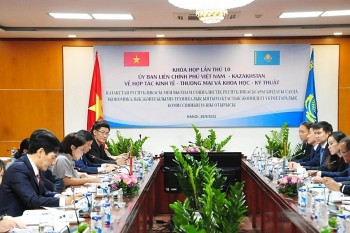 Friendship
The 10th session of the Vietnam-Kazakhstan Intergovernmental Committee on economic-trade and scientific-technical cooperation was held in Hanoi on September 26.