Vietnam News Today (Feb. 20): Travel Firms in HCM City Resume Outbound Tours
Vietnam News Today (Feb. 20): Vietnam records 41,968 new Covid cases; Vietnamese goods seek to make inroads into South African market; Travel firms in HCM City resume outbound tours; Australia completes vaccine delivery of 7.8 mln doses to Vietnam.
Vietnam News Today (Feb. 20) notable headlines
Vietnam records 41,968 new Covid cases
Vietnamese goods seek to make inroads into South African market
Travel firms in HCM City resume outbound tours
Australia completes vaccine delivery of 7.8 mln doses to Vietnam
Investors upbeat about Vietnam's stock market
International schools reopen, brace for Covid
Forum talks new approach in sustainable agriculture landscape management
Industrial property sector optimistic
Computer, electronic product exports could soon reach US$60 billion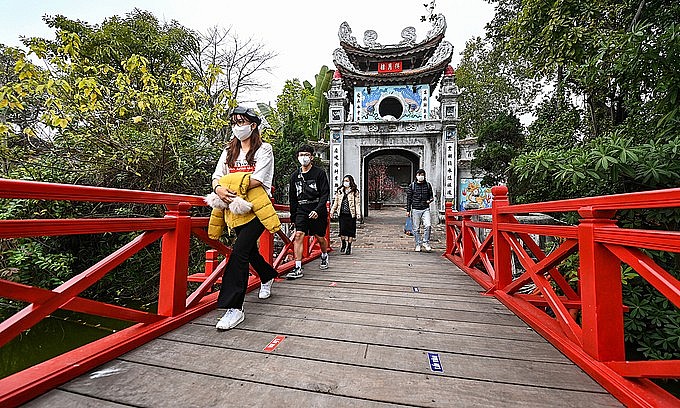 People visit Ngoc Son Temple in Hanoi on February 15, 2022. Photo: VnExpress
Vietnam records 41,968 new Covid cases
Vietnam confirmed 41,968 local Covid-19 cases in 61 localities on Saturday with Hanoi and northern provinces leading the infection tally.
Hanoi recorded 4,869 cases, followed by Bac Ninh with 3,040 cases and Quang Ninh with 1,990 cases.
The Ministry of Health confirmed 65 Covid-19 deaths on the same day, including five in Hanoi and two in HCMC, raising the national death toll to 39,423, or 1.4 percent of total infections.
The fourth wave that hit Vietnam last April has infected over 2.69 million cases now, cited VnExpress.
On Saturday, 6,840 patients recovered, pushing the number of recoveries to over 2.26 million.
To date, more than 67 million people have been vaccinated with two doses.
Vietnamese goods seek to make inroads into South African market
Vietnamese Ambassador to South Africa Hoang Van Loi recently undertook a fact-finding mission to Cape Town in order to seek new possibilities for Vietnamese commodities to penetrate deeper into the South African market.
South Africa represents Vietnam's largest trading partner in Africa. South African businesses consider Vietnam as a potential market, with plenty of room to grow trade and investment co-operation in areas of both sides' strength.
During a meeting held with the leadership of the Cape Chamber of Commerce and Industry in mid-February, Ambassador Loi proposed that the Chamber work closely alongside the Embassy to support Vietnamese businesses to find reputable partners in Cape Town.
The two sides are set to jointly organize an online B2B business forum between Vietnamese and South African businesses in May. The event is expected to attract the participation of businesses specializing in the fields of furniture processing, farm produce processing, fresh fruit processing, coffee growing and processing, and ceramic making.
Ambassador Loi also held a working session with managers of Khanh Viet Trading Cc Company in Cape Town, a private overseas Vietnamese enterprise that has engaged in import-export activities in the South African market over the past 12 years.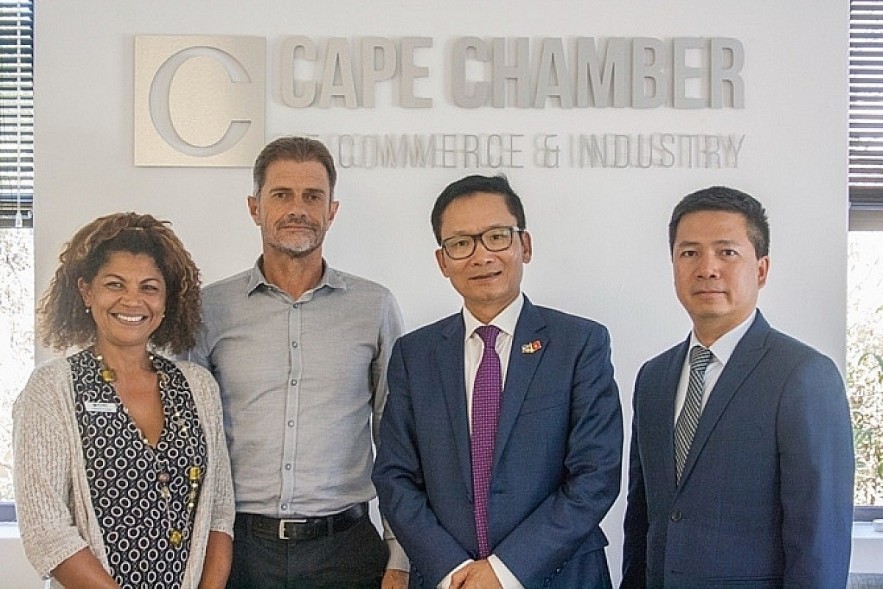 Vietnamese Ambassador to South Africa Hoang Van Loi (second from right) and leaders of the Cape Chamber of Commerce and Industry. Photo: VNA
Currently, Khanh Viet only imports Vietnamese products, including rice, instant noodles, fish sauce, dry noodles, coffee, outdoor ceramics, interior, and exterior furniture.
At present, the products exported to this market remain limited. Yet, South Africa continues to represent a gateway for international exchanges, creating favorable opportunities in which the country can expand its co-operation with African countries in all fields, especially countries in the south of the continent, according to VOV.
The retail system is undergoing strong development in South Africa, a market made up of almost 60 million consumers, as well as in other neighboring countries such as Mozambique, Botswana, Eswatini, Zimbabwe, Namibia, and Lesotho.
Despite enduring the negative impact caused by the Covid-19 pandemic, trade turnover between the two countries last year fetched roughly US$1.3 billion, of which Vietnamese export turnover rose by 24.3% annually to US$847 million, while its import value fell by nearly 40% to US$426.5 million.
Some of the items to record high export value include mobile phones, electronic equipment, computers, shoes, and textiles. Farm products such as coffee, pepper, and rice are also favorites among local people.
South African consumers have gained a greater understanding of Vietnam through tourism channels, which presents an advantage for Vietnamese products as they seek to make inroads into the South African market. In addition, South Africa's climate and soil are unsuitable for rice cultivation, therefore Vietnamese rice products also have a foothold in this market.
However, the Vietnamese community residing in South Africa remains rather small, making it difficult for businesses to promote their products there. Along with this, Vietnamese goods also have to compete with similar products imported from China and Thailand as they vie for the lion's share of the market.
Both countries are set to organize the fifth meeting of the Inter-Governmental Partnership Forum this year. Candith Mashego-Dlamini, deputy minister of the South Africa Department of International Relations and Cooperation, suggested that the two sides focus on agreeing to specific measures and initiatives aimed at further deepening bilateral ties. Priority will be given to expanding economic-trade cooperation in the fields of their respective strengths, such as agriculture, mining, aquatic farming, supporting industries for auto manufacturing, tourism, and education.
Moving forward, the Vietnam Trade Office in South Africa will co-ordinate efforts with Khanh Viet Company to promote Vietnamese ceramic and coffee products to the South African market, as well as to neighboring countries.
Travel firms in HCM City resume outbound tours
A number of travel firms in Ho Chi Minh City have resumed outbound tours after the Civil Aviation Authority of Vietnam (CAAV) announced the removal of restrictions on air passenger transport.
Saigontourist has restored its tours to the US, the Maldives, the United Arab Emirates (UAE) and Thailand, and planned to launch more tours to Europe, the Middle East, Northeast Asia and Southeast Asia in March.
It has also increased outbound travel insurance coverage to VND2.4 billion (US$105,124) and Covid-19 insurance to VND240 million, and cover the cost of Covid-19 PCR tests (if any) for tourists.
Vietravel is also working to complete its outbound tours, with a charter flight to India in late February, and another to Dubai next month.
Photo: lonelyplanet
Meanwhile, Golden Smile Travel has offered tours to Dubai and Thailand weekly, and will resume tours to other markets like Southeast Asia, Australia and the US in the time ahead.
According to Nguyen Viet Anh, head of the management division under the municipal Department of Tourism, the department has provided consultancy for the municipal People's Committee to issue guidelines on welcoming back international tourists, VNA reported.
The department has announced the list of hotels eligible to serve foreign tourists. They include InterContinental Saigon in District 1, Windsor Plaza Hotel in District 5, Liberty Central Saigon Center in District 1, Ramana Saigon in District 3, and Silverland Sakyo in District 1.
Vietnam will fully reopen tourism and lift travel restrictions from March 15. International visitors do not need to register for a tour, but still have to present a certificate of full vaccination or recovery from Covid-19, and negative test results before boarding (24 hours for rapid test and 72 hours for PCR test). Within 24 hours of arrival in Vietnam, they must have a negative test result before participating in tourism activities.
Australia completes vaccine delivery of 7.8 mln doses to Vietnam
Australia provided Vietnam an additional 2.2 million Pfizer vaccine doses Saturday, meeting its commitment to deliver a total 7.8 million.
The final shipment arrived at Tan Son Nhat International Airport in Ho Chi Minh City as part of 3.6 million vaccine doses Australia gave Vietnam in recent weeks, a UNICEF press release stated.
With this move, Australia completed its pledge to assist Vietnam with a total 7.8 million doses. The promise was updated in November 2021.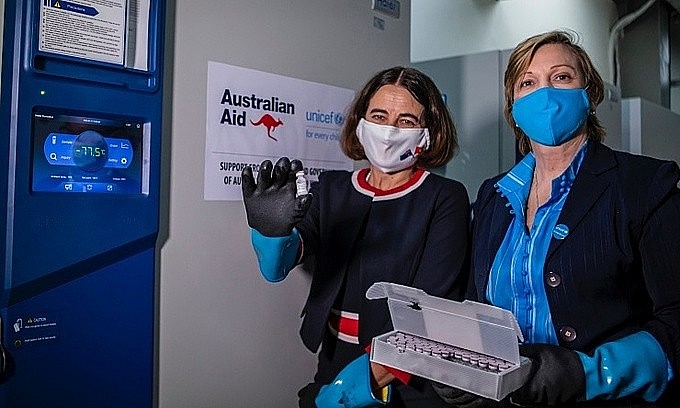 Robyn Mudie, Australian Ambassador to Vietnam (L) and Rana Flowers, UNICEF Representative check a vaccine shipment donated by Australia that arrived in Hanoi in Jan, 2022. Photo: UNICEF
The task occurred via a procurement agreement with UNICEF, in partnership with Vietnam's Ministry of Health.
In addition, Australia had shared 4.2 million AstraZeneca doses from its own supply in August last year, cited VnExpress.
Previously, Australia provided Vietnam a AUD60 million (over $ 43 million) support package for purchasing Pfizer vaccine.
Also, Australia is partnering with UNICEF to ensure vaccine distribution is safe, effective and equitable. The partnership has bolstered the national Covid-19 vaccination campaign, supporting the delivery of 1,910 refrigerators to hard-to-reach communes, healthcare worker training, and communications campaigns.
Investors upbeat about Vietnam's stock market
Vietnam's stock market is expected to grow further this year as the Government has increased public investment, creating a premise for long-term growth.
Given this, investment based on the economy's recovery has been opted by many experts this year.
HSBC Global Research has forecast that the VN-Index will reach 1,850 points in 2022 as the prospects of Vietnam's stock market remain positive this year as well as in the long term.
James Estaugh, head of Securities Services at HSBC Vietnam, highlighted a new trading system provided by the Korean Exchange, expected to be put in place this year.
"The new technology will be capable of facilitating significant increases in trading volume and resolve system congestion… [at the same time] it will also provide the infrastructure to launch new products such as intraday trading, sale of receivable shares, and non-voting depository receipts (NVDRs), etc. which will attract new and increased foreign investment," he said.
Michael Kokalari, Chief Economist of VinaCapital, said in the "Looking Ahead at 2022" report that Vietnam's economy will benefit from positive factors and recovery in different sectors.
"We expect Vietnam's GDP growth to surge from 2.6 percent in 2021 to 7-7.5 percent in 2022 and believe that the country's economic growth could even exceed 7.5 percent this year," he said.
"We expect another very good year for Vietnam's stock market following the 37 percent increase in USD terms (or 35.7 percent in VND terms) of the VN-Index (VNI) last year."
According to the chief economist, VinaCapital's current investment strategy remains focused on identifying stocks and sectors that benefit from the economic recovery that is already underway in Vietnam, including consumer discretionary, financials, real estate and materials stocks.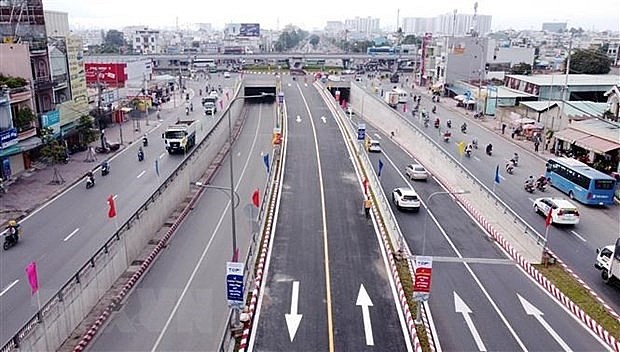 Illustrative image. Photo: VNA
In addition, Vietnam's long-term growth drivers have remained intact despite the Covid-19, so VinaCapital also continues to focus on stocks and sectors that are beneficiaries of FDI inflows, infrastructure development, clean energy, and digitization.
"We are particularly focused on the banking sector (which has a circa 30 percent weighting in the VN-Index), property (which has a 25 percent weighting), and consumer discretionary stocks (which have a circa 3 percent weighting) – but should benefit from both cyclical and secular tailwinds this year."
Banks' earnings are likely to grow by about 30 percent this year, driven by 14 percent credit growth, and Vietnam's banks to be less impacted by Covid-19 in 2022, VNA reported.
"Next, we expect the earnings of real estate companies to grow by nearly 25 percent in 2022, driven by a near-doubling of sales/pre-sales of new housing units by property developers following a drop of more than 50 percent in 2021."
He said VinaCapital expects the growth of real retail sales in Vietnam (i.e., excluding inflation) to surge from a 6.2 percent drop in 2021 to 5 percent growth in 2022, versus consistent 8-9 percent annual growth pre-Covid.
Truong Hien Phuong, senior director of KIS Securities Vietnam, said such sectors as banking, securities and oil and gas will continue to attract capital this year.
Meanwhile, others like construction will benefit from the Government's policy aiming to boost public investment.