Vietnam News Today (Feb. 22): Vietnamese Baguette Ranked 7th in World's Top 50 Best Street Foods
Vietnam News Today (Feb. 22): Turkish President thanks Vietnam for earthquake rescue aid; Night economy: new driving force for Vietnam tourism; Phu Quoc welcomes nearly 140,000 international visitors in early 2023; Vietnamese baguette ranked 7th in world's top 50 best street foods.
Vietnam News Today (Feb. 22) notable headlines
Turkish President thanks Vietnam for earthquake rescue aid
Night economy: new driving force for Vietnam tourism
Phu Quoc welcomes nearly 140,000 international visitors in early 2023
Vietnamese baguette ranked 7th in world's top 50 best street foods: TasteAtlas
Petrol prices drop against projections of increase
Palestinian Ambassador hails Vietnamese readiness for international missions
Ample room for broader Vietnam-Czech Republic co-operation
Vietnam, UK step up academic education cooperation
Turkey believes in stronger ties with Vietnam
Hoi An's mid-autumn festival named intangible heritage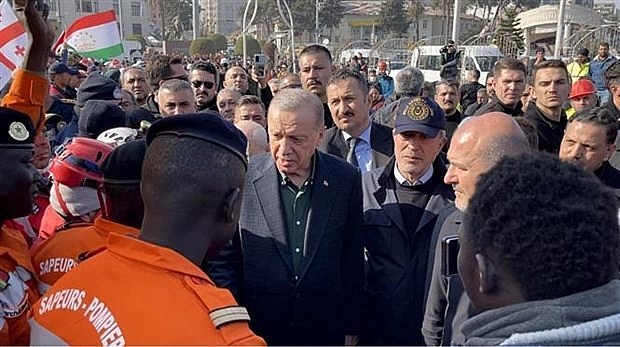 President of Turkey Tayyip Erdogan thanks domestic and international search and rescue teams. (Photo: VNA)
Turkish President thanks Vietnam for earthquake rescue aid
President of Turkey Tayyip Erdogan has thanked Vietnamese forces for their timely support and tireless efforts in search and rescue operations following the huge earthquake on February 6.
The host leader expressed his thanks to domestic and international search and rescue teams, including one from the Vietnamese Ministry of National Defence, during his February 20 field trip to Antakya, the capital of Hatay province, one of the localities hardest hit by the natural disaster.
The president met head of the team, Maj. Gen. Pham Van Ty, Deputy Chief of the Office of the National Committee for Incident and Disaster Response, Search and Rescue and Deputy Director of the Vietnam People Army (VPA)'s Department of Search and Rescue.
Erdogan noted his gratitude to foreign countries for their emergency aid and dispatch of search and rescue forces to Turkey, stressing that the earthquake has revealed the importance of international solidarity and Turkey will forever keep in mind the friendship.
As of February 20, the VPA team had searched 31 locations in Antakya, helping discover 15 sites with victims trapped under the rubble, including two places with signs of survivors. They handed over the sites to the local rescue force to bring 28 dead bodies out.
During that process, they coordinated with the Bahraini and Mexican teams to find out three sites with 10 corpses, and assisted three families to move household goods out of the rubble, cited VNA.
The 76-strong rescue teams of the VPA, along with 35 tonnes of cargo, departed for Turkey on February 12 night to assist the country in recovery efforts following the devastating earthquake.
Meanwhile, the 24-member team of the Ministry of Public Security engaged in search and rescue efforts in the Turkish southeastern city of Adiyaman after they arrived at Istanbul International Airport on February 10.
Prime Minister Pham Minh Chinh on February 14 wrote to the Presidents of Turkey and Syria offering aid of 100,000 USD each to their countries.
Night economy: new driving force for Vietnam tourism
Vietnam should have a clear legal framework, mechanisms and policies to support investment in the night time economy.
Huynh Van Son, director of the Saigon Sea Star Company, says that when his company opened a night market in Phu Quoc, Vietnam's largest island in the southern province of Kien Giang, local residents reacted very strongly. But gradually, they realized the great benefits and changed their attitude.
In 2019, Phu Quoc night market attracted an average of 3,500 visitors/night, spending 150 USD/person on average. The night market brought in more than 10 billion VND ($435,000) for Phu Quoc every day.
The value of real estate and services around the night market within a radius of 1km increased by 300%. Small businesses and local people also benefited greatly from the night market. "This is a gold mine," said Son.
Chairman of the Board of Directors of the Vietravel Holdings, Nguyen Quoc Ky, said that with the strong development of tourism and hotel real estate, Vietnam has a surplus of tourist accommodations and lacks places to play. He affirmed that tourists' spending at night is significant, accounting for about 70% of the total spending.
"We currently lack cultural activities at night. Meanwhile, cuisine is the strength of Vietnam's tourism, and tourists are willing to spend a lot of money but we have not exploited this potential fully," Ky said.
The Vietnamese Government issued Decision No. 1129/QD-TTg approving the project of developing night economy in Vietnam in July 2020, which allows some places to offer night services from 2pm until 6am the next day.
In some big cities in Vietnam such as Hanoi, Ho Chi Minh City, and Da Nang, night-economy activities are quite popular, including services for tourists that are provided through night markets, night food streets, 24-hour convenience store chains, pedestrian streets or typical entertainment streets like Ta Hien Street in Hanoi, Bui Vien and Nguyen Hue roads in HCM City, or Ba Na Hills in Da Nang.
Ho Chi Minh City especially focuses on developing the night economy. The municipal Department of Transport has submitted a project to organize many pedestrian streets in the city center in 2022-2025, such as the International Square Roundabout area, Pham Ngoc Thach, Cong Xa Paris, Le Loi, Phan Chu Trinh, Phan Boi Chau, and Dong Khoi.
In Hanoi, according to the Hanoi Department of Tourism, night activities will be held in three key areas, including the Old Quarter - Hoan Kiem Lake, Trinh Cong Son pedestrian street in Tay Ho district and Son Tay pedestrian street in Son Tay district.
To diversify tourism products, Quang Ninh province also puts into operation new tourism products such as the "Night Cruise Street" with 175 tourist boats operating in the Ha Long Bay in the evening. Night tourism in Quang Ninh develops mainly in Ha Long and Mong Cai cities.
The central city of Da Nang has urgently implemented the project of developing night economy in three phases. Accordingly, in phase 1 (2021-2022), Da Nang piloted some activities such as the program "Da Nang at night", opening An Thuong tourist street and the route for pedestrians Bach Dang - Nguyen Van Troi Bridge - Tran Hung Dao. The city also encouraged a number of major tourist areas to organize night-time sightseeing and entertainment activities.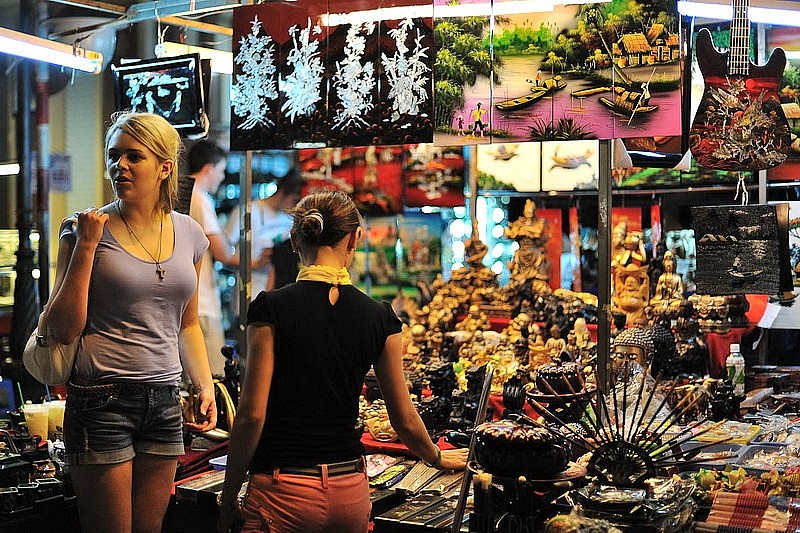 Photo: VNN
In many other provinces and cities, developing the night economy has been identified as a priority and a new driving force to stimulate tourism demand and boost the local economy after the Covid-19 pandemic, such as Hai Phong, Kien Giang, Da Lat, Thua Thien - Hue, Can Tho and others.
Statistics from the Ministry of Planning and Investment show that Vietnam has about 20 night markets, and about 1,000 convenience stores operating 24 hours a day, mainly in Hanoi and Ho Chi Minh City.
Mechanism for the night economy
According to a research work by lecturers of the Hanoi National University, most countries share the same view that the night-time economy is part of the economy. A thriving night-time economy encompasses vibrant activities ranging from bars, restaurants, music festivals, theatres, performances, cinemas, nightclubs and sporting events, activities that attract a large number of tourists and business people, creating more jobs and promoting the economic development of cities and countries.
The night economy makes an outstanding contribution to GDP and national budget in developed countries. This type of economy has created about 1.3 million jobs in the UK, 1.1 million jobs in Australia, 3.5 million jobs in France, 300,000 jobs in New York (USA).
In Southeast Asia, Thailand has well developed the night economy based on events, parties, and nightclubs, attracting a large number of international tourists. In 2017, according to data from the World Tourism Organization (UNWTO), international visitors to Thailand spent the fourth most in the world, after the United States, France and Spain, with about 57 billion USD.
In China, it is estimated that in 2020, the night economy market reached 2.4 trillion USD, mainly based on the strong growth of shopping services, online entertainment, and digital content, reported VNN.
Huynh Van Son suggested that Vietnam should have a clear legal framework, mechanisms and policies to support investment in the night time economy.
Pham Ngoc Thuy - Director of the Department of Tourism of Quang Ninh Province – said that like others provinces, while developing night-time services, Quang Ninh also encounters problems of noise pollution, conflicts between groups of guests; lack of human resources for night services, and limited traffic infrastructure at night.
Meanwhile, Hanoi authorities face some difficulties in managing night service activities, such as a lack of human resources, lack of mechanism to encourage households to expand their business activities, lack of plannings of night services, and synchronous infrastructure consistency in policy, said Director of the Hanoi Department of Tourism Dang Huong Giang.
Phu Quoc welcomes nearly 140,000 international visitors in early 2023
Phu Quoc island city in the Mekong Delta province of Kien Giang received more than 935,000 visitors, including more than 139,000 foreign tourists, during the first two months of this year, according to the provincial Department of Tourism.
The island city earned VND3.2 trillion, over US$135 million, in tourism revenue during the reviewed period.
Furthermore, the province is estimated to have welcomed 1.5 million visitors in the first two months of the year, of which the number of foreign visitors stood at over 140,000, whilst total tourism revenue is anticipated to reach nearly VND3.9 trillion, more than US$164 million.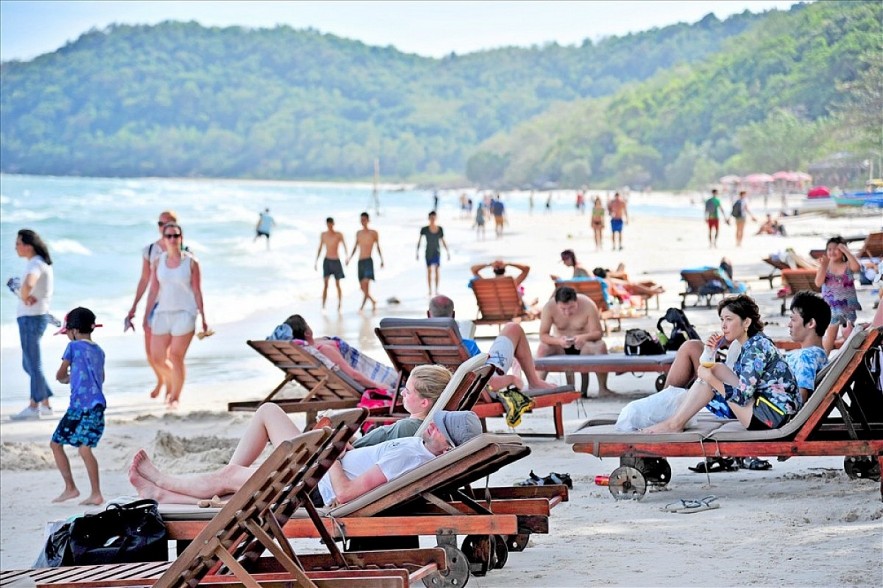 Phu Quoc is an ideal destination for foreigners. (Photo: dulich.laodong.vn)
Bui Quoc Thai, director of the provincial Department of Tourism, emphasised that the province is carrying out procedures in order to hire a consulting unit to launch a project aimed at building Phu Quoc into a national and international eco-tourism centre.
The department also submitted details to the provincial People's Committee for approval regarding the implementation plan of the project on restructuring the tourism industry to meet the requirement for developing the province into a spearhead economic sector in the 2021 to 2025 period, cited VOV.
Furthermore, it also implemented several projects relating to developing agricultural and rural tourism associated with The One Commune One Product (OCOP) programme, promoting community tourism, and developing traditional craft villages linked to tourism in the period of 2021 to 2025, with a vision towards 2030.
Furthermore, the tourism department also proposed the provincial People's Committee organise a Hot Air Balloon Festival in the island city this year, Thai added.
Vietnamese baguette ranked 7th in world's top 50 best street foods: TasteAtlas
TasteAtlas, a website dedicated to discovering fresh ingredients, traditional dishes, and authentic restaurants around the world, has recognised Vietnamese baguette, known locally as "Banh mi", as the 7th best street food in the world.
According to the site, Bánh mì (pronounced 'bun mee') is a popular Vietnamese variety of sandwich that shares the same core ingredient of a baguette.
The baguette was brought over to Vietnam during the colonial period, and nowadays it is one of the few remaining legacies from the time. In the beginning, most banh mi sandwiches consisted of bread, meat, and seasonings, with no added vegetables.
Guotie from China came in first place in the latest TasteAtlas ranking. The pan-fried variety of the Chinese jiaozi dumpling is a Northern Chinese dumpling typically filled with minced pork, Chinese cabbage, scallions, ginger, rice wine, and sesame seed oil.
Roti canai, the Malaysian breakfast of champions, placed second.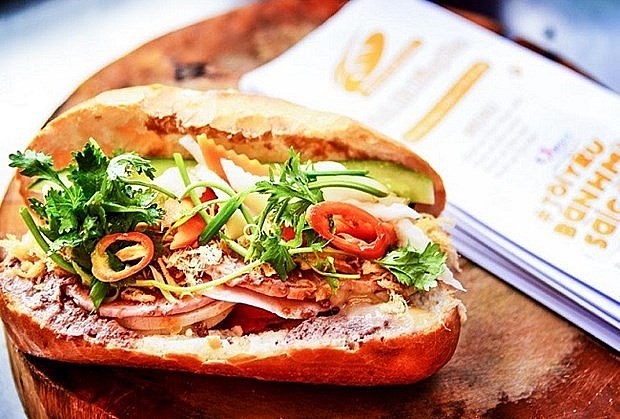 Bánh mì (pronounced 'bun mee') is a popular Vietnamese variety of sandwiches that share the same core ingredient a baguette. (Photo: VNA)
Meanwhile, Spain's espetos claimed third position, followed by tacos, the national dish of Mexico.
Another Mexican favourite, carnitas, a dish made from pork that is braised, roasted, or slow-cooked in its fat until it is fully tender and succulent ranked 5th.
Japanese kaarage ranked sixth. Karaage is a Japanese frying technique that is often used to prepare chicken. The chicken is marinated in a mixture of soy sauce, sake, and sugar, then coated with arrowroot starch and deep-fried.
Other street foods that made the top 10 ranked by TasteAtlas including peirogi (8th), a stuffed dumpling from Poland, and esquites (9th), a Mexican street food that is typically consumed as a snack on the go. It is made with mature corn kernels, epazote, and salt.
Cochinita pibil, a Mexican pork dish originating from Yucatan grabbed the 10th spot.
TasteAtlas is considered one of the world's most prestigious traditional culinary experience travel guide websites, with a catalog of more than 10,000 types of food and drink from around the world. The recipes posted on this website are appreciated by food critics and journalists.
Petrol prices drop against projections of increase
The retail prices of petrol have been revised down from 3pm on February 21 by the Ministry of Industry and Trade, and the Ministry of Finance, although previous forecasts predicted that they are likely to increase.
Accordingly, RON 95-III and E5 RON 92 petrol now cost 23,440 VND (0.99 USD) and 22,540 VND per litre, respectively, both down 320 VND.
Illustrative photo (Source: VNA)
Diesel is sold at 21,860 VND per litre, dropping by 700 VND, while the price of kerosene decreased by 750 VND to 20,840 VND per litre. Meanwhile, the new price of mazut is 14,250 VND per kg, up 620 VND, VNA reported.
In this adjustment, the two ministries decided not to extract for or use the petrol price stablisation fund.