Vietnam News Today (Feb. 23): Vietnam Resumes Flights to 20 Countries, Territories
Vietnam News Today (Feb. 23): Covid-19: Daily count hits all-time high of nearly 56,000 in Vietnam; Minimizing Covid-19 related deaths now top priority: MoH; Vietnam sets up committee on 6G research and development; Vietnam resumes flights to 20 countries, territories.
Vietnam News Today (Feb. 23) notable headlines
Covid-19: Daily count hits all-time high of nearly 56,000 in Vietnam
Minimizing Covid-19 related deaths now top priority: MoH
Vietnam sets up committee on 6G research and development
Vietnam resumes flights to 20 countries, territories
Vietnam's U23 football team has enough players for match against Thailand
Vietnamese products increasingly popular in Hong Kong: Official
Australian investment supports Vietnamese startups
Vietnam claim 1-0 victory against Thailand in AFF U23 Championship
Vietnam's high-ranking delegation to pay State visit to Singapore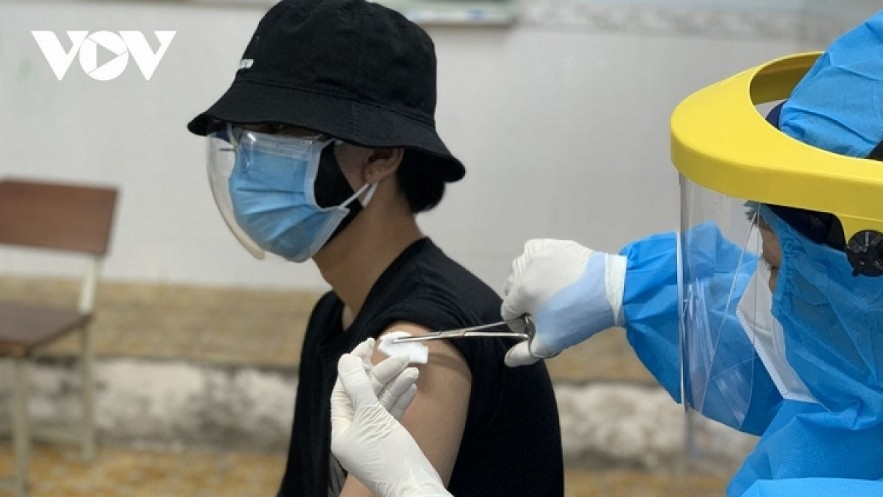 Vaccination is an effective tool for protecting people from virus infection. Photo: VOV
Covid-19: Daily count hits all-time high of nearly 56,000 in Vietnam
The number of newly detected coronavirus infections in Vietnam rose by more than 9,000 to 55,879 on February 22, a record high so far, the Ministry of Health said in its coronavirus update at 6 p.m.
Of the total, 71% were diagnosed in the community, eight tested positive upon returning from overseas, and the remainder were detected in the lockdown or quarantine areas.
Like previous days, February 22 saw most of the cases reported in the north. Official data from the Ministry of Health show Hanoi capital topped localities in infection number, registering 6,860 new cases. This is also the highest figure the city has recorded in a single day.
Other northern localities that recorded between 1,000 and 3,000 cases each include Bac Ninh, Bac Giang, Hai Duong, Quang Ninh, Hoa Binh, Phu Tho, Lao Cai, Nam Dinh, Vinh Phuc, Hai Phong, Ninh Binh, Thai Nguyen, Son La, Hung Yen, Yen Bai, and Thai Binh.
The past 24 hours also saw infection number in Ho Chi Minh City – used to be the largest coronavirus hotspot last summer – increase almost a double to 1,352. The city is randomly conducting genome sequencing of positive test samples for the emergence of the Omicron variant in the community, cited VOV.
The same day, the Ministry of Health also announced an additional 10,412 recoveries and 77 more coronavirus related deaths in localities across the country.
As of 6 p.m. on February 22, Vietnam has detected 2,890,252 Covid-19 cases since the start of the outbreak, ranking 32nd out of 225 countries and territories worldwide.
Of the infected patients, 2,305,081 have been discharged from hospital after making a full recovery from the disease, and 39,682 patients have died of the virus.
The country has so far confirmed 205 Omicron cases in 18 localities, including 97 cases confirmed in Ho Chi Minh City, 27 in Quang Nam, 20 in Quang Ninh, 18 in Hanoi, and 11 in Khanh Hoa.
Approximately 192 million vaccine doses have been administered nationwide, with over 75 million people getting their second shot and nearly 37 million people receiving their additional shot/booster jab.
Minimizing Covid-19 related deaths now top priority: MoH
The Ministry of Health (MoH) has demanded provinces and centrally-run cities nationwide press on with anti-Covid-19 measures amid a surge in new infections, stressing that minimizing deaths is currently the top priority.
In an official dispatch sent to the chairpersons of the provincial-level People's Committees, the MoH pointed out that the numbers of new infections and patients in critical condition have been on the rise recently.
It forecast the virus transmission in the community is likely to continue in the time ahead given the gradual reopening of socio-economic activities, which will cause great pressure on the healthcare system.
Facing that fact, the ministry requested measures against Covid-19 be ramped up, including seriously implementing the Government's Resolution No. 128/NQ-CP issued last October, on the safe and flexible adaptation to and effective control of the pandemic, according to VNA.
Healthcare establishments need to conduct comprehensive treatment, establish treatment levels for Covid-19 patients, and give the top priority to minimizing deaths, the MoH said, asking for sufficient medical supplies and increased home treatment and telemedicine.
Localities were also told to further accelerate Covid-19 vaccinations, guarantee the coverage of additional and booster doses for people aged 18 and above and primary doses for those aged 12 - 17, prepare ready resources for inoculating children aged 5 - 11 as soon as the MoH issues guidelines, and provide at-home vaccinations for those unable to reach vaccination sites.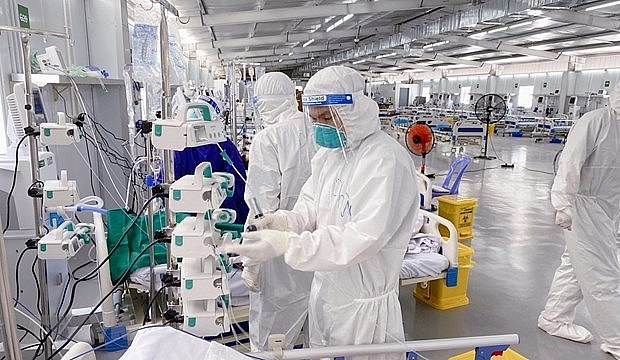 Medical workers at a Covid-19 treatment establishment. Photo: VNA
Besides, provinces and cities should base on local pandemic levels to resume in-person learning, take appropriate response measures when recording new infections in schools, and ensure pandemic safety for students.
The MoH also reminded localities to step up communications to raise public awareness, improve the capacity of the healthcare system, especially at the grassroots level, and strictly deal with violations of anti-pandemic rules.
Vietnam sets up committee on 6G research and development
The Ministry of Information and Communications has set up a steering committee on research and development of the sixth-generation mobile information technology.
The Committee, led by Minister Nguyen Manh Hung, is responsible for putting forward orientations, mechanisms, and policies on how to beef up the research and development of 6G in the country.
It is in charge of monitoring the research and development on standards, production and commercialization of 6G mobile communication equipment and services of international organizations and advanced countries in the world; combine research, forecast development trends of the domestic and international telecommunications market.
The Committee will also devise a roadmap for research, production and commercialization of 6G equipment, a roadmap for testing and commercializing 6G services; solutions to support Vietnamese enterprises in the production and commercialization of 6G equipment and services.
Photo: VNN
Vietnam is in the phase of commercial testing of 5G network with average download speed about ten times faster than 4G network.
Viettel, VNPT and MobiFone are three mobile network operators that provide 5G networks in some big cities (only certain areas) in Vietnam.
Earlier, Minister of Information and Communications Nguyen Manh Hung emphasized that it is necessary to start 6G research in 2022 to turn Viet Nam into one of the leading countries in the world for 6G technology.
Vietnam must go with the world's leading countries in in 6G technology. The frequency will be licensed by the Ministry of Information and Communications possibly in 2028 before the commercialization of 6G, VNN reported.
According to experts, the 6G network would transform the internet bringing virtual reality into life. While the speed of 5G may reach 20 gigabits (Gbps) per second, a sixth-generation network may achieve the terabits-per-second speeds.
Countries around the world, including the US, South Korea, China, Japan, and Finland have already joined the race for 6G network development.
Vietnam resumes flights to 20 countries, territories
Vietnam has now resumed air routes to 20 countries and territories worldwide, according to the Ministry of Transport.
Starting from February 22 the country has moved to restore regular international air routes with Cambodia, Japan, the Republic of Korea, Malaysia, the Philippines, Qatar, Singapore, Thailand, Turkey, the United Arab Emirates (UAE), Laos, Taiwan, Hong Kong (China), France, Germany, the United Kingdom, Australia, Russia, and the United States.
Compared to the pre-pandemic period, Vietnam has yet to operate flights to Brunei, India, Indonesia, Myanmar, Macao, Finland, Italy, and Switzerland.
Currently, airlines run a total of 370 regular international flights per week, equivalent to 53 flights per day, a figure which is about 10% compared to the pre-pandemic time, cited VOV.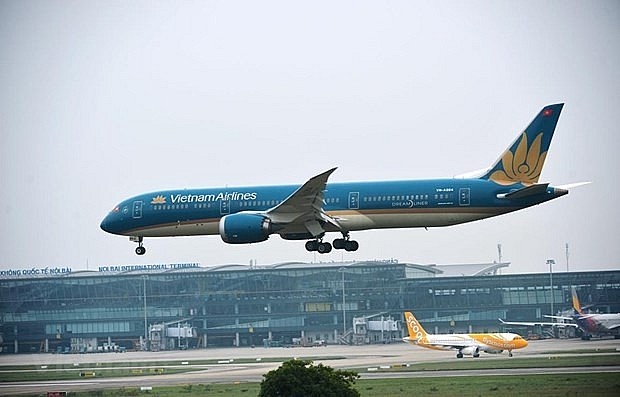 Photo: VNA
The latest resumption of flights will follow the directions and requirements set by all countries involved. Passengers are required to seriously comply with regulations on pandemic prevention and entry-exit procedures.
All arrivals must have proof of a negative Covid-19 test result, using the gold-standard PCR method, within 72 hours prior to entry.
Entrants who have been fully vaccinated or who have recovered from Covid-19 must not make any direct contact with others and they are not permitted to leave their places of residence or designated accommodation, such as hotels, motels, resorts, offices, dormitories, or guest houses, during the first three days of their visit.
Vietnam's U23 football team has enough players for match against Thailand
Vietnam have enough players for the February 22 match against Thailand at the ongoing AFF U23 Championship as reinforcements have arrived in Cambodia.
Five more players of the team tested positive for Covid-19 on the day, according to the Vietnam Football Federation.
Four footballers among the reinforcements departed from Ho Chi Minh City to Phnom Penh by road in early morning of February 22. They tested negative for Covid-19 upon arrival.
Meanwhile, two players who travelled by air are set to arrive in Phnom Penh at 4.45 p.m, VNA reported.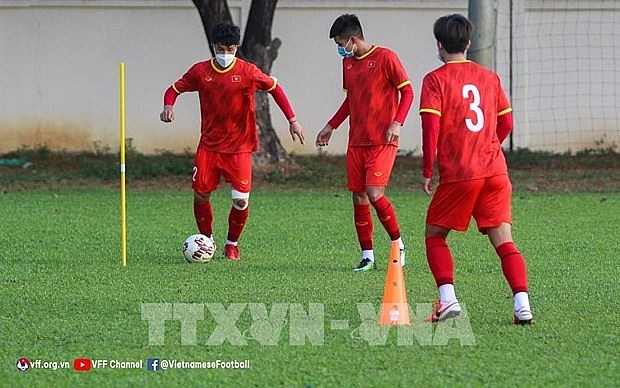 A training of the Vietnam's U23 team. Photo: VNA
Vietnam are to have at least 15 players for the coming game, which will kick off at 7 p.m. in Phnom Penh.
In addition, the team is hoping that the first group of footballers contracted with Covid-19 will be able to return once their PCR test results show that they are clear of the coronavirus.
After the match against Singapore on February 19, Vietnam received the bad news, when more players returned positive quick tests. They had only 11 players, including two goalkeepers.
According to the championship rules, a team needs at least 13 footballers for a match.
Viet's Home
The course started the first enrollment in 2019 with support from the US Agency for International Development (USAID) through the DISTINCT project, implemented by VietHealth and Medical Committee Netherlands – Vietnam.