Vietnam News Today (Feb. 4): Vietnam's Pho the Greatest Culinary Gift to the World
Vietnam News Today (Feb. 4): Vietnam promotes tourism to ASEAN market; ChatGPT and AI booms in Vietnam; Vietnam-Asia trade nears US$475.3 billion in 2022; Vietnam's pho the greatest culinary gift to the world.
Vietnam News Today (Feb. 4) notable headlines
Vietnam promotes tourism to ASEAN market
ChatGPT and AI booms in Vietnam
Vietnam-Asia trade nears US$475.3 billion in 2022
Vietnam's pho the greatest culinary gift to the world: Australia's tourism website
Real estate firms optimistic about 2023
Festive activities taking place in ethnic culture village
Buon Ma Thuot Coffee Festival 2023 to take place in March
Lao official highlights Vietnam's successes under CPV leadership
Ninh Binh - one of 10 most welcoming regions: Booking.com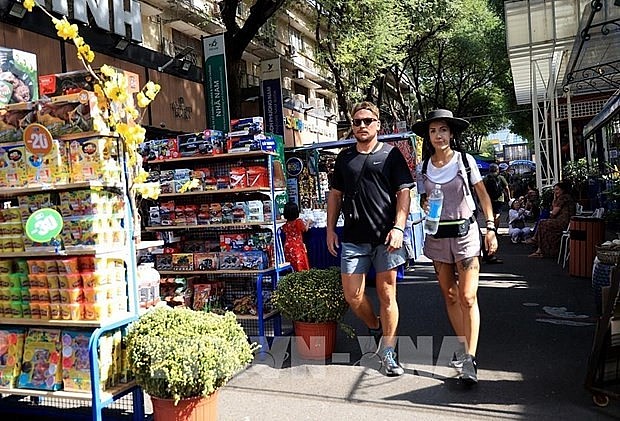 Foreign tourists visit book street in Ho Chi Minh City on the occasion of Tet (Lunar New Year) holiday. (Photo: VNA)
Vietnam promotes tourism to ASEAN market
After more than two years of hiatus due to the COVID-19 pandemic, all tourism activities in Vietnam have returned to normal and experienced a remarkable recovery since the country's full reopening on March 15 last year, Ha Van Sieu, deputy head of the Vietnam National Administration of Tourism (VNAT), said on February 3.
He made the remarks at a press conference held within the framework of the ASEAN Tourism Forum (ATF) 2023 in the city of Yogyakarta, Indonesia, from February 2-5.
Last year, Vietnam welcomed a total of 3.66 million foreign visitors, 23.3 times higher than the 2021 figure. In January 2023 alone, the number of foreign tourists to the Southeast Asian nation reached more than 871,000, up 44% year-on-year, cited VNA.
The official said that Vietnam has a variety of tourism products. In addition to four main options, namely marine tourism, ecotourism, cultural tourism and urban tourism, it also boasts attractive complementary products such as luxury resort tourism, adventure tourism, wellness tourism, and golf tourism.
Introducing Vietnam's tourism policy in the post-COVID-19 period, Sieu said that Vietnam has resumed visa exemption for those from ASEAN countries, thereby helping people in the region travel easily. Its Government has also supported tourism businesses to reconnect with partners in the region through initiatives, tax and energy policies. Dissemination campaigns have been promoted, facilitating connections between tourism firms and international partners through attending international tourism events and forums.
At the press conference, representatives of VNAT and Binh Thuan province briefed participants about the Vietnam National Tourism Year 2023 "Binh Thuan – Green convergence" to be launched this March. With a series of activities taking place throughout the year, this event will suggest the trend of sustainable green tourism development, thereby enhancing the competitiveness of Vietnam's tourism in the region and the world.
Themed "ASEAN: Journey to Wonderful Destinations", ATF 2023 is the largest annual event held alternately among the 10 members of the Association of Southeast Asian Nations (ASEAN), creating a space for cooperation to promote this region as an attractive tourist destination worldwide.
ChatGPT and AI booms in Vietnam
AI and ChatGPT technologies are forecasted to explode, creating a new wave of technology this year.
In the early days of 2023, ChatGPT released by OpenAI is becoming popular all over the world. ChatGPT is a chatbot providing solutions to complex problems directly like composing essays, coding, and drafting business proposals. Within a few seconds after entering keywords, ChatGPT will provide text, images, audio, and other entertainment media in excellent quality.
Just a few weeks after launching, this "super AI" has reached over 10 million users and has rapid growth. This success helps OpenAI negotiate an investment agreement worth $30 billion, more than double its valuation in 2021.
After investing $1 billion in ChatGPT in 2019, Microsoft is planning to invest another $10 billion in exchange for 49 per cent of OpenAI's stake. This tech giant is considering integrating ChatGPT into Word, Powerpoint, Outlook, and even the Bing search engine to compete for market share with Google Search.
Eric Boyd, CVP of AI Platform at Microsoft, said that a generative AI model like ChatGPT will change the way humans interact with computers.
"Talking to the computer will become as natural as human-to-human communication, and changing users' daily experience of technology," he said.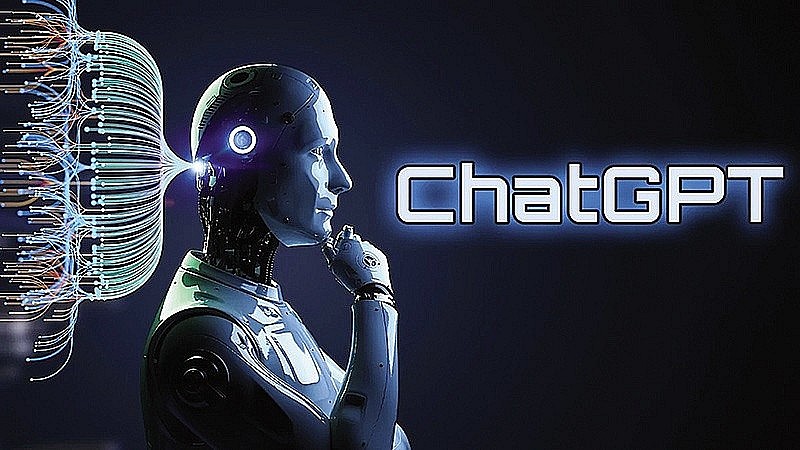 ChatGPT and AI is set to boom in Vietnam.
In the view of Ngo Huu Thong, co-founder of Uweb, ChatGPT is one of the smartest chatbots today that can synthesise information in a very short time from billions of data sources in most languages. Even for difficult and professional questions, ChatGPT can give valuable responses with similar content to articles on the Internet, and its answers feel like talking to a real person.
ChatGPT has made a big impact on other AI startups. For example, AI startup Jasper has raised $125 million at a $1.5 billion valuation; Stability AI mobilised $101 million at a $1 billion valuation. Other AI companies similar to ChatGPT at a smaller scale like Character.AI, Replika, and You.com are also attracting special attention from investors, according to VIR.
Vietnam is quite responsive to new technologies. Since 2020, when blockchain technology broke out, the country has become a "blockchain factory" that provided thousands of projects related to this technology. Therefore, with the explosion of ChatGPT, experts, and businesses expect to keep up with this wave.
Vietnam is currently ranked 55 out of 181 countries in applying AI. Vietnam currently has more than 70,000 digital businesses and AI have been actively and strongly applied in all aspects of life.
"FPT has integrated human-bot communication AI to handle boring, repetitive tasks. AI is a key technology of FPT and FPT will pour at least VND300 billion ($13 million) into this technology in the next three years," said Vu Anh Tu, CTO of FPT Group.
Rikkei Digital has initially been managing core AI technology, so the company will invest more in AI applications, such as smart cameras and smart speakers.
"Besides this, robotics is an area that Rikkeisoft has invested in and researched since 2019. In the near future, Rikkeisoft will make practical applications thanks to robotic technology and apply in practical fields such as hotels, resorts, golf courses, and AI applications on e-vehicles," said Ngo Minh Quan, CEO of Rikkei Digital.
"The global AI market size is valued at $93.5 billion and is forecast to have a compound annual growth rate of 38.1 per cent in 2022-2030. Applying AI, Big Data over the world and in Vietnam has become a mandatory need of organisations and businesses to reduce costs, improve customer experience, and enhance business competitiveness," said Nguyen Nam Long, deputy general director of VNPT Group.
In early 2021, Vietnam issued the national strategy on AI research, development and application by 2030 that sets out the goal of enabling AI to be an important technology of Vietnam in the fourth industrial revolution, contributing to socioeconomic development and gradually turning Vietnam into a bright spot in research, development, and application of AI in the region and worldwide. The year 2023 is expected to be the year of the AI technology boom in Vietnam.
Vietnam-Asia trade nears US$475.3 billion in 2022
The nation's merchandise trade with Asia hit US$475.29 billion in 2022, expanding by 9.6% compared to 2021 and accounting for the highest proportion, 65.1%, in the country's total import-export value.
Last year witnessed Vietnamese exports to other Asian countries hit US$177.26 billion, up 9.5% year-on-year. In addition, the country's imports from other Asian nations reached US$298.03 billion, up 9.6%.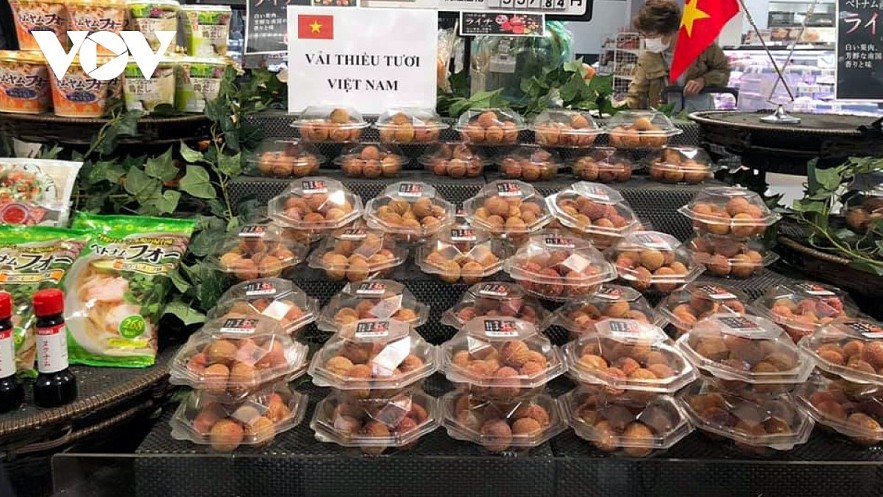 Photo: VOV
The country saw a trade deficit only with Asia among the five continents, reported VOV.
Major Vietnamese trade partners in Asia include China, the Republic of Korea, Japan, and ASEAN.
According to preliminary statistics of the General Department of Customs, the country's total import-export value of goods stood at US$730.2 billion last year, up 9.1% compared to 2021.
The value of imports and exports between the nation and the Americas, Europe, Oceania, and Africa was US$153.73 billion, up 10.5%, US$75.45 billion, up 2.8%, US$17.62 billion, up 24.3%, and US$8.1 billion, down 3.9%, respectively.
Vietnam's pho the greatest culinary gift to the world: Australia's tourism website
According to Australia's tourism website traveler.com.au, pho is surely Vietnam's greatest culinary gift to the world.
An article posted on the web said people can argue long into the night about the world's best soup. Maybe it's ramen, laksa, bouillabaisse or caldo verde or even Moroccan bessara. What people can't argue, however, is that Vietnam's most famous soup, the pho, is in the conversation.
Pho is surely Vietnam's greatest culinary gift to the world. (Photo: VNA)
It affirmed pho is a fragrant, subtly powerful dish that's even greater than the sum of its considerable parts. Its broth is a gently simmered stock of beef bones with onion, ginger and spices; it arrives pooled around banh pho, or flat rice noodles, and rare beef slices, topped with bean sprouts, fresh herbs, lemon and chilli. The aroma is transcendent. The taste is perfection.
Pho was developed in the north of the country during the late 19th and early 20th centuries. The pho obsession spread to the south in the 1950s, when the country was divided and millions of north Vietnamese brought their soup recipe with them to the south.
December 12 has been marked as the Day of Pho in celebration of the nation's most well-known dish.
Earlier, the prestige food website TasteAltas included pho among the world's 100 most popular dishes.
Real estate firms optimistic about 2023
Believing that the market will recover in 2023, real estate firms have prepared to grasp the opportunities.
Asian Holding CEO Nguyen Van Hau told VietNamNet that he hopes the government will take action to help recover the real estate market in 2023. The central bank is expected to loosen lending, thus allowing cash to flow into the real estate market and the interest rates to go down so that more people can access home loans.
Hau, who thinks that difficulties which arose in 2022 will still exist this year, said he has not set an ambitious business plan, but is aiming for moderate achievements. The firm will focus on developing a new urban area in Binh Phuoc that it has taken over, and developing over 300 products, including social housing, townhouses and land.
If the market continues to face difficulties, it will focus on the market segment with products worth VND700 million on average. If the market goes better, it will also develop apartments and townhouse projects in provinces valued at VND2-2.5 billion.
"We are always flexible to get ready to cope with different situations. Since we have various plans, we weathered the storm over the last few years when the Covid-19 pandemic had a serious impact on the economy."
Nguyen Anh Que, chair of G6 Group, said in December 2022, he became aware of the government's orientation for economic development in general and real estate market development in particular.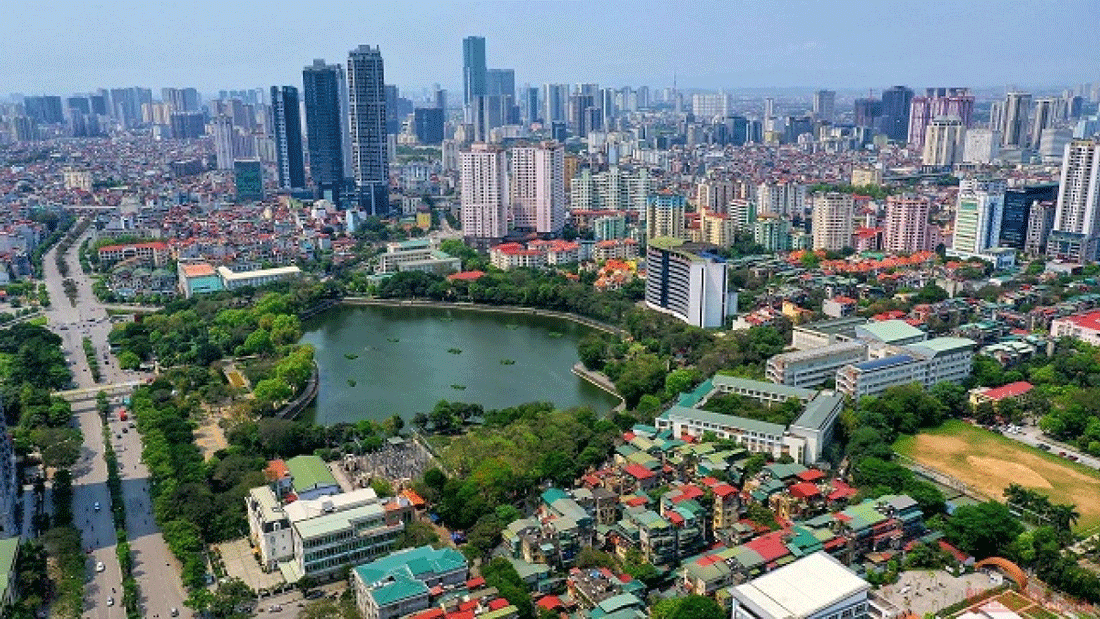 Photo: Le Viet
It is expected that a large amount of capital will be pumped into the market in 2023, from which the real estate and construction sector will also get benefits. The public investments in 2023 which the government is trying to accelerate will also have a positive impact on the sector.
"One of our business plans is completing procedures to buy three multi-story apartment buildings in Hanoi and putting them into operation by Q3 2024," he said.
In addition, the company will seek to purchase suitable projects or design projects on the land it has. Secondary investment will also be a choice of the company. It will develop a new business field – developing projects for investors, cited VNN.
"We plan an IPO (initial public offering) in 2026 and to become a famous real estate firm with a complete real estate ecosystem," he said.
Le Thu Ha, chair of Ha An Group, believes that the market will recover in Q3 2023 as the government has applied a series of measures to help warm up the market.
She hopes that the lifting of the credit growth rate limit will help ease interest rates, thus allowing sales of real estate products and better market liquidity.