Vietnam News Today (Jan. 16): Aviation Authority Seeks to Resume Regular Flights to Europe
Vietnam News Today (Jan. 16): Vietnam records 16,305 new Covid cases, 17 new Omicron cases in HCMC; Vietnam set to have 28 airports by 2030; Aviation authority seeks to resume regular flights to Europe; Hanoi supermarkets prepare goods for Lunar New Year holiday.
Vietnam News Today (Jan. 16) notable headlines
Vietnam records 16,305 new Covid cases, 17 new Omicron cases in HCMC
Vietnam set to have 28 airports by 2030
Aviation authority seeks to resume regular flights to Europe
Hanoi supermarkets prepare goods for Lunar New Year holiday
Book on Vietnamese trade and investment with Thailand debuts
Vietnam opposes Bien Dong Sea claims inconsistent with international law: spokesperson
Joint efforts to ensure warm Tet for laborers
Vietnamese coffee exports to Germany anticipated to see recovery
HCM City's labour market remains active in flexible adaptation to Covid-19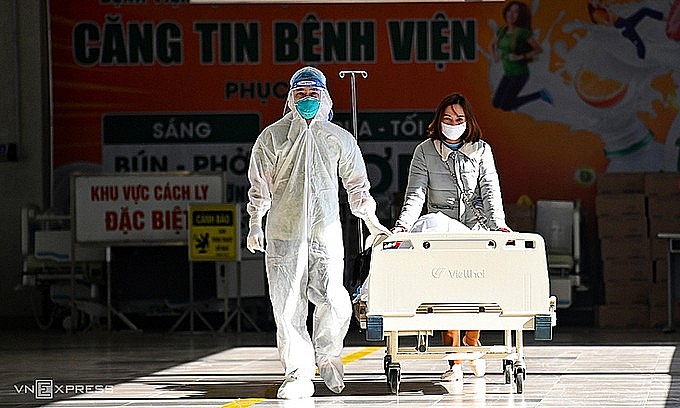 Medical staff take a critically ill Covid patient into the ICU at National Hospital of Tropical Diseases in Hanoi, December 2021. Photo: VnExpress
Vietnam records 16,305 new Covid cases, 17 new Omicron cases in HCMC
Health authorities on Saturday confirmed 16,305 Covid-19 cases in 60 cities and provinces, and 17 imported Omicron cases in HCMC.
The three localities with the highest numbers of local cases in the day were Hanoi with 2,810, Da Nang with 874 and Hai Phong with 814 cases.
The Health Ministry also confirmed 139 Covid-19 deaths Saturday, taking the nation's Covid-19 death toll to 35,480, or around 1.8 percent of all infections.
Hanoi for the first time topped the daily Covid fatalities with 18 confirmed deaths, followed by HCMC with 16.
HCMC, once the Covid epicenter, reported 364 local infections on Saturday. The city's Health Department on the same day confirmed another 17 Omicron cases among foreign arrivals who were quarantined upon entry, cited VnExpress.
Vietnam has recorded 68 cases infected with the Omicron variant so far, all imported. There are 30 in Ho Chi Minh City, 27 cases in Quang Nam, three in Da Nang, two each in Thanh Hoa and Khanh Hoa, and one each in Hanoi, Hai Duong, Hai Phong and Long An.
So far, 1,715,147 Covid patients in the country have recovered. Around 72.1 million people have received their second vaccine shots and 16.2 million have received their third.
Vietnam set to have 28 airports by 2030
The country is projected to have 28 airports nationwide, including 14 international ones, by the year 2030, according a draft master plan on developing local airports for the 2021 to 2030 period, with a vision towards 2050.
Under the details of the plan, which has been submitted to Prime Minister Pham Minh Chinh for approval, the airports will serve approximately 275.9 million passengers and handle some 4.1 million tonnes of cargo annually, according to VOV.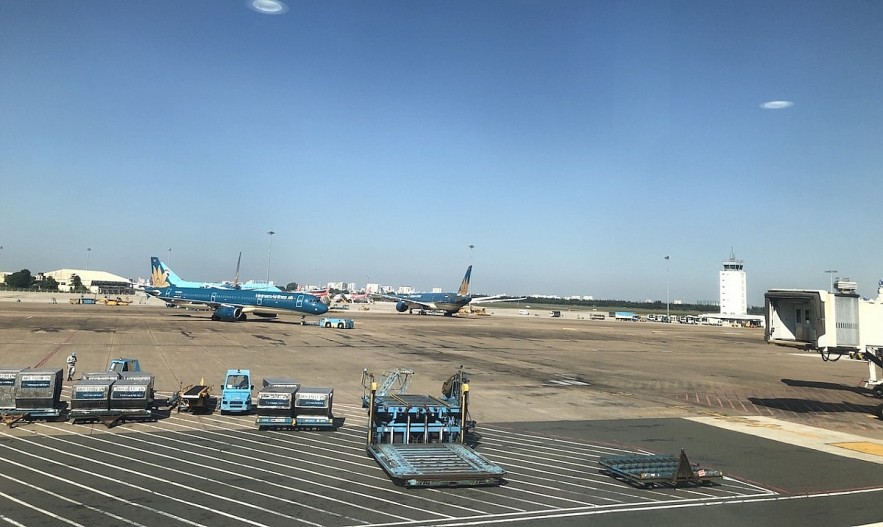 Photo: VOV
The Ministry of Transport will seek to prioritize investments in some major airports such as Noi Bai in Hanoi and Tan Son Nhat in Ho Chi Minh City, whilst also upgrading and effectively utilizing the present 22 airports and building six others, namely Long Thanh, Na San, Lai Chau, Sa Pa, Quang Ninh, and Phan Thiet.
By 2050, the number of airports nationwide is expected to rise to 31, including 14 international ones.
PM Chinh has therefore asked the Ministry of Transport to review the planning of Da Nang and Chu Lai airports in order to avoid the wastefulness of resources, whilst quickly finalizing the planning scheme for approval.
Aviation authority seeks to resume regular flights to Europe
The Civil Aviation Authority of Vietnam proposed reopening regular commercial flights between Vietnam and France, Germany, Russia and the U.K. and with 10 weekly return flights.
Dinh Viet Thang, head of CAAV, said the agency has been seeking approval from the Ministry of Transport to work with aviation authorities in the four European countries on resuming regular commercial flights as there is huge demand for repatriation during the upcoming Tet holiday among Vietnamese living in Europe.
Statistics from CAAV showed around 140,000 overseas Vietnamese wish to return home to celebrate Tet, which peaks on Feb. 1 and it is forecast the number of passengers flying to Vietnam would exceed 30,000 a week, including foreign experts and diplomats.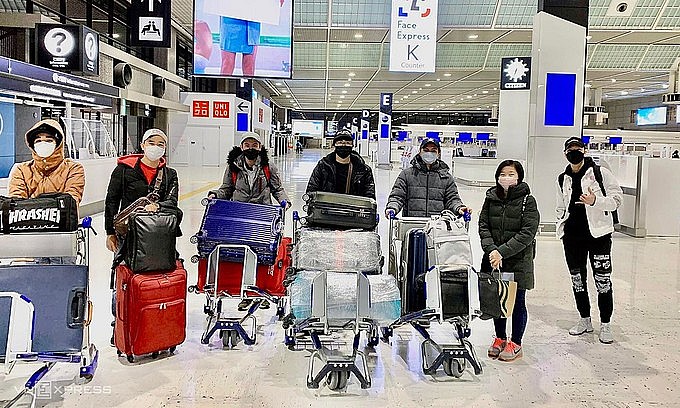 Passengers on a regular commercial flight from Tokyo land at Noi Bai Airport, Hanoi, January 5, 2022. Photo: VnExpress
Earlier, CAAV worked with aviation officials of Australia to resume regular flights between the two countries with the frequency of 10 return flights a week. Vietnam Airlines starts selling tickets for flights between Ho Chi Minh City, Hanoi and Sydney from Saturday.
After the government approved a two-week first phase of resumption of flights to nine destinations starting Jan. 1, the CAAV granted flight slots for domestic carriers to seven: Bangkok, Phnom Penh, San Francisco, Seoul, Singapore, Taipei and Tokyo.
Currently, flights to Beijing or Guangzhou in China and Vientiane in Laos are yet to resume as relevant aviation authorities remain to complete negotiations, reported VnExpress.
Fully vaccinated people and those who have recovered from Covid-19 arriving in Vietnam only need to self-isolate for three days.
Everyone, except children below two, must have tested negative for the novel coronavirus using the PCR method within 72 hours before departure.
However, due to the emergence of the new Omicron variant of Covid-19, all passengers are also required to undergo a rapid test on landing at Noi Bai and Tan Son Nhat international airports.
Hanoi supermarkets prepare goods for Lunar New Year holiday
Supermarkets, shopping centers and convenience stores in the capital city of Hanoi are gearing up to ensure an adequate supply of essential goods for the upcoming Tet (Lunar New Year) holiday. ​
The stockpiled goods has doubled or tripled compared to normal days.
Goods for Tet included pork, fresh vegetables and fruits, rice, confectionery and beverage products. The products are diverse in types and origins, making it easy for customers to choose the ones that suit their needs.
Some big retailers such as GO! BigC, VinMart, Co.op Mart and Hapro Mart have offered discounts on essential items such as pork, chicken and eggs. Supermarkets also organized many promotion programs with the prices reduced by between 5 and 49 percent for thousands of items for Tet.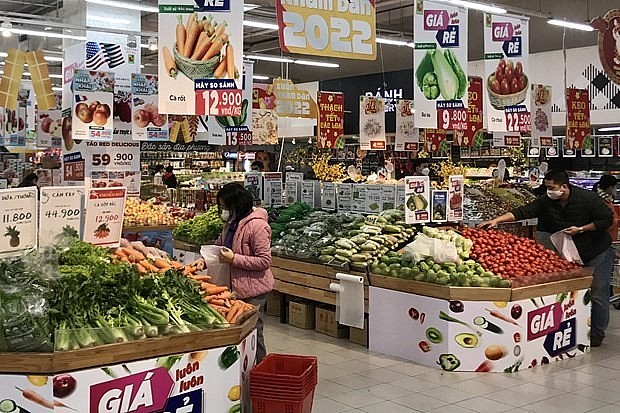 Consumers shop at a supermarket in Hanoi. Photo: VNA
Amid complicated developments of the Covid-19 pandemic that made many people unable to return to their hometown to celebrate Tet, relevant units have proactively prepared many regional specialties such as banh chung (square sticky rice cake) and pickled onions, VNA reported.
Online sales and shipping services are also applied by supermarkets and shops to serve the demand of people.
To create favorable conditions and support prices for consumers, GO! Big C and Tops Market supermarket chains have implemented the price stabilization policy to more than 7,000 essential consumer products and committed not to increase selling prices for more than 10,000 others.
Supermarkets also strengthened pandemic prevention and control regulations to ensure the safety and convenience for consumers during year-end shopping while minimizing the crowded gathering of people at the same time.
Book on Vietnamese trade and investment with Thailand debuts
The launching ceremony of a book detailing the enhanced strategic partnership between Vietnam and Thailand was held on January 14 in Bangkok, Thailand.
The event is part of a range of activities marking the 45th anniversary of the establishment of diplomatic relations between the two countries.
The publication was released following collaboration between the Vietnam Trade Office in Thailand and the Thai-Vietnamese Business Council.
Upon addressing the event, Sanan Angubolkul, chairman of the Thai - Vietnamese Business Council, stated that the neighboring country has become the largest Vietnamese partner in ASEAN.
He went on to express his belief that both sides will continue to improve the effectiveness of the partnership and elevate bilateral relations to greater heights in the future.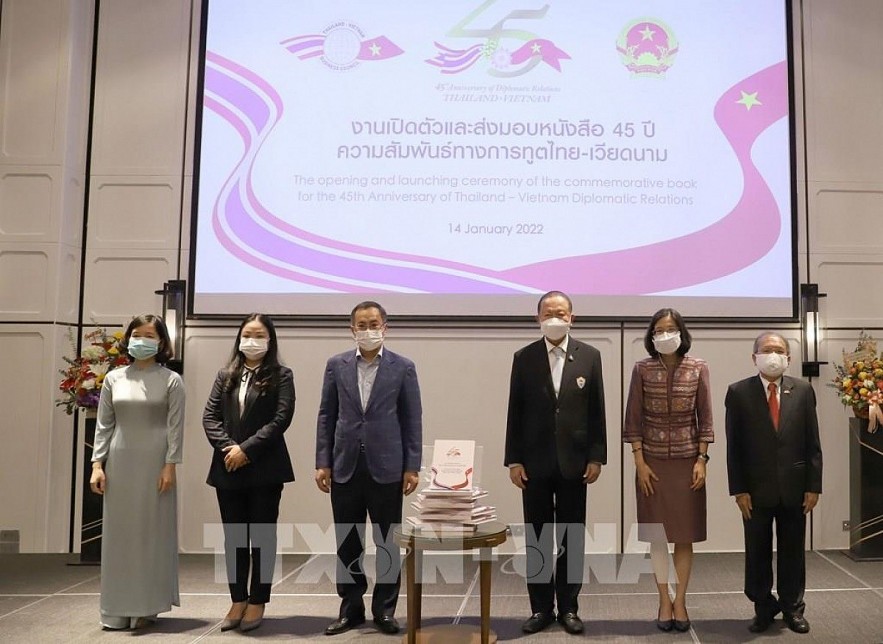 Delegates at the launching ceremony. Photo: VNA
At the ceremony, Vietnamese Ambassador to Thailand Phan Chi Thanh highlighted the two countries' numerous achievements on the three main pillars of politics-security, economics, and culture-society.
He said Thailand makes up the nation's largest trading partner in ASEAN and is the ninth largest foreign investor in the Vietnamese market, while the country is also Thailand's fifth largest trading partner in the world.
Both countries are also members of several international trade agreements, such as the Regional Comprehensive Economic Partnership (RCEP), the ASEAN Trade in Goods Agreement (ATIGA), and the ASEAN Free Trade Area (AFTA).
These solid foundations have helped businesses of both sides explore greater trade and investment opportunities in the future, thereby contributing to achieving the goal of elevating two-way trade turnover to US$25 billion by 2025, cited VOV.
The book depicts some of the important co-operation milestones, especially in the economic field between both sides over the past 45 years, guidelines on investment, the successful story of businesses, as well as a list of potential Vietnamese and Thai firms.
Tran Thi Thanh My, trade counselor of the Vietnamese Embassy in Thailand, affirmed that amid the Covid-19 pandemic affecting trade activities between the two countries, information in the book will be a useful reference for enterprises that are seeking co-operation opportunities with partners in the two nations.