Vietnam News Today (Jan. 2): Vietnam Rides Through Economic Difficulties
Vietnam News Today (Jan. 2): Foreign ambassadors positive on relations with Vietnam in 2023; Vietnam rides through economic difficulties; Enterprises enjoy more advantages to boost market expansion from EVFTA; Birthplace information added on new Vietnamese passports.
Vietnam News Today (Jan. 2) notable headlines
Foreign ambassadors positive on relations with Vietnam in 2023
Vietnam rides through economic difficulties
Enterprises enjoy more advantages to boost market expansion from EVFTA
Birthplace information added on new Vietnamese passports
Soft power contributes to Vietnam's development
Various activities take pace in ethnic culture and tourism village in January
Hanoi enters New Year with fresh optimism
Textile-garment targets up to 48 billion USD in 2023 export turnover
Localities welcome first New Year visitors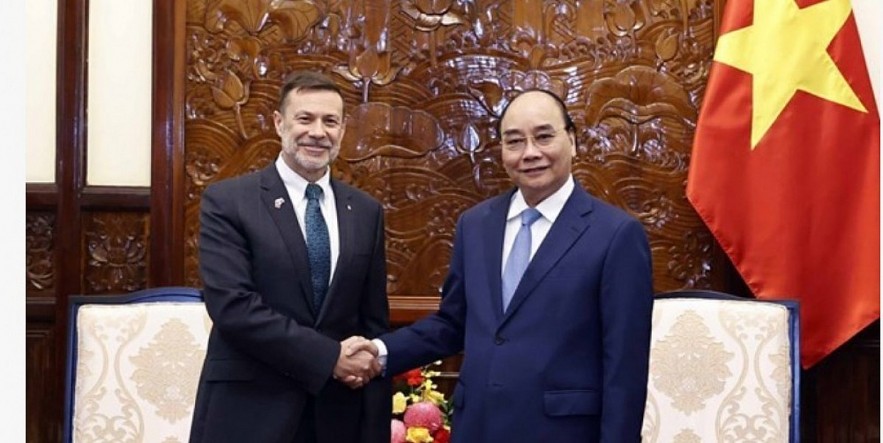 President Nguyen Xuan Phuc (R) welcomes Australian Ambassador Andrew John Lech Goledzinowski.
Foreign ambassadors positive on relations with Vietnam in 2023
Indian and Australian Ambassadors have expressed their optimism about relations with Vietnam this year across multiple fields in their remarks for the New Year.
According to the diplomat, flourishing economic collaboration between both nations has been strengthened with efforts from both sides towards a milestone of US$15 billion in bilateral annual trade turnover.
With their strengths, Vietnam and India absolutely have many opportunities to open up the possibility of effective trade ties in the time ahead, serving as a solid basis for taking their comprehensive strategic partnership to new heights, cited VOV.
The diplomat also voiced his hope that next year, Vietnamese and Indian senior leaders will have high-level exchanges and interactions to further strengthen joint works, especially in the fields of infrastructure development, and digital transformation. Therefore, more businesses will cooperate, and more extensive commitments will be made in a multitude of areas, bringing mutual growth achievements to both countries.
Meanwhile, Australian Ambassador to Vietnam Andrew John Lech Goledznowski, said that Vietnam is a dynamic nation, full of optimism, and one of the fastest growing countries in the region. He expressed his wish to continue building and developing the Vietnam-Australia cooperation relationship, especially in the context that the two will celebrate the 50th anniversary of their diplomatic ties in 2023.
The past five decades have seen close people-to-people exchanges, and increasingly developed political, strategic, and economic collaboration between the nations, which share many similarities and mutual trust, he said.
Australia aspires to work with Vietnam to maintain stability in the region as a contribution to ensuring order and sovereignty of each country based on international law, the Australian ambassador affirmed.
He said he desires to give boost to their mutual trust, and stressed the three promising areas for bilateral engagements, namely economy, education and innovation, and strategic cooperation and security issues.
Vietnam rides through economic difficulties
Under the sound leadership of the Party Central Committee and with the motto "Solidarity, discipline, active adaptation, safety, efficiency and economic recovery", the Government and the entire country have overcome challenges and reaped achievements in all spheres, laying foundation for 2023 and subsequent years.
With Covid-19 under control, the macro-economy remained stable, inflation below 4% and major balances of the economy guaranteed. The GDP grew 8.02%, higher than the set target of 6-6.5%. The disbursement of foreign direct investment hit nearly 21 billion USD, up over 8% annually.
Data from the General Department of Vietnam Customs showed that the country's total export-import turnover went up 12.18% to around 750 billion USD. The results were impressive amid weakening growth, inflation and spiraling living costs in the world.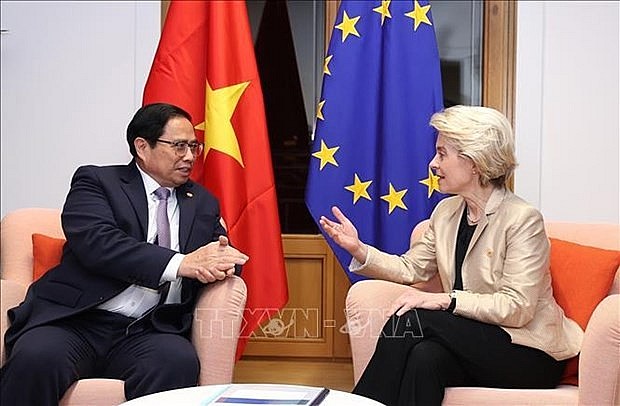 Prime Minister Pham Minh Chinh meets President of European Commission Ursula von der Leyen. Photo: VNA
Economic sectors witnessed considerable growth, including agro-forestry-fisheries. Industrial production expanded by 8.6% in 11 months of 2022 while the total retail of goods and consumption services soared by 20.5%. As many as 195,000 new businesses entered the market, up 33.2% in volume.
Many countries, international organisations and prestigious financial institutions continued speaking highly of Vietnam's efforts to perform macro-economic policies and overcome external shocks, according to VNA.
In the Global Innovation Index 2022, Vietnam ranked 48th out of 132 economies, second out of 36 low middle-income countries, and 10th out of 17 Southeast Asian and Pacific nations.
World top organisations Standard & Poor's Global Ratings, Moody's, and Fitch Ratings gave positive credit rankings for Vietnam. Notably, on September 6, Moody's Investors Service upgraded Vietnam's long-term issuer and senior unsecured ratings to Ba2 from Ba3 and changed the outlook to stable from positive. Vietnam was the only in Asia-Pacific and one of the four countries globally to have ratings upgraded by Moody's at that time.
In addition to recovery, socio-economic growth, political security, as well as social safety and order were ensured; people's life was improved; and defence-security was well maintained. In addition, the practical and effective promotion of diplomatic activities and integration helped consolidate Vietnam's prestige and position in the international arena.
With a motto of leaving no one behind, the Government spent some 87 trillion VND (3.68 billion USD) on aiding close to 56 million employees and people as well as 730,000 employers affected by Covid-19. Meanwhile, sustainable poverty reduction was prioritised, with the rate of poor households estimated to drop by approximately 1%.
Deciding to reopen its door in the year, Vietnam successfully hosted the 31st Southeast Asian Games (SEA Games 31). The Vietnamese contingent reaped myriad medals and a high ranking on the tally, contributing to promoting the image of a friendly, safe, and energetic nation that is recovering strongly after the pandemic.
This year, the global situation is forecast to face more complicated developments, difficulties, and challenges than advantages and opportunities. With successes obtained in 2022, the Vietnamese Government is determined to boost concerted efforts for new achievements.
Enterprises enjoy more advantages to boost market expansion from EVFTA
Vietnamese businesses have the opportunity to promote market expansion in the EU and they will go ahead with this expansion trend to other developed markets in the time ahead.
The assessment is based on a recent survey by the Vietnam Chamber of Commerce and Industry (VCCI) after the two-year enforcement of the EU-Vietnam Free Trade Agreement (EVFTA).
A survey conducted by the VCCI with more than 500 local businesses shows that after 2 years of implementing EVFTA, it has obtained quite positive results.
4 out of 10 enterprises reported having getting certain benefits from the Agreement, including preferential tariffs for goods exported to the EU or for goods imported from the EU.
In addition, a large number of businesses said they have enjoyed new opportunities from the EVFTA in terms of connectivity and joint ventures with partners, as well as having more orders, more revenue and profit from participating in activities in the supply chain in order to serve import and export activities for the EU market.
According to Nguyen Thi Thu Trang, Director of the WTO Integration Centre under the Vietnam Chamber of Commerce and Industry (VCCI), compared with many other free trade agreements, it is clear that the EVFTA has brought very early and very significant opportunities for local businesses.
"One of our assessments is the driving force for businesses who are interested in how to take advantage of tariff incentives, as well as other opportunities and benefits from the EVFTA. This is a free trade agreement between Vietnam and an EU partner, in which we have never had a free trade agreement before," Thu Trang said.
However, economic experts also noted that in the coming time, in the context of the world economy's difficulties and fluctuations, businesses must capitalize on opportunities from the EVFTA as well as other FTAs in a bid to promote trade, import and export activities.
In line with this, businesses need to change their competitiveness based on quality, brands, models and other factors that are advantageous thanks to the EVFTA to meet the new requirements of the EU market, reported VOV.
If done well, this will create momentum for long-term development, and ensure market stability. Responding properly to the requirements of the EU market, also means that we can also meet the requirements of nearly all other development partners. Therefore, this will be an opportunity not only in this market, but also in other markets, Trang went on to explain.
According to Cao Xuan Phong, head of the International Legal Research Department under the Institute of Legal Science, it is necessary to fine-tune laws and institutions in the context of the implementation of EVFTA and other new-generation FTAs in the coming time, in order to make effective use of advantages of the agreements.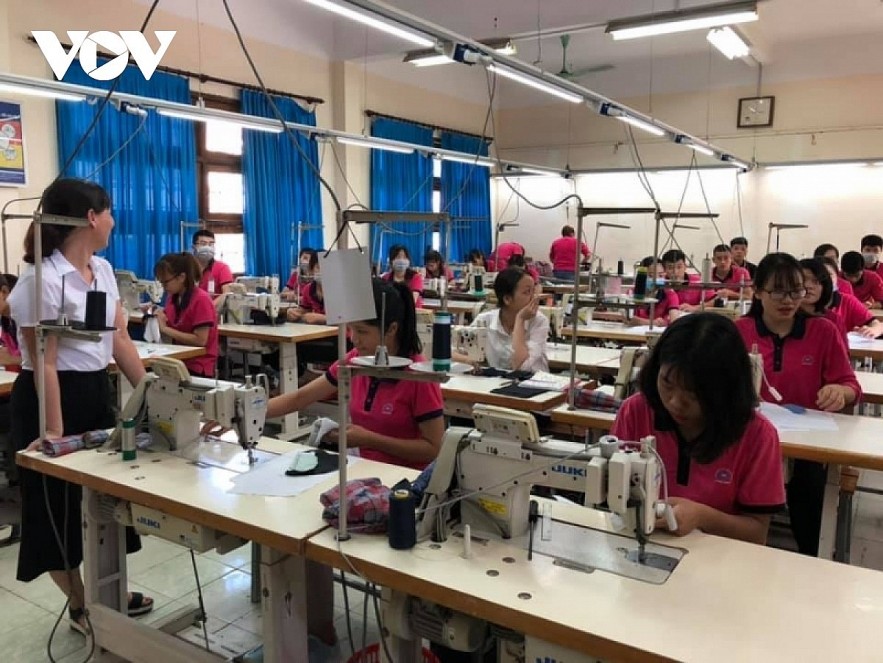 Photo: VOV
In order to create the best conditions for businesses and serve the implementation of Vietnam's commitments in the FTAs, speeding up the development of legal documents is a key point in the upcoming development process.
Accordingly, it is imperative to have experimental legal frameworks to learn from and more widely carry out FTAs, through which local businesses need to become more involved in the entire legal document drafting process, Phong added.
Birthplace information added on new Vietnamese passports
The Ministry of Public Security and Vietnam's overseas representative agencies will add "place of birth" information in new passports from January 1, 2023, said the Vietnam Immigration Department.
Ordinary passports, issued before January 1, 2023 according to previously issued forms, are still valid until the expiry of the period stated in the passport.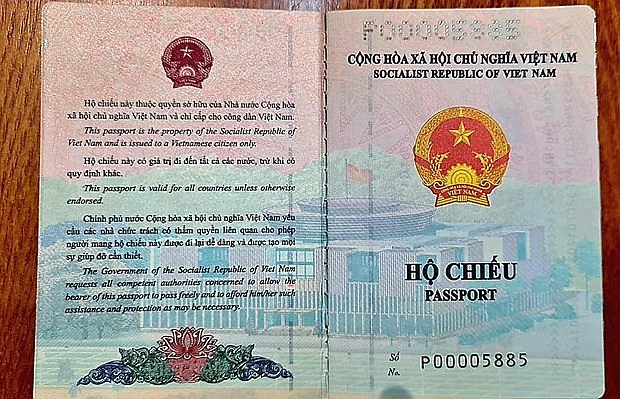 Illustrative image. Photo: VNA
Another change is that the "surname", "middle name" and "first name" will be printed on two separate lines, making it easier for Vietnamese citizens while handling immigration and residence procedures abroad, said the department, cited VNA.
Each page of the new passport will feature the country's iconic and heritage landscapes such as Ha Long Bay, Hue Imperial City, Hung Kings Temple, Hoi An Ancient Town, My Son Sanctuary, Nha Rong Wharf, Lung Cu Flag Tower, To Vo Gate - Ly Son Island, contributing to popularising Vietnam's images to the world.
The move is in accordance with the Law on Entry and Exit of Vietnamese Citizens, the Civil Code and Law on Civil Status, and international practices used by most countries globally such as the US, the UK, France, Germany, Laos and Cambodia.
It is also meant to realise the Resolution adopted by the 15th National Assembly's fourth session in November.
Soft power contributes to Vietnam's development
During the process of world integration, cultural diplomacy is one of the three pillars of Vietnam's comprehensive diplomacy, besides political and economic diplomacy, and also an effective tool to strengthen mutual understanding among the nations.
2022 continued to be considered a successful year for Vietnam's cultural diplomacy on a multilateral and global scale, cited NDO.
Speaking at a ceremony marking the 50th anniversary of the United Nations Educational, Scientific and Cultural Organisation's Convention on World Heritage in Ninh Binh Province, UNESCO Director-General Audrey Azoulay assessed Vietnam to be an example of conservation and promotion of heritage values, in association with tourism and economic development. Being impressed with Vietnam's leadership and ability to organise global events, she proactively asked Vietnam to host the UNESCO Great Conference, which is scheduled for 2025, with the participation of more than 1,100 people from 130 countries.
Ambassador Le Thi Hong Van, Head of the Vietnamese Delegation to UNESCO, said that 2022 marked new successes in Vietnam's cultural diplomacy, especially at a global multilateral organisation like UNESCO. The first official visit to Vietnam by UNESCO Director-General Audrey Azoulay (on September 2022), which was held following the visit to UNESCO by Prime Minister Pham Minh Chinh (November 2021), contributed to the implementation of the Memorandum of Understanding on cooperation for 2021-2025 period, bringing Vietnam-UNESCO relations to a new height. UNESCO was committed to continuing to provide Vietnam with financial and technical support, in carrying out the Education Development Strategy for the 2021-2030 period, preserving and promoting heritage values, sustainably developing cultural and tourism industries, responding to climate change, and protecting biodiversity.
Cultural diplomacy has effectively taken advantage of UNESCO's knowledge, resources and support, to preserve and promote the country's heritage values and assist the sustainable development of people and localities. Vietnam has been proud to have four more titles and heritages honoured by UNESCO in 2022, including Cao Lanh joining the UNESCO Global Network of Learning Cities, the art of pottery making of the Cham people in the List of Intangible Cultural Heritage in Need of Urgent Safeguarding, and recently two heritage pieces of Vietnam (including "ma nhai" steles on Ngu Hanh Son Mountain in central Da Nang city and a collection of handwritten Chinese and Nom documents in Truong Luu village of central Ha Tinh province), recognised as part of documentary heritage in Asia and the Pacific.
This not only showed the international community's appreciation for Vietnam's national cultural and heritage values, which contributed to UNESCO's efforts on heritage preservation but also created more resources and spaces for sustainable development in localities. Vietnam was also selected by UNESCO as one of the first 12 countries in the world to pilot the UNESCO Culture|2030 Indicators, contributing to the implementation of sustainable development goals.
The past year also recorded new milestones in the implementation of Vietnam's multilateral diplomacy at UNESCO. Vietnam was elected to the Intergovernmental Committee for the Safeguarding of Intangible Cultural Heritage for the 2022-2026 term, with the highest votes, affirming the international trust and support for Vietnam's contribution and governance capacity in global multilateral institutions.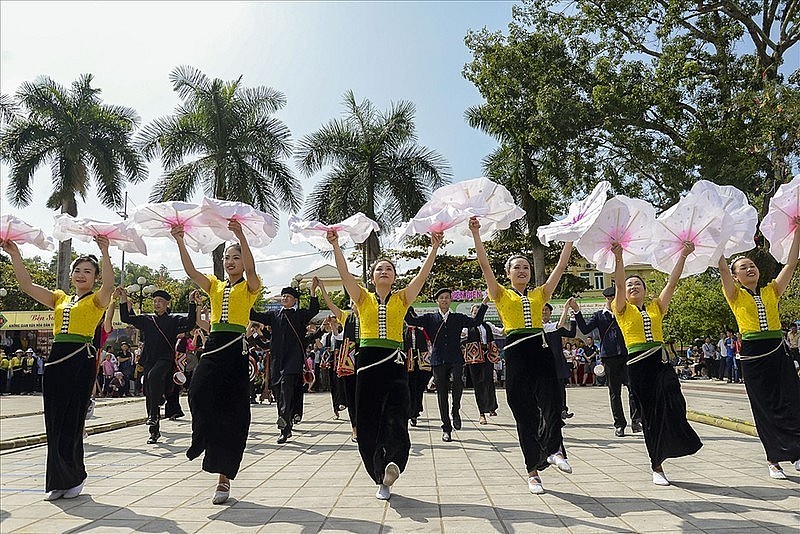 Xoe Thai dance was recognised by the UNESCO as an Intangible Cultural Heritage of Humanity.
Thus, for the first time, Vietnam simultaneously assumed responsibilities in three key governance mechanisms of UNESCO, including the Executive Council, the Intergovernmental Committee of the 2005 Convention on the protection and promotion of the diversity of cultural expressions, and the Intergovernmental Committee of the 2003 Convention. Vietnam's active and responsible contributions to the dialogue, cooperation and consensus towards finding satisfactory solutions to issues of common concern in the context of the complicated international situation, were hailed by the leaders of UNESCO and other countries.
Vietnam has many advantages given by nature, heroic historical traditions, and the diversity and uniqueness of cultural identity. Vietnamese people are industrious and creative and have precious spiritual values. The country follows the diplomatic policies of peace, filial piety and humanity, in association with dynamic development in innovation and international integration. This is a favourable foundation for Vietnam to continue to effectively implement cultural diplomacy, thereby promoting the nation's soft power, and contributing to the country's development.