Vietnam News Today (Jan. 1): Vietnam, Russia Hold Huge Potential for Stronger Economic Cooperation
Vietnam News Today (Jan. 1): Vietnam, Russia hold huge potential for stronger economic cooperation; Vietnam makes great strides in AI usage; A dual success of Vietnamese economy; Tan Son Nhat Airport prepares for peak season on New Year holiday.
Vietnam News Today (Jan. 1) notable headlines
Vietnam, Russia hold huge potential for stronger economic cooperation
Vietnam makes great strides in AI usage
A dual success of Vietnamese economy
Tan Son Nhat Airport prepares for peak season on New Year holiday
Affordable tourism combos needed to lure foreign travelers
Ho Chi Minh City attracts 3.94 billion USD in FDI in 2022
Vietnam affirms role as reliable partner of international community
Vietnam held to 0-0 draw by Singapore in AFC Cup qualifiers
"Dien Bien Phu in the Air" Victory shows Vietnamese people's undaunted spirit: Algerian scholar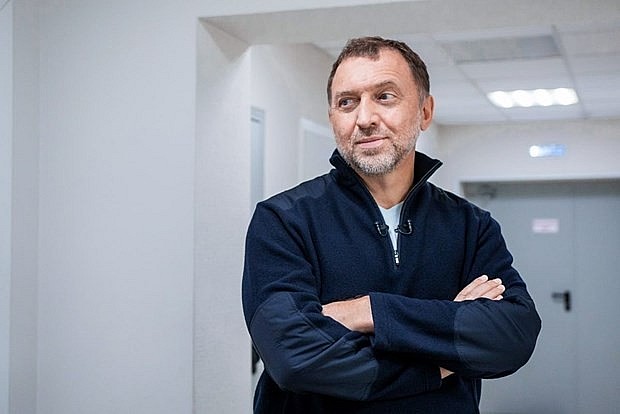 Oleg Vladimirovich Deripaska, founder of aluminum giant RUSAL, and Russia's largest auto maker GAZ Group. Photo: VNA
Vietnam, Russia hold huge potential for stronger economic cooperation
Vietnam and Russia boast huge potential for cooperation in economy, trade and investment, and the two countries should take the collaboration as a main priority in the bilateral relations, a Russian industrialist has said.
Oleg Vladimirovich Deripaska, founder of aluminum giant RUSAL, and Russia's largest auto maker GAZ Group, said over the past 15 years, two-way trade has grown stably, hitting a record high of 25.9% last year.
He stressed that to maximise the potential, the two countries need to perfect common legal frameworks and implementation mechanisms, develop networks of logistics and infrastructure, with new sea routes, streamline customs procedures and resume direct air routes, cited VNA.
The two countries should consider forming a single payment platform and use their currencies in payments to ease damage to exporters and importers, Deripaska proposed.
He suggested that Russian businesses should provide raw materials for factories in the Southeast Asian nation, noting energy, transportation and logistics, maritime communications, diamond processing, forest management, pharmacy and health care, tourism and humanitarian sectors are Russia's priority investment areas.
Deripaska also expressed his hope that the bilateral collaboration in education, science and culture will grow further in the time ahead.
Vietnam makes great strides in AI usage
The 2022 Government AI Readiness Index report shows that Vietnam ranks 55th globally and sixth among 10 ASEAN countries in terms of readiness for artificial intelligence (AI).
The Ministry of Science and Technology (MST) has reported that Vietnam has jumped by seven grades in Government AI Readiness Index 2022 released by Oxford Insights.
This report assesses the readiness of the governments of 181 countries in exploiting AI apps to operate and provide services.
This is the fifth time the report on global readiness for AI has been published, after the last four times in 2017, 2019, 2020 and 2021. The indicator is used as a tool that measures and compares the current readiness for AI of governments around the world.
Oxford Insights uses 39 indicators based on three pillars – government, technology level, infrastructure and data.
In the fifth review, Vietnam ranked 55th in the world and 6th in ASEAN, a seventh-rank promotion compared with last year.
The average score in Vietnam's AI readiness is 53.96, higher than the 51.82 scores in 2021. The indicator is higher than the world's average level of 44.61 scores.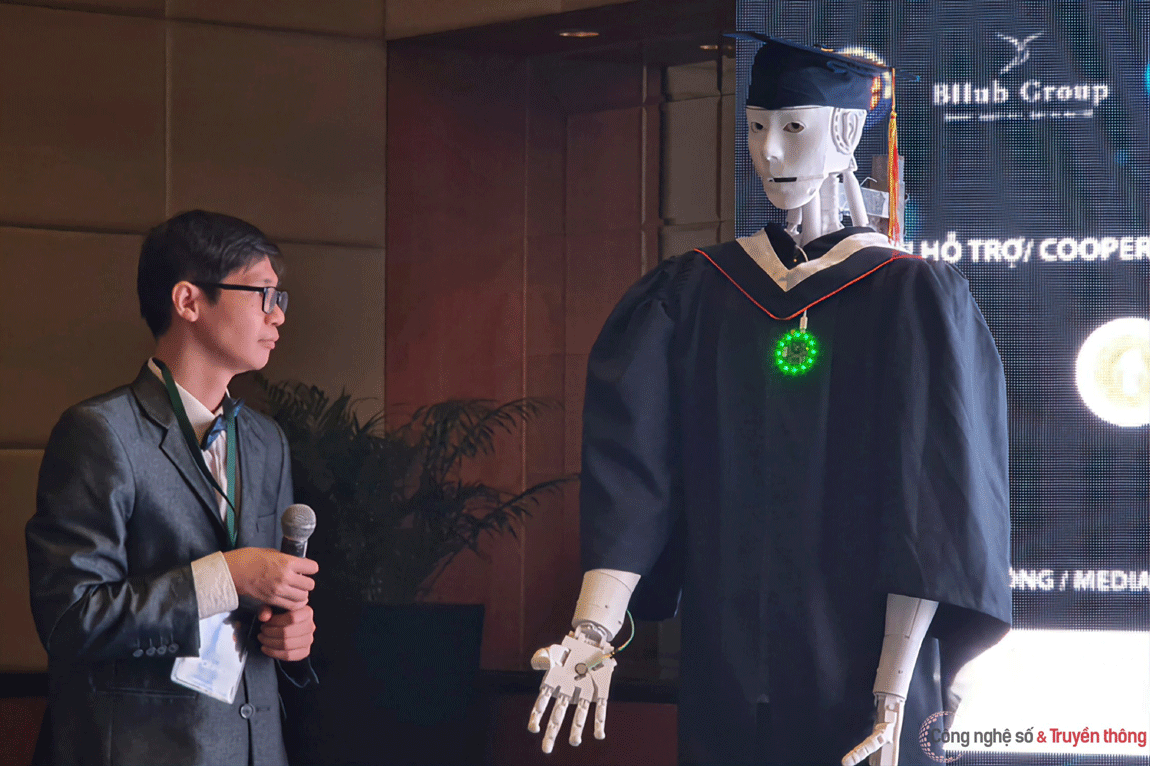 Photo: VNN
Oxford Insights commented that the level of technology development in East Asia is developing well. The region has great advantages to develop technology with a young population, high digital skills, and high capability to quickly adapt to digital solutions.
In recent years, in Vietnam, some large corporations have developed research centers on AI, attracting leading experts from all over the world. There are many innovative startups utilizing AI technology to create new products and services, according to VNN.
Kiki is a voice assistant familiar to hundreds of thousands of car owners across Vietnam.
As of the end of August 2022, Kiki set a record with 100,000 installations on Vietnamese cars.
Meanwhile, the app had 200,000 uses by early December 2022. Kiki is voice-controlled technology researched and developed by Vietnamese.
Most recently, TrueID introduced TrueAML (AML - Anti Money Laundering), an anti-laundering platform developed with AI technology.
With two major component products, AML Screening and Transaction Monitoring, TrueAML helps clients improve and automate the ability to supervise and discover money laundering activities, thus helping enterprises prevent suspicious behaviors, as well as quickly report to appropriate agencies for prompt action.
A dual success of Vietnamese economy
Vietnam has successfully weathered the COVID-19 crisis and overcome other global challenges to write its own success story in 2022, with GDP growth recorded at 8.03% and inflation controlled at 3.15%.
At the beginning of the year experts were not optimistic that Vietnam could obtain high economic growth this year amid the negative impact of the COVID-19 pandemic couple with the impact of the Russia-Ukraine conflict. However, the sound performance of the national economy in the recent quarters of the year has prompted international financial institutions to revise their projections.
Beyond their expectations, the growth rate for the year hit a 11-year record high at 8.03%, beating the 6% - 6.5% target set by the National Assembly. Meanwhile, local inflation went against the global trend to be kept at 3.15%, far lower than the 4% target set by the National Assembly.
This can be considered a dual success for the national economy given the fact that the global economy is witnessing rapid and unpredictable changes, according to Nguyen Thi Huong, director of the General Statistics Office of Vietnam (GSO).
"Global inflation has risen to the highest level in decades, forcing economies to tighten monetary policy. In addition, strategic and geopolitical competition between major powers plus the ongoing military conflict in Ukraine has increased financial, trade and investment risks. In such context, the 8.03% rate Vietnam has secured is an impressive growth rate," elaborated Huong.
The GSO director noted that high economic growth was largely fueled by the impressive growth of the three key pillars of the economy, with agro-forestry-fishery expanding by 3.36%, industry climbing by 7.78%, and construction rising by 9.99%.
She went on to note that the Government's decisions to reduce taxes, fees, and charges such as VAT and environmental protection tax placed on petroleum had significantly reduced pressure on market prices and stabilised production and business activities, as well as people's lives.
Sharing this perspective, Phan Duc Hieu, deputy director of the Central Institute for Economic Management (CIEM), stated Vietnamese GDP growth this year is very impressive given the regional economic situation. It is noteworthy that the country's foreign trade has brought in high value in the context of global difficulties, while budget revenue also achieved remarkable results.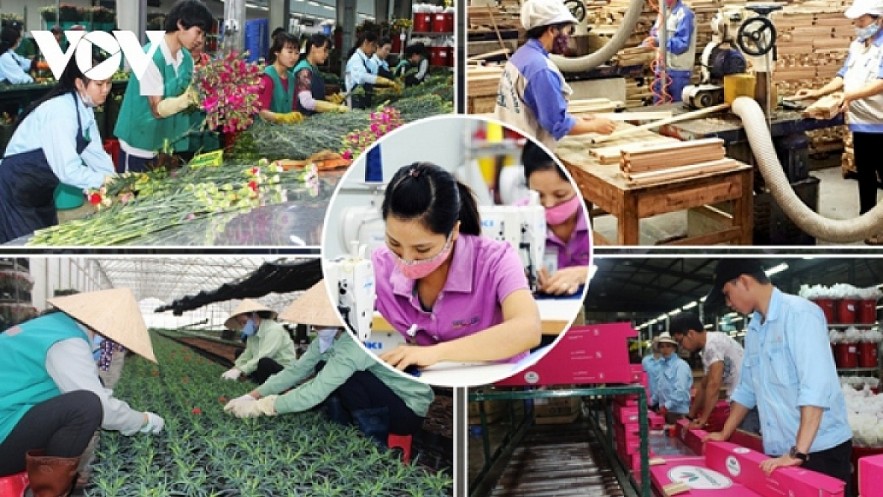 Vietnam has weathered the COVID-19 crisis to obtain impressive growth in 2022. Photo: VOV
"Agriculture has made a silent but very important contribution to our country's economy today," said Hieu.
With regard to foreign direct investment (FDI), the latest statistics indicate that Vietnam attracted nearly US$27.72 billion in FDI capital this year, equivalent to 89% of last year's figure. However, the disbursed FDI capital rose by 13.5% year on year to reach nearly US$22.4 billion.
This represents a positive sign that indicates businesses are gradually recovering, whilst moving to maintain and expand production following the pandemic, said Hieu.
The expert attributed these gains to cooperation between citizens, the Government and businesses, especially during the period of struggling with the COVID-19 pandemic, along with the great efforts made by the Party, State, Government, and local authorities, as well as the business community, VOV reported.
"The impressive economic growth results in 2022 were attributable to contributions of the State, people and businesses," concluded Hieu.
Tan Son Nhat Airport prepares for peak season on New Year holiday
Tan Son Nhat International Airport in Ho Chi Minh City has seen a surge in travel volume as people travel for the New Year holidays, which take place between December 31, 2022 and January 2, 2023.
The airport is expected to serve 720 flights and up to 115,000 passengers on the peak day of December 31. This is the highest daily passenger number since the outbreak of the COVID-19 pandemic in April 2021.
Of that amount of passengers, international arrivals are expected to increase to more than 37,000 per day.
Nguyen Nam Tien, Deputy Director of the Tan Son Nhat International Airport, said the airport has prepared plans to meet the upcoming high demand.
All units have been asked to pay attention to monitor the flight schedule, frequency and density of flight operations in each time frame and arrange personnel to ensure airport services.
Airlines and ground service units have been required to increase personnel to guide and support passengers in a bid to prevent flight delays.
Aviation security will pay special attention to the security area in lobby B in the early morning of December 31, 2022 to avoid congestion.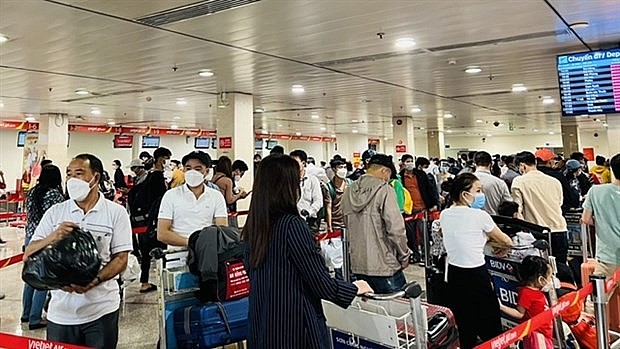 Tan Son Nhat International Airport in HCM City is overrun by air travelers. Photo: VNA
The Civil Aviation Authority of Vietnam said it will enhance aviation security control to Level 1 for the upcoming holidays.
Under Level 1 aviation security control, people will not be allowed to enter the restricted area to pick up and see off passengers, and inspections of personal documents and personal interviews when doing aviation security procedures will be strengthened. Passengers will be required to remove their shoes and coats, and put them through the X-ray machine.
Airport security will randomly check 15% of passengers who pass through the magnetic gate without triggering the alarm and 15% of hand baggage and checked baggage which have been X-rayed without questionable images.
Aviation security surveillance cameras will strengthen monitoring at different areas of the airport and daily reports will be sent to the Civil Aviation Administration of Vietnam.
According to Tien, the Tan Son Nhat International Airport will likely receive the highest number of passengers in four years during the peak of Lunar New Year Festival (Tet).
Some 820 flights with 130,000 passengers are expected to depart from and arrive at the airport per day, cited VNA.
The number of passengers is forecasted to be the most crowded during two days – nearly 123,000 on January 20, 2023 and more than 144,000 people on January 29, 2023 when people return to their hometowns before Tet and head back to HCM City after Tet holiday.
As expected, the airport will welcome more than 3.8 million passengers with nearly 27,000 flights during the holiday, an increase of nearly 10% compared to the same period in 2019.
Affordable tourism combos needed to lure foreign travelers
The number of foreign travelers to Vietnam was still modest, just 3.5 million, in 2022.
General Director of the Vietnam National Administration of Tourism (VNAT) Nguyen Trung Khanh says that after Vietnam fully reopened the tourism market on March 15, the industry gradually recovered, especially domestic tourism, with 101.3 million tourists in 2022.
However, the number of foreign travelers to Vietnam was still modest, just 3.5 million, or 70 percent of the yearly plan.
Khanh said tourism reopening was not the high international tourism season (the high season lasts from October to March). Meanwhile, policies on pandemic prevention and control and tourism reopening differed by country.
After the pandemic, Vietnam's tourism had to compete fiercely with other markets, especially to attract foreign travelers.
Khanh thinks that Vietnam needs new policies related to entry and visa procedures, transport-aviation and road connections, and tourism promotion.
Bui Minh Dang from the Civil Aviation Authority of Vietnam (CAAV) said to date more than 63 foreign airlines and four Vietnamese airlines are providing flights on 154 international air routes, connecting 26 countries and territories.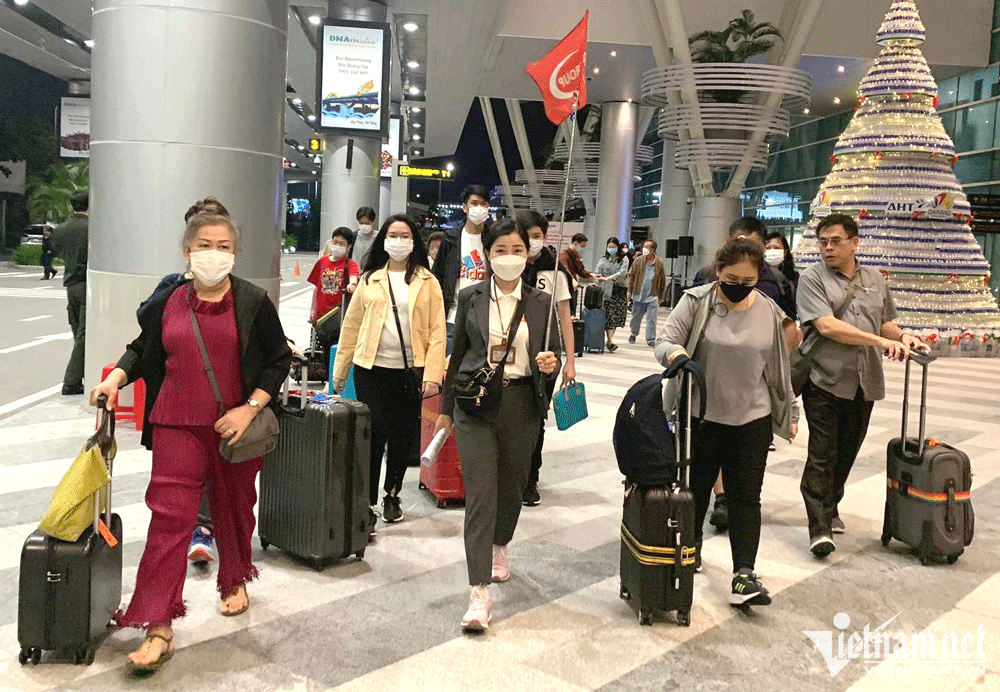 Photo: VNN
Vietnam has recovered almost all international air routes compared with the pre-pandemic period (2019), except Russia, which is frozen, and China, with restrictions in flight frequency (16 flights a week for each side).
Dang said CAAV will continue discussing and working with Chinese and Indian aviation administrators to create favorable legal conditions for Vietnamese airlines' activities in these countries. In the immediate time, they will consider raising the flight frequency for airlines on air routes between the countries.
In addition, cooperation with VNAT is needed to develop source markets, aviation-tourism cooperation, and advertising, VNN reported.
According to Khanh, travel firms estimate that airfare accounts for one-third of tour expenses, so aviation and tourism should cooperate to diversify products and design tours with reasonable prices. These should be tourism combos with reasonable quality and affordable prices.
He suggested that aviation and tourism renew major tourism product lines, including sea and island tourism, cultural tourism (cuisine and heritage), ecotourism (community tourism) and urban tourism (MICE - Meetings, Incentives, Conferences & Exhibitions).
In addition, leisure tourism and medical tourism should also receive appropriate investments to satisfy the new demands in the market.