Vietnam News Today (Jan. 2): Winter Olympics Among Vietnam's 5 Big Sports Events for 2022
Vietnam News Today (Jan. 2): Vietnam records 14,822 new local Covid cases; Foreign investment in Vietnam expected to enjoy breakthrough in 2022; Winter Olympics among Vietnam's 5 big sports events for 2022; Vietnam Airlines offers tickets to more countries, territories.
Vietnam News Today (Jan. 2) notable headlines
Vietnam records 14,822 new local Covid cases
Foreign investment in Vietnam expected to enjoy breakthrough in 2022
Winter Olympics among Vietnam's 5 big sports events for 2022
Vietnam Airlines offers tickets to more countries, territories
Economic optimism in 2022 centers around recovery and growth
Vietjet welcomes first international flight in 2022
Vietnam suggests China restore customs clearance at border gates
Businesses urged to actively seize opportunities in new context
Minister reviews diplomatic sector's performance in 2021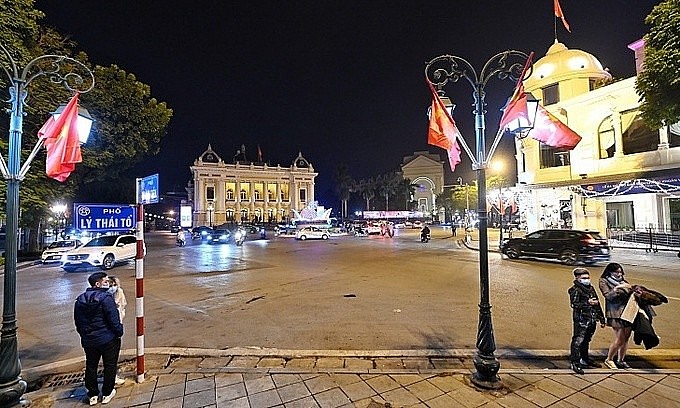 Streets near Hanoi Opera House are almost vacant on New Year's Eve, December 31, 2021. Photo: VnExpress
Vietnam records 14,822 new local Covid cases
Vietnam reported 14,822 new Covid-19 cases in 62 cities and provinces Saturday, and another five Omicron cases among foreign arrivals.
The number of new cases in the past 24 hours decreased by 1,654 nationwide compared to Friday. Hanoi continues to lead the number of infections with 1,748 cases, followed by Vinh Long with 1,223 cases and Tay Ninh with 947 cases.
HCMC reported 569 new cases.
The average number of new cases recorded in the past week is 15,232 cases per day.
The coronavirus tally in the fourth wave since late April is 1,740,340 cases.
Vietnam has recorded 20 Omicron cases so far, who were passengers arriving in Hanoi, Da Nang and HCMC from overseas. The five new cases, confirmed in HCMC Saturday, have tested negative after arriving on December 21-25.
With 216 new deaths recorded, the total number of deaths in Vietnam is 32,610, accounting for 1.9 percent of the total number of infections. The average number of deaths recorded in the past week is 222.
Vietnam ranked 26 globally and sixth in Asia in fatalities. Regarding the number of deaths per million people, it ranked 131st globally and 26th in Asia, cited VnExpress.
2.990 Covid patients were confirmed recovered Saturday, bringing the number of recovered cases to 1,358,276 cases.
The number of severe cases has dropped to less than 7,000 cases.
Around 77.6 million people have received their first Covid-19 vaccine shots, 68.8 million have received their second shots and 5.7 million have received their third shots, including those receiving the third shot of the three-shot combo of Cuba's Abdala vaccine.
Foreign investment in Vietnam expected to enjoy breakthrough in 2022
Despite facing various difficulties, it remains entirely possible to be optimistic about the outlook for foreign investment attraction moving into 2022, with many commitments regarding investment in major projects being made by foreign investors.
More than US$31 billion in foreign investment capital was poured into the nation throughout 2021, marking an increase of 9.2% compared to 2020.
This figure cannot be compared with the level of over US$38 billion that the country achieved in 2019, however, in the context of the continued spread of Covid-19, this can be viewed as a positive result which shows the confidence of foreign investors in the Vietnamese market.
The main highlight in terms of attracting foreign investment is that both newly-registered and adjusted-investment capital saw an increase compared to 2020, with adjusted capital expanding by 40.5%. Although the value of capital contribution and share purchases dropped sharply in the opening months of 2021, it gradually saw an increase during the final months of the year, thereby making investment value through this form fall by only 7.7% on-year.
Along with the further recovery of global investment capital, foreign investment in the nation has enjoyed an impressive recovery. Investment capital through capital contribution and share purchases in the rest of the year soared to US$6.9 billion following the implementation of a series of large-scale projects.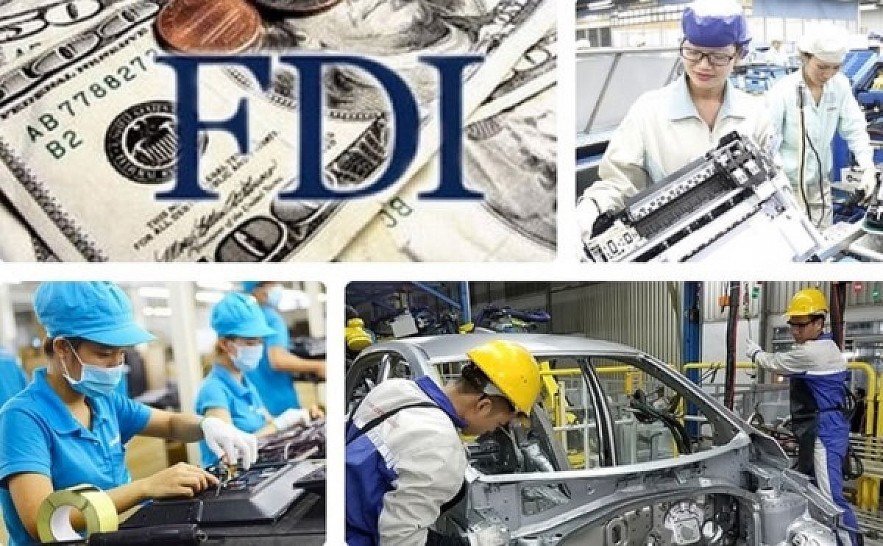 Photo: VOV
Even disbursed capital last year stood at US$19.74 billion, a drop of 1.2% compared to 2020, although the trend can be seen as quite positive.
Most notably the Government co-ordinated alongside competent agencies to devise solutions and adopt policies aimed at removing difficulties and obstacles faced by businesses. In addition, regulations and guidelines for flexible adaptation to the new situation have contributed to helping improve disbursement as swiftly as possible, according VOV.
According to Do Nhat Hoang, head of the Foreign Investment Department under the Ministry of Planning and Investment, in the context of a period of global investment difficulties, this increase in registered capital indicates the interest of foreign investors. Indeed, they remain keen on paying greater attention to the nation as an investment environment, especially in the event that the Covid-19 pandemic is competently brought under control.
Although the recovery momentum of foreign investment attraction is becoming increasingly obvious, it must be recognized that the situation remains extremely difficult and unpredictable to evaluate fairly. In 2021, the nation remained an attractive destination for foreign investment flows due to it being seen as an important area to carry out processing and manufacturing activities which can serve the ASEAN market, Hoang stated.
Andrew Jeffries, country director for Vietnam of the Asian Development Bank (ADB), said that although this decrease in investment mainly impacted the group of small-scale projects worth under US$5 million and below US$1 million, it was also an opportunity to screen small projects. It is therefore undeniable that the impact of Covid-19 on foreign investment inflows into the country is very large, he stressed.
All expectations are now being placed on 2022. Although global foreign investment flows are recovering better than expected, investor confidence in the industry and global value chains continues to be shaky, Jeffries commented.
This can be viewed as further evidence that the number of new projects in industries that are largely involved in the global value chain such as electronics, automobiles, and chemicals have all decreased. Moreover, the competition in attracting foreign investment between various countries is increasing, while global mergers and acquisitions keep falling. These factors are predicted to affect the country's foreign investment attraction moving into 2022.
However, some experts believe that foreign investment in the nation is forecast to make a breakthrough in the year ahead, especially as countries gradually open up their economies and adapt to the new normal.
Vietnam still holds numerous competitive advantages in terms of labour costs, infrastructure, and a series of new-generation free trade agreements (FTAs) that have been signed.
Winter Olympics among Vietnam's 5 big sports events for 2022
Vietnam is set to participate in five major sport events this year, including its debut at the Winter Olympics and hosting the SEA Games for the second time.
2022 Winter Olympics
The 2022 Winter Olympics will be held for 17 days starting February 4 in China's Beijing. A total of 109 medal sets will be awarded in seven sports: biathlon, bobsledding, curling, ice hockey, luge, skating and skiing.
Skiing has the most number of disciplines (six) with a total of 55 medal sets, reported VnExpress.
As of December 22, there were 86 countries and territories with at least one athlete participating in the event. Although Vietnam was not on the list, it is set to join the Winter Olympics for the first time.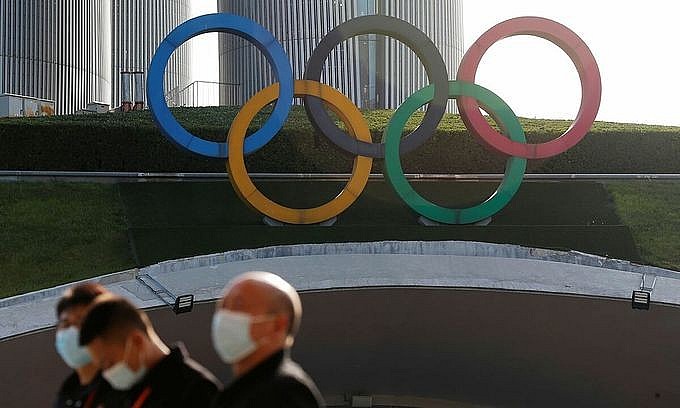 People wearing face masks following the coronavirus disease (Covid-19) outbreak stand near Olympic rings before the ceremony to welcome the Olympic flame for the Beijing 2022 Winter Olympics, in Beijing, China October 20, 2021. Photo: Reuters
2021 SEA Games
After a year of delay due to the Covid-19 pandemic, Vietnam is set to host the 2021 Southeast Asian Games in May this year. This will be the second time that Vietnam is hosting the biennial multi-sports event involving the 11 countries of Southeast Asia.
The 12-day (May 12-23) event will be held in Hanoi and 11 other northern localities. Around 10,000 athletes will compete for 526 sets of medals in 40 sports.
At the last SEA Games in 2019, Vietnam surpassed Thailand to claim second place behind hosts Philippines. The only time Vietnam claimed the first place in the history of this event was as host in 2003.
45th World Chess Olympiad
The 45th World Chess Olympiad will be held July 26 to August 8 in Moscow, Russia and Khanty-Mansiysk.
The biennial chess tournament was cancelled in 2020 due to Covid-19. In its 2018 edition, Vietnam had secured 10th place, which was considered a major success.
2022 Asian Games
China will host the 2022 Asian Games (also known as Asiad) from September 10 to 25 in Zhejiang. This the third time that China hosts the regional event that is held every four years.
The Games will include athletes from Oceania for the first time. There will be 482 medal sets in 40 sports awarded at the event.
At the 2018 Asian Games in Jakarta and Palembang, Vietnam had finished in 16th place.
14th AFF Championship
The 14th AFF Cup, organized by the ASEAN Football Federation, is set to be held at the end of this year. Specific dates have not been announced.
Vietnam, under coach Park Hang-seo, has set the target of reclaiming the throne in ASEAN football after losing to Thailand 2-0 at the ongoing 13th AFF Cup.
Vietnam Airlines offers tickets to more countries, territories
Vietnam Airlines has offered tickets for regular flights to the Republic of Korea (RoK), Singapore, Thailand, Laos and Taiwan (China).
Earlier, the national flag carrier put up for sale tickets to the US, Japan and Cambodia.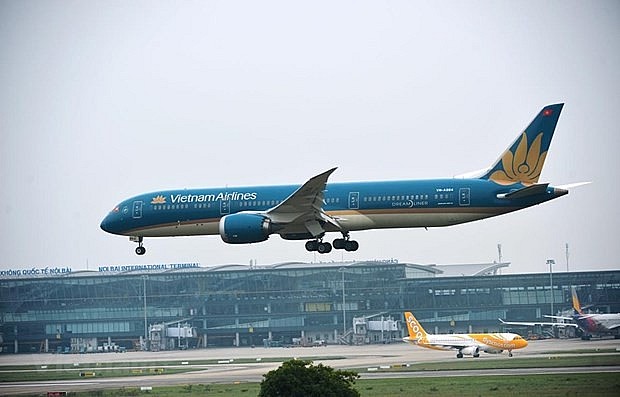 Illustrative image. Photo: VNA
It is awaiting approval from competent agencies to reopen flights to Europe and Australia this month, towards completely restoring international routes in early 2022.
The airline is scheduled resume the Hanoi-Seoul (the RoK) route from January 6, the Hanoi/Ho Chi Minh City-Singapore routes from January 12, the HCM City-Bangkok (Thailand) route from January 8, the Hanoi-Vientiane (Laos) route from January 9, and the Hanoi-Taipei (China) route from January 11.
Flight frequency would be increased based on the latest situation to meet the traveling demand which is forecast to rise before and after the upcoming Lunar New Year (Tet) holiday, cited VNA.
Vietnam Airlines has asked passengers to keep updated with information about Covid-19 vaccine passports, testing and vaccination, among others.
Economic optimism in 2022 centers around recovery and growth
With a high rate of vaccine coverage nationwide in late 2021 coupled with a rapid rollout, the Vietnamese economy is forecast to make a strong recovery with bright and optimistic signals ahead, according to economic experts.
Despite Vietnamese economic growth reaching 2.58% in 2021, the lowest level over the past 30 years, many economists continue to be optimistic about recovery and growth moving into 2022. However, this process will greatly depend on the country's ability to contain the pandemic.
Economic expert Le Duy Binh stated that the change in strategy from pandemic prevention and control in recent times has had a positive impact on the business community and the economy as a whole.
With roughly 12,000 businesses involved in the market, and close to 5,000 businesses returning to operation in November, 2021, this indicates a sharp increase in the number of firms participating in the market compared to the previous year.
"The Government's Resolution 128/NQ-CP dated October 11, 2021 on safe and flexible adaptation to and effective control of the Covid-19 pandemic has made a big change in restoring economic development, giving the freedom of goods and business circulation of people and businesses. This is even more valuable to businesses than many support packages as they are able to heal themselves from the "hurts" caused by the pandemic by their own capacity," Binh went on to say.
Domestic consumption will be one of the three main drivers of economic growth in 2022. Photo: VOV
According to economic expert Ngo Tri Long, the primary driving force behind economic growth in the year ahead will still be three pillars, including export, investment, and domestic consumption. In particular, public investment will be a key factor in promoting greater investment in society as a way of maintaining the growth momentum of the wider national economy, VOV reported.
"The disbursement rate in November, 2021, was lower than that of the same period in 2020 and has not met the set requirements, with only 30% to 40% of public investment being disbursed in some places. In the coming time, it is necessary to promote disbursement of public investment, which both stimulates public investment spending in the short term to promote growth, and also creates effective infrastructure facilities that serve the national economy in the long run," Long said.
However, it also remains imperative to deliberate efficiency, not to disburse at all costs in the context of limited resources. Public investment must therefore be focused on the development of transport infrastructure which will serve as a foundation to develop other economic sectors, he added.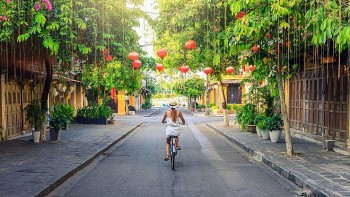 Viet's Home
What has International Living (IL) research revealed about the best retirement havens in 2022? Read on…