Vietnam News Today (Jan. 1): CAAV Orders Drastic Measures to Prevent Omicron Spreading
Vietnam News Today (Jan. 1): Vietnam confirms 14 more Omicron cases; Foreign investors maintain optimistic outlook for Vietnam's growth; No fireworks display, large gatherings on New Year's Eve; CAAV orders drastic measures to prevent Omicron spreading.
Vietnam News Today (Jan. 1) notable headlines
Vietnam confirms 14 more Omicron cases
Foreign investors maintain optimistic outlook for Vietnam's growth
No fireworks display, large gatherings on New Year's Eve
CAAV orders drastic measures to prevent Omicron spreading
Vietnam midfielder nominated for AFF Cup breakout star award
Renowned food culture helps promote Vietnamese tourism
Phu Quoc attracts luxury travelers from abroad
HCMC to put 680,000 more students back in schools
Vietnam becomes third largest rubber supplier to India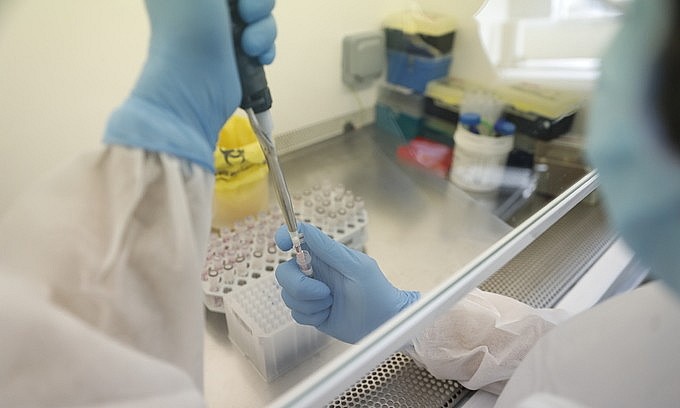 A medic performs the genomic sequencing on a novel coronavirus sample in HCMC, February 2021. Photo: VnExpress
Vietnam confirms 14 more Omicron cases
Fourteen people arriving in Vietnam from South Korea and the U.S. have been confirmed to be infected with the Omicron coronavirus strain.
The Health Department of the central Quang Nam Province announced Friday the infected passengers landed in the Da Nang International Airport in Da Nang on four different flights.
Of them, eight were on flight VN99 from the U.S. and three on flight VN417 from South Korea that both landed on Dec. 24. Two others were on flight VN417 from South Korea on Dec. 23 and one on flight QH9451 from South Korea on Dec. 21.
They tested positive for the new coronavirus upon arrival and were sent to quarantine facilities in Quang Nam Province that borders Da Nang.
Their samples were sent to the Pasteur Institute of Nha Trang, whose genetic sequencing results that arrived on Thursday confirmed that they were infected with the Omicron, or B.1.1.529 variant.
Around 700 passengers on the four flights and dozens of crew members were also quarantined upon arrival, as per Vietnam's current immigration regulations. They finished their quarantine by Friday morning, cited VnExpress.
Vietnam confirmed the first Omicron infection on Tuesday, a person arriving in Hanoi from the U.K. on Dec. 19.
Health experts have said earlier that Vietnam should beef up its healthcare system, ensuring that medical centers are well-equipped and can up their capacity, so as to avoid an Omicron-triggered overload.
A team of researchers at Hong Kong University's medicine faculty has found that the Omicron variant replicates 70 times faster in human airways than the Delta, but infection in the lungs appears to be less severe compared to the original virus strain.
Omicron's rapid replication in the airway may explain why it transmits faster than previous variants of the virus, but lower infection in the lungs may indicate that it causes less severe disease, they said.
The World Health Organization said Wednesday that the risk posed by the Omicron variant is still "very high." It said that in the week ending last Sunday, the global number of new cases rose by 11 percent compared to the previous week, while the number of new deaths dipped by 4 percent.
Foreign investors maintain optimistic outlook for Vietnam's growth
Foreign investors maintain an optimistic outlook for Vietnam's economic growth next year though the country suffered a challenging 2021 as it was hit hard by the pandemic, according to an article posted on the website Vietnam Briefing of Dezan Shira & Associates.
The writing considered Vietnam's free trade agreements (FTAs) as a pull factor that investors can bank on, noting that the country has used its participation in FTAs as an instrument to ensure increased economic power and financial security. This will ensure that Vietnam's economic development will continue to shift away from exporting low-tech manufacturing products and primary goods to more complex hi-tech goods like electronics, machinery, vehicles, and medical devices. The implementation of the EU - Vietnam Free Trade Agreement (EVFTA) last year is an example of this.
Besides, the Regional Comprehensive Economic Partnership (RCEP), which will officially come into force on January 1, 2022, can help local firms increase exports and attract high-quality goods for its consumers. In addition, the country is set to benefit from the demand for its exports like agriculture and fisheries products.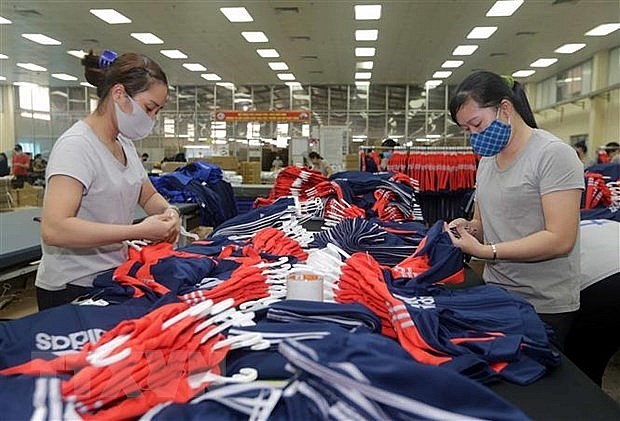 Workers put final touches on garment for export to the EU at a factory in Thai Nguyen province. Photo: VNA
Mergers and acquisitions (M&A) are likely to continue to play a key role in Vietnam's economy in 2022. While in 2020, M&A activities were disrupted due to the pandemic, in the first nine months of 2021, M&A deals with total disclosed value have already totaled US$3 billion.
As Vietnam hopes to recover its economy, further robust M&A activity can be expected in 2022, especially when the government has also eased some requirements in the investment and enterprise laws to facilitate M&A deals, according to the article, according to VNA.
Due to the pandemic, the government unveiled several support packages for businesses and individuals to help spur the economy, the writing said, suggesting businesses should prepare for 2022, using these government measures to improve cash flow.
In addition, the easing of entry procedures and work permit requirements should help businesses and employees enter Vietnam for job opportunities.
Regarding tourism - a major contributor to the economy, from 2022, the government plans to allow international arrivals that are fully vaccinated to self-quarantine at home or their places of accommodation as long as they test negative. The Ministry of Culture, Sports, and Tourism has proposed that the Prime Minister consider restoring visa exemption for tourists who stay in Vietnam for less than 15 days. In addition, nine international flight routes have been given the green light to resume commercial flights.
In its conclusion, the article said 2021 brought significant challenges for many businesses in Vietnam who had to deal with local market developments along with concerns plaguing global supply chains exacerbated by the pandemic. Several issues that the country faced in 2021 are likely to continue into 2022.
Nevertheless, it added, a more targeted and focused development in key areas of the economy will present more opportunities for growth, particularly, in areas that help prop up Vietnam's bottom line of economic stability and people's livelihoods.
While Vietnam has suffered, its economy is on course to record positive growth in 2022. For the next year, it remains a strong candidate for investment from ASEAN and beyond. Given its investor-friendly policies, relative economic and political stability, cost efficiency, and consumer demand prospects, the country is likely to continue gaining from supply chains restructuring in Asia in addition to attracting a new range of investors in terms of geography and sectors, according to the writing.
No fireworks display, large gatherings on New Year's Eve
Prime Minister Pham Minh Chinh has requested localities not to let off fireworks and at the same time to restrict events of large crowds of people on New Year's Eve as part of Covid-19 prevention and control efforts.
Vietnamese people will enjoy a three-day New Year holiday, starting on January 1, reported VOV.
In a telegram dated December 31, the PM pointed out that the Covid-19 outbreak remains complicated, especially following the emergence of the Omicron variant.
To control the outbreak and avoid an overwhelmed health system, the PM asked localities and agencies to strictly implement Covid-19 measures, including the 5K message and vaccination.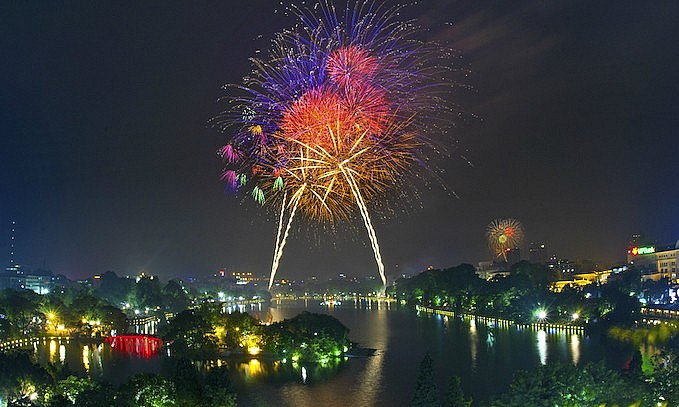 Fireworks show in Hanoi to mark 60 years of the city's liberation from the French on 10 October, 2014. Photo: Vu Quang Ngoc/VnExpress Photo Contest
He asked them to ensure to medicine and medical oxygen, closely monitor the outbreak and timely treat people infected with the SARS-CoV-2 virus at the grassroots level.
Organizations and individuals that violate Covid-19 regulations especially at tourist attractions, train stations, airports, hospitals, markets, and supermarkets, will be subject to punitive measures according to the law, says the telegram.
CAAV orders drastic measures to prevent Omicron spreading
The Civil Aviation Authority of Vietnam (CAAV) has asked relevant agencies to apply drastic measures to control the spreading of Omicron variant of SARS-CoV-2.
Accordingly, passengers who have gone through countries where Omicron was found are required to take rapid Covid-19 tests before boarding and after landing in Vietnam, according to VNA.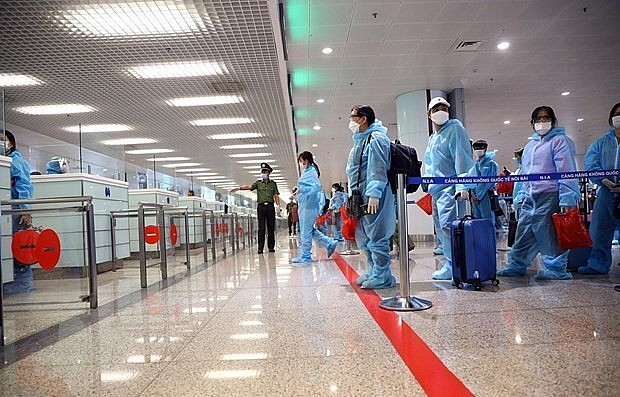 Passengers wait to handle procedures at Noi Bai International Airport in Hanoi. Photo: VNA
Areas for Covid-19 rapid testing will be set up in international airports with passengers covering the testing cost.
The Airports Corporation of Vietnam and Van Don International Airport were asked to work with relevant agencies on the procedure of handling passengers who are tested positive for SARS-CoV-2, while reviewing the passenger serving process in international airports to avoid congestion, especially in testing areas.
Airlines were asked to not to carry passengers who fail to meet requirements on Covid-19 testing in line with the regulations.
Vietnam midfielder nominated for AFF Cup breakout star award
Vietnamese star midfielder Nguyen Hoang Duc is among six nominees for Breakout Star of the AFF Cup this year.
"One of four central midfielders on our list, the 23-year-old has been touted as the next star of Vietnamese football. Seven interceptions and four clearances speak to his role defensively whilst he's also had a very impressive 86 percent passing accuracy, seven key passes, a goal and two assists going forward," the AFF Cup official website notes.
Nguyen Hoang Duc dribbles in the second leg of the AFF Cup semifinal between Vietnam and Thailand on December 26, 2021. Photo: Leo Shengwei
The other nominations are: Kevin Hansen (the Philippines), Song Ui-young (Singapore), Ricky Kambuaya (Indonesia), Kogileswaran Raj (Malaysia) and Phitiwat Sukjtthammakul (Thailand).
Duc is one of the most promising talents in Vietnamese football at the moment. He has been a regular starter for the national team since June, including World Cup qualifiers and AFF Cup matches, VnExpress reported.
At the AFF Cup this year, Vietnam played impressively in the group stage, winning three games and drawing one with no goal conceded. However, they lost 0-2 to Thailand in the first leg of the semifinal and crashed out of the tournament with a goalless draw in the second leg. Thailand and Indonesia will clash in the finals.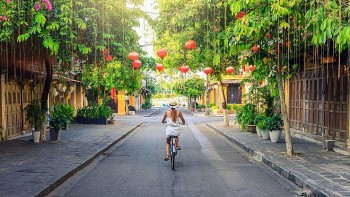 Viet's Home
What has International Living (IL) research revealed about the best retirement havens in 2022? Read on…