Vietnam News Today (Jan. 21): Strong Cold Spell to Hit Northern Region During Tet Holiday
Vietnam News Today (Jan. 21): Vietnam records 16,637 new local Covid cases; Vietnam, Cambodia enjoy thriving ties; Strong cold spell to hit northern region during Tet holiday; 3 Vietnamese tourist hotspots win ASEAN awards.
Vietnam News Today (Jan. 21) notable headlines
Vietnam records 16,637 new local Covid cases
Vietnam, Cambodia enjoy thriving ties
Strong cold spell to hit northern region during Tet holiday
3 Vietnamese tourist hotspots win ASEAN awards
Airlines, tourism firms cooperate to offer attractive products
Health Ministry proposes purchase of 22 mln Pfizer vaccine doses for kids aged 5-11
Vietnam rejects false Chinese media report of armed fishing boats
Mekong Delta flower village gets decked up as spring approaches
Vietnam keeper places 10th in world's best futsal goalie award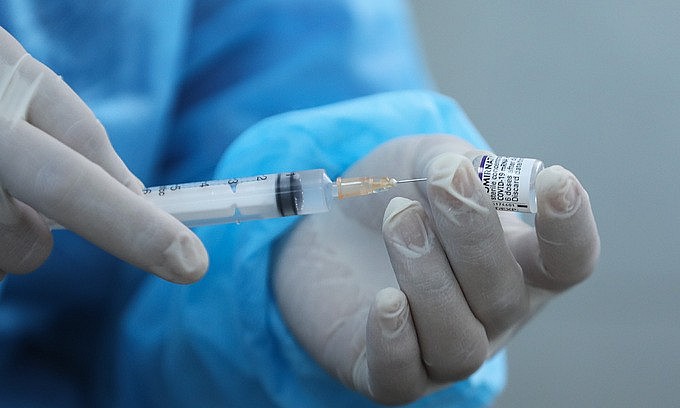 A health worker prepares a Covid-19 vaccine shot in HCMC's District 1, October 27, 2021. Photo: VnExpress
Vietnam records 16,637 new local Covid cases
Vietnam on Thursday recorded 16,637 new local Covid-19 cases, bringing the total infection tally in the new wave to 2,065,856.
The three localities with the highest numbers of new cases are Hanoi with 2,884 cases, Da Nang with 983 cases and Hai Phong with 722 cases.
Vietnam has recorded 108 cases infected with the Omicron variant, including three community cases. 68 of them are in Ho Chi Minh City, 27 in Quang Nam, three in Da Nang, two each in Thanh Hoa, Khanh Hoa and Quang Ninh, and one each in Hanoi, Hai Duong, Hai Phong and Long An.
152 deaths were added to the national database on Thursday, with 13 in HCMC, 12 each in Dong Thap, Vinh Long and Kien Giang, nine each in Soc Trang, Tien Giang and Hau Giang, six each in Tay Ninh, An Giang and Ben Tre, four each in Hoa Binh and Ba Ria-Vung Tau, three each in Binh Thuan, Bac Ninh, Ha Giang and Binh Dinh, two each in Khanh Hoa and Ca Mau, and one each in Dien Bien, Nghe An, Da Nang, Phu Yen, Dak Lak and Lam Dong, cited VnExpress.
The total number of deaths so far is 36,266, or around 1.7 percent of all infections.
5,736 Covid-19 patients were announced recovered on Thursday, bringing the number of recovered cases to 1,794,924.
78.7 million people have received their first Covid-19 vaccine shots, 73.3 million have received their second shots and 20.6 million have received their third shots.
Vietnam, Cambodia enjoy thriving ties
Minister of Foreign Affairs Bui Thanh Son on January 20 held talks with his Cambodian counterpart Prak Sakhonn during which both sides said they are happy to see the growing ties between the two countries' ministries, agencies, localities and people.
Despite Covid-19 impacts, the bilateral trade surged nearly 80 percent to reach US$10 billion last year.
In 2021, Vietnamese companies poured more than US$88.9 million in four new projects in Cambodia. This raised Vietnam's total investment to over US$2.84 billion, making it one of the five largest foreign investors in the neighboring country.
The two FMs agreed to strengthen cooperation and actively enforce agreements reached by both countries' leaders on land border demarcation and marker planting.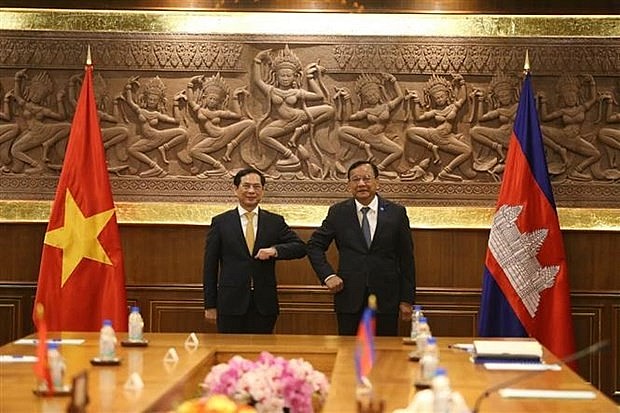 Minister of Foreign Affairs Bui Thanh Son (left) on January 20 holds talks with his Cambodian counterpart Prak Sakhonn during his two-day visit to Cambodia. Photo: VNA
Son also underscored the importance of maintaining peace, security and stability as well as freedom of navigation and aviation security in the region, saying that disputes must be settled via peaceful negotiations on the basis of international law and the 1982 UN Convention on the Law of the Sea (UNCLOS). It is necessary to push for talks to finalize a Code of Conduct in the Bien Dong Sea (COC), he said.
Earlier, FM Son paid a courtesy call to Cambodian Prime Minister Samdech Techo Hun Sen.
Welcoming the Vietnamese diplomat on the first days of the Cambodia-Vietnam Friendship Year 2022, PM Hun Sen expressed his delight at the positive and comprehensive development of the two countries' relations in all fields, from politics, security, defense to education-training, culture, science-technology, people-to-people exchange and cooperation between people living the shared border.
He also emphasized that the two Foreign Ministers must coordinate well to organize celebrations of the friendship year and the 55th anniversary of the two countries' diplomatic ties.
Son, for his part, reaffirmed Vietnam supports Cambodia in its role as Chair of ASEAN in 2022 and stands ready to join Cambodia and other member states to accelerate the implementation of the bloc's agenda, particularly the five-point consensus on Myanmar.
He conveyed greetings and reiterated the invitations of Prime Minister Pham Minh Chinh and other Vietnamese leaders to PM Hun Sen to visit Vietnam in 2022, according to VNA.
The same day, the Vietnamese FM paid courtesy calls to Cambodia's President of Senate Samdech Say Chhum and President of the National Assembly Samdech Heng Samrin, and presented gifts to pandemic-hit Vietnamese people in Cambodia on the occasion of Tet, Vietnam's traditional Lunar New Year holiday.
Son is on a January 19-20 visit to Cambodia at the invitation of Cambodian Deputy Prime Minister and Foreign Minister Prak Sokhonn.
Strong cold spell to hit northern region during Tet holiday
A severe cold spell is forecast to hit the country's northern region during the Lunar New Year (Tet) holiday, bringing with it a period of rain and lowering temperatures.
Hoang Phuc Lam, deputy director of the National Centre for Hydro-Meteorological Forecasting, said that the cold spell will start to impact northern provinces from January 28, or the 26th day of the last lunar month.
Photo: VOV
In line with this forecast, rain is predicted to hit northern localities from January 31, or the 29th day of the last lunar month. Temperatures are then anticipated to fall sharply to between 13 and 18 degrees Celsius on average in plain areas and to between eight and 16 degrees Celsius in mountainous regions, reported VOV.
Furthermore, there will be likely drizzle on Lunar New Year's Eve, whilst the first, second, and third days of the first lunar month will see the temperature drop sharply. As a result, the Tet period this year in Hanoi and in other northern provinces will be quite cold, Lam noted.
Similarly, the central region will see temperatures plummet and face spells of rain over the Tet holiday. However, the southern region will enjoy some sunny weather from February 2 to February 7, or from the second to seventh days of the first lunar month.
3 Vietnamese tourist hotspots win ASEAN awards
Ha Long, Da Lat and Vung Tau have been awarded "ASEAN Clean Tourist City Standard" awards for their cleanliness, green environment and sustainable development.
The awards ceremony was part of 2022 ASEAN Tourism Forum (ATF 2022) held in Sihanoukville Province in Cambodia from Jan. 16-22.
The recognition was based on a set of indicators including environmental management, cleanliness, waste management, awareness-building on environmental protection and cleanliness, green spaces, health safety, urban safety; and tourism infrastructure and facilities that evaluate how sustainable ASEAN cities are.
For years now, Vung Tau, around 125 kilometers (77 miles) from Saigon, has been a popular weekend escape in southern Vietnam, famous for its long, gentle beaches and warm waters.
Golden sunshine on an area of Cu Hill next to Xuan Huong Lake with a view of the French-built College of Pedagogy in Da Lat. Photo: VnExpress
Da Lat, a cool resort town in the Central Highlands, is well known for its year-round cool climate, green pine forests and fresh air while Ha Long in the north has banned the use of plastic products on sightseeing boats.
Hmong Village in Ha Giang Province, Vedana Lagoon Resort & Spa in Thua Thien-Hue Province, Minera Hot Spring Binh Chau in Ba Ria-Vung Tau Province, Amiana Resort in Khanh Hoa Province and Can Tho Ecolodge in the eponymous city were bestowed the 'ASEAN Green Hotel Standard" title, cited VnExpress.
The forum provides a platform to encourage collaboration between ASEAN member states and to holistically promote the region as one destination, with diverse culture, cuisine and communities.
According to the Vietnam National Administration of Tourism, ASEAN is one of Vietnam's major sources of tourists. In 2019, tourist arrivals from Southeast Asian neighbors totaled nearly 2.1 million, accounting for 11.6 percent of foreign arrivals, mostly from Thailand, Malaysia, Singapore and Cambodia.
Airlines, tourism firms cooperate to offer attractive products
Vietnamese tourism companies have cooperated with airlines to offer attractive tour packages to meet the increasing travel demand on the occasion of the upcoming Lunar New Year (Tet) Festival.
Deputy General Director at Saigontourist Group Truong Duc Hung said that his company has coordinated with national flag carrier Vietnam Airlines to supply promotional tour combo packages during Tet, including luxury hotel and airline ticket services at preferential prices in Ho Chi Minh City and several tourist destinations with direct flights.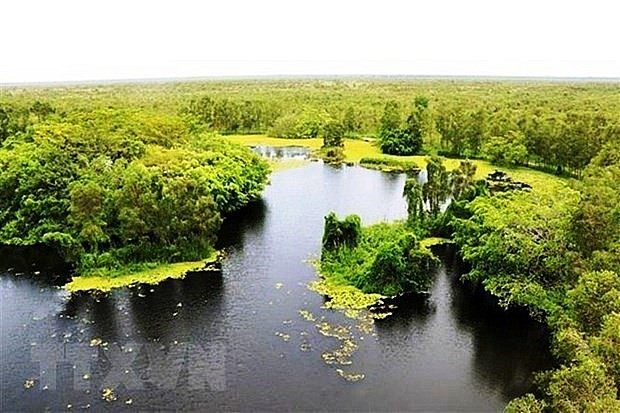 Illustrative image. Photo: VNA
Meanwhile, the collaboration between low-cost airline Vietjet Air and the Vinpearl offer package tours including round-trip airfare and 5-star vacation services to Vinpearl's resorts in central Da Nang and Nha Trang cities, and Mekong Delta Phu Quoc city.
Sun Group and Vietnam Airlines have also enhanced cooperation to develop package travel products with many incentives for travelers. Sun Group has pledged to reduce at least 10 percent of service price for tourists using its services in Asia Park in Da Nang; and at least 5 percent for those staying at its accommodation in Fansispan (Lao Cai), Ha Long (Quang Ninh), Hon Thom (Phu Quoc) and Ba Den (Tay Ninh).
Vietnam Airlines also promised a 30-percent discount on economy fares for all visitors who will stay at Sun Group's facilities, VNA reported.
Earlier, at an investment-trade-tourism promotion conference held in Kien Giang, a representative of Vietnam Airlines reported that the firm planned to resume flights from Japan, the Republic of Korea, Thailand, Singapore, Cambodia and Australia to Phuc Quoc to create "Green-lane tourism" connectivity with safe tourist destinations in Vietnam.
Vietnam Airlines announced that it will also gradually re-open flights between Vietnam and the US, Europe and China in the near future.
Meanwhile, Vietjet Air revealed that it will expand domestic and international routes from and to Phu Quoc apart from coordinating with the authorities of Kien Giang province in developing new tourist products.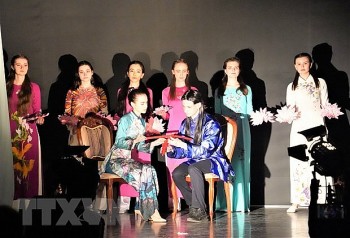 Overseas Vietnamese
Two exchange programmes were held in Russia, attracting manyemany and students of Vietnamese studies from leading universities in Russia.