Vietnam News Today (Jan. 18): Phu Quoc Represents Golden Hope for Vietnamese Tourism Rebound
Vietnam News Today (Jan. 18): Vietnam confirms 21,691 new local Covid-19 cases; Logo marking 30 years of Vietnam-RoK diplomatic ties unveiled; Phu Quoc represents golden hope for Vietnamese tourism rebound; Int'l searches on Vietnam tourism reopening on the rise.
Vietnam News Today (Jan. 18) notable headlines
Vietnam confirms 21,691 new local Covid-19 cases
Logo marking 30 years of Vietnam-RoK diplomatic ties unveiled
Phu Quoc represents golden hope for Vietnamese tourism rebound
Int'l searches on Vietnam tourism reopening on the rise
Luxury brands see great potential in Vietnam
Hong Kong requires 21-day quarantine for vaccinated arrivals from Vietnam
Vietnam face tough challenge ahead of Women's Asian Cup
Hanoians feel neglected by health authorities amid Covid resurgence
Vietjet expands international air routes as from January 21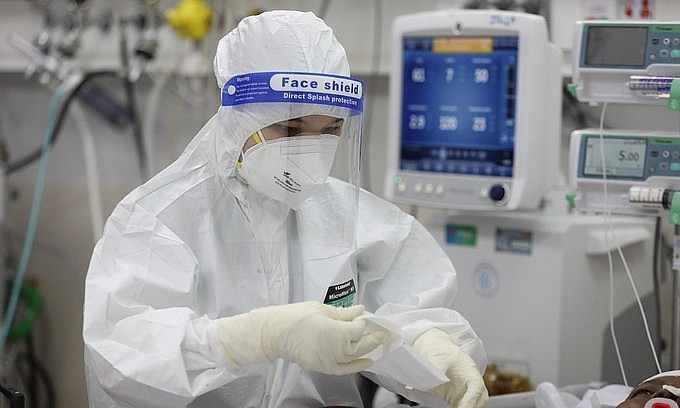 A doctor takes care of a Covid-19 patient in HCMC's Thu Duc City, September 2021. Photo: VnExpress
Vietnam confirms 21,691 new local Covid-19 cases
The Health Ministry announced 21,691 new domestic Covid-19 patients Monday, including 5,366 cases in the southern province of Ca Mau added to the national database.
The total infection tally in the current wave so far is 2,016,520 cases.
The three localities with the highest number of new cases were Ca Mau with 5,769 cases, Hanoi with 2,955 cases, and Da Nang with 924 cases.
The Health Ministry also confirmed 20,172 recoveries the same day, bringing the total number of recovered cases so far to 1,747,462.
The Covid-19 death toll in Vietnam rose to 35,791 with the confirmation of 179 deaths Monday.
The average number of new cases in the country for the past seven days has been 16,155 a day while the national death rate has been 180 a day on average.
Vietnam has recorded 68 Covid-19 cases infected with the Omicron variant so far, all imported cases, cited VnExpress.
Over 72.4 million people of Vietnams 96 million population have been vaccinated with two doses, and more than 17.9 million have received the third dose.
Logo marking 30 years of Vietnam-RoK diplomatic ties unveiled
An official logo marking the 30th anniversary of diplomatic ties between Vietnam and the Republic of Korea (RoK) was announced on January 17.
RoK Ambassador to Vietnam Park Noh-wan stated that the joint co-operation relationship over the past 30 years can be viewed as the fastest growing in the shortest period of time.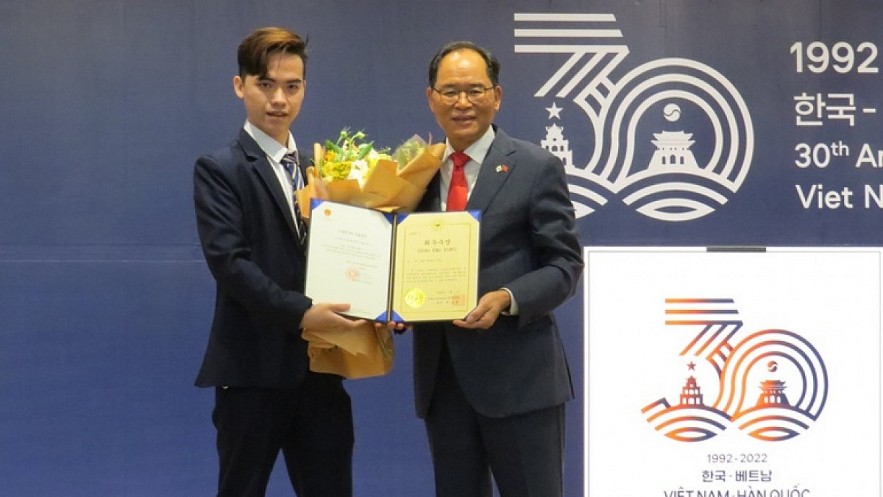 RoK Ambassador to Vietnam Park Noh-wan (R) announces the winner of Vietnam-RoK logo design contest. Photo: VOV
He expressed hope that over the next 30 to 100 years the relations between both sides would become closer than ever.
The logo was selected from a total of 775 entries that were submitted by both Vietnamese and Korean citizens through a logo design contest jointly organized by the RoK Embassy in Vietnam and the Vietnamese Embassy in the RoK in October and November last year, according to VOV.
Ngo Quang Trung, a fourth-year student at the Vietnam National University Ho Chi Minh City, won first prize in the logo design contest.
The work features the national flags and famous landmarks of the two countries combined with the number 30 to represent the 30-year friendship between Vietnam and the RoK.
The logo will officially be used in events to celebrate the 30th anniversary of the Vietnam – RoK diplomatic relations.
Vietnam and the RoK established diplomatic ties on December 22, 2022.
Phu Quoc represents golden hope for Vietnamese tourism rebound
Phu Quoc island city in the Mekong Delta province of Kien Giang is anticipated to lead the way in reviving the country's tourism industry moving into the post-pandemic period, according to industry insiders.
Quang Xuan Lua, deputy director of the Kien Giang Department of Tourism, says tourism activities in Phu Quoc got off to a good start late last year as the island city received nine flights carrying a total of 974 foreign passengers on a trial basis.
Most notably, the TIME magazine of the United States listed Phu Quoc among the World's 100 Greatest Places of 2021 for the first time, regardless of the severe negative impact of the Covid-19 pandemic on the tourism industry.
Lua emphasizes that Kien Giang has set its sights on welcoming 5.6 million tourists, including 200,000 international visitors this year.
Tran Van Tho, head of Culture and Information Department under the Phu Quoc City People's Committee, points out that there are bright prospects ahead for Phu Quoc tourism industry this year, particularly following the increasing number of visitors, especially foreign travelers, to the city.
Currently, Phu Quoc has roughly 25,000 accommodation rooms, of which over 10,000 rooms are of a five-star standard. All people and workers in the island city have now been fully vaccinated with booster shots being deployed in the region.
Dinh Ngoc Duc, director of the Tourism Market Department under the Vietnam National Administration of Tourism says (VNAT), outlines Phu Quoc is one of the leading destinations in Vietnam that represents a magnet to several large corporations thanks to boasting advantages in terms of entry visas, airline linkages, and tourism resources.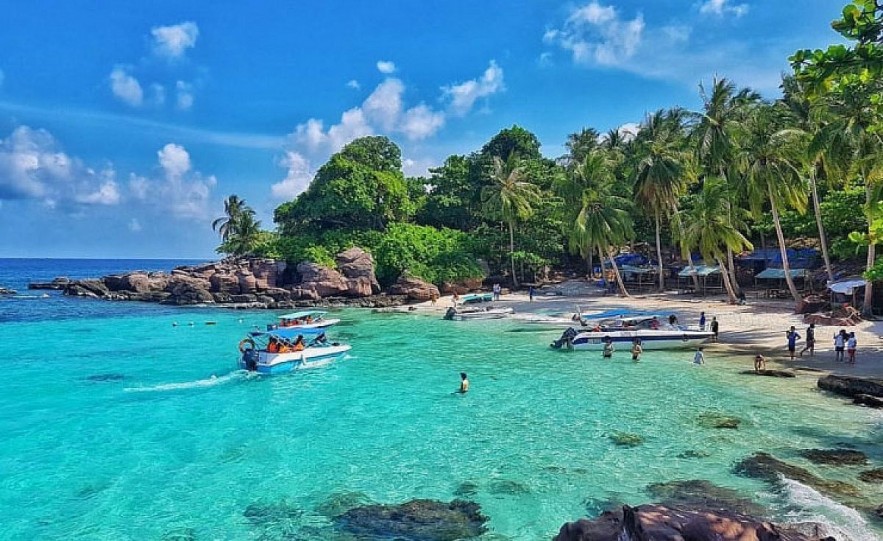 Photo: VOV
Nguyen Vu Khac Huy, vice chairman of the Kien Giang Tourism Association, notes Phu Quoc's reopening to international tourists, especially high-end holiday-makers, has turned it into an attractive destination to foreign visitors from various markets which will pay dividends to the industry as a whole, reported VOV.
The city is expected to welcome more than 2,000 visitors from markets such as Singapore, Malaysia, the United Arab Emirates, and Mongolia in January, as well as nearly 1,000 foreign arrivals in February and March each.
Phung Quang Thang, chairman of the Hanoi Travel Association, emphasizes that with a number five-star standard accommodation facilities, along with several tourist attractions, Phu Quoc has emerged as a lucrative tourism destination compared to other ones in Southeast Asia.
Thang, however, underlines the necessity of combining maritime tourism with cultural and culinary tourism as a means of helping travelers explore unique characteristics of the locality in the time ahead.
Int'l searches on Vietnam tourism reopening on the rise
Analytical data from Google's Destination Insights shows the frequency of international searches on Vietnam's tourism has risen since November as the country reopened to foreign visitors.
In early November, international searches on accommodation facilities in Vietnam increased by 48 percent against the same period last year and the figure climbed to 67 percent in mid-December.
Ho Chi Minh City, Nha Trang and Hanoi were the most searched tourist destinations while tourists from Russian and American markets have shown the biggest interest in returning to visit the country, according to Google's Destination Insights, reported VnExpress.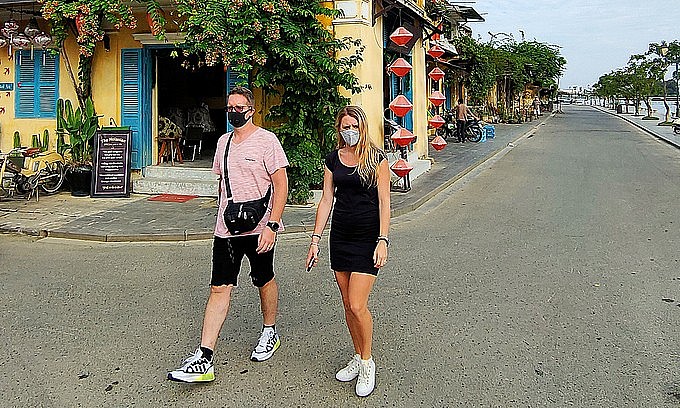 Foreigners visit Hoi An ancient town in central Vietnam, December 2021. Photo: VnExpress
Searches for international flights to Vietnam in mid-December increased by 229 percent against the same period the year prior as the government approved the resumption of regular international flights from Jan. 1.
Vietnam's aviation industry officially reopened regular flights between Hanoi, HCMC and Bangkok, Phnom Penh, San Francisco, Seoul, Singapore, Taipei and Tokyo from Jan. 1.
Vietnam reopened its doors to foreign tourists last November after nearly two years and has received 5,000 under a vaccine passport program, according to official data.
Five localities, Khanh Hoa, Kien Giang, Quang Nam, and Quang Ninh provinces and Da Nang City have been allowed to receive foreigners since November. HCMC and Binh Dinh Province were added to the list this month.
Luxury brands see great potential in Vietnam
Vietnam pales in comparison with Japan and China in regard to the size of the luxury market, but it has a great potential to become a highly profitable market in the near future, according to Jing Daily, a leading digital publication on luxuries in China.
Jing Daily said the bright outlook for Vietnam's luxury market could be attributed to the rising income of its people in recent years as high-income consumers are the backbone of luxury consumption.
Between 2002 and 2020, Vietnam's GDP per capita grew 2.7 times, reaching nearly US$2,800. A 2016 report prepared by the World Bank has also highlighted that the country could reach upper-middle-income status by 2035, with a per capita income topping US$7,000.
Vietnam's middle class population has been expanding massively as well, expectedly climbing to 95 million by 2030, according to predictions by Nielsen. Meanwhile, the number of High Earners, Not Rich Yet Individuals, and ultra-wealthy are also growing. The number of people with a net worth of 1-30 million USD will soar by 32 percent to over 25,800 by 2025.
In addition, luxury brands should be bullish on Vietnam because their goods are increasingly in high demand in the country. This is even more the case now as consumers are restricted at home and cannot travel to Singapore or China to gratify their appetite for luxuries.
"The appetite for luxury goods is more pronounced than ever in Hanoi and HCM City", said Tran Thi Hoai Anh, founder of GlobalLink Co Ltd.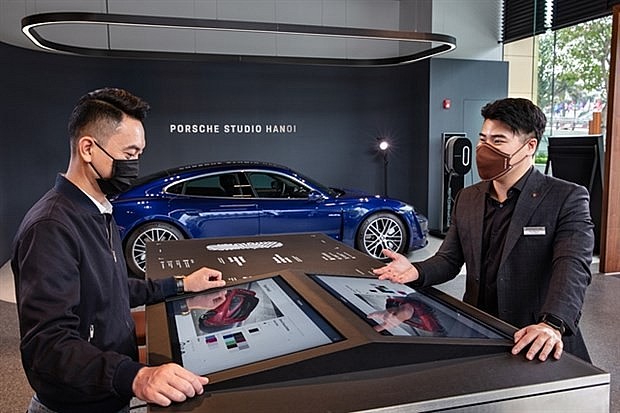 Illustrative image. Photo: Porsche
Just one decade ago, it was all about knowing the difference between Gucci and Prada, but now a new generation of high-end shoppers are driven by the quest for quality, distinctiveness and craftmanship, the founder added.
For obvious reasons, the luxury sector benefited from the EU-Vietnam trade agreement and the investment protection agreement in 2019 that removed 99 percent of all tariffs and lowered many regulatory barriers.
With luxuries becoming more affordable, consumers could get their hands on these high-end products more easily.
At that point, some renowned brands have sensed the opportunity and turned the growing domestic demand for luxuries to their advantage by gaining footholds in the country, cited VNA.
Porsche has inaugurated Porsche Studio in Hanoi, its second retail space in Southeast Asia. According to Arthur Willmann, chief executive officer of Porsche Asia Pacific, Vietnam has become one of Porsche's fastest-growing markets.
At the same time, DAFC, which runs over 60 luxury brands, including Cartier and Rolex, announced its sales in Vietnam were up by 35 percent in 2020.
Likewise, Bvlgari decided to return to the market in March 2021 with the inauguration of its first physical store in HCM City.
"It was the right time to return since we were able to approach our potential customers", a Bvlgari Vietnam spokesperson noted.
According to Statista, revenue from Vietnam's personal luxury goods market reached US$976 million in 2021 and is expected to grow by 6.67 percent annually in 2021-2025.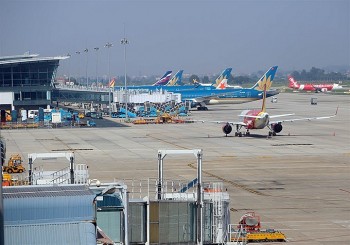 National
Vietnam News Today (May 20): Vietnam eyes 15-day visa exemption from Russia; Vietnam tops medal tally, exceeding gold medal target at SEA Games 31; HCM City, Cuba bolster co-operation in diplomacy, youth and cultural exchanges; Various activities held to mark President Ho Chi Minh's birthday.