Vietnam News Today (Jan. 23): Vietnam Rising to New Position with New Desire
Vietnam News Today (Jan. 23): Vietnam rising to new position with new desire; TV series highlights Vietnamese culture in Tet; Promoting internal strengths, affirming national stature; Lucky money giveaway - an exchange of best New Year wishes.
Vietnam News Today (Jan. 23) notable headlines
Vietnam rising to new position with new desire
TV series highlights Vietnamese culture in Tet
Promoting internal strengths, affirming national stature
Lucky money giveaway - an exchange of best New Year wishes
Calligraphy festival back to town after two-year hiatus
Vietnam working hard to protect, promote human rights
Cuban Ambassador hails significance of Vietnam's joining UNHRC
Vietnamese Tet inspires foreigners
Vietnamese youths in Japan pin hope on nation's development in Lunar New Year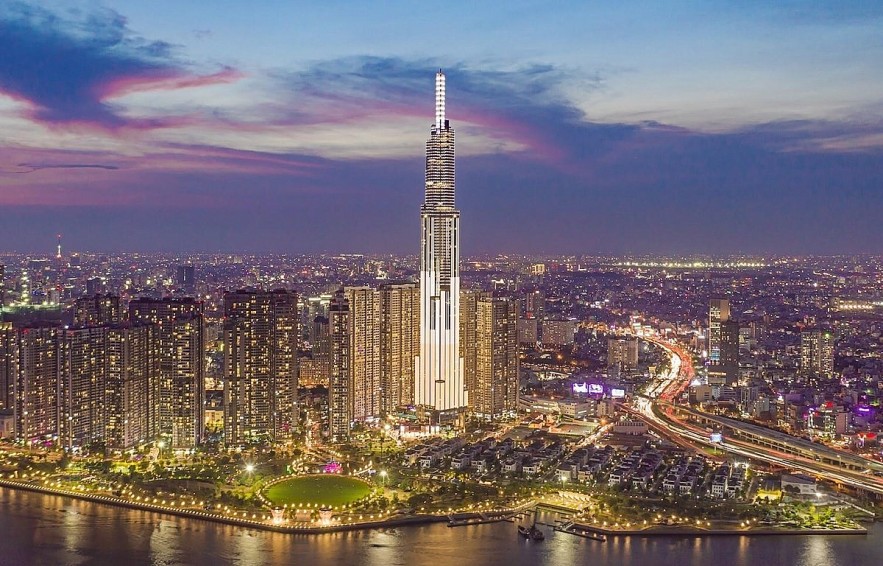 Photo: VNA
Vietnam rising to new position with new desire
Vietnam has become a reliable friend and partner as well as a responsible member of the international community over the years. Its immense fortune has created a solid foundation to achieve its goal of rapid and sustainable development in the future.
"Vietnam bucks Asia's weakening growth trend", and "an exception to the general rule in the region", are descriptions used by international organisations and media, to refer to Vietnam's economic development in 2022.
Vietnam's economy posted growth of 8.02% in 2022, far exceeding the target of 6-6.5%. The high growth is noteworthy given that, most economies around the world are in decline.
Per capita income has risen over the years, while the poverty rate has fallen to under 3%. Freedom of speech and the press, and access to information are also clear to see.
Vietnam is a multi-faith country, with 95% of its population practicing a religion, of which, 26 million are followers.
It has performed well in terms of gender equality, ranking 65th out of 162 countries, in the Gender Development Index.
The country successfully controlled the COVID-19 pandemic, and is among countries with the highest vaccine coverage.
It was also one of the first to re-open its borders, after a long period of closure due to the pandemic.
With dogged determination, Vietnam successfully organised the 31st SEA Games, and left an indelible impression on international friends.
Rosy results in the corruption fight have been a highlight of the country's socioeconomic achievements in 2022.
Vietnam's anti-graft campaign has gained international media coverage, cited VNA.
In its article "In Vietnam, the anti-corruption fight is in full swing", France's Le Monde highlighted that, "The fight against lies, and corruption in the Vietnamese justice system, has accelerated, and now spares neither the big bosses of the private sector, nor the high officials of the Communist Party."
Bloomberg also placed emphasis on the Party's fierce determination to fight corruption, which is made in a spirit of "no restricted zones, full coverage, and zero tolerance".
Praising Vietnam's anti-corruption fight, The Times of India said, Party General Secretary Nguyen Phu Trong is well aware that, "the anti-corruption drive has to be a continuing process - an essential element for anticipating the challenges in the coming period."
Ending the article, headlined "Vietnam's anti-corruption campaign: Progress and challenges", the Indian newspaper wrote that, "The Vietnamese example provides a valuable lesson that can be followed by other nations, as corruption is endemic globally."
Vietnam's anti-graft crackdown has been expanded to the private sector, with corruption cases such as Viet A, FLC Group, Tan Hoang Minh, among others.
Vietnam has been strict in the fight against corruption and is on the right track. I support the Vietnamese Government's efforts to reform the legal framework to prevent and combat corruption. To ensure transparency, it is necessary to clarify the roles and responsibilities of officials.
We always follow developments in the fight against corruption in Vietnam. The country has proven itself to be a great example to the world in this fight, with important voices from the Communist Party of Vietnam and correct State policies. Vietnam always upholds honesty and solidarity and says "no" to individualism.
Vietnam's socioeconomic achievements coupled with its sound global integration have created the resources necessary for the country to better ensure the fundamental rights of its citizens.
In its orientations for national development in the 2021-2030 period, the Communist Party of Vietnam affirmed that "Vietnam continues to pursue a foreign policy of independence, self-reliance, diversification, and multilateralisation of external relations; proactively integrating into the world; maintaining peace and stability; and promoting Vietnam's position and prestige in the international arena."
To date, Vietnam has established diplomatic relations with 189 of 193 countries and economic and trade ties with over 230 countries and territories.
In recent years, it has been an active and responsible member at regional and international forums and organisations, as it holds important positions such as ASEAN Chair and non-permanent member of the UNSC, and has joined the UN's peacekeeping force.
Vietnam's recent election to the United Nations Human Rights Council for the 2023-2025 tenure is testament to the international community's recognition of the tireless efforts Vietnam has made in fulfilling its international human rights commitments.
The remarkable achievements Vietnam has reaped after more than 35 years of "Doi Moi" (Reform) have resulted in sweeping changes in its intrinsic strength and position.
With the country's rising position and prestige in the international arena, the Party's sound leadership, and great national solidarity, Vietnam is certain to turn its desire to become a developed country by 2045 into reality.
It will be a country with a strong economy in parallel with cultural traditions being preserved and an innovative population. All target the common goal of people's happiness and prosperity.
TV series highlights Vietnamese culture in Tet
Local television stations have lined up new TV series to entertain nationwide audiences during the Tet (Lunar New Year) holiday, which falls on January 20-26.
Vinh Long Province Radio and Television Station (THVL) plans to broadcast the comedy-drama An Tet Miet Vuon (Tet in Homeland), which promises to bring many laughs and a lot of joy to people during the holiday.
The 20-part film highlights the traditional culture and customs of Tet in the Cuu Long (Mekong) Delta region, such as making banh tet (cylinder glutinous rice cake), writing calligraphy, and worshiping ancestors.
Quach Khoa Nam, the film's director, told local media: "The family union is always the major topic of film productions for Tet. However, I want to make something different, focusing on the unique traditions of Vietnamese people in the special holiday to introduce our country's culture to audiences, especially young people."
The film stars veteran actors such as Meritorious Artist Cong Ninh, People's Artist Thanh Dien, and young actors Ngoc Lan, Quoc Thai and Xuan Van, according to VNS.
Nam said every member of the crew worked hard to make the film perfect.
Because the film was made before Tet, it took them a lot of time to create settings for Tet, including hundreds of pots of flowers, to bring a joyful and fresh atmosphere to the work.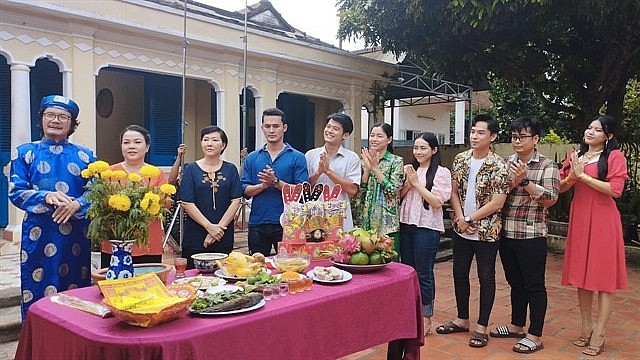 Photo: THVL
He said: "Despite working hard, we are truly happy to bring a quality production to audiences in Tet."
In addition, THVL introduces another romantic-comedy, Co Hen Với Yeu Thuong (Time for Love), directed by Xuan Phuoc.
Phuoc said: "The film is expected to bring joyful moments to people in a special holiday, and can heal their soul as well."
The 40-episode film features young people's journey to return to their homeland in the Mekong Delta from HCM City. Through the journey, they find their love of the land and its people, and particularly their true love.
It features around 60 favourite actors and actresses such as Huynh Dong, Le Be La, Meritorious Artist Trinh Kim Chi, Phi Phung and Hoang Son.
Both An Tet Miet Vuon and Co Hen Voi Yeu Thuong have been broadcast on THVL1 since January 16.
Meanwhile, the HCM City Television (HTV) will present the six-episode comedy Ba Chu Vang Nha (When the Host is not at Home).
Nguyen Le Minh, the film's director, said: "The film focuses on many people's concerns when Tet is coming. However, Tet is a time for union when all family members get together to prepare for the most special time of the year."
Minh added that the work would also highlight familiar images in Tet to all Vietnamese people.
Ba Chu Vang Nha will air on HTV7 from today, January 22, till Jan 26.
Promoting internal strengths, affirming national stature
Vietnam has undergone a difficult period. After two years of enormous collective efforts to fight the COVID-19 pandemic, Vietnam began to adopt a flexible approach to promote socio-economic recovery and development in a sustainable manner.
Despite facing many difficulties both at home and abroad, Vietnam successfully fulfilled the two tasks of controlling the epidemic and reviving economic growth, thanks to the Party's prompt leadership, the National Assembly's effective supervision and the Government's bold actions.
Another highlight is the reform in the Party's leadership method as reflected in the strong fight against corruption, which has exerted a positive effect and become an irreversible trend.
After 12 months, the Vietnamese economy has returned to the pre-pandemic growth orbit, expanding by a higher-than-expected rate of 8%. The macroeconomic situation was fundamentally stable while inflation was kept in check and major balances of the economy were ensured. Many international organisations have made optimistic projections for the Vietnamese economy, reported NDO.
After the National Cultural Conference in late 2021, awareness on this pillar has witnessed positive changes and culture has received adequate investment. Many large cultural and sports events were held, especially the 31st Southeast Asian Games. At the same time, the people-centred social policies were promptly implemented, especially those towards contributors to the nation and those severely affected by COVID-19.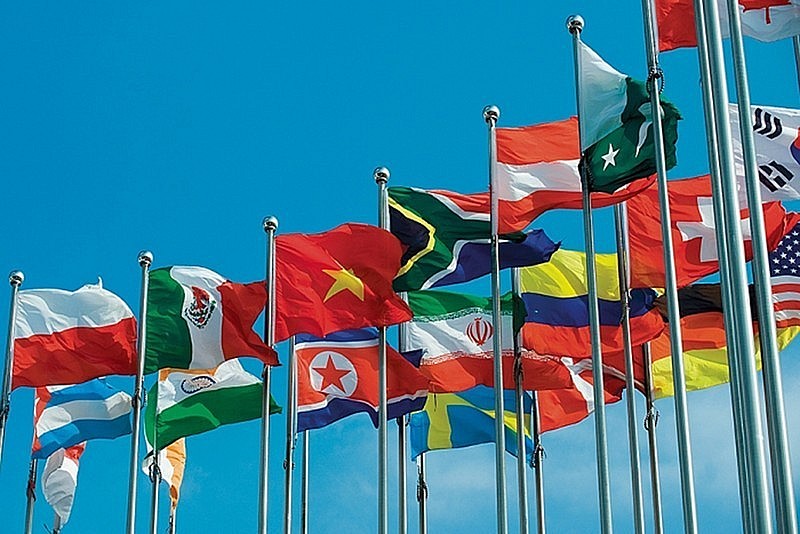 Photo: NDO
In the field of external relations, Vietnam was elected Vice President of the 77th Session of the UN General Assembly and member of the UN Human Rights Council for the 2023-2025 tenure. Vietnam's election to the Human Rights Council shows the international community's recognition of the country's policies, efforts and achievements in exercising the people's rights to mastery and in protecting human rights.
Concluding a difficult yet proud year, we recollect General Secretary Nguyen Phu Trong's affirmation that Vietnam has never before enjoyed such a great accomplishment nor had such international prestige as it does today. Indeed, under the Party's leadership and the people's support, Vietnam's stature on the international stage has been increasingly enhanced.
Vietnam is forecast to face more difficulties than advantages, but the achievements in the past year are the foundation for the country to record new miracles. During the development process, it is necessary to tap into internal strengths, ensure political stability, promote active international integration, kindle the development aspiration and the innovation spirit, uphold cultural values and the pioneering role of entrepreneurs.
In 2023, the entire Party, army, people and political system will strive together to successfully realise the socio-economic development targets for 2023, helping to victoriously implement the resolution of the 13th Party Congress, the National Master Plan for the 2021-2030 period, with a vision for 2050, and the Socio-economic Development Strategy for the 2021-2030 period, with a vision for 2045, while affirming Vietnam's position and role on the international stage.
Lucky money giveaway - an exchange of best New Year wishes
Giving away lucky money is a traditional Lunar New Year (Tet) custom through which Vietnamese people exchange the best wishes with one another, hoping for a year of peace and good luck.
Lucky money giveaway is a long-standing practice that represents "mung tuoi" or "li xi", literally meaning "congratulation on a new age", cited VNA.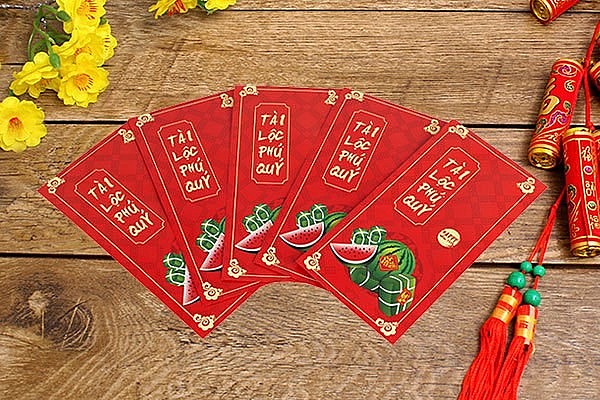 Illustrative image. Photo: Internet
According to the book "Viet Nam phong tuc" (Vietnamese customs) by scholar Phan Ke Binh (1875 - 1921), after worshipping ancestors, descendants offer lucky money and bow twice to their grandparents and parents. In return, the seniors also give several coins as lucky money to their children.
In the country, lucky money giveaway is a custom at the start of a lunar new year. People often put the money in a red envelope, which is meant to pray for good luck and drive away evil spirits. The practice is also intended to wish small children good growth and learning success and the elderly, longevity and good health.
Given its meaning, lucky money giveaway has long been a cultural identity of Vietnamese people once Tet arrives.
Calligraphy festival back to town after two-year hiatus
The festival introduces local and international visitors to an old tradition of displaying calligraphic works during Tet (Lunar New Year).
Jean Sebastien Grill in his ao dai (a Vietnamese traditional outfit) calmly dips the brush into the black ink to write a calligraphy on red paper for a local man in Hà Nội.
The French calligrapher then gives the painting with the word "phuc" (which means blessing or happiness) on it to the young Hanoian.
"I wish the new year blesses him with lots of blessings and happiness," Jean said.
The French man is among 50 calligraphers who have gathered in Hồ Văn (Literature Lake) of the Van Mieu-Quoc Tu Giam (Temple of Literature Complex) to join the annual Hoi chu Xuan (Spring Calligraphy Festival) to showcase their calligraphic skills.
The festival is held after being postponed for two years due to the COVID-19 pandemic and aims to introduce local and international visitors an old tradition of displaying calligraphic works during Tet (Lunar New Year). Vietnamese calligraphy is a written form of visual art, reflecting the virtue, rights, and dreams of people as well as the inspiration of the writer.
Calligraphy paintings are often decorated at home with the hope of a wonderful new year.
Calligraphers say they are excited to write again and hope this art will be well preserved, cited VNS.
Nguyen Van Thuyet, a local calligrapher, said: "Nowadays calligraphy has been revived strongly in Vietnam and local people are excited with this art of calligraphy.
"The festival is a great opportunity for me to write calligraphy. And I hope to transfer my knowledge to the public. Many people have longed for this, especially after two-year hiatus due to COVID-19."
There are two main genres of calligraphy, one featuring calligraphic works using Chinese characters and the other using the Latin-based Vietnamese alphabet. Both educate us about good things in life, Thuyet said.
In days gone by, calligraphers were respected scholars who gave away their work for free.
Nowadays this tradition is observed mostly in festivals and still attracts people passionate about it.
Jean said: "I like calligraphy. It's a way to use our energy to write words and help others."
His love for writing started a long time ago and has been nurtured.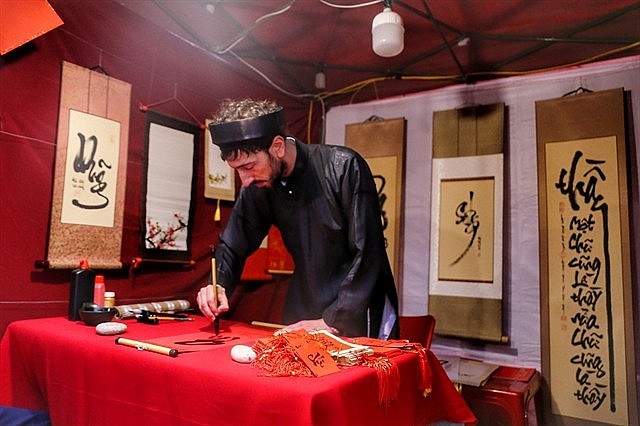 Jean Sebastien Grill writes calligraphy at the annual Spring Calligraphy Festival in Hanoi. Photo: VNA
He added: "I loved writing since I was small. I wrote here, there, and everywhere when I was a child. When I met an old man writing calligraphy, I immediately felt for it, making me learn about this art.
"I started to learn about calligraphy in South Korea with an old man, it was about seven years ago. When I travelled to Vietnam, I continued to learn about this art from a local teacher."
Festival goers say this is a great opportunity to introduce culture to young generations.
Tran Thi Huong, said: "I take my children here to learn and appreciate the traditional art and culture of Vietnam.
"Vietnamese art and culture are very beautiful. These simple words have very deep meaning and lessons for the children."
Gabriela Sonder, a Brazilian visitor, said: "I have never heard of this and this is so interesting. The details are so precise.
"It's so beautiful and I think it has such a deep meaning. And I think traditions are something big here which you can really see through paintings. It has been going on for so many generations."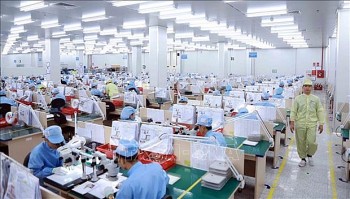 National
Vietnam News Today (Jan. 26): Vietnam - important partner of RoK; HCM City maintains growth momentum, reaps successes in 2022; Vietnam's tourism forecast to strongly rebound in five years; Many localities attract a large number of visitors during Tet.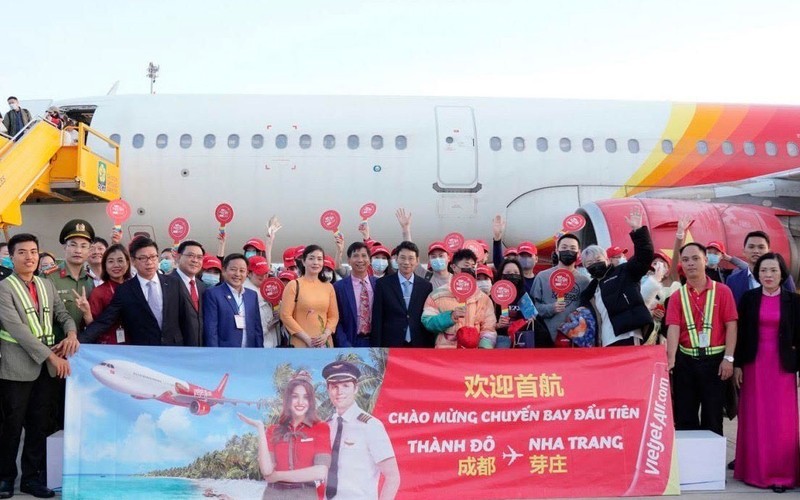 National
Budget carrier Vietjet's Flight VJ5317, departing from China's Chengdu international airport, landed at Cam Ranh international airport, the south-central coastal province of Khanh Hoa, on January 23 morning, the second day of the Lunar New Year festival.
January 24, 2023 | 14:13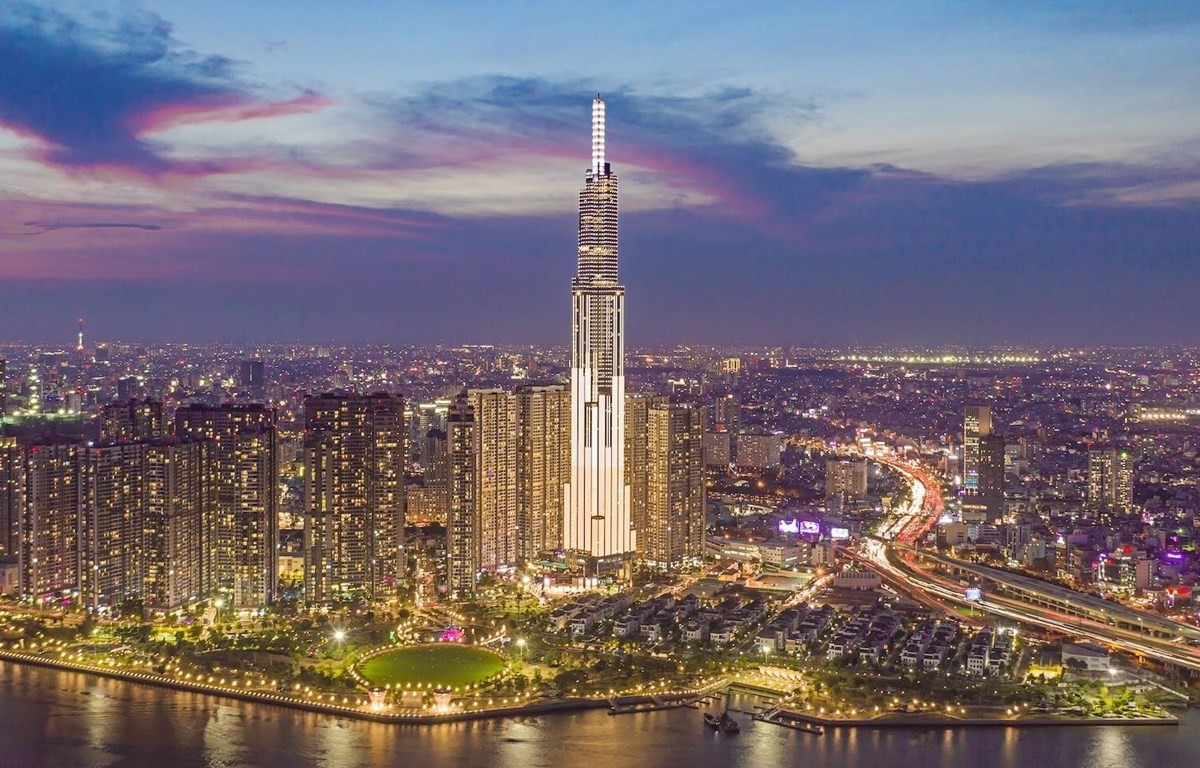 National
Vietnam News Today (Jan. 23): Vietnam rising to new position with new desire; TV series highlights Vietnamese culture in Tet; Promoting internal strengths, affirming national stature; Lucky money giveaway - an exchange of best New Year wishes.
January 23, 2023 | 06:00