Vietnam News Today (Jan. 20): Vietnam Targets 8 Million Foreign Tourist Arrivals in 2023
Vietnam News Today (Jan. 20): Russian Ambassador applauds impressive Vietnamese economic development; Vietnam targets 8 million foreign tourist arrivals in 2023; Vietnam remains attractive destination for Hong Kong businesses; Vietnam to become developed nation with high income by 2050.
Vietnam News Today (Jan. 20) notable headlines
Russian Ambassador applauds impressive Vietnamese economic development
Vietnam targets 8 million foreign tourist arrivals in 2023
Vietnam remains attractive destination for Hong Kong businesses
Vietnam to become developed nation with high income by 2050
Fintech startups urged to think for long term
Vietnam's foreign exchange reserves to grow this year
Thousands of poor workers supported to return home for Tet
Leaders pay tribute to President Ho Chi Minh on Tet occasion
Customs clearance suspended 7 days at border gates during Tet festival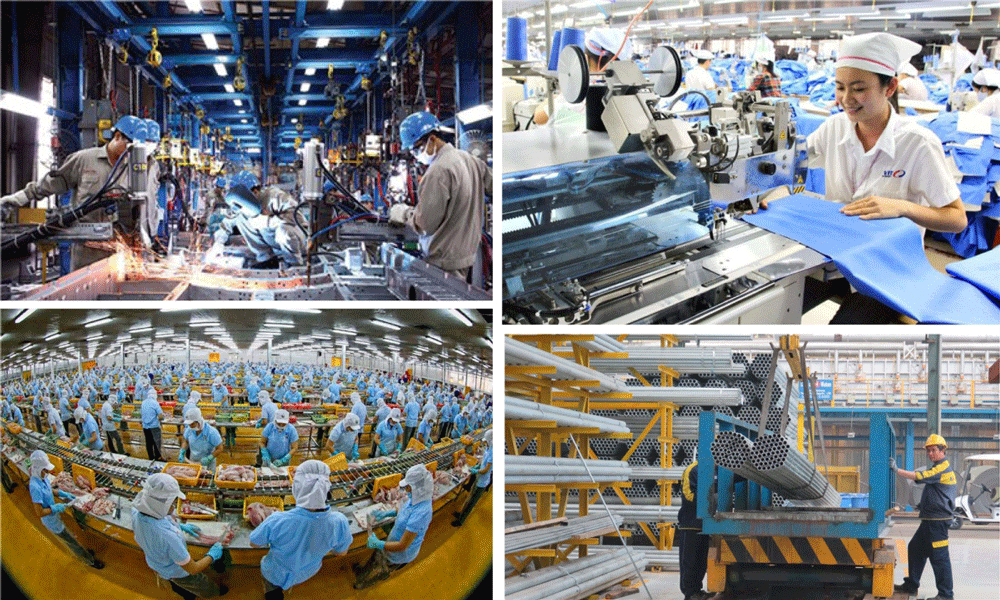 Photo: VOV
Russian Ambassador applauds impressive Vietnamese economic development
Russian Ambassador to Vietnam Gennady Bezdetko has praised the country for its efforts in economic development, despite facing a host of difficulties caused by the COVID-19 pandemic amid ongoing concerns regarding a global economic recession.
The nation enjoyed strong economic growth in 2022 at a time when many countries across the world found it a challenging year, the diplomat said in a recent interview on the occasion of Tet, known internationally as the lunar New Year, cited VOV.
Due to negative factors such as the impact of the pandemic and soaring energy prices, the global economy faced a host of challenges, he continued.
In the nation, thanks to both flexible and effective actions taken by competent agencies in a bid to restore business activities following the pandemic being brought under control, the country's GDP growth rose by 8.02%, duly surpassing the target of 6-6.5% set by the Government, with this surely being a positive sign, the Ambassador stressed.
The country's total export-import turnover was estimated to be at around US$750 billion in 2022, up by roughly US$50 billion from the previous year, with a trade surplus of more than US$11 billion.
These figures show that the country has chosen the right path, Ambassador Bezdetko said, noting his hope that such favourable trends will continue in the year ahead.
The Ambassador also lauded impressive strides made by the nation over the past 35 years of the Doi Moi (Renewal) policy, known as Renewal in English, saying the national economy has been developing rapidly amid global challenges.
The country has maintained foreign investment inflows and integrated more intensively and extensively into the global economy, with production and technology potential intensifying, he explained.
Through these achievements, the targets of maintaining annual GDP growth at 7% and elevating per capital income to US$7,500 by 2030 are reachable, the Ambassador said.
The diplomat pointed to the optimistic prospects ahead for the nation in terms of the implementation of sustainable development goals (SDGs), despite the present global economic and political situation, particularly the food and energy crises.
With regard to the fight against corruption, the Ambassador described it as vital for Vietnam to ensure the stability and efficiency of political institutions and dynamic economic development.
He therefore assessed that the establishment of steering committees for anti-corruption in Vietnamese provinces and centrally-run cities would help the country to make further progress in the fight.
When asked about Tet, the biggest and longest festival in Vietnam which is approaching, Ambassador Bezdetko said it is a time for family gatherings, meetings between friends, visits to teachers, a chance to reflect on the previous year, and a period to make future plans, with it being associated with plenty of interesting customs and rituals.
As part of the occasion, the Ambassador noted his wish that the Vietnam-Russia relationship grow more broadly and strongly, expressing his confidence that all-around ties between the two countries will be further strengthened this year in the spirit of the bilateral comprehensive strategic partnership.
Vietnam targets 8 million foreign tourist arrivals in 2023
Vietnam's tourism sector targets to welcome about 8 million foreign tourist arrivals from a total of 110 million next year, according to the General Administration of Vietnam Tourism.
The country expects to earn about 650 trillion VND (USD27.5 billion) from tourism.
Minister of Culture, Sports and Tourism Nguyen Van Hung said that last year, Vietnam targeted to welcome 5 million international arrivals., but the country received only 3.6 million due to limitations.
Hung said that to achieve this year's target, the entire industry is determined to implement the Prime Minister's conclusion at the conference to promote attracting international tourists to Vietnam.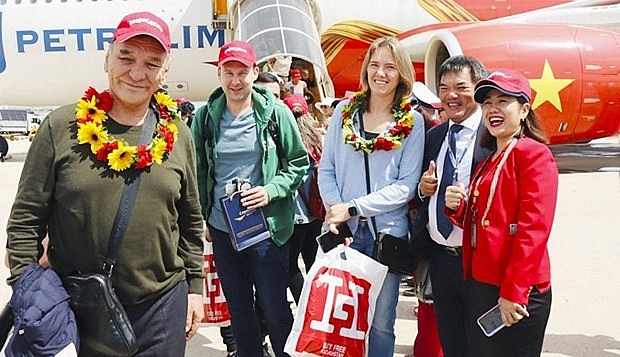 Vietnam's tourism sector targets to welcome about 8 million foreign tourist arrivals next year. Photo: VNA
Accordingly, the sector will coordinate more closely with relevant ministries, especially the Ministry of Transport, the Ministry of Public Security, the Ministry of Foreign Affairs, and the Ministry of Industry and Trade, to create a favourable mechanism to welcome international tourists.
To attract international visitors, ministries, sectors, and localities must innovate and diversify products, he said, adding that the tourism authorities have just set a target that each locality must have a unique tourism product and pay more attention to regional linkages.
Under Vietnam's tourism development plan for 2023, the industry will implement some projects and strategies, the tourism administration revealed, according to VNA.
They include tourism network planning from 2021 to 2030 with a vision to 2045, the Vietnam Tourism Marketing Strategy to 2030, the project "Application of Industry 4.0 technology to develop smart tourism, turn tourism a spearhead economic sector", and a project on developing Vietnam's community-based tourism, among others.
Communication campaigns will be launched on CNN and some major international media channels, while tourism authorities will actively participate in international events to seek cooperation opportunities, it added.
In 2022, Vietnam's tourism gradually recovered, especially the domestic segment. The number of local tourists reached some 101 million. Total revenue from tourism is estimated at 21 billion USD, 23% higher than planned and 66% higher than that of 2019.
Vietnam remains attractive destination for Hong Kong businesses
Several Hong Kong (China) businesses, as well as those from the Guangdong-Hong Kong-Macao Greater Bay Area (GBA), remain keen on investing in the Vietnamese market following China's reopening, according to industry insiders.
This comes following a delegation of more than 70 entrepreneurs and businesses from Hong Kong (China) and the GBA recently arriving in the nation to seek further investment and economic co-operation opportunities.
Pham Binh Dam, consul general of Vietnam in Hong Kong, revealed that Hong Kong enterprises boast strong financial potential and have been conducting business for a long time in the Vietnamese market, thereby making them to become one of the nation's major trading partner and investors.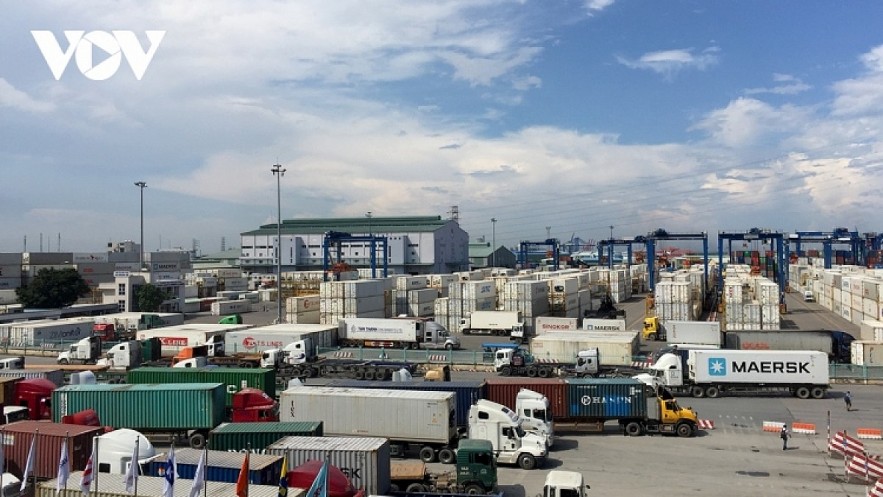 Photo: VOV
According to details given by the Foreign Investment Agency (FIA) under the Ministry of Planning and Investment, Vietnam is currently Hong Kong (China)'s eighth largest trading partner. As of November, 2022, Vietnamese exports to this market reached US$10 billion, while imports hit US$1.78 billion, up 19.8%.
At present, Hong Kong (China) ranks fifth among foreign investors in the Vietnamese market, with 2,164 projects capitalised at approximately US$29.5 billion, thereby focusing on the processing and manufacturing and real estate sectors, reported VOV.
At a recent workshop held to discuss measures to promote business ties between Vietnam and the GBA, Dr. Jonathan Choi, chairman of the Chinese General Chamber of Commerce (CGCC), pointed out that as one of the fastest growing countries in the region, especially in the post-COVID period, Vietnam remains an attractive destination for Chinese firms, especially those from Hong Kong (China) and the GBA.
Dr. Choi went on to note that the cultural and geographical proximity also facilitates co-operation between Vietnam, Hong Kong (China), and the GBA region in many fields, especially trade, investment, and tourism.
There will therefore be ample room ahead to boost bilateral ties, especially in advantageous fields of Hong Kong (China), including green finance, innovation, farm produce, pharmaceuticals, the green economy, and the environment, he said.
He emphasised that in a rapidly changing world, young workforce and strong digital economy will be the future trend, adding that digital technology will also become potential fields for both sides to promote co-operation in the near future.
Furthermore, Do Nhat Hoang, director of the FIA, said the Vietnamese Government has been making every effort to fulfill its commitments at the 26th UN Climate Change Conference of the Parties (COP26) of achieving a zero-carbon economy by 2050.
The Hong Kong Special Administrative Region has been implementing a strategy aimed at expanding investment co-operation to the Asian market, with a focus on ASEAN member states, said Algernon Yau, secretary for Commerce and Economic Development. Yau went on to affirm that Hong Kong (China) will strive to create the optimal conditions for their businesses to invest in the Vietnamese market, while simultaneously facilitating Vietnamese businesses' investment in their market.
Vietnam to become developed nation with high income by 2050
Vietnam is striving to become a developed nation with high income, full and harmonious socialist-oriented market economy institutions, and a fair, democratic and civilised society by 2050, according to the National Master Plan for the 2021-2030 period with a vision to 2050.
National Assembly Chairman Vuong Dinh Hue recently signed to promulgate Resolution No.81 on the master plan.
The country's GDP growth is expected to reach 7% per year during the 2021-2030 period and 6.5-7.5% annually in the 2031-2050 phase.
The GDP per capita in current price equivalent is projected to increase to 7,500 USD by 2030 and 27,000-32,000 USD by 2050, cited VNA.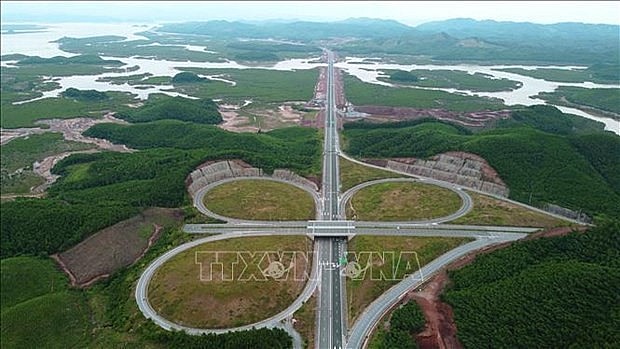 Van Don-Mong Cai expressway. Photo: VNA
The plan also aims to raise the proportion of urbanisation to over 50% by 2030 and 70-75% by 2050. The digital economy will account for 30% of the GDP by 2030.
During 2021-2030, Vietnam will focus on inclusive, rapid and sustainable development based on science-technology, innovation, digital and green transformation and circular economic development.
By 2030, the service sector will make up 50% of the GDP, and industry-construction and agriculture, forestry, and fishing sector, 40% and 10%, respectively. The share of Total Factor Productivity (TFP) in the economic development will reach 50%.
Fintech startups urged to think for long term
While tech businesses around the world struggle to raise funds, some fintech companies in Southeast Asia continue to receive large sums.
In the first three quarters of 2022, fintech investment in Vietnam accounted for only 5 per cent of the total of this type of funding in Southeast Asia, but the new year is expected to bring many more opportunities.
Despite the incomplete legal framework for this sector, fintech was still a hot keyword in 2022 in Vietnam's startup community. According to data from Do Ventures and Cento Ventures, financial services still attracted $162 million, up 2.6 times from the previous year's $61 million.
In early 2022, MoMo officially reached unicorn status with a valuation of over $2 billion, after announcing the completion of the fifth round of funding. Prior to that, the two other startups in the Vietnamese unicorn club were VNG and VNPay. Both are multi-field businesses, which includes fintech.
"Seeing the potential of the market, investors are willing to spend large amounts of money to build a set of existing customers, so that in the future they can provide full banking services," said Do Danh Thanh, deputy general director of digital transformation and IT strategy at Deloitte Vietnam.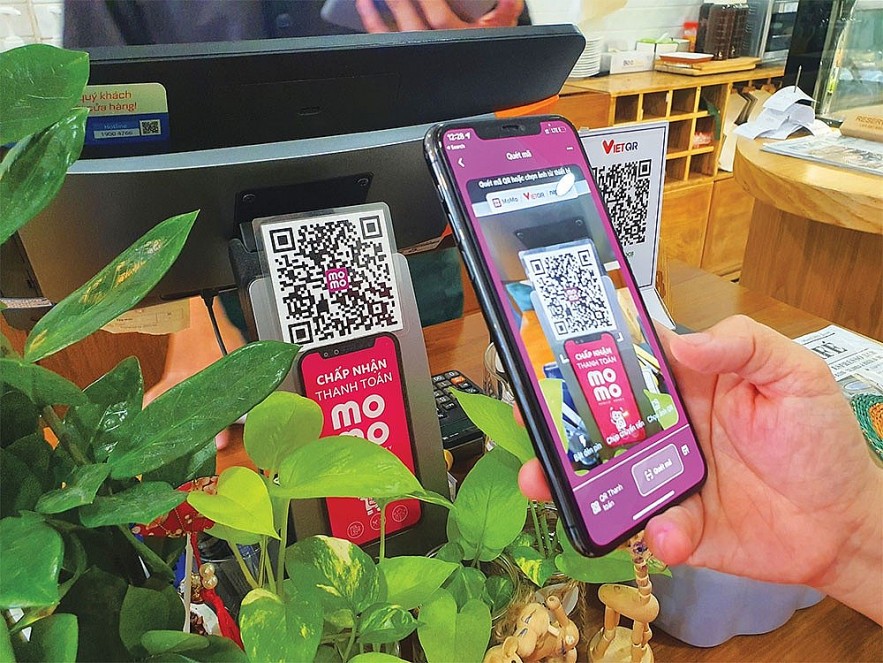 Photo: VNN
A report on venture capital (VC) activity and trends for 2023 by Golden Gate Ventures also forecasts that capital flows will focus more on the health and financial sectors in the next decade, despite the slowdown of VC in 2022. Particularly, Southeast Asia will see many emerging unicorns in the fintech field.
Among other countries in the region, Vietnam saw a relegation in the funding race of 2022, with investment accounting for only 5 per cent of the total in the first nine months, according to a fresh report titled Fintech in ASEAN 2022 by UOB, PwC Singapore, and the Singapore Fintech Association, VIR reported.
Specifically, Singapore and Indonesia continue to be the most successful Southeast Asian countries in fundraising, taking up 76 per cent. Meanwhile, Vietnam and the Philippines recorded a sharp decrease in the proportion of investment compared to 2021.
However, embedded finance, the seamless integration of financial services adopted by non-financial companies and one of the biggest fintech trends in the next decade, is especially evident in Vietnam, Thailand, and Indonesia.
In Vietnam, 83 per cent of respondents said they have used embedded financial applications, while the average usage of these apps in the region is 70 per cent. On average, almost three out of four users in the region of apps with embedded financial services use them at least once a week, with the highest in Vietnam at 85 per cent.
"This underscores how such apps have the potential to increase user engagement through enhanced utility," the report assessed. "Embedded financial services in Vietnam are used most in the field of small-scale investment (28 per cent), followed by integrated insurance in travel and transportation services (23 per cent)."
In the midst of the global financial crisis of 2022, many Vietnamese startups continued to successfully raise capital, with a total of nine deals, including Finhay ($25 million), Timo ($20 million), and VUIAPP ($6.4 million). Even though the $211.4 million total was still a decline compared to 2021, experts assessed that this small setback might present an opportunity for fintech growth in Vietnam in the coming years.
"The reason for growth has been digital transformation. This remains an important cornerstone for embedded finance. And the ones set to capitalise on this are small- and medium-sized enterprises and micro merchants," noted Nguyen Huu Tuat, co-founder and CEO of NextPay.
Jalil Rasheed, managing director at the Tony Blair Institute For Global Change, added, "The next stage of VC investments is predicted to create a fintech boom in Southeast Asia. In particular, Vietnam is strengthening its reputation as a safe, effective home for VC, especially in fintech and e-commerce, as these are the areas attracting the biggest investment in 2022."
However, startups are encouraged to aim for sustainable rather than short-term and trendy models.
"The retail and consumer market in Vietnam is still developing strongly. At the same time, the internet economy is forecasted to grow up by 11 times by 2030, ranking first in terms of growth speed in Southeast Asia. With that opportunity, fintech in Vietnam still has a fertile ground to innovate," said Bui Thanh Do, founding partner and CEO of ThinkZone Ventures.
The challenge is to create revolutionary and accessible solutions that bring value to users. Successful companies must simultaneously solve problems in customer classification, business models, bad debt settlement, and tech application in optimising solutions and processes, according to Do.
"Another challenge is that in Vietnam, user data is quite fragmented. If this can be improved, there will be more breakthrough solutions from startups in the future. And it is the founders' responsibility to try and find ways to optimise the company's products and businesses to meet the market requirements," he said.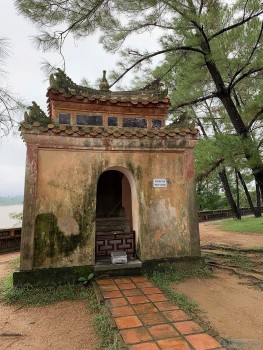 Travel
Every year, going to the pagoda on the full moon day of January to pray for peace and luck has become a tradition in the culture and life of many Vietnamese.