Vietnam News Today (Jan. 22): Tet Impressive in Foreign Ambassadors' Eyes
Vietnam News Today (Jan. 22): Tet impressive in foreign ambassadors' eyes; Weathering the storm, Vietnam builds confidence in a year ahead; Vietnam's regions to welcome Lunar New Year in different weather conditions; Hotels in central region mostly booked by domestic travelers.
Vietnam News Today (Jan. 22) notable headlines
Tet impressive in foreign ambassadors' eyes
Weathering the storm, Vietnam builds confidence in a year ahead
Vietnam's regions to welcome Lunar New Year in different weather conditions
Hotels in central region mostly booked by domestic travelers
FIFA reforms to benefit Vietnam ahead of World Cup 2026
Party General Secretary receives Lunar New Year greetings from foreign leaders
Popular Lunar New Year traditions in Vietnam
Vietnamese economy greatly open, full of vitality: Chinese ambassador
Vietnam - Silver lining in the world economy in 2022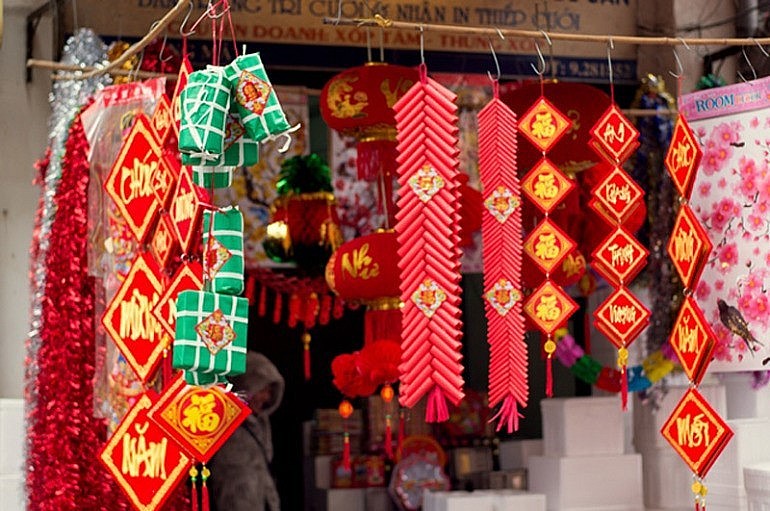 Red represents luck and prosperity in Vietnamese Lunar New Year customs. Photo: threeoaks
Tet impressive in foreign ambassadors' eyes
Tet (Lunar New Year) is always an interesting experience for foreigners in Vietnam. Enjoying the Tet atmosphere, foreign ambassadors have shared their feelings about the biggest traditional festival in the country.
Chinese Ambassador Xiong Bo said Tet is a traditional festival of the Vietnamese and Chinese people, and the two countries' Tet celebrations are highly similar. Whenever the Lunar New Year comes, the Tet atmosphere will spread across Hanoi, from big streets to small alleys, bringing about close and familiar feelings to him through similar customs: family reunion in year-end parties and New Year visits to pagodas.
However, there are also some differences as 2023 is the Year of the Rabbit in China but the Year of the Cat in Vietnam, he added.
The rich histories and special traditional cultures of China and Vietnam have contributed to the Eastern culture and civilisation. Likewise, New Year celebration customs in Japan and the Republic of Korea are also part of the Eastern culture, and it is necessary to treasure and further bring into play the role of the Eastern culture in the world's civilisation, according to the diplomat.
2023 is the second year Nikorndej Balankura serves as the ambassador of Thailand to Vietnam. He said Tet is a confluence of traditional culture and modern society, and that he sees it's a very special time of a year where people are very joyful.
He noted similarities in New Year celebrations between the two countries. The Thai New Year, called Songkran, is in April, but it is also a time of the year when people in his country pay respect to the elders, go on vacation, and meet friends.
Echoing the view, Philippine Ambassador Meynardo Los Banos Montealegre said of all the Vietnamese occasions, Tet has been most striking for him because of the deep importance of this holiday to the Vietnamese.
It reflects the value of family and friends, tradition and culture as it is still the centre to every Vietnamese individual despite the aspiration of Vietnam to be a modern society, cited VNA.
Like Christmas, the Tet holiday is the occasion for everyone in Vietnam to look back at their life for the past year and value the inspiration and sacrifices of their ancestors, families and friends throughout the years, and to be revitalised and inspired to start anew and strive for a better year, Montealegre said.
According to New Zealand Ambassador Tredene Dobson, what she really loves about Tet is the feeling of warmth, the feeling of love and connectivity - particularly with families as they come together at this special time. This is very similar to the spirit of the Christmas season in New Zealand.
She added this will be her second Tet in Vietnam, and she loves all the dishes that come out during Tet. "Last year, I got to try out a lot of new Tet foods so I'm hoping to even expand that further this Tet.
Venezuelan Ambassador Tatiana Pugh Moreno described Tet as a fascinating festival for people in the West, noting she is happy to welcome the Lunar New Year and festive activities in the most beautiful season of the year in Hanoi and Vietnam as a whole.
Tet is an occasion to gear toward family values and make plans for the New Year. It is also an occasion to taste banh chung (square glutinous rice cake), decorate the embassy and private home to ring in the New Year, the diplomat went on.
For his part, Algerian Ambassador Boubazine Abdelhamid said he arrived in Vietnam right on the New Year 2023, which is followed by the Vietnamese traditional New Year (Tet) festival.
Through this special time, he realised the close attachment of the Vietnamese people to their traditional culture that has been developed over centuries. Tet is an occasion for the Vietnamese people to show the strong bond with their families and the strong connections among generations, and more deeply, the remembrance of their roots, said Ambassador Abdelhamid.
Meanwhile, Russian Ambassador Gennady Bezdetko shared the view that the Lunar New Year is a special occasion connected with the history and traditional culture of the Vietnamese people.
Tet is the time for family gatherings, meetings between friends, visits to teachers, review of the previous year and making of future plans, and it is associated with interesting customs and rituals. The festival features many interesting traditions, customs, and rituals, making it colourful, attractive, and full of positive emotions, he opined.
On this occasion, the ambassadors also offered greetings to the Vietnamese leaders and people, wishing that in the New Year, the country will reap even greater achievements in socio-economic development.
Weathering the storm, Vietnam builds confidence in a year ahead
Last year represented a difficult period for the whole world with numerous challenges, but Vietnam stood firm to weather the storm and record outstanding achievements, paving the way for it to reap new successes in the year ahead.
The past year ended with almost several trends that could not have been predicted. After two years of exhaustion due to the COVID-19 pandemic, the world began to move into a new period, with high hopes that the crisis was over. However, the Russia-Ukraine conflict broke out, exerting far-reaching consequences on a global scale. The protracted conflict reversed all predictions, leading to disruption of key supply chains.
In a highly-globalised world, economies are largely dependent on each other, and unimaginably the military conflict happening in the heart of Europe even fueled the price of a bowl of Phở (noodles) or a cup of coffee in Hanoi.
Extreme circumstances, coupled with tireless efforts, aspirations, and disappointment, as well as pessimism, made its ways into every corner of the world. Entering 2022, the Vietnamese economy that boasts a high level of openness and international trade nearly twice the size of GDP, was forced to also bear the brunt of those challenges.
Against this backdrop, the country introduced bold measures, including living safely and flexibly with COVID-19 and reopening its borders to the world, as a means of rebooting its ailing economy. Its efforts paid off, with GDP expanding by 8.02%, import-export turnover rising by 9.5%, and budget revenue exceeding the estimate by 26.4%.
Furthermore, the anti-corruption campaign was accelerated nationwide, with a series of business scandals involving large enterprises in the real estate, finance, and banking sectors brought to light and a number of officials disciplined.
The Party's resolve to handle the root cause of corruption may have short-term consequences, but it will certainly develop the country's long-term stability and healthy development. That's why prestigious international partners and institutions have made positive forecasts about the country's economic prospects moving forward, according to VOV.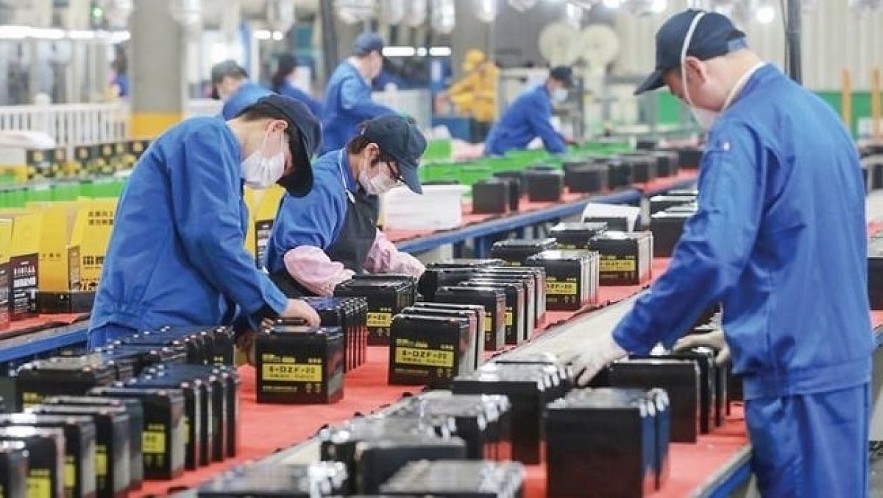 The Vietnamese economy has weathered the COVID-19 crisis, recording impressive growth of 8% last year.
Last year witnessed a range of important decisions being made, with a specific focus on removing bottlenecks in institutions, infrastructure, and human resources development. These efforts have helped to fuel optimism in people, businesses, and society as a whole towards further development, integration, and innovation, and this is an irreversible trend.
Despite these efforts, the country faced difficulties and paradoxes in the last months of 2022 due to unpredictability of the global situation. Inflation was controlled as planned, but deposit and lending interest rates remained high. Large firms lacked production orders, forcing them to lay off employees, while the general demand for labour increased sharply. Businesses recorded sound performances in general, but many continue to worry about their future ahead in the coming months.
These issues have both objective but also psychological factors, as well as other factors that cannot be completely anticipated. It's highly likely that in addition to the impact of inflation and the global economic recession, the Vietnamese economy, industries, and businesses will have to restructure themselves. As a mean of properly assessing the situation, it is necessary to keep a cool head with regard to the current situation.
Uncertainty, complexity, volatility, and ambiguity are set to continue to dominate the world in the year ahead. A country with a high level of openness, as well as determination to integrate comprehensively like Vietnam must always be well prepared to face unprecedented challenges. To weather the storm, Vietnam should look at their inner strength to see their own potential, advantages, and disadvantages, as well as to introduce appropriate solutions.
It is not by chance that Vietnam discussed and talked a lot about culture in 2022. Following the 2021 National Cultural Conference, there were concrete, practical, and serious actions adopted in order to develop Vietnamese cultural and national value systems. At the same time, there were solutions aimed at improving institutions, policies, and mobilising resources for cultural development.
It is therefore impossible to fan the desire to make the country stronger and more powerful without the root foundation of culture. Economic development remains an issue that can be discussed over the short-term, but cultural development is a long-term issue that needs to be addressed both thoroughly and comprehensively.
It can be seen as necessary to make wisdom-based decisions and to take appropriate actions in order to build an advanced culture imbued with national identity, thereby making culture the spiritual foundation and the endogenous strength of the nation whilst guiding national development.
Many Vietnamese leaders and business executives pointed out that the country's image in the eyes of foreigners is completely different from what it was many years ago. No longer asking for help, the country is now standing on an equal footing with partners, having an important voice and looking for opportunities to cooperate and win together. The country's national status has thereby improved, and along with a glorious history and a long-standing culture, it is important that its aggregate strength has changed.
Not to mention diplomatic achievements, large Vietnamese technology groups have gradually made inroads into demanding software markets such as Japan and the Republic of Korea, generating billions of US$ in revenue in the process. They have gained a firm foothold overseas, not only thanks to their outstanding products and services, but they have also been convinced by the beauty of Vietnamese culture.
The 'cultural passport' of each nation is not only measured by overseas visits by great men, heroes, cultural activists, or scientists, but also by businesses with unique products and services. In line with this, Vietnam continues to do a good job.
Keeping wisdom and peace of mind when making major decisions, as well as in each specific behaviour, is therefore a must at this time. It is also necessary to maintain a spirit of tolerance in order to spread the spirit of humanity in all circumstances. That can be viewed as the root of positive spiritual emotions that drive both commitment and devotion.
With strong determination, will, and perseverance, let's continue to promote Vietnamese aspirations, with a focus on its bravery and wisdom, in order to realise the development goals towards 100 years the Communist Party of Vietnam in 2030 and 100 years of the Socialist Republic of Vietnam ahead in 2045.
Vietnam's regions to welcome Lunar New Year in different weather conditions
Strong cold will cover the northern region while the south will experience warm weather on the Lunar New Year's Eve on January 21 and the first days of the Year of the Cat, according to the National Centre for Hydro-Meteorological Forecasting.
Aside from January 21 night, scattered drizzle is also predicted for the north on the night of January 22 and on January 23, the first two days of the Year of the Cat.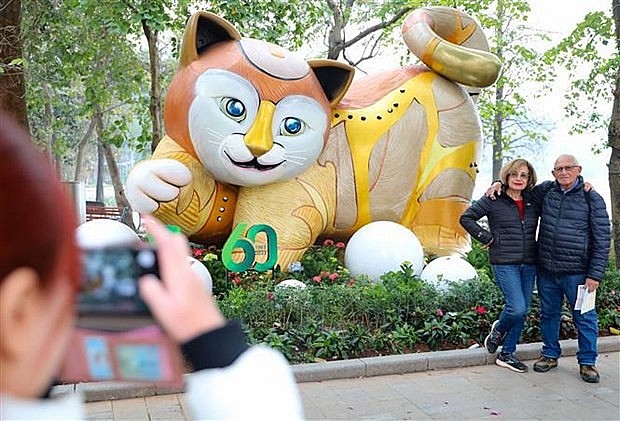 Foreign tourists pose for a photo besides a statue of the cat, the symbol of Lunar New Year 2023, in Hanoi. Photo: VNA
On these two days, the region will record strong cold with the lowest temperatures of 14 - 16 degrees Celsius in lowland areas and 12 - 14 degrees Celsius, even under 10 degrees, in mountainous ones. The weather will get warmer during daytime, up to 18 - 22 degrees.
Meanwhile, temperatures will range between 15 and 24 degrees Celsius in the north central provinces from Thanh Hoa to Ha Tinh during January 22 - 24, reported VNA.
People in the Central Highlands and southern regions will celebrate the Year of the Cat in good weather with temperatures of 21 - 25 degrees the lowest and 31 - 34 degrees the highest.
The forecasting centre said the peak of the winter will fall in late January and February, when the northern and north central regions will undergo many days of severe cold, and mountainous areas may record frost and snow.
Hotels in central region mostly booked by domestic travelers
Many hotels in Da Nang and Quang Nam are half unoccupied, while others are nearly fully booked.
Ngo Thi Huong, deputy director of Muong Thanh Luxury Da Nang, confirmed that 50 percent of rooms have been booked, mostly by domestic travelers.
Huong said the figure is still much higher than last year, because the hotel not only has domestic travelers, but South Korean and Indian travelers as well.
However, the high number of tourists seen in pre-pandemic years cannot be regained.
"In general, tourists book hotel rooms for the days from the third day of the Lunar New Year forward. So we hope more bookings will come. However, I think the increase in bookings won't be high," she said.
The hotel collects a surcharge of VND200,000/room/night on Tet days. The room rate is from VND1.5 million per night.
Kate Jones of Anantara Hoi An Resort in Hoi An City said the daily room capacity is 60 percent, cited VNN.
She said the market has become busy again. The time from December to April is the high season for travelers from Europe, Australia and the US. Non-stop flights from India are expected to bring large numbers of travelers from the market.
Meanwhile, in Quang Nam, some resorts have booking rates of 80-90 percent. Phung Dinh Mai from Da Nang Mikazuki Japanese Resort & Spa said the resort and entertainment complex has a high number of bookings on Tet, with a capacity of 80 percent. The room rate is reasonable, just over VND1 million per traveler per night. It offers a 30 percent discount for the entertainment service at the waterpark.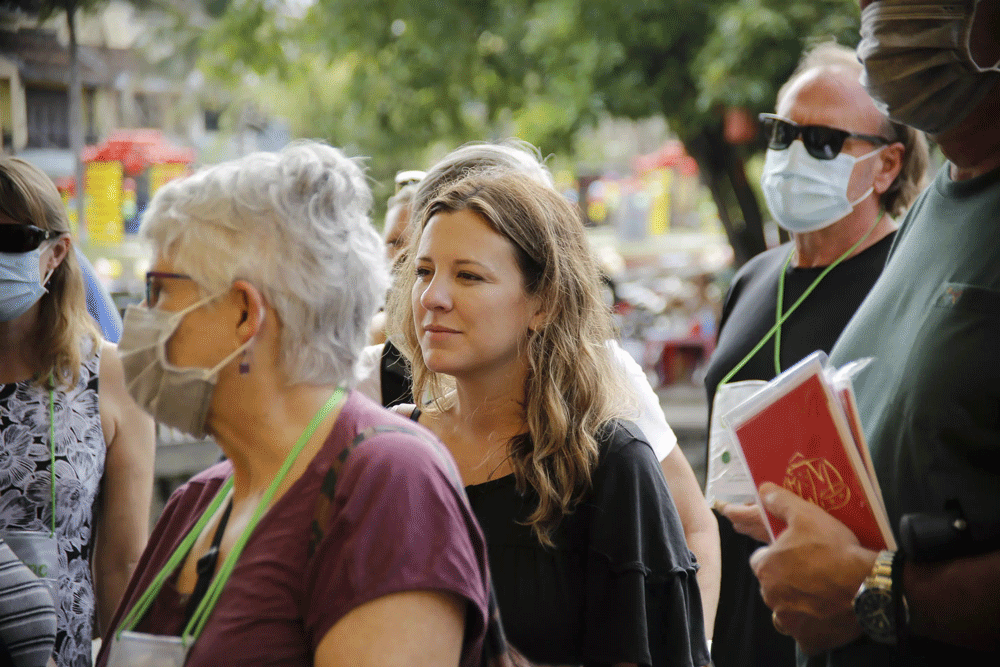 Photo: VNN
Steve Wolstenholme, CEO of Hoiana in Duy Xuyen district, said two hotels - Hoiana Hotel & Suites and New World Hoiana, with more than 600 rooms have been put into operation. Nearly 90 percent of rooms have been booked for Jan 21-26. The number of guests would peak on the fourth and fifth days of the Lunar New Year.
"The number of travelers this Tet is the same as last year. We only had domestic travelers last year, but there are more foreign travelers this year," he said.
To attract clients, Hoiana offers a lot of service combos with added services, including high-class shuttle from Da Nang and Hoi An, entertainment area for children and food service vouchers. The room rate is VND3.4 million per room for two persons.
FIFA reforms to benefit Vietnam ahead of World Cup 2026
The world's football governing body FIFA has proposed a series of reforms in the next four-year cycle, bringing practical benefits to Vietnamese football in general and the Vietnamese team in particular.
The World Cup 2022 in Qatar closed FIFA's highly successful four-year cycle, with revenue in this period estimated at US$7.5 billion, US$1 billion higher than expected. With 48 teams, instead of 32 as previously, to take part in the World Cup 2026, FIFA is anticipated to get up to US$11 billion in revenue, of which US$9.7 billion will be used to invest in football.
Vietnamese football will directly benefit from these changes. Accordingly, FIFA is set to spend US$200 million supporting its members under the talent development scheme (TDS). The allocation of the fund to each member will be calculated on their specific needs and will be disbursed by December 2026.
FIFA's decision to increase participating teams in the World Cup 2026 to 48 will give Vietnam the chance to join this club. In addition, the body also creates opportunities for teams on different continents to play each other to hone in skills. Accordingly, FIFA will launch its friendly tournament - FIFA World Series – in March every two years, so that teams from Asia can play those from Europe or South America.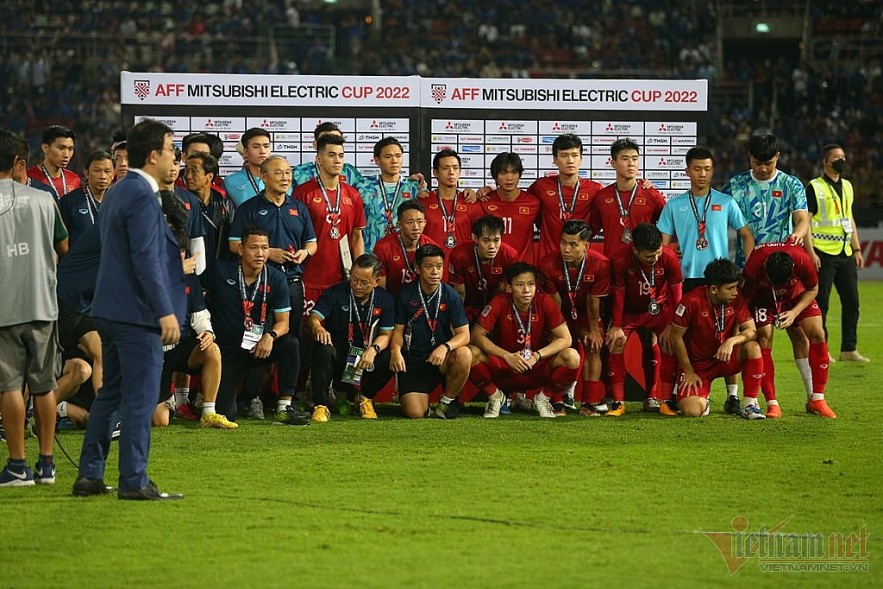 Photo: VNN
That means that the Vietnamese team will have the chance to compete with England or Argentina if the parties find a common voice. In addition, FIFA will also organize a pool of international matches (FIFA Days) from late September to early October 2025 with four matches instead of two separate FIFA.
For women's football, the current international fixture structure will remain unchanged until 2025. The establishment of the FIFA Women's Club World Cup, the new FIFA Futsal Women's World Cup and the expansion of the Women's Olympics tournament from 12 to 16 teams were also approved. Apparently, this brings good news for Vietnamese women's football, especially after the team qualified for the World Cup finals in 2023, VOV reported.
Those changes will force the Vietnam Football Federation to make adjustments. 2023 will mark a major turning point in Vietnamese football when VFF and VPF will organize two national championship seasons, in order to adapt to the Asian Football Confederation. Fans are looking forward to seeing progress Vietnamese football will be making in the coming years.