Vietnam News Today (Jan. 31): Vietnam's Startup Market Expected to Continue Booming in 2022
Vietnam News Today (Jan. 31): Vietnam records 29,728 new local Covid-19 cases; Vietnam's startup market expected to continue booming in 2022; Localities urged to accelerate vaccinations against Covid-19 during Tet; Vietnam likely to get better rating position in future.
Vietnam News Today (Jan. 31) notable headlines
Vietnam records 29,728 new local Covid-19 cases
Vietnam's startup market expected to continue booming in 2022
Localities urged to accelerate vaccinations against Covid-19 during Tet
Vietnam likely to get better rating position in future: expert
Lunar new year get-togethers held for overseas Vietnamese
Efforts made to restore Hanoi's relic site
Party leader pays tribute to President Ho Chi Minh at House 67
Int'l rail freight transport service posts double-digit growth
Plan to implement Secretariat's directive on sustainable poverty reduction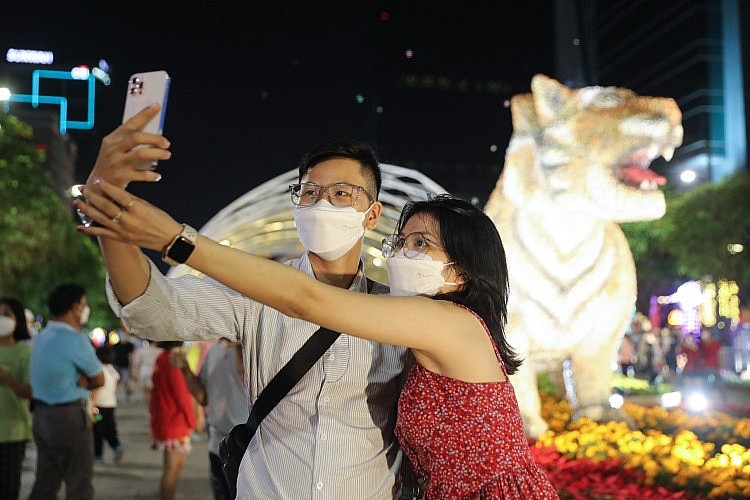 A couple takes pictures at Nguyen Hue flower street on Jan 29, 2021. Photo: VnExpress
Vietnam records 29,728 new local Covid-19 cases
The Ministry of Health announced 13,656 local Covid cases Sunday, while Bac Ninh and Ben Tre provinces added over 16,000 cases detected on previous days to the database.
The northern province of Bac Ninh added 12,084 cases, making it the locality with the highest number of infections in the day - 12,887.
Ben Tre Province in the Mekong Delta registered another 3,988, raising its Sunday's tally to 4,080, the second highest of all localities.
Hanoi came third with 2,924 cases.
Among 121 deaths recorded on Sunday, Hanoi had 22 and HCMC five. The total number of Covid deaths so far is 37,671, accounting for 1.7 percent of the total number of infections, cited VnExpress.
The country has recorded 184 cases of Omicron so far, including six community transmissions in Hanoi and HCMC.
Since the beginning of the pandemic, Vietnam has recorded 2,240,537 infections, and more than 2 million have recovered, including 55,018 announced on Sunday.
So far, 74.1 million of the country's 98-million population have received two Covid vaccine shots and 27.9 million have received three.
Vietnam's startup market expected to continue booming in 2022
Vietnam is a "rising star" and will emerge as the third-largest startup ecosystem in Southeast Asia in 2022, according to a report by venture capital firm Golden Gate.
Along with the development of startup ecosystem, Vietnam is considered as one of the most attractive destinations for venture capital funds in Southeast Asia, said the report "Southeast Asia Ecosystem 2.0".
Phan Minh Tam, Chairman of STI Holdings, said that capital flows will increase in 2022, but investors will make a more rigorous selection.
"Covid-19 causes difficulties for many industries, but also creates advantages for others. In this context, the company that can survive will be the beneficiary," said Tam.
According to Pham Hong Quat, Director of the Department of Market Development and Science and Technology Enterprises under the Ministry of Science and Technology, domestic and foreign investors are interested in some sectors such as N2TP (Layer 2 Tunneling Protocol) in the field of Medtech, GIMO in Fintech is funded by BK Fund, or Propzy in Proptech is invested by FEBE Ventures. Besides, logistics is also a concern of investors.
In 2021, the world witnessed the rise of Vietnam as a pioneer in blockchain game development, welcoming the Metaverse (virtual world) movement. Such games as Axie Infinity, My DeFi Pet, Faraland, MeebMaster, Theta Arena, Sipher and HeroFi have created a strong motivation for Vietnamese businesses and start-ups.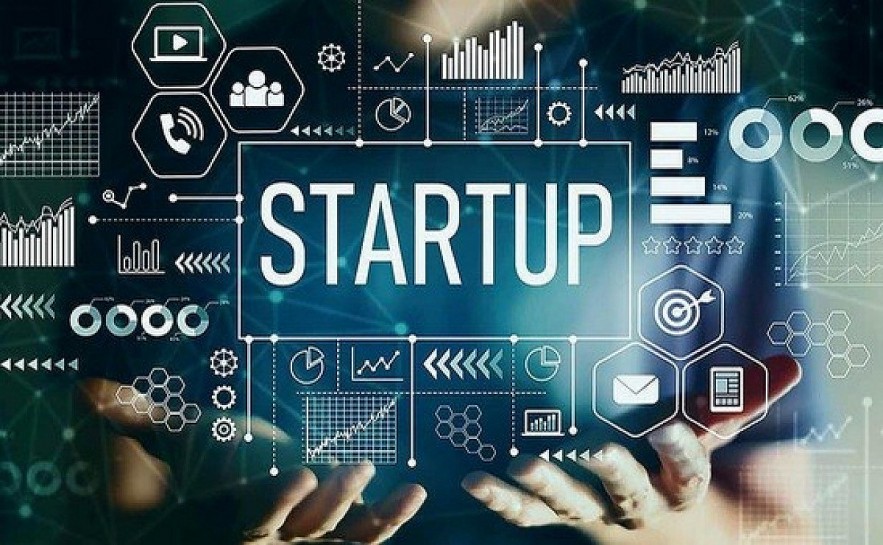 Photo: VOV
In fact, a series of blockchain game projects have attracted hundreds of millions of dollars in investment like Sky Mavis. However, this field has not been recognized by the State and there has no clear legal corridor.
Large investment funds believe that 2022 will be the booming year of the Metaverse wave. Vietnam will be the focus of this wave.
Dao Quang Binh, Head of Market Development Department of Techfest 2021, said technology is changing much faster than policy, citing Axie Infinity game as a typical example.
Vietnamese blockchain companies are not inferior to other countries. It is necessary for management agencies and businesses to work together to promote investment and development activities in this field to new development, he said, adding that this would help avoid wasting resources when many innovative enterprises related to new technology in Vietnam have had to go to other countries to start up, according to VOV.
Nguyen Dinh Thang, Chairman of the Vietnam Digital Startup Club (VDI), said that Artificial Intelligence (AI), Big Data, 5G, Internet of Things (IoT), and automation are considered as new technology trends this year. Covid-19 is seen as a test, but also a push to accelerate the application of technology. During the pandemic, the wave of investment in innovation and entrepreneurship in the world and in Vietnam is still exploding.
To seize the opportunity to promote faster and stronger investment in technology, it is essential for Vietnam to soon complete the legal foundation to encourage investment, construction, and connect domestic with international resources, he said.
Localities urged to accelerate vaccinations against Covid-19 during Tet
The Ministry of Health (MoH) has asked provinces and cities nationwide to speed up the vaccination campaign during Tet (Lunar New Year) festival so as to complete the second shot for teenagers aged between 12-17 in January and the third dose for adults in the first quarter of this year.
It aims to ensure that all children and adults who still need vaccinations can receive the shots during the occasion, especially high-risk people, reported VNA.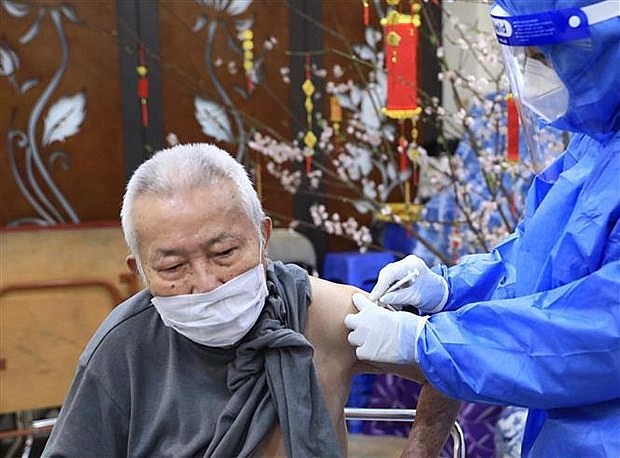 A resident in Hanoi's Hoan Kiem district was vaccinated on January 29 under the nationwide "rapid" spring COVID-19 vaccination campaign launched the same day. Photo: VNA
Localities were requested to make plans so that the inoculation will be given to the right people and in line with the MoH's instructions.
They were also asked to continue the dissemination campaign on the benefits of vaccination, thereby encouraging people to get full vaccinations on schedule as well as assuring adequate benefits for the health sector's staff who take part in the pandemic prevention and vaccination work during the Lunar New Year holiday as required.
According to the MoH, by January 26, 2022, the coverage rate of the second dose of vaccine for people aged 18 years and older had reached over 95 percent and for those aged 12 to 17 years had reached over 87 percent.
Vietnam likely to get better rating position in future: expert
Predictability and transparency in the policy framework will be the key for Vietnam to overcome the crisis and the positive outlook will put the country in a much better position to aim for an investment rating in the near future, Olivier Rousselet, Country Director of BNP Paribas Vietnam, has said.
He said Vietnam's credit rating is always in an uptrend from 2013 to 2021. Specifically, it increased from B2 to Ba3, according to Moody's, from BB- to BB and from B + to BB in line with S&P and Fitch's assessments.
According to Rousselet, the ranking upgrades in the past eight years have shown that credit rating agencies have a positive assessment of Vietnam's macroeconomic policies. The agencies agreed that Vietnam has sustainable economic growth, a high Gross Domestic Product (GDP) growth rate and the ability to attract foreign direct investment (FDI).
They also highly appreciated the improvement of the government's debt index and debt solvency as well as the stable public finance of Vietnam. This positive outlook is a testament to the Government's ability to respond to the impact of the Covid-19 pandemic and the Government's policies has been on the right track.
Photo: VNA
He suggested Vietnam strengthen the effectiveness of fiscal and monetary policies and stabilize debts as it will improve public finance and help achieve the low inflation target, cited VOV.
It is necessary for the country to continue minimizing the implicit risks of credit events and maintain timely payment obligations, Rousselet said, adding that it will boost the confidence of foreign investors.
Vietnam is the only country in the Association of Southeast Asian Nations (ASEAN) in the 'BB' rating category to gain positive rating momentum in 2021 and this is a reflection of the country's economic strength and resilience.
Rousselet affirmed that nurturing long-term growth opportunities, improving trade momentum and increasing the attraction of foreign investment will play an important role in building a stronger economy and will lead Vietnam to a better position, achieving an investment rating in the medium term.
Lunar new year get-togethers held for overseas Vietnamese
The Embassy of Vietnam in Ukraine on January 28 held a get-together for the Vietnamese community in the European country on the threshold of the Tet (Lunar New Year) festival.
Addressing the event, Ambassador to Ukraine Nguyen Hong Thach extended his Tet wishes to the expatriates.
He pledged that the embassy will roll out activities aiming to promote images of Vietnam's landscapes and people in the coming time, as well as commemorate the 30th founding anniversary and strengthen the bilateral diplomatic ties.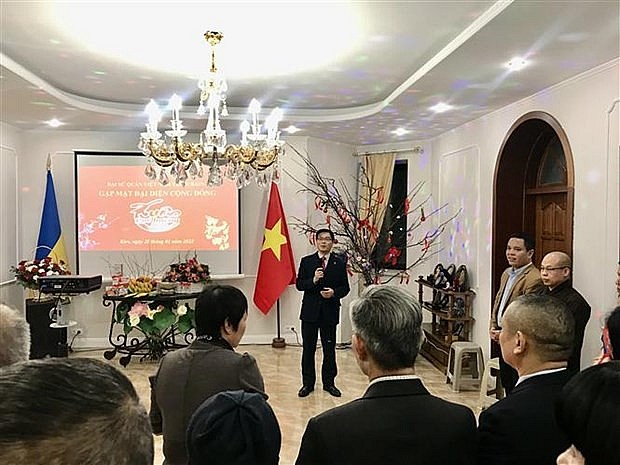 A get-together for the Vietnamese community held by the Embassy of Vietnam in Ukraine. Photo: VNA
The diplomat emphasized that a space featuring Vietnamese nature and culture built within the Ukraine National Botanical Garden (NBG) in Kiev capital city, together with Truc Lam Pagoda in Kharkov city, will be locations that help introduce Vietnamese culture to Ukrainian friends.
Traditional dishes were served at the event.
In Malaysia, a liaison board of OVs in Johor state arranged an event to make chung (square glutinous rice) cake, a traditional cake of Vietnamese people during Tet, on January 25-28, VNA reported.
Head of the board Nguyen Nhu Hao said with support from the Vietnamese Embassy, philanthropists and charity groups, more than 1,000 chung cakes were made and presented to Vietnamese living and working in Johor and neighboring areas.
The embassy and the liaison board paid Tet visits to firms having a large number of Vietnamese workers in Johor.
The Vietnamese community in the Klang Valley comprising Kuala Lumpur, Selangor and Putrajaya presented chung cakes and Tet gifts to 50 disadvantaged OVs in Selangor. Of note, they made cakes meeting 'halal' standards which can be served to Muslims.
Friendship
In Da Nang, the Vietnam-Laos Solidarity and Friendship Year 2022 was celebrated on July 2. Collectives and individuals of the Lao Women's Union were also awarded medals of Vietnam.