Vietnam News Today (Jul. 11): Japan Viewed As Top Important And Long-term Strategic Partner of Vietnam
Vietnam News Today (Jul. 11): Japan viewed as top important and long-term strategic partner of Vietnam; Vietnam, WB enhance partnership in climate change response for green growth; CIEM outlines three scenarios for Vietnamese economic growth; German companies have high expectations of Vietnam market.
Vietnam News Today (Jul. 11) notable headlines
Japan viewed as top important and long-term strategic partner of Vietnam
Vietnam, WB enhance partnership in climate change response for green growth
CIEM outlines three scenarios for Vietnamese economic growth
German companies have high expectations of Vietnam market: survey
South China Sea about to suffer from first storm or tropical depression this year
Hanoi promotes investment ties with north-central provinces
Vietnam's destinations among most impressive UNESCO heritage wonders
Foreign firms expect better business in Q3: EuroCham
Vietnamese film project honoured at international festival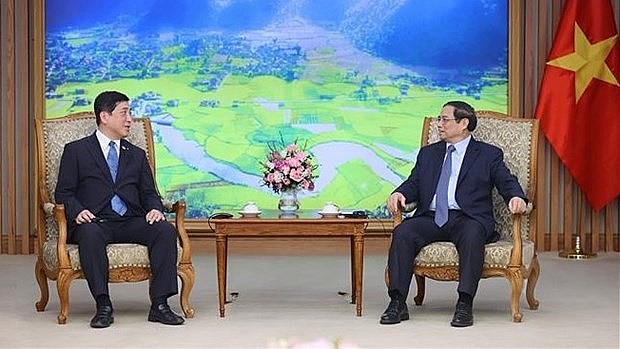 Prime Minister Pham Minh Chinh (R) and Governor of Japan's Kagoshima prefecture Shiota Koichi at their meeting in Hanoi on July 10. (Photo: VNA)
Japan viewed as top important and long-term strategic partner of Vietnam
Vietnam consistently regards Japan as its most important and long-term strategic partner, said Prime Minister Pham Minh Chinh at a reception held on July 10 in Hanoi for Koichi Hagiuda, chairman of the Policy Research Council of the Liberal Democratic Party, who is on a working visit to the country.
Welcoming Koichi's fourth visit to Vietnam, the Vietnamese Government chief said he believes that the trip will contribute to strengthening the relationship that exists between the two ruling parties and the two governments.
PM Chinh therefore hailed the success of the G7 Extended Summit in May and the role of Koichi in formulating strong and effective policies of the Japanese Government during recent times, thereby helping Japan to recover and develop its economy after COVID-19.
He went on to express his hope that the Japanese official will continue to support and strongly promote mutual relations moving forward.
This year marks the 50th anniversary of joint diplomatic ties, PM Chinh told his guest, adding that over the past five decades, mutual relations have developed in a strong, comprehensive, and substantive manner worldwide across multiple fields with high political confidence.
Japan is currently the country's leading economic partner, the first in ODA, the second in labour co-operation, the third in investment and tourism, and the fourth in trade.
PM Chinh stated that he wishes that Hagiuda Koichi will continue to pay attention to and contribute to developing the extensive strategic partnership substantively and effectively in a variety of fields, in line with the aspirations of the two countries and two peoples for the sake of peace, co-operation, and development in the region and the world.
He outlined his hopes that the Far East nation would continue to support Vietnam in industrialization, modernization, independence, economic self-reliance, and deep international integration, with the ultimate goal of being a developing country with a modern industry and high middle income by 2030, as well as becoming a developed, high-income country by 2045.
Most notably, Japan will provide new generation ODA for the Vietnamese side to develop infrastructure and train human resources, with these things being two of the three strategic breakthroughs that Vietnam is in the process of making, according to VOV.
The country therefore backs Japan's role in the international arena, PM Chinh said, while asking the Japanese side to support the nation in implementing programmes and initiatives proposed by Japan, regarding digital transformation, green growth, circular economy, and sharing economy.
For his part, the Japanese official highly agreed upon with PM Chinh's comments, affirming Japan's desire to continue taking the extensive strategic partnership to new heights.
The East Asian nation will therefore support Vietnamese enterprises to join the global supply chain, promote Japanese enterprises to continue to expand investment in the Vietnamese market, implement ODA provision commitments for the country, and help the nation in human resource training, including expanding the acceptance of interns.
Japan will also support the Vietnamese side in digital transformation, green transformation, and achieving the goal of reducing net emissions to zero by 2050, he said, going on to suggest that Vietnam continue to create more favourable conditions for Japanese enterprises to invest and conduct business in the country.
Japan - ASEAN relations are in the process of making good progress, the Japanese official said, while expressing hope that Vietnam will participate and play a higher role in Japan - ASEAN relations. In the immediate future, Japan wishes for Vietnam to support and actively participate in the upcoming Japan-ASEAN special summit, he added.
At the meeting, the two sides also compared notes on a number of regional and international issues of mutual concern. In which, they voiced support for the stance of Vietnam and ASEAN regarding the East Sea issue.
They underscored the importance of maintaining freedom and safety of navigation and aviation, peacefully settling disputes on the basis of international law, fully implementing the Conduct of Parties in the East Sea (DOC) towards a substantial and effective Code of Conduct in the East Sea (COC) in accordance with international law, including the 1982 UN Convention on the Law of the Sea (UNCLOS).
Vietnam, WB enhance partnership in climate change response for green growth
Minister of Natural Resources and Environment Dang Quoc Khanh has hailed the World Bank (WB)'s effective cooperation with Vietnam, especially in climate change response, green growth and environmental protection.
At a working session in Hanoi on July 10 with Anna Wellenstein, Director for Sustainable Development in East Asia and the Pacific, and Global Director for Environment, Natural Resources, and Blue Economy at the WB, Khanh informed that on June 30, the Ministry of Natural Resources and Environment approved a project on the implementation of the carbon market in Vietnam and assigned its Department of Climate Change to work closely with the WB, ministries and agencies concerned on the project.
He also lauded the WB for its financial initiative to support low-carbon rice cultivation, cited VNA.
The minister hoped that the WB would continue with its support package for the National Water Programme with a multi-sectoral and multi-target approach and integrated water resource management. He added that the ministry asked the Department of Water Resources Management to propose tasks in need of the WB's help, such as amending the Water Resources Law and establishing a national water resources database.
Khanh also sought the lender's assistance in the project "Mekong Delta Climate Resilience and Integrated Transformation" to build upon the past achievements of the previous project "Mekong Delta Integrated Climate Resilience and Sustainable Livelihoods".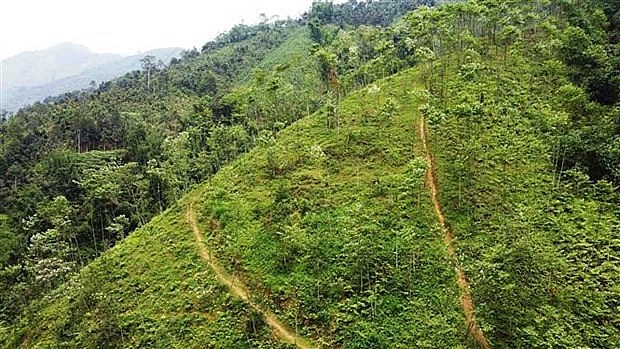 The northern province of Yen Bai plants 15,000 ha of forest each year, striving to raise its forest coverage to 65%. (Photo: VNA)
Regarding the second stage of the Hydro Chlorofluorocarbon (HCFC) phase-out project under the Montreal Protocol, he affirmed Vietnam's strong commitment to phasing out ozone-depleting substances. To launch the subsequent project titled "Sustainable Management of Chemicals Regulated under the Montreal Protocol", the minister tasked the Climate Change Department with working with the WB on the prospects and approval of the project.
On environmental pollution and development of circular economy, he said the Pollution Control Department and the Institute of Strategy and Policy on Natural Resources and Environment will continue partnering with the WB to deploy air pollution measurement and management models in Hanoi, and transition to a circular economy for development and environmental protection.
Regarding the Improved Land Governance and Database (VIGL) project, the minister proposed the WB continue providing support in certain activities related to land valuation, land information system building, and pilot activities at the Department of Planning and Development of Land Resources and in the central city of Da Nang.
Wellenstein, for her part, said the WB and Vietnam are collaborating on multiple projects related to climate change adaptation, green growth, and environmental protection.
The WB will continue increase its support for Vietnam in achieving goals regarding climate change mitigation, environmental protection toward a circular economy, greenhouse gas emission reduction, sustainable livelihood development, biodiversity conservation, she said.
CIEM outlines three scenarios for Vietnamese economic growth
Vietnam's economic growth this year can reach up to 6.46% in the best-case scenario, the Central Institute for Economic Management (CIEM) announced during a workshop organised on July 10 in Hanoi.
In the best-case scenario, CIEM economists forecast that Vietnamese exports will decrease by 2.17% this year, while the average consumer price index (CPI) edged up 4.39% with the nation enjoying a trade surplus of US$6.8 billion.
These figures can be achieved providing positive changes occur in the global economic situation and the country makes drastic reforms, thereby helping to accelerate the disbursement of public investment, as well as improving the local business environment and labour productivity.
In the first scenario, Vietnamese GDP growth is forecast to reach 5.34% this year while exports are likely to drop by 5.64%. The average CPI inched up 3.43%, with the country posting a trade surplus of US$9.1 billion.
In the second scenario, the country's GDP growth is projected at 5.72% this year, with exports suffering a decline of 3.66%. The average CPI in 2023 increased by 3.87%, with the nation racking up a trade surplus of US$10.3 billion, reported VOV.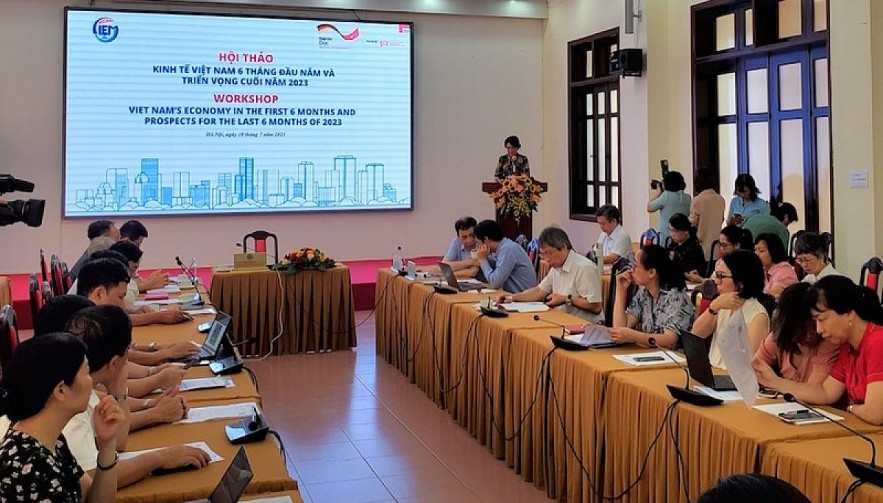 An overview of the workshop.
In the CIEM's report released at the workshop, Vietnamese economic growth rate in the first half of the year reached 3.72%. Indeed, the country's economic growth improved among quarters, reaching 3.28% in the first quarter and 4.14% in the second quarter.
Dr. Tran Thi Hong Minh, director of CIEM, stated that amid global uncertainties, the nation has maintained a comprehensive approach by accelerating socio-economic recovery in line with building an independent and self-reliant economy in association with active international integration.
Throughout the reviewed period, the disbursement rate of public investment capital as of June 30 reached 30.49% of the plan assigned by the Prime Minister, higher than the figure of 27.75% recorded in the same period from last year.
Meanwhile, Vietnamese FDI attraction is estimated to stand at VND13.43 billion, down 4.3%, although the disbursement of FDI capital increased by 0. 5%.
These achievements has been attributed to the fact that the Government has focused on fine-tuning polices, as well as handling backlog issues related to the supply of petroleum, medical supplies, electricity, and corporate bonds.
Moreover, the Government has also concentrated on accelerating the construction of key transport projects and seeking new export opportunities, and deploying digital and green transformation and renewing growth model to add fresh impetus to economic recovery.
German companies have high expectations of Vietnam market: survey
German businesses in Vietnam are more confident about growth and have positive expectations about the country's economic growth than they did in autumn 2022, according to a biannual survey.
The German Chambers of Commerce Abroad (AHKs) survey found that 91% of German companies intend to expand in Vietnam and 40% plan to increase their workforce in the next 12 months.
Thanks to the prompt implementation of government action plans and stable macroeconomic conditions, Vietnam has maintained positive economic growth, and so German companies are increasingly optimistic.
But their short-term expectations remain cautious due to the geo-political challengessuch as inflation and the increasing political influence on supply chains.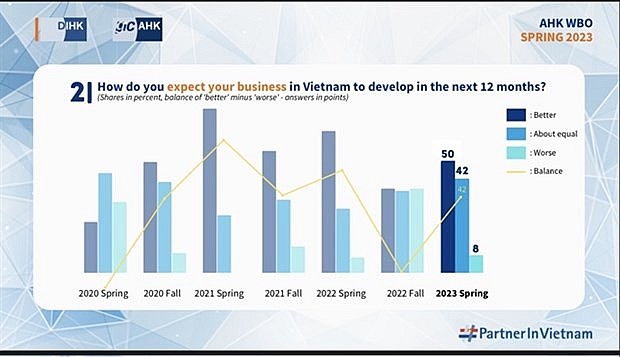 Infographics show German businesses in Vietnam are more confident about growth now than they did last autumn. (Infographics courtesy of AHK Vietnam)
Eighty eight % of the survey participants are confident about their business situation in Vietnam (satisfactory or good), and nearly half expect economic growth to remain steady, while 21% expect it to speed up.
The risks they identified due to global economic fluctuations include low demand (51%), economic policy framework (46%), shortage of skilled workforce (34%), and potential disruptions to the supply chain (28%).
They said long-term geopolitical challenges include inflation and monetary policy (41%), fragmentation of the global economy (41%) and increase in political influences on supply chains (40%), cited VNA.
Nevertheless, Vietnam is expected to see a resurgence in economic growth in the medium term fueled by factors like free trade agreements, the global trend of shifting and diversifying manufacturing supply chains towards competitive hubs in Southeast Asia and the inflows of green investments.
Half of German companies in Vietnam prioritised diversifying their supply chains, with Vietnam being their top choice, followed by Malaysia and Thailand.
The survey was done by the AHKs by polling more than 5,100 German companies world-wide in March and April.
South China Sea about to suffer from first storm or tropical depression this year
Meteorologists said that the first tropical depression or storm would form in the South China Sea on July 20 or July 21, resulting in much of the rains in the Central region following a long time of heat waves.
General Director of the Vietnam Meteorological and Hydrological Administration Tran Hong Thai reported that both the Central Highlands and Southern regions are likely to maintain sunny daytime and thundery showers at night, even tropical downpours in some places, from July 10 to July 14.
Illustrative photo. Photo: VNN
The same weather pattern is forecasted for the Northern region, cited SGGP.
At that time, the Central region will continue to face scorching hot days, notably severe heat will occur in the area from Khanh Hoa to Binh Thuan provinces.