Vietnam News Today (Jul. 19): Vietnamese Ambassador Works With 78th UNGA President
Vietnam News Today (Jul. 19): Vietnamese Ambassador works with 78th UNGA President; New milestones in Vietnam-Laos comprehensive cooperative relations; Vietnam to develop diversified high-quality night tourism products; Typhoon TALIM weakens, makes landfall today.
Vietnam News Today (Jul. 19) notable headlines
Vietnamese Ambassador works with 78th UNGA President
New milestones in Vietnam-Laos comprehensive cooperative relations
Vietnam to develop diversified high-quality night tourism products
Typhoon TALIM weakens, makes landfall today
International media suggests five ways to travel across Hoi An, Da Nang, and Hue
Da Nang to host golf tourism festival
Vietnam moves to attract more Indian tourists
Swedish firms' investment targets innovation in Vietnam
Vietnam, Singapore mark 50 years of diplomacy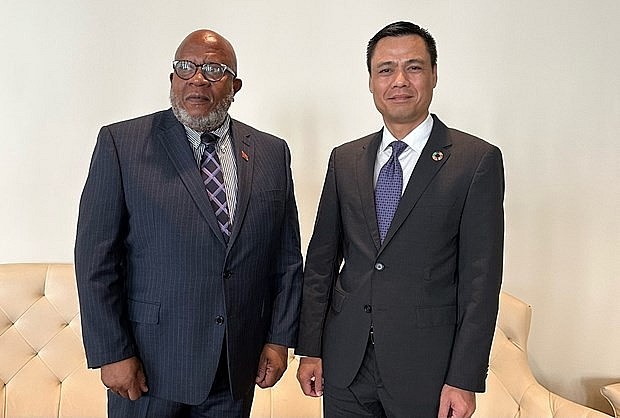 Ambassador Dang Hoang Giang (R) and President of the 78th session of the UN General Assembly Ambassador Dennis Francis (Photo: VNA)
Vietnamese Ambassador works with 78th UNGA President
Ambassador Dang Hoang Giang, Vietnam's Permanent Representative to the United Nations (UN), had a working session in New York on July 17 with President of the 78th session of the UN General Assembly Ambassador Dennis Francis.
Dennis Francis, who is also the Permanent Representative of Trinidad and Tobago to the UN, told Giang that during his tenure, he will promote the implementation of sustainable development goals (SDGs), and support countries in building and forming global development trends at the Summit of the Future slated for September 2024, cited VNA.
He also stressed the need to promote multilateralism and respect the UN Charter, in which member countries need to work together to rebuild peace and security, respond to climate change, and protect the environment.
The Vietnamese diplomat congratulated Dennis Francis on his election as the president, affirming that the country will continue to actively participate in and contribute to promoting the common agendas of the international community, as well as efforts to find solutions to global challenges. The ambassador reaffirmed Vietnam's interest in stepping up the implementation of the SDGs, easing poverty, responding to climate change, and securing financial resources for development.
Vietnam will maintain its contributions to the joint efforts of the international community in implementing current important processes, especially the SDG Summit and the Summit of the Future, promoting confidence building, and strengthening multilateralism, Giang added.
The UN General Assembly on June 1 elected Ambassador Dennis Francis as the President of its 78th session for a one-year term, starting from September 5.
New milestones in Vietnam-Laos comprehensive cooperative relations
The comprehensive co-operative ties between Vietnam and Laos have been continuously consolidated and developed across the board following the signing of the Treaty of Amity and Cooperation on July 18, 1977.
Nowadays, joint ties have entered a new page in history under fresh conditions with more substantive co-operation contents and co-operative efficiency being continuously improved.
A total of 46 years ago, former Prime Minister Pham Van Dong and Laotian President Kaysone Phomvihane signed the Vietnam - Laos Treaty of Friendship and Cooperation, a document of great historical significance, thereby marking a new and comprehensive development of the special relationship.
The treaty serves as a solid legal basis for strengthening and expanding the special relationship between the two countries ahead in the new period, as well as accelerating the signing of a series of co-operation agreements in the future, according to VOV.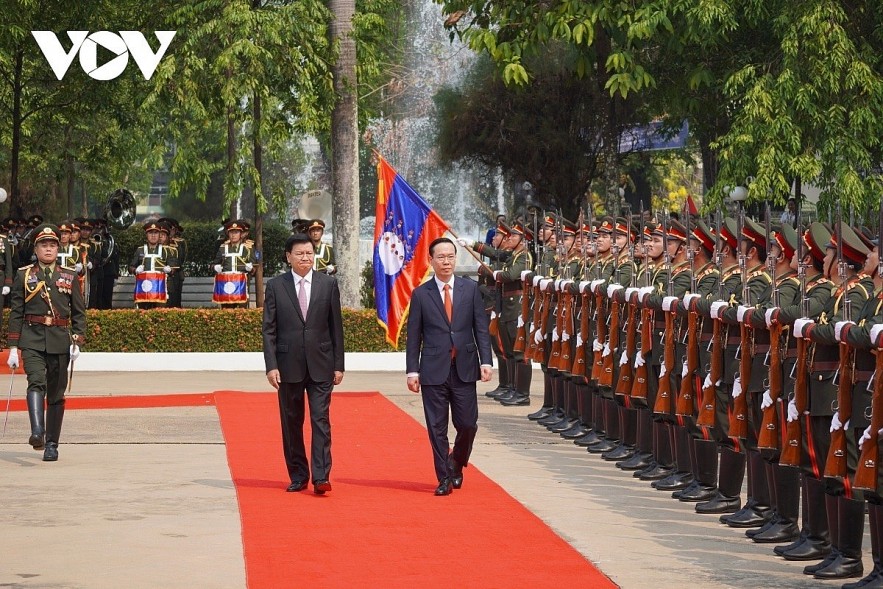 The official welcome ceremony for President Vo Van Thuong during his visit to Laos in April 2023.
Mutual relations over recent years have achieved many positive results, making important contributions to maintaining political stability, socio-economic development, and bringing about many practical benefits to people of the two countries.
Political-diplomatic relations continue to be tightened and increasingly trusted through maintaining high-level exchange visits on all channels, such as the official friendship made visit to Laos by President Vo Van Thuong in April, Prime Minister Pham Minh Chinh's official visit to Laos in January, and the official friendship visit to Vietnam in May by General Secretary and President of Laos Thongloun Sisoulith.
During these talks and meetings, both nations' leaders held confident, honest, and frank discussions on orientations and measures aimed at promoting all fields of co-operation, affirming that in the current situation, the two countries need to strengthen consultations, exchange experience, offer mutual support to overcome challenges, and jointly build an independent, self-reliant, and co-operative economy towards extensive international integration.
The two sides have therefore closely co-ordinated in regional and international issues of mutual concern as well as offering support each other at multilateral forums, especially at the UN, ASEAN, and sub-regional mechanisms.
Lao Deputy Foreign Minister Thongphane Savanphet said that although Laos and Vietnam were both impacted by both the COVID-19 pandemic and the global economic crisis, the two countries have increasingly worked together in a bid to promote economic, trade, investment co-operation, and tourism.
The two sides also continue to discuss areas of collaboration, such as human resource development, infrastructure, and health care, especially promoting the tradition of special Laos-Vietnam relationship. In addition, a series of topics have been included in teaching at academies and schools in a bid to help young people understand more about the importance of the special relationship that exists between the two countries, he added.
According to Laotian Deputy Foreign Minister Thongphane Savanphet, Vietnam-Laos relations are on the right track of development, with a host of bilateral co-operation agreements signed by Party and State leaders of the two countries being actively implemented and achieving many important results across a multitude of fields.
Defence-security linkages continue to be an important pillar in the Vietnam-Laos relationship. Indeed, a series of agreements between the ministries of defence and public security are being competently implemented based on close ties in border management and protection as a contribution to maintaining political stability, security, and social order of each country.
Economic, trade, and investment co-operation continue to be promoted, with last year's bilateral trade turnover reaching US$1.703 billion, up 24.1% compared to 2021.
In particular, the first five months of the year saw bilateral turnover hit US$701.42 million, up 1.57% on-year.
Moreover, Vietnamese investment in Laos has seen remarkable changes, with the total registered investment capital of Vietnamese enterprises in Laos reaching over US$180 million in 2022, marking an increase of 52.5% compared to 2021.
Particularly, the first half of the year saw four newly-licensed projects and two projects record adjusted capital increases valued at US$26.3 million, making Vietnam the third largest investor in the neighouring country.
Since the beginning of the year, the two sides have inaugurated and handed over a number of projects funded by the Vietnamese Government to the Laotian Government, such as the inauguration of the Laos – Vietnam friendship hospital in Xiengkhouang province, along with the Lao People's Army Boarding School of Ethnic Culture and many other projects which are expected to be completed this year.
Lao Minister of Planning and Investment Khamjane Vongphosy said that many Vietnamese investment projects have operated effectively, thereby making positive contributions to boosting socio-economic development, creating jobs, and raising incomes for thousands of workers, thus supplementing Laos' state budget revenue.
Co-operation in education, training, culture, and tourism continues to be strengthened, especially after the two countries have fuly controlled the pandemic and resumed all activities.
This year also sees Vietnam continue to offer Laos 1,100 scholarships to help Laotian students pursue their studies in Vietnam, while the neighbouring country offers Vietnam 60 scholarships.
There are roughly 14,000 Laotian students studying in the nation, whilst collaboration between bordering localities continues to be strengthened, especially in infrastructure construction, medical care, training, and human resource development.
Despite having plenty of opportunities and facing intertwined difficulties and challenges, under the clear-sighted leadership of the Communist Party of Vietnam and the Lao People's Revolutionary Party, the great friendship, special solidarity, and comprehensive ties will continue to be consolidated and elevated to new heights for both nations' development and prosperity.
Vietnam to develop diversified high-quality night tourism products
The Ministry of Culture, Sports and Tourism has launched a project to promote the advantages of night services to diversify Vietnam's tourism products, making them typical, sustainable, high-quality and higher value-added.
The products are expected to help affirm the brand name and improving the competitiveness of Vietnam's tourism, further attract visitors to the country, increase their spending and expanding their stay in the country. Moreover, night tourism is expected become a key product to develop the night economy in Vietnam.
Under the project, areas namely Hanoi, Quang Ninh, Hai Phong, Thua Thien Hue, Da Nang, Khanh Hoa, Hoi An (Quang Nam province), Da Lat (Lam Dong province), Can Tho , Phu Quoc (Kien Giang province), Ho Chi Minh City, and Ba Ria – Vung Tau each will have at least one model for developing night tourism products by 2025.
Separate night entertainment complex is expected to be formed in Hanoi, Da Nang and Ho Chi Minh City.
Tourists are expected to spend at least one night in the localities where the project is implemented, reportd VNA.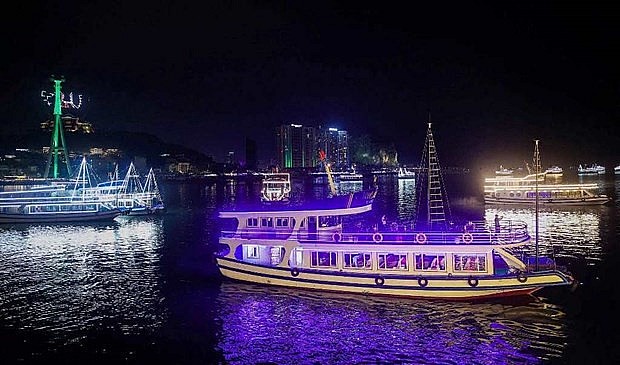 Cruises in Ha Long Bay at night (Photo: VNA)
By 2030, separate night entertainment complexes will be developed in other major tourist centres including Quang Ninh, Hai Phong, Thua Thien Hue, Hoi An, Nha Trang (Khanh Hoa province), Da Lat, Can Tho, Phu Quoc, and Ba Ria – Vung Tau.
Vietnam's tourism industry will harmoniously develop night tourism products in tourist centres across the country to step-by-step build the branding of Vietnam's night tourism products.
The project points out five models of night tourism product development including cultural artistic performance; sports activities, health care, beauty; shopping, night entertainment; night tour model; and culinary culture and night food service.
The project sets out solutions for urban planning and management, mechanisms and policies, organisation and management of services, human resources, investment, market orientation, promotion and application of information and technology. Notably, a database will be built to support the concerted and efficient management of night tourism activities. Vietnam also plans to take applications and utilities to support tourists with priorities given to developing Vietnam tourism application and smart travel cards.
Typhoon TALIM weakens, makes landfall today
Typhoon TALIM has been downgraded to a strong tropical storm before it strikes northern coastal provinces on July 18 afternoon.
At 04:00 July 18, TALIM was centred about 140km east and south-east of Mong Cai city of Quang Ninh province, with maximum sustained winds decreasing to 117kph just before landfall a couples of hours later.
In the next 24 hours, the storm is forecast to move west and north-west at a speed of 20kph and pound localities in the north.
At 16:00 July 18 TALIM is anticipated to lose strength further to a tropical depression, move further inland and dissipate in northern mountainous localities.
Though TALIM is said to lose its grade before landfall, it remains a strong tropical storm, bringing the possibility of life-threatening storm surge flooding.
The coastal localities of Quang Ninh and Hai Phong are forecast to have storm surge of 0.3-0.5m. They will face a high risk of flooding in low-lying areas and estuaries due to the combined impact of high tide and storm surge on July 18 afternoon.
Northern provinces will endure a long spell of heavy rain on July 18-19, receiving 200-300mm of rainfall or even more than 350mm in some places, cited VOV.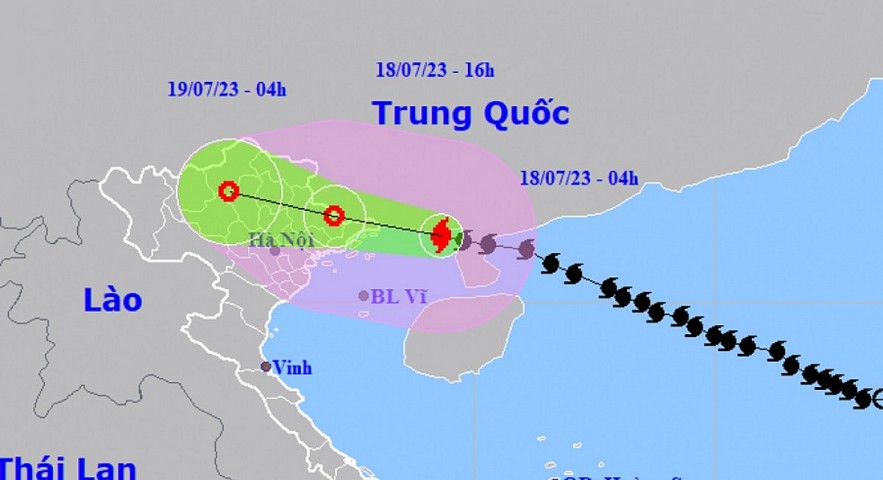 Typhoon TALIM has weakened before slamming into northern coastal provinces on July 18 afternoon.
Weather experts warned about the possibility of flashfloods and landslides to occur in the mountainous provinces of Quang Ninh, Lang Son, Cao Bang, Ha Giang, Lao Cai and Yen Bai.
In the face of the storm's devastation, tens of thousands of residents have been ordered to evacuate from danger areas before TALIM slams into the mainland.
The border guard commands of localities have also directed fishing vessels to seek nearby storm shelters or move ashore.
Relevant forces and residents have reinforced public works and houses to minimize property damage during the height of the storm.
Residents have been advised to avoid going out when the storm hits.
TALIM is the first storm that has hit the East Sea in this year's stormy season. It is also considered a powerful storm that has struck the northern region for the past few years.
International media suggests five ways to travel across Hoi An, Da Nang, and Hue
Central cities like Hue, Hoi An, and Da Nang are essential stops for anyone looking to put together a Vietnam itinerary, as each of these cities highlights the different elements of what makes Vietnam so special.
According to travel website Road Affair, travel by train is the first choice for the trip, with trains travel from Da Nang to Hue along the rail route that stretches from Ho Chi Minh City in the south all the way up to Hanoi in the north.
However, there is no train station at Hoi An, meaning visitors will first need to reach Da Nang. According to the schedule, trains take from 2.5 to three hours depending on the service, the website wrote.
As in many places in Southeast Asia, the cheapest way to get between Hoi An or Da Nang and Hue is by bus. The bus trip takes four to five hours leaving from Hoi An and three to 3.5 hours out of Da Nang, meaning an overnight bus isn't necessary.
Taking a taxi or a private car is by far the quickest option for those traveling the 126km distance from Hoi An to Hue.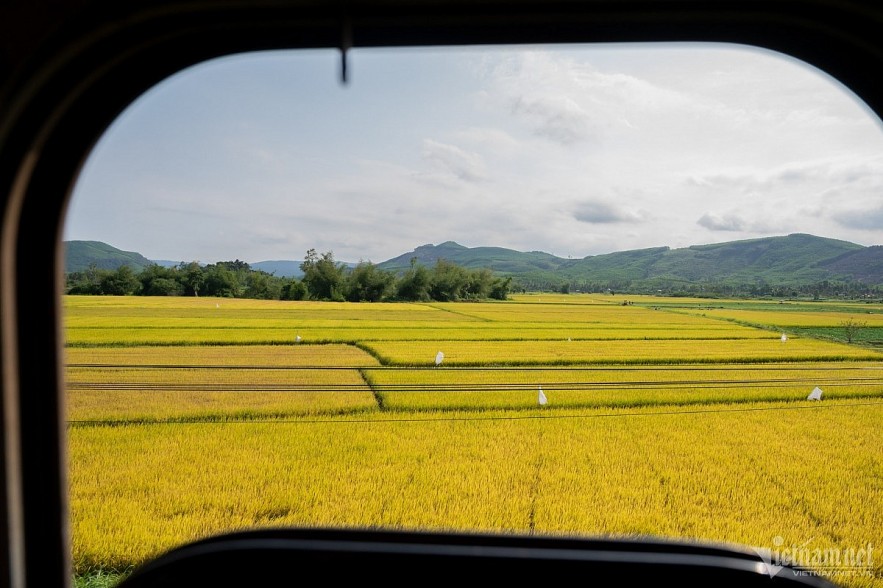 Photo: VNN
This is also the most comfortable way to experience the Hai Van Pass. A famous mountainous pass on Vietnam's Central Coast, with the area being renowned for its winding roads and exceptional scenery, Road Affair recommended.
Travelling by motorbike is the fourth option for the trip. The best way to experience the Hai Van Pass is by motorbike. On the back of a bike, travelers are able to feel every twist and turn in the road, all the while staring out at the legendary 21km-long mountain pass. They can also stop and go as they want, meaning they can spend as long there as they like.
In certain cases, flying can also be a really affordable and useful way of getting around Vietnam, although not so in this case.
According to Road Affair, there are no direct flights for this route, meaning it's really not practical to fly such a short distance. Travelers need to connect through either Hanoi or Ho Chi Minh City, meaning flights would take at least four hours on a good connection.
Booking a tour is the easiest way to get from either Hoi An or Da Nang to Hue.
Each way has its own unique benefits and drawbacks, so it's really up to travelers to decide which best suits them and their trip, the travel website concluded.