Vietnam News Today (July 17): Vietnam's New Wave Covid Tally Crosses 40,000
Vietnam News Today (July 17): Vietnam's new wave Covid tally crosses 40,000; Pizza shop employee latest Covid case in new Hanoi cluster; Vietnam to tighten security checks for flights to Japan and Vietnam expected to be "rising star" in Southeast Asia's startup ecosystem.
Vietnam News Today (July 17) notable headlines
Vietnam's new wave Covid tally crosses 40,000
Pizza shop employee latest Covid case in new Hanoi cluster
Vietnam to tighten security checks for flights to Japan
Vietnam expected to be "rising star" in Southeast Asia's startup ecosystem
Vietnam ranks among top 20 economies for FDI attraction
Khanh Hoa prepares plans to trial vaccine passport
Art prodigy auctions paintings to raise funds for Covid workers
Vietnam, Russia aim for stronger trade promotion in construction and furniture
New anti-pandemic plan underway as southern localities take brunt of Covid-19 wave
A vaccinate point in HCMC. Photo: VnExpress
Vietnam's new wave Covid tally crosses 40,000
The Ministry of Health confirmed 1,883 new Covid-19 patients Friday evening, raising the tally in the new wave to 40,558.
HCMC led the new cases with tallywith 1,349cases, followed by Tien Giang (146), Binh Duong (113), Dong Thap (92), Da Nang (39), Tay Ninh (33), Phu Yen (22), Hung Yen (15), Vinh Long (13), Can Tho (11), Nghe An (10), Binh Thuan (9), Bac Ninh (7), Quang Ngai (4), Ninh Thuan, Binh Phuoc and Hanoi (3 each), Tra Vinh, Ca Mau and Bac Giang (2 each), and Thanh Hoa, Lam Dong, Lao Cai, Dak Lak and Vinh Phuc (1 each).
Among the new cases, 1,665 were detected within quarantine or lockdown zones. The others had contact with previously confirmed Covid-19 cases, linked to pandemic hotspots or are being contact traced, cited VnExpress.
On Friday, Vietnam recorded 3,321 domestic cases. This is the second-highest daily tally since the start of the pandemic early last year.
Friday also saw 332 patients recover, pushing the total recoveries since the start of the pandemic to 10,020. The death toll since the pandemic began also rose to 225 after 18 deaths were confirmed Friday evening.
Since the fourth wave broke out in late April, the country has recorded 40,558 cases in 58 of its 63 cities and provinces. HCMC is leading the case count with 23,913.
Pizza shop employee latest Covid case in new Hanoi cluster
A new coronavirus case found at a pizza shop in Hai Ba Trung district on Thursday is potentially linked to six other cases at a nearby construction site.
The latest coronavirus case is a 21-year-old cook and shipper employed at a pizza shop on Doan Tran Nghiep street. It is next to a construction site on Ba Trieu street, where six coronavirus cases have been detected since late last week, reported VnExpress.
An ambulance and medical workers arrive at a pizza shop on Hanoi's Doan Tran Nghiep street to lock it down due to Covid linkage, July 15, 2021. Photo: VnExpress
Five of the infected were construction workers who traveled from Ho Chi Minh city to Hanoi, while the other is an advertisement executive employed at the construction site who parks at a nearby mall also on Ba Trieu, authorities said.
The cook, who lives in Hoang Mai District, works every day and parks his motorbike at the same mall. On July 14, he developed a fever and visited Thanh Nhan Hospital where he tested positive for the coronavirus, according to the Hanoi Center for Disease Control (CDC).
His case has not yet been confirmed by the Ministry of Health. With the latest addition, seven coronavirus cases have been connected to the Ba Trieu construction site cluster so far.
As of Friday morning, authorities have tracked down at least 27 people in Hai Ba Trung, Dong Da, Hoang Mai and Thanh Xuan districts who had come in contact with the infected pizza shipper.
Doan Tran Nghiep street lies next to a large mall with several restaurants and cafes. The capital has already suspended in-person food and beverage services starting July 13 however to curb the spread of the coronavirus.
Hanoi has recorded 567 Covid-19 cases since the fourth coronavirus wave hit Vietnam in late April, including 148 cases in two locked down hospitals.
Vietnam to tighten security checks for flights to Japan
The Civil Aviation Authority of Vietnam (CAAV) has instructed relevant agencies to tighten security checks for flights to Japan.
The move followed a request from the Japanese Ministry of Land, Infrastructure, Transport and Tourism (MLIT) on the application of enhanced security measures on flights to Japan during the time the country hosts the Olympic Games (from July 23 to August 8) and the Paralympic Games (from August 24 to September 5).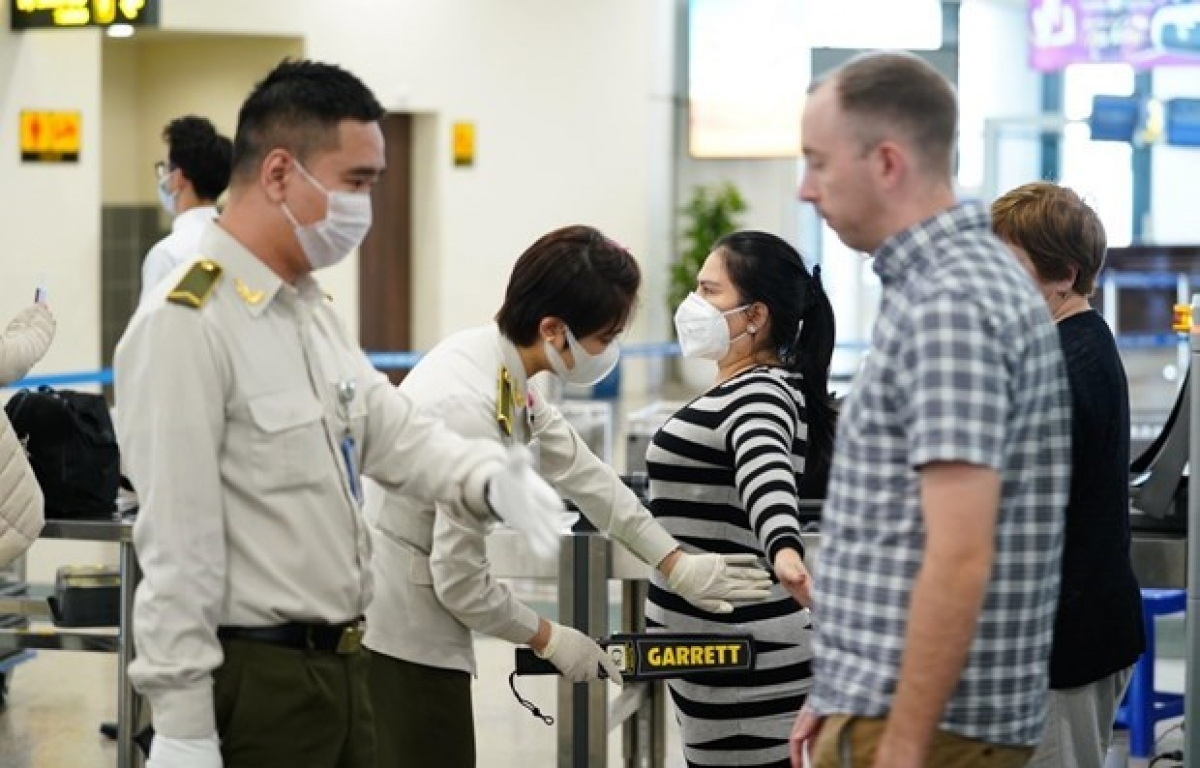 Security check for passengers at the airport. Photo: VOV
To fulfill the responsibilities of a member state of the International Civil Aviation Organisation (ICAO) and relevant aviation laws, the CAAV required airports with flights to Japan to direct the aviation security control force to strictly implement random checks of at least 10% after the first security check for passengers and carry-on luggages.
There should be 10% random inspection of check-in baggage, cited VOV.
Airports were asked to increase the frequency of security surveillance and regularly update the situation, assess risks and promptly apply additional measures if necessary. They should report to the CAAV when there emerges any information threatening aviation security.
The CAAV also made similar request to airlines with flights to Japan. They were asked to coordinate with airports in implementing aviation security control measures at the request of the Japanese Government.
A representative of the CAAV said that the above-mentioned measures are applied to all flights originating from Vietnam to Japan, including passengers and baggage on connecting flights, from 00h00 on July 22 to the end of August 10 and from 00h00 on August 23 to the end of September 7.
Vietnam expected to be "rising star" in Southeast Asia's startup ecosystem
Vietnam will emerge in 2022 as the third largest startup ecosystem in Southeast Asia, with stronger signs of venture capital (VC) funds putting more efforts into early-stage investments in the country, according to a new report by venture capital (VC) firm Golden Gate Ventures.
More start-ups in Southeast Asia are expected to go public, with the annual number of initial public offerings (IPOs) in the region expected to cross 300 by 2030, said the report "The Southeast Asia Ecosystem 2.0" released on July 15, according to VNA.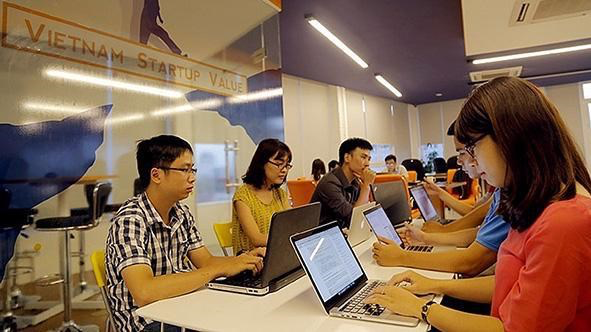 Photo: vneconomy.vn
This would be almost three times the number of regional firms that went public in 2020. Some of the firms likely to list are online marketplace Carousell, real estate platform PropertyGuru and travel booking site Traveloka.
Golden Gate Ventures anticipates that funding for the entertainment and media sector will grow substantially over the decade.
The sector recorded about US$100 million in funding last year, but this is likely to rise as entertainment and media start-ups focusing on Asian content are gaining a global following, the report noted.
It identified Vietnam as the region's rising star and said it would emerge as the third-largest start-up ecosystem in the region next year.
The report also outlined several trends seen in Southeast Asia over the past few years.
Since 2015, a new generation of entrepreneurs has emerged, catalysed by mega rounds of fund-raising by fast-growing start-ups such as Grab and Gojek. Former senior employees of high-growth companies have gone on to start their own enterprises, starting a new chain of entrepreneurship.
More corporate VCs have also emerged in the past decade, the report said. There were around 60 corporate VCs in the region last year, compared with just seven a decade ago. Such firms are increasingly leading funding rounds, especially at the seed and Series A stages.
Vietnam ranks among top 20 economies for FDI attraction
Vietnam has recently entered the top 20 countries globally in terms of foreign direct investment (FDI) attraction after recording US$16 billion last year, as stated within the World Investment Report 2021 released by the UN Conference on Trade and Development (UNCTAD).
According to the report, the United States took the lead in terms of attracting foreign direct investment (FDI) last year with US$156 billion, followed by China with US$149 billion, Hong Kong (China) with US$149 billion, Singapore with US$94 billion, and India with US$64 billion.
The country secured 19th position in the overall ranking of FDI attraction last year with US$16 billion, rising five places compared to 2019, cited VOV.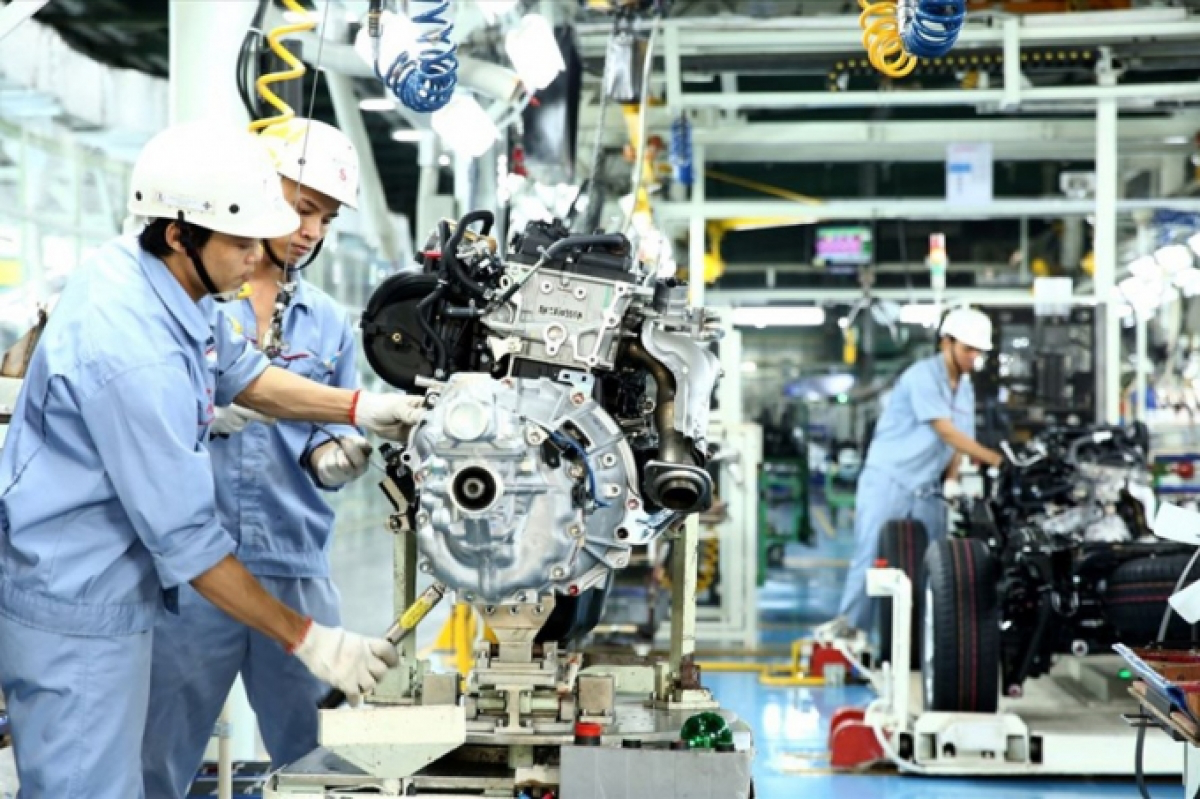 Photo: VOV
Global FDI flows fell by 35% in 2020 to US$1 trillion, a drop from US$1.5 trillion seen during the previous year. This can largely be attributed to lockdowns being implemented around the world in response to the Covid-19 pandemic slowing down existing investment projects, whilst the prospects of a recession led multinational enterprises (MNEs) has led to the reassessment of new projects.
The drop largely impacted developed economies, with FDI falling by 58%, partially due to corporate restructuring and intrafirm financial flows.
In terms of developing economies, FDI decreased by a more moderate 8%, mainly due to the resilient flows in Asia. As a result, developing economies made up two thirds of global FDI, an increase from just under half in 2019.
The overall contraction in terms of new project activity, combined with a slowdown in cross-border mergers and acquisitions (M&As), caused a significant drop in equity investment flows of more than 50%.
This fall in FDI flows across developing regions was uneven, at 45% in Latin America and the Caribbean, along with 16% in Africa. In contrast, flows to Asia rose by 4%, meaning that the region accounted for half of global FDI in 2020. Indeed, FDI to the transition economies plunged by 58%, whilst the pandemic further deteriorated FDI in structurally weak and vulnerable economies.
With a total FDI reaching US$16 billion, the country secured 19th position in the report, up five places compared to 2019 despite the negative impact of the Covid-19 pandemic.
According to details within the report, this marks the first time that the nation has entered the top 20 countries and territories in terms of attracting the most FDI.
Moving forward, the country is also believed to have plenty of room to compete with other major competitors, typically China, for FDI inflows thanks to the trend of global production shift.