Vietnam News Today (Jun 14): Vietnam-RoK Forum Marks 30 years of Diplomatic Ties
Vietnam News Today (Jun 14): Vietnam confirms 617 new Covid-19 infections on June 13; Vietnam- RoK forum marks 30 years of diplomatic ties; Run to Heart in HCM City to honor frontliners in Covid-19 fight; Petrol prices see further rise on June 13.
Vietnam News Today (Jun 14) notable headlines
Vietnam confirms 617 new Covid-19 infections on June 13
Vietnam-RoK forum marks 30 years of diplomatic ties
Run to Heart in HCM City to honor frontliners in Covid-19 fight
Petrol prices see further rise on June 13
The 'race' of foreign retailers in Vietnam
US helps Vietnam combat wildlife trafficking
Provinces turn to e-commerce to sell agricultural produce
AVPI economist optimistic about Vietnam's economic prospects for 2022 and beyond
HCM City restarts summer activities for children after Covid-19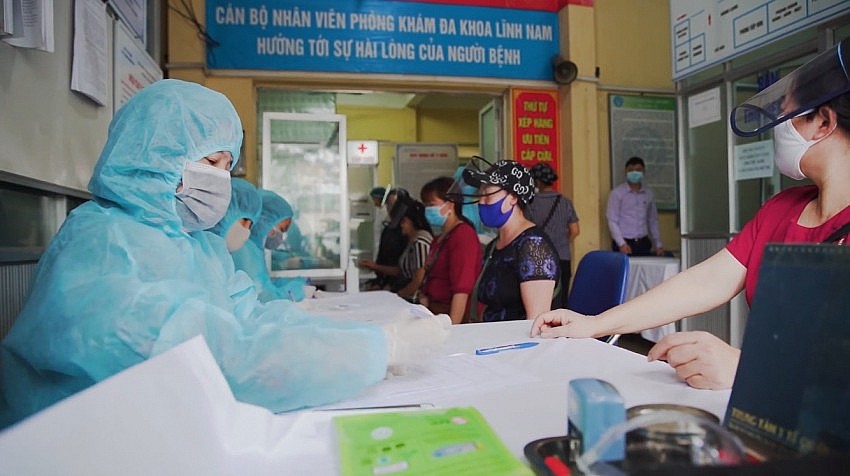 Photo: Truyen hinh phap luat
Vietnam confirms 617 new Covid-19 infections on June 13
Vietnam on June 13 confirmed a total of 617 new Covid-19 infections, including one imported case, according to the Ministry of Health.
The new transmissions brought the total caseload to 10,732,429 since the start of the pandemic.
The capital city of Hanoi logged the highest number of infections with 157 cases, cited VNA.
It was followed by northern Bac Ninh and Yen Bai provinces, which reported 87 and 41 infections, respectively.
A total of 9,339 patients were given the all-clear on the day, raising the total number of recoveries to 9,562,523.
There are 53 patients needing oxygen support, while no deaths were recorded in the past 24 hours. The total number of fatalities still stands at 43,083, accounting for 0.4 percent of total infections.
Nearly 223.63 million doses of Covid-19 vaccines have been administered in Vietnam so far, including more than 200.8 million doses for adults, over 17.5 million for those aged 12 to 17 and 5.3 million doses for children aged 5 to under 12 years old.
Vietnam-RoK forum marks 30 years of diplomatic ties
The fifth version of the Vietnam - Republic of Korea (RoK) Forum for the Future was held on June 13 in Hanoi to mark the occasion of the 30th anniversary of diplomatic ties between the two countries.
As part of his opening speech at the event, Bui Nhat Quang, president of the Vietnam Academy of Social Sciences, noted that the two countries had elevated diplomatic ties set up back in 1992. Indeed, the relationship grew to a comprehensive co-operative partnership fit for the 21st century in 2001 before evolving into a strategic co-operative partnership in 2009.
The two sides are planning to lift bilateral ties to a comprehensive strategic partnership this year.
Highlighting the increasingly close and expanded relations, he holds the view that the two countries now boast fresh and promising opportunities for co-operation.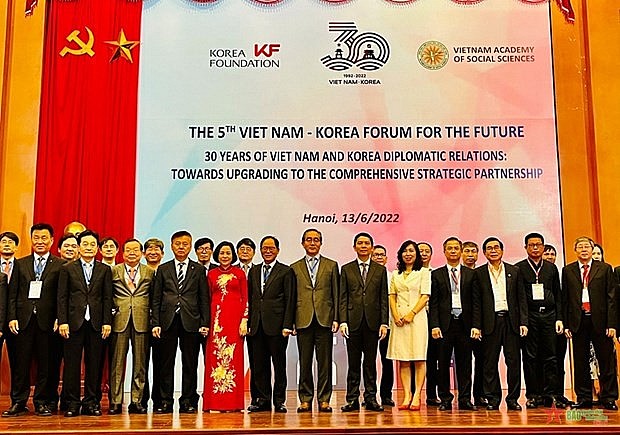 Photo: QDND
The numerous achievements of the 30-year relationship and similarities in terms of strategic interests will serve as an impulse for lifting joint ties to a level of a comprehensive strategic partnership, as well as cementing the countries' connectivity for the sake of the two peoples. This will also contribute to other positive causes such as peace, stability, prosperity, co-operation, and development in the region and the world as a whole, according to Quang.
Nguyen Thi Thanh, chairwoman of the Vietnam - RoK Parliamentary Friendship Group, said the RoK is one of the nation's leading partners in most fields, while the country represents a fast growing and dynamic economy and is a focal partner of the RoK in its New Southern Policy, according to VOV.
In line with this, both sides should create new driving forces and devise appropriate co-operation orientations and measures in order to further intensify their close-knit connections, Thanh added. She recommended increasing high-level contact, improving the effectiveness of dialogue and co-operation mechanisms, and continuing to boost collaboration in politics, diplomacy, defense, security, economy, science - technology, energy, health care, culture, education, tourism, and people-to-people, and locality-to-locality exchanges.
In response, RoK Ambassador Park Noh-wan affirmed that both nations have been co-operating successfully over the past three decades and that they have long regarded each other as partners of leading importance in traditional fields such as trade, investment, development co-operation, and tourism.
Most notably, both sides are in the process of building close partnerships in new fields such as security, economy, health care, climate change response, and defense. As a result, they are in the process of planning to take bilateral ties to a comprehensive strategic partnership this year, he stated.
The forum featured three sessions that discussed the 30-year co-operation relationship, the countries' strategic co-operation in terms of the new international economic and political context, and the prospects, opportunities, and measures that exist for partnership elevation.
Initiated back in 2012, the Vietnam - RoK Forum for the Future is widely viewed as an important dialogue channel for the two countries' policymakers, experts, and scholars.
Run to Heart in HCM City to honor frontliners in Covid-19 fight
More than 700 runners will take part in "Run to Heart" program to be organized in Ho Chi Minh City next month to honor frontline workers in the battle against Covid-19 over the last two years, according to the organizers.
The run will take place in Van Phuc city urban area in Thu Duc city on July 3.
It will feature 10- and five-kilometer races, reported VNA.
Around 200 doctors, nurses, public security officials, soldiers, volunteers, and frontline workers from many cities and provinces will be invited to take part in the latter.
A number of prizes will be given away.
The run will be organized by PDC Media Company, Run n Beer club and CP Imotion Company.
Petrol prices see further rise on June 13
The retail prices of oil and petrol recorded another increase as of 15:00 on June 13 following the latest adjustments made by the Ministry of Finance, and the Ministry of Industry and Trade.
The latest changes involve the retail price of bio-fuel E5 RON 92 increasing by VND880 to VND31,110, equal to US$1.33, per liter and RON95 by VND800 to VND32,370, equal to US$1.39, per litre.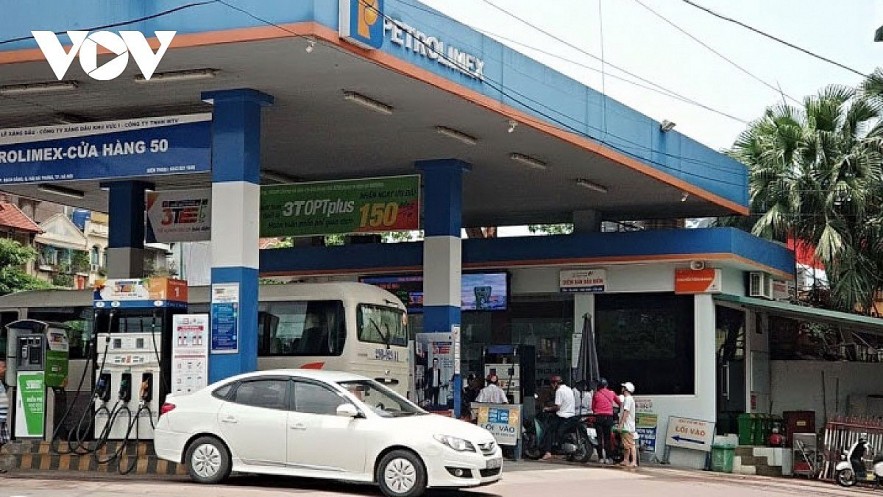 The retail prices of oil and petrol record another increase as of 15:00 on June 13. Photo: VOV
Furthermore, the price of diesel also witnessed a sharp increase as its latest price has been set at VND29,020, equivalent to US$1.25, per liter, up nearly VND2,630. Kerosene was adjusted up to VND27,830, equal to US$1.20, or an increase of VND2,490, while mazut dropped slightly to VND20,350, equivalent to US$0.87, per kilogram.
These latest changes mark the sixth consecutive hike in terms of petrol prices this year, with the latest increases breaking all previous records, cited VOV.
Moreover, two ministries had decided to make use of the petrol price stabilization fund at a rate of VND100 to VND200 per liter for E5RON 92 and RON 95, with this rising to between VND300 and VND400 per liter for diesel.
The 'race' of foreign retailers in Vietnam
If the growth rate is maintained at a high level, Vietnam's retail market may reach US$200 billion in the next two years, experts have said.
Uniqlo, the fashion retail giant from Japan, has opened a new store in central District 1 in Ho Chi Minh City on an area of ​​​​more than 3,000 m2, which is one of the largest Uniqlo stores in Vietnam.
MUJI, a famous Japanese household brand, has opened its third store in Vietnam, which is located in Hanoi with an area of ​​about 1,700 m2. Other Japanese retail brands such as Ministop, FamilyMart, and 7-Eleven are expanding their operations in Vietnam.
Vincom Retail has also opened the 81st trade center - Vincom Mega Mall Smart City. It is expected that this year Vincom Retail will open three new trade centers, bringing the total retail floor area across the system to nearly 1.8 million m2.
According to a report recently released by Savills Vietnam, large retailers will expand their operation in Vietnam this year. Its survey shows that some international brands such as Bath & Body Works, Prima Donna and Sports Direct delayed their business plan in Vietnam in 2021 due to the Covid-19 pandemic but still plan to operate in Ho Chi Minh City and Hanoi. In 2022, new international brands such as Columbia, %Arabica, Ain & Tulpe, and 6ixty8ight will enter Vietnam.
This is the sign of recovery of Vietnam's retail industry after the Covid-19 pandemic.
In 2021, SK Group paid US$410 million to hold 16.26% of the shares of WinCommerce (the unit that manages the VinMart/VinMart+ supermarket/convenience store chain). In November 2021, SK Group continued to spend US$340 million to acquire a 4.9% stake in The CrownX - the core of the Masan retail ecosystem.
The CrownX also received the attention of an investor group including Alibaba and Baring Private Equity Asia, when this group completed the purchase of 5.5% of the newly issued shares for US$400 million.
Most recently, on December 13, investors including TPG, Abu Dhabi National Investment Fund and SeaTown Holdings, invested US$350 million in The CrownX.
Not only quickly occupying high potential markets, Hanoi and Ho Chi Minh City, foreign corporates have reached out to first-class cities in Vietnam such as Hai Phong, Da Nang, Can Tho, Ha Long - places with a very large market space and almost unexplored. Meanwhile, H&M has opened two more stores in the cities of Ha Long and Can Tho.
In a survey in November 2021 conducted by CBRE on the need to expand stores of major brands in Asia in 2022, up to 65% of the brands questioned said there was a need to open more stores; 50% said they wanted to find better locations. More than half of the brands surveyed said they wanted to find shopping centers in the city center to open their stores and 48% said they wanted to find locations on main roads.
Challenges
According to the Vietnam Association of Real Estate (VARS), retail is Vietnam's most dynamic economic sector, which has maintained a double-digit annual growth rate for decades. In April 2022, Vietnam's total retail sales increased by 12.1% over the same period in 2021, a positive result compared to a decrease of 3.8% in 2021 due to the impact of the epidemic.
Pham Thi Thu Hien, Deputy General Director of Sales and Marketing of Vincom Retail, said the retail market has great potential for development in the future. According to the General Statistics Office, by 2030, Vietnam's population will grow to 104 million. The year 2022 is a very important one, which will see stiff competition among retailers. Consumer changes have forced the retail industry to adapt and evolve.
According to Dr. Dinh Thi My Loan, Honorary President of the Vietnam Retailers Association, store closures due to the pandemic will still occur in 2022. Even when we return to the new normal, the rate of store closures may slow down, but there are still many stores that will suffer this sad outcome.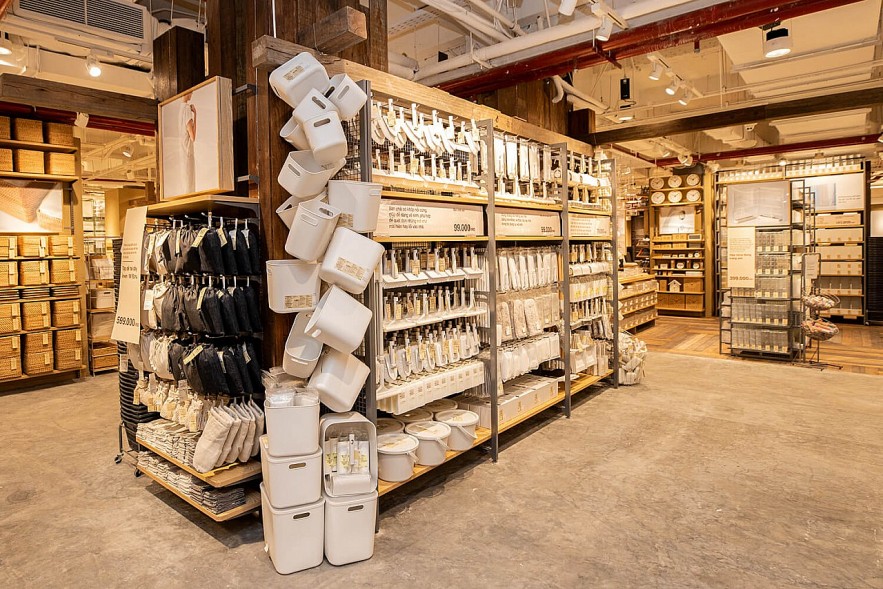 MUJI Vietnam
In addition, multi-channel sales including online channels (website, facebook, zalo...) and direct channels (stores, agents, supermarkets, etc.) have offered more meaningful shopping experiences. This model not only helps interactions with consumers on any technology device and platform, but also stimulates consumer shopping needs. Therefore, retailers need to quickly respond to this current requirement.
Facing new challenges, Vietnamese retailers have had to change. For example, Vincom Retail currently is focusing on research and development of new generation products. It plans to launch the new generation Vincom Mega Mall model, aiming to become Life - Design Mall - a destination for modern lifestyles.
Meanwhile, Masan said that its Mini Mall model will serve 30-50 million consumers in 2025. Since mid-2021, Masan has placed Techcombank stores inside WinMart+ supermarkets as well as Phuc Long, Reddi, and Phano Pharmacy kiosks. It aims to have 30,000 points of sale nationwide with an annual revenue of US$7-8 billion, accounting for 50% of the retail market share in Vietnam.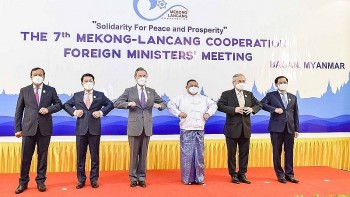 National
Foreign Minister Bui Thanh Son led a Vietnamese delegation to the seventh Mekong-Lancang Cooperation (MLC) Foreign Ministers' Meeting that was held in Bagan, Myanmar on July 4.