Vietnam News Today (Jun 16): Vietnam Helps Lift ASEAN - India Ties to New Height
Vietnam News Today (Jun 16): Additional 2.6 million Covid-19 vaccine doses for children allocated; Vietnam helps lift ASEAN - India ties to new height; Vietnam strives to fuel post-pandemic inbound tourism; Vietnam ready to unite in responding to challenges facing global economy.
Vietnam News Today (Jun 16) notable headlines
Additional 2.6 million Covid-19 vaccine doses for children allocated
Vietnam helps lift ASEAN - India ties to new height
Vietnam strives to fuel post-pandemic inbound tourism
Vietnam ready to unite in responding to challenges facing global economy
Joint efforts needed to promote digital economy in Vietnam
Vietnam to have at least three int'l-standard maritime economic centers: Ministry
Vietnam's credit growth expands by over 17 percent
Opportunities await Vietnam's exporters in French market: seminar
Conference looks to enhance Vietnam-India partnership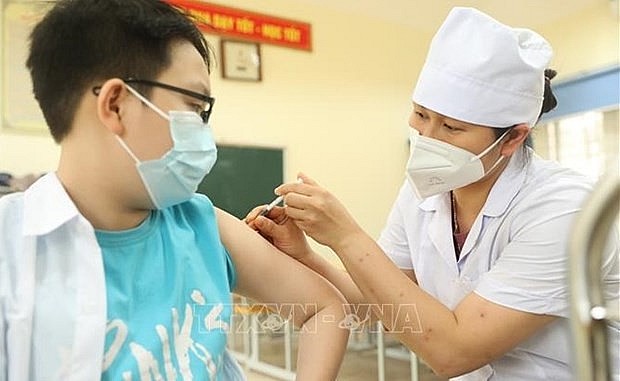 A boy gets vaccinated against Covid-19. Photo: VNA
Additional 2.6 million Covid-19 vaccine doses for children allocated
The Health Ministry has allocated an additional over 2.6 million doses of Covid-19 vaccines to be administered on children aged from five to under 12, according to the ministry.
To date, over 9.66 million doses have been distributed to serve the vaccination of this age group.
Vietnam has so far received 16.5 million doses of Pfizer and Moderna vaccines for children in this age group from the Australian and Dutch Governments, cited VNA.
Over 5.3 million doses, of which over 4.6 million are the first jab, have been administered to these children.
Vietnam helps lift ASEAN - India ties to new height: ambassador
Vietnam has been playing a highly active role in enhancing ASEAN - India relations, Vietnamese Ambassador to India Pham Sanh Chau told the Vietnam News Agency (VNA)'s resident correspondent in New Delhi.
The Special ASEAN - India Foreign Ministers' Meeting (SAIFMM) is scheduled to take place in New Delhi on June 16 and 17 as part of activities marking 30 years of dialogue relations between the two sides.
Highlighting the sound connections between India and 10 ASEAN countries, Chau said ASEAN has dialogue relations with many countries, and India is a very important partner.
According to the diplomat, bilateral ties have been growing in all aspects. First, economic and trade links have been increasing fast, which can been seen in Vietnam's trade with India surging to almost US$13 billion at present from about US$200 million in 2000.
The second is on security and politics with both sharing many similar viewpoints on international and regional issues, especially the East Sea issue and the Indo-Pacific vision, he said, elaborating that India supports ASEAN's centrality, both sides attach great importance to law respect and law adherence, and they also wish to build a region of peace, stability, and development, as well as a free, open, and international law-based Indo-Pacific region, according to VOV.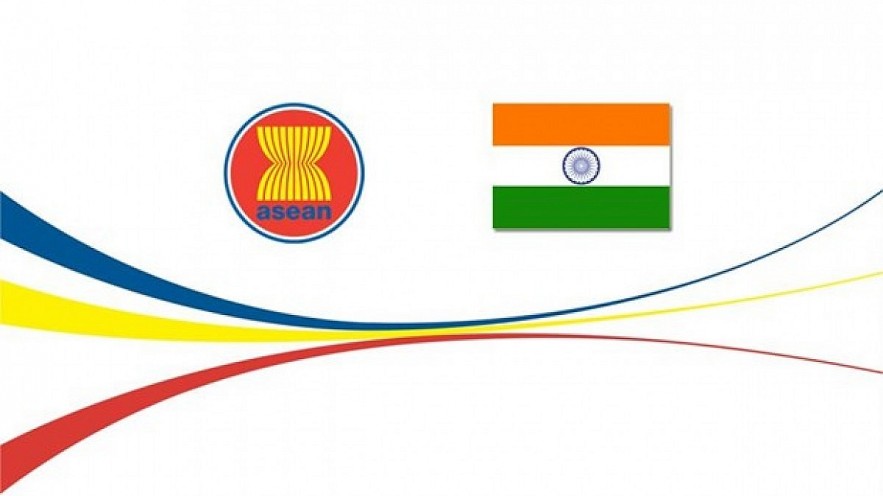 Illustrative image. Photo: asean.org
Third, most of the ASEAN countries and India advocate peace and justice when it comes to international issues. Fourth, they have been cooperating closely in science - technology and education.
The fifth is connectivity cooperation, especially in air and road transport, he noted, expressed his hope for a road from New Delhi through northeastern India, Myanmar, Thailand, and Laos to Hanoi in the future.
The last but not least is people-to-people exchange. The number of ASEAN and Indian visitors to each other's destinations has been on the rise while Indian people living in Southeast Asia are also increasing, which reflects the close-knit ties between the two sides, he added.
Among ASEAN countries, Vietnam boasts a traditional friendship with India. While serving as the coordinator of ASEAN - India relations during 2015 - 2018, Vietnam held a special ASEAN - India summit and helped lift bilateral relations to a new height.
The two countries share many similar viewpoints on international issues and have showed those viewpoints when both were non-permanent members of the UN Security Council in 2021.
With such a stature and an open foreign policy of independence, self-reliance, and diversification and multilateralization of foreign relations, Vietnam has been playing a highly active role in helping strengthen ASEAN - India relations, Chau stressed.
The ambassador described 2022 as a special year since Vietnam and India will celebrate the 50th founding anniversary of diplomatic ties, ASEAN and India mark 30 years of their dialogue relations, and India mark its 75th Independence Day.
He underlined the thriving Vietnam - India partnerships in defense, politics, trade, investment, tourism, and people-to-people exchange, affirming that 2022 is a very positive year in multiple aspects for both Vietnam - India and ASEAN - India ties.
Vietnam strives to fuel post-pandemic inbound tourism
Three months have passed since Vietnam completely reopened its tourism activities, including both inbound and outbound tours. While domestic travel is witnessing a boom, stronger efforts are needed to seize post-pandemic opportunities to attract more international visitors.
Three months have passed since Vietnam completely reopened its tourism activities, including both inbound and outbound tours. While domestic travel is witnessing a boom, stronger efforts are needed to seize post-pandemic opportunities to attract more international visitors.
Vietnam welcomed 172,900 foreign arrivals in May, shooting up 70.6 percent month on month and 12.8-fold year on year. The five-month figure increased 4.5-fold year on year but still nosedived 95 percent from the same period of 2019, before the Covid-19 pandemic broke out, according to the General Statistics Office.
Ha Noi Moi daily cited Nguyen Trung Khanh, General Director of the Vietnam National Administration of Tourism (VNAT), as saying that since the country completely reopened tourism on March 15, with an open "vaccine passport" policy and many international air routes resumed, especially the successful organization of the 31st Southeast Asian Games (SEA Games), the number of foreign visitors has been on the rise.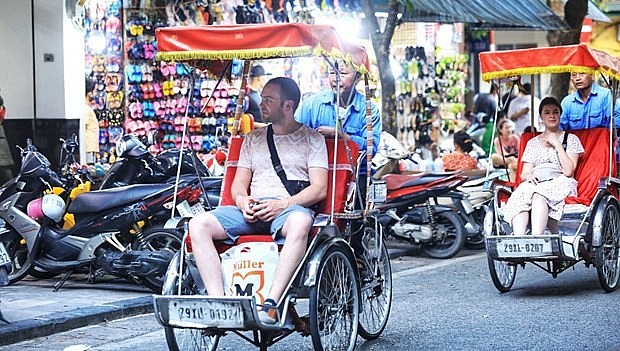 Foreign tourists enjoy a cyclo tour of Hanoi. Photo: VNA
Recently, Khanh Hoa province welcomed 160 Singaporean tourists to its famous resort city of Nha Trang. After receiving several groups of Singaporean and Thai travelers in late March, Da Nang city is working to attract more visitors from India. Meanwhile, Phu Quoc island of Kien Giang province served 4,300 international arrivals in the National Reunification (April 30) and May Day holidays alone, reported VNA.
Outbound tourism is also bouncing back.
Many travel agents said tours to Southeast Asia and Northeast Asia are currently magnets for Vietnamese travelers thanks to these destinations' favorable visa and "vaccine passport" policies. Some companies strong at arranging tours to Europe and the US have also recorded an increasing number of customers.
Vietnam ready to unite in responding to challenges facing global economy
Minister of Industry and Trade Nguyen Hong Dien has affirmed the nation's support for the multilateral trading system, as well as joint efforts in responding to challenges currently facing the global economy.
A Vietnamese delegation led by Minister of Industry and Trade Nguyen Hong Dien attended the 12th World Trade Organization (WTO) Ministerial Conference (MC 12) which took place in Geneva, Switzerland from June 12 to June 15, with the event featuring the participation of various trade ministers and other senior officials from 164 WTO members.
The MC12 took place amid countries facing severe challenges, such as handling the consequences of the Covid-19 pandemic and recovering economic and trade activities in the post-pandemic period, while international geopolitical tensions cause serious effects on food security and the world economy as a whole.
During his speech at the conference, Minister Dien emphasized the role of the WTO as part of international trade. However, he noted that it is time for the largest trade organization to implement fundamental reforms in order to maintain and strengthen the three core pillars and to promptly adapt to drastic changes and new requirements.
According to the Vietnamese Minister, never before has the world faced urgent issues in the form of health care, the environment, food security, and supply chain disruption.
It can be viewed as imperative that WTO members directly deal with the root causes of these challenges and find appropriate solutions, thereby making it possible for the global organization to overcome and continuously improve its performance. In line with this, the WTO should not simply limit itself to providing an effective negotiating platform, but should also be viewed as a contributor to resolving global crises, while simultaneously maintaining and ensuring a level playing field in terms of worldwide trade.
Since joining the WTO, the nation has been and will continue to wholeheartedly participate in the trading system.
Furthermore, the country is also willing to co-operate alongside WTO members in maintaining and strengthening the multilateral system, with the body serving as a cornerstone in promoting and facilitating greater trade and investment, as well as in terms of ensuring supplies of important goods and materials both regionally and globally.
The nation places great importance on key WTO negotiations relating to fisheries and agricultural subsidies, whilst it also wants members to focus on urgent and concerned topics, such as ensuring a comprehensive and practical supply of food and essential items for people, Minister Dien went on to emphasize.
As part of his speech at the debate on trade and climate change held on the sidelines of the MC12, Minister Dien highlighted climate change response as an important goal which aims to ensure equitable development on a global scale.
It is therefore crucial to achieve carbon neutrality while maintaining economic growth and strive to improve living conditions for all, especially vulnerable groups, he continued.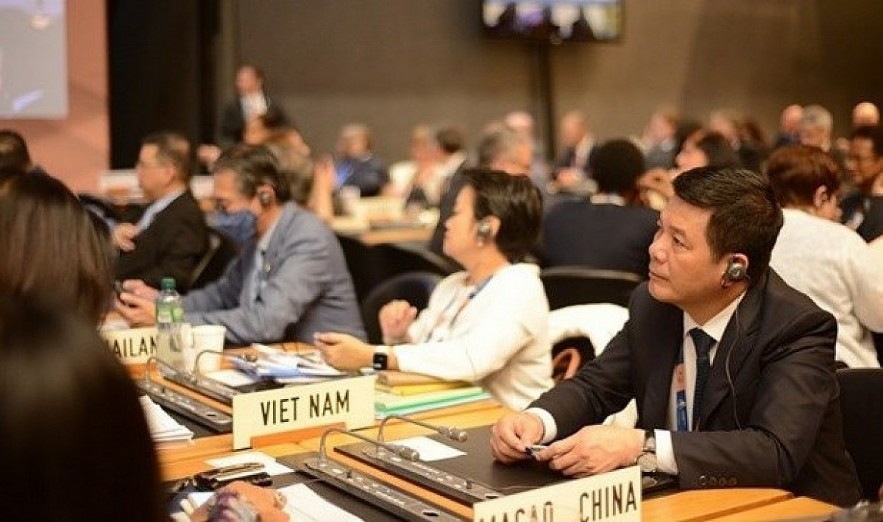 Minister of Industry and Trade Nguyen Hong Dien at the event. Photo: VNA
The Minister emphasized the need to promote activities in a number of fields through a range of measures such as integrating environment-related factors and climate change adaptation in commitments stipulated in trade arrangements.
It remains essential to speed up negotiations in the WTO in areas that are likely to bring about practical benefits to the environment and climate change, such as negotiations on environmental goods and services, as well as activities in these areas affected by climate change such as agriculture and food security, cited VOV.
Moreover, according to Minister Dien, the establishment of a coalition of trade ministers in the field of climate can be one of the ways to realize these goals. Therefore, ministers must augment co-operation and regular exchanges, not only within the WTO framework, but also in regional and bilateral frameworks, he stated.
At a meeting held among the Cairns Group, a coalition of 19 agricultural product exporting countries, Minister Dien highlighted three issues that must be prioritized, including the application of trade-distorting subsidies or domestic support measures which affects many important commodities such as sugar and other essential agricultural products. This is along with the application of special safeguards in agriculture that leads to unequal farm produce trade and measures recently adopted by countries following geopolitical and supply chain tensions which directly threaten global food security and could cause several chain reactions.
Minister Dien also joined a number of MC12 sideline discussions and held several bilateral meetings with partners such as the EU, Australia, Singapore, and Israel.
The WTO Ministerial Conference is the highest decision-making body of the organization and takes place every two years. However, due to impact of the Covid-19 pandemic, MC12 was postponed twice. This event represents a good chance for the WTO to prove that trade is part of solutions to numerous great challenges in the current era, whether it be public health or the environment.
Joint efforts needed to promote digital economy in Vietnam
The "E-Conomy SEA 2021" report, co-released by Google, Bain and Temasek, shows that Vietnam's internet economy in 2021 reached 21 billion USD and contributed 5% of GDP. It is seven times higher than in 2015 and the figure is projected to hit 57 billion USD in 2025, ranking second in Southeast Asia.
Such figures show that Vietnam has a golden opportunity to promote the internet economy, especially digital transformation platforms in the digital economy. The Vietnamese government aims to have the digital economy contribute 20% of GDP by 2025 and 30% by 2030. Recently, the Prime Minister issued the decision to approve the national strategy on digital economy and digital society development, and selected October 10 as National Digital Transformation Day.
Currently, ministries and agencies are making determined efforts to accelerate digital transformation to fulfil the 2025 target. Some sectors are witnessing smooth-sailing progresses while certain traditional sectors are facing numerous difficulties. Therefore, digital transformation should rely on unity, sharing and connectivity. People and enterprises need to join hands in the efforts to raise the contribution of the digital economy.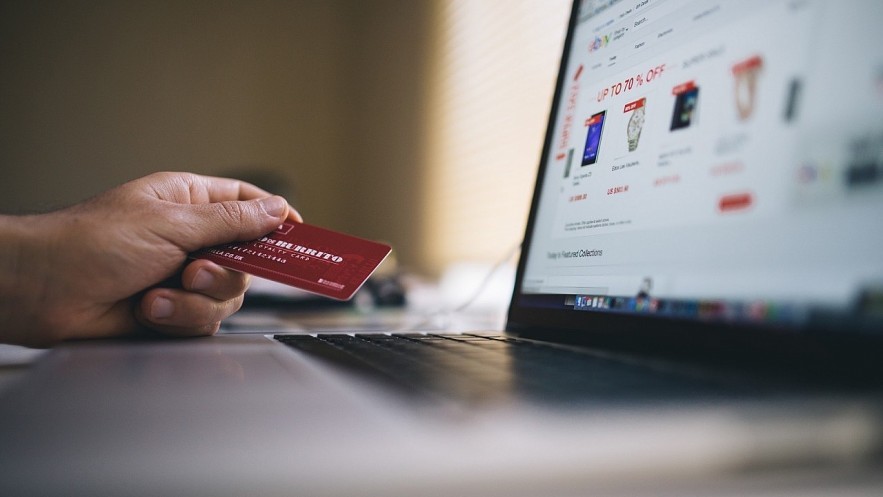 Vietnam's internet economy reaches 21 billion USD in 2021 and accounts for 5% of GDP. Photo: Ha Noi Moi
In the past two years of being affected by Covid-19, many enterprises have undergone rapid changes and digital transformation has created a new resource, namely data, which has become a resource for the digital economy to grow and open a new space for development.
It is both an opportunity and a challenge, because collecting data is already not easy, and how to put such data into use is another challenge for localities and enterprises. Once again, data will open new development opportunities for Vietnam, a country with a large population and a fast-rising number of enterprises, NDO reported.
After two years of implementing the National Digital Transformation Program, preparations are nearing completion. To date, the majority of agencies and localities have formulated their digital transformation plans. Awareness about digital transformation has been increased in agencies and local governments at all levels as well as most sectors of the economy. National databases are being formed and are growing rapidly, from demographic data to corporate, land and insurance data.
However, Vietnam's new development space lacks planning and well-designed combinations. Data is scattered and not open enough; human and financial resources for digital transformation are not concentrated; and digital transformation platforms and solutions are being developed without any planning or orientation.
International experience suggests that in order to accelerate the digital economy, it is necessary to have the joint efforts of all ministries, agencies, localities and especially the business community. In Vietnam, 95% of enterprises are small and medium-sized enterprises (SMEs) with a fast rate of digital transformation rate, but their foundation and internal strengths remain limited. Enterprises specializing in IT and digital transformation should take action to approach SME customers in order to promote digital economic development.
Digital technology companies are making efforts to develop high-quality digital transformation platforms and solutions, to invest in and accelerate the application of new technologies, as well as to collaborate to create a digital ecosystem to assist government agencies and enterprises with digital transformation. Enterprises have pledged to stand ready to work with the government, ministries, agencies and localities to develop the digital economy and accelerate digital transformation.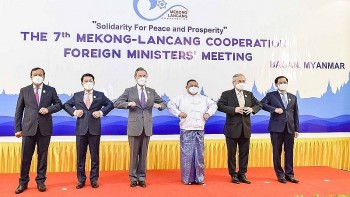 National
Foreign Minister Bui Thanh Son led a Vietnamese delegation to the seventh Mekong-Lancang Cooperation (MLC) Foreign Ministers' Meeting that was held in Bagan, Myanmar on July 4.