Vietnam News Today (Jun 17): Vietnam Promotes Cooperation With EU, Switzerland
Vietnam News Today (Jun 17): Vietnam promotes cooperation with EU, and Switzerland; Vietnam represents Czech Republic's most important partner in Asia; Prime Minister hosts Cuban Minister of Justice; Kazakhstan adopts visa exemption agreement for Vietnamese citizens.
Vietnam News Today (Jun 17) notable headlines
Vietnam promotes cooperation with EU, Switzerland
Vietnam represents Czech Republic's most important partner in Asia
Prime Minister hosts Cuban Minister of Justice
Kazakhstan adopts visa exemption agreement for Vietnamese citizens
Gastronomy - key to attracting international tourists to Hanoi
Vietnam, Russia's Far East region seek to boost trade cooperation
Ceremony marks UNESCO recognition of Cham people's pottery art
Vietnamese gymnast earns place in world championship
Vietnamese named in World top scientist list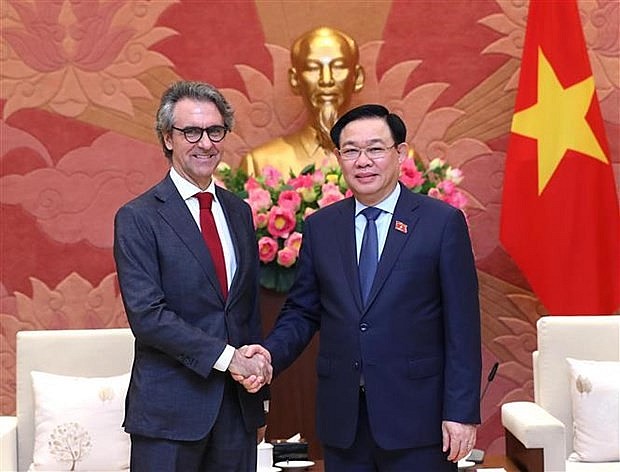 NA Chairman Vuong Dinh Hue (R) and Ambassador Giorgio Aliberti, Head of the European Union (EU) Delegation to Vietnam. (Photo: VNA)
Vietnam promotes cooperation with EU, Switzerland
National Assembly (NA) Chairman Vuong Dinh Hue hosted separate receptions in Hanoi on June 16 for Ambassador Giorgio Aliberti, Head of the European Union (EU) Delegation to Vietnam, and Ambassador of Switzerland to Vietnam Thomas Gass.
At the meeting with Aliberti, Hue spoke highly of the ambassador's efforts in enhancing the relations between the EU and Vietnam in general and the Vietnamese legislature and the European Parliament (EP) in particular.
Vietnam attaches great importance to and wants to strengthen its relations with the EU, a leading important partner in the Southeast Asian nation's foreign policy, the top legislator stressed.
For his part, Aliberti pledged that he, in any position, will work harder to further consolidate and foster the EU-Vietnam relationship.
The ambassador also lauded Hue's role in promoting the EU-Vietnam relations, especially the relationship between the EP and the Vietnamese NA, which has been enhanced significantly over the past time.
Regarding the EU-Vietnam Free Trade Agreement (EVFTA) and the Just Energy Transition Partnership (JETP), he said the EVFTA is an important channel and the two sides should fully tap its benefits to boost the bilateral cooperation.
Sharing Aliberti's view, Hue said the EVFTA has proven effective, especially during the COVID-19 pandemic and post pandemic periods, and amid global supply chain disruptions.
According to the NA leader, Vietnam is working to soon ratify the Convention on Freedom of Association and Protection of the Right to Organise Convention of the International Labour Organisation (ILO Convention 87).
The EU will also urge its remaining members to soon ratify the EU-Vietnam Investment Protection Agreement (EVIPA), cited VNA.
Vietnam will seriously fulfill commitments in the EVFTA for the country's rapid, sustainable development, the NA leader affirmed.
Hue also shared Aliberti's view that parliamentary cooperation is an important channel which should be promoted to contribute to the EU-Vietnam cooperation, and suggested the two sides increase all-level delegation and people-to-people exchanges to enhance their mutual understanding.
Highlighting the significance of the JETP to the EU-Vietnam relations, Aliberti noted that Vietnam is the third nation, after South Africa and Indonesia, to have signed the agreement with international partners, saying this reflected the EU's confidence in Vietnam and its wish to make long-term, sustainable presence in the country.
Hue used this occasion to thank the EU and its member countries, particularly Aliberti, for their support during the COVID-19 pandemic combat, and hailed the EU for its strategies and initiatives to enhance cooperation with Asia-Pacific.
The EU's cooperation priorities match Vietnam's sustainable development orientations, the leader said, emphasising that Vietnam stands ready to help the EU promote its presence in the region, connect with the ASEAN market, and accelerate negotiations on a free trade agreement with the ten-member group, and to coordinate in materialising the ASEAN-EU Plan of Action for 2023-2027.
Hue suggested the European Commission (EC) soon remove its "yellow card" warning on Vietnamese seafood basing on positive assessments of the country's practical efforts in the fight against illegal, unreported, and unregulated (IUU) fishing.
On this occasion, the top legislator asked the ambassador to convey his invitations to EU and EP leaders to pay official visits to Vietnam.
Receiving the Swiss Ambassador, Hue highly valued the upcoming visit to Vietnam by the President of the Swiss National Council to mark the 50th founding anniversary of the bilateral diplomatic ties.
Switzerland is always an important, reliable partner of Vietnam, he said, informing the ambassador that the two countries' legislative leaders are scheduled to hold talks, during which they will exchange views on speeding up negotiations on a free trade agreement between Vietnam and the European Free Trade Association (EFTA), comprising Iceland, Liechtenstein, Norway and Switzerland.
Hue expressed his hope that the two sides will seek solutions to raise their bilateral trade and investment in the context that the two economies are reciprocal and investments by Swiss enterprises in Vietnam remain modest.
For his part, Gass noted his belief that the visit by the President of the Swiss National Council will be a success, helping push ahead with the FTA between Vietnam and the EFTA.
Recalling his working trips to Vietnamese localities, the ambassador said Swiss firms have consolidated their presence there, demonstrating the close economic ties between the two countries.
Vietnam represents Czech Republic's most important partner in Asia
Vietnam is the Czech Republic's most important partner in Asia, Czech Deputy Minister of Industry and Trade Edvard Kozusnik said at the Czech-Vietnam Business Forum held on June 15, in Prague.
Co-organized by the Vietnamese Embassy in the Czech Republic and the Czech Chamber of Commerce, the event aims to seek opportunities to promote trade investment as well as strengthen business cooperation between both nations' enterprises.
In his speech, Vietnamese Ambassador to the Czech Republic Thai Xuan Dung, stated that although the world situation is facing complicated and unpredictable developments, the traditional friendship and all-around cooperation between Vietnam and the Czech Republic have seen constant and strong development through maintaining meetings and exchange delegations at all levels, especially high-level ones.
After the EU-Vietnam Free Trade Agreement (EVFTA) came into effect, economic relations between the two nations have made significant strides, according to VOV.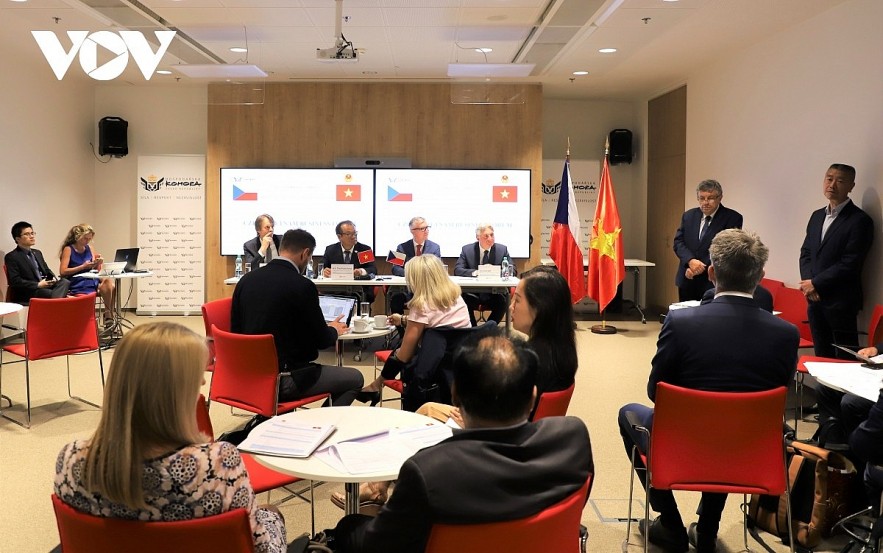 Photo: VOV
According to the Statistics Office of the Czech Republic, despite being affected by the COVID-19 pandemic, the conflict in Ukraine, from 2020 to 2022, the trade turnover between the two countries still recorded double-digit growth, reaching roughly US$2.4 billion in 2022 alone.
This result is a clear demonstration of the two governments' efforts, people and businesses of the two countries in boosting economic recovery and development after the pandemic.
Sharing at the forum, Czech Deputy Minister of Industry and Trade Edvard Kozusnik expressed his pleasure that this forum drew the active participation of both nations' relevant agencies and businesses.
He also highly appreciated the traditional friendship between the two countries, with an important contributory factor to this friendship being the Vietnamese community that has made positive contributions to politics and trade of the two countries and high-level delegation exchanges between in recent years.
Talking to a Voice of Vietnam (VOV) correspondent in Prague, Edvard Kozusnik highlighted the forum as a great opportunity for the two sides to share experience and seek suitable investment opportunities after the Czech Prime Minister's visit to Vietnam in April.
"The recent visit of the Czech Prime Minister to Vietnam has greatly contributed to the development of Czech business activities in Vietnam and vice versa. We have a long-standing relationship and now is a great opportunity to accelerate the business growth of the two sides' businesses. This forum is an important step for both sides to share experience in business activities, learn from each other for further development, he said.
"We also have experience from many large enterprises such as Skoda Auto, now a major investor in Vietnam along with other Vietnamese partners," Edvard Kozusnik, added.
Prime Minister hosts Cuban Minister of Justice
Prime Minister Pham Minh Chinh on June 16 received visiting Cuban Minister of Justice Oscar Manuel Silvera Martinez, during which he affirmed that Vietnam is willing to share experiences of its 'Doi moi' (Renewal) process, including the building and improvement of the legal system, and judicial reform, with the Cuban side.
Vietnam will do its best to support Cuba in its capacity, and willingly share experiences it has gained, both on issues that have been done well or not, Chinh stressed.
Lauding the outcomes of the talks between the two justice ministers, PM Chinh welcomed the Vietnamese side's proposal of building a project of technical assistance to the Cuban Ministry of Justice in law-making, in order to meet its needs in organizing the implementation of the 2019 Constitution.
The Vietnamese Government always creates favorable conditions for ministries and sectors, including the Ministry of Justice, to tighten bilateral relations with the Cuban Ministry of Justice in order to help each other in legal and judicial works, reported VNA.
Prime Minister Pham Minh Chinh (R) receives Cuban Minister of Justice Oscar Manuel Silvera Martinez (Photo: VNA)
The Vietnamese Government leader suggested the two sides continue supporting each other at international organizations and multilateral forums, especially at the United Nations and the Non-Aligned Movement. He proposed Cuba create favorable conditions in terms of mechanisms and policies for Vietnamese legal entities and individuals in Cuba to stabilize their lives, production, and business, and pay attention to solving difficulties for Vietnamese enterprises investing in the country.
For his part, Minister Oscar Manuel Slivera Martinez said that Cuba always attaches importance to its special and traditional relations, and multifaceted cooperation with Vietnam; and thanked the country for its assistance, especially in judicial affairs and law-making.
Agreeing with PM Chinh's ideas, he expressed his hope that Vietnam will maintain support for, and encourage its ministries and sectors to strengthen cooperation with Cuba in these fields, especially in the application of information technology, digital transformation, and human resources training.
Kazakhstan adopts visa exemption agreement for Vietnamese citizens
The Government of Kazakhstan has approved the Agreement between the Government of the Republic of Kazakhstan and the Government of the Socialist Republic of Vietnam on visa exemption for citizens of the two countries.
The above decision is stipulated in the decree issued on June 13, 2023 and comes into force immediately.
The agreement states that valid national passport holders of each country with a validity of at least 6 months, will be exempted from visas to enter, exit, transit, and temporarily stay in the territory of the other country for a period of time not exceeding 30 days from the date of entry and not exceeding 90 days for each 180-day period.
If citizens plan to stay longer than this period of time, they will have to apply for a visa, cited VOV.
Photo: VOV
Deputy Prime Minister -Minister of Foreign Affairs of Kazakhstan, Murat Nurtleu is authorized to sign the agreement on behalf of the Government of Kazakhstan.
Earlier, Minister Murat Nurtleu assessed that the signing of the agreement would help strengthen relations between the two countries.
Earlier, Minister Murat Nurtleu assessed that the signing of the agreement would help further strengthen relations between the two countries.
Gastronomy - key to attracting international tourists to Hanoi
The richness of Hanoi's cuisine and the city's reputation for healthy eating have contributed to making Hanoi an attractive destination in Asia.
Over the past few years, Vietnamese cuisine has been the subject of much praise from major travel websites and food guides. This indicates that the local cuisine is a huge "gold mine" of international tourist appeal. To tap this potential, it is important for the tourism industry to create a local food map.
Many advantages for captivating travelers
On June 6, four Vietnamese restaurants, three of them in the capital Hanoi, were awarded one star each by the world-renowned Michelin Guide.
Earlier, readers of TripAdvisor, the world's largest travel site, voted Hanoi one of the top 20 food destinations in the world for 2023. Similarly, the US travel website Travel + Leisure named Vietnam the best culinary destination in its "Bucket List Places in Asia in 2023" list.
Indeed, Hanoi's cuisine fascinates not only tourists but also international politicians. Former US President Barack Obama enjoyed bun cha (Vietnamese grilled pork with rice noodles) in Hanoi in 2016, and South Korea's former President Moon Jae-in and his wife enjoyed beef noodle soup in the same city in 2018.
It surprised locals when Australian Prime Minister Anthony Albanese visited a steam beer bar on Duong Thanh Street in Hoan Kiem District, where he sampled Hanoi specialties.
Nguyen Trung Khanh - General Director of the Vietnam National Administration of Tourism - believed that the 4 Michelin-starred restaurants would consolidate Vietnam's food tourism brand and entice international tourists to choose the country as their next destination.
"The fact that Vietnam's cuisine in general, and Hanoi's in particular, has received stars from the Michelin Guide and has been selected by TripAdvisor as one of the world's top culinary destinations in 2023, shows that Vietnamese cuisine is gradually gaining a foothold on the world's food map. This is a great potential to attract international visitors," Nguyen said.
"In the coming period, the tourism industry will continue to promote Vietnamese cuisine worldwide through international fairs, focusing on Michelin Guide-starred restaurants and hotels. At the same time, we will also strengthen cooperation between travel agencies and these restaurants in organizing food tours," he added.
According to Nguyen Quoc Ky, Chairman of the Vietnam Culinary Culture Association, with unique and diverse cuisine, Vietnam can create many attractive tourism products to enhance the experience and encourage tourists to stay longer.
A master plan needed
The World Food Travel Association (WFTA) estimates that international tourists spend 25-35% of their travel budget on food and beverages. However, to tap into this "gold mine," it is vital for the tourism industry to create a food map to attract travelers.
Phung Quang Thang, chairman of the Hanoi Travel Association, said that so far, many travel companies such as Vietrantour, Hanoi tourist, and TransViet have offered food tours in the capital, but these tours have not yet made an impact. For a themed food tour in Hanoi to be successful, two factors must first be identified: highlights and standards.
Specifically, highlighted dishes need to be recognized for promotion, and professional restaurants specializing in Vietnamese cuisine need to be developed, Hanoitimes reported.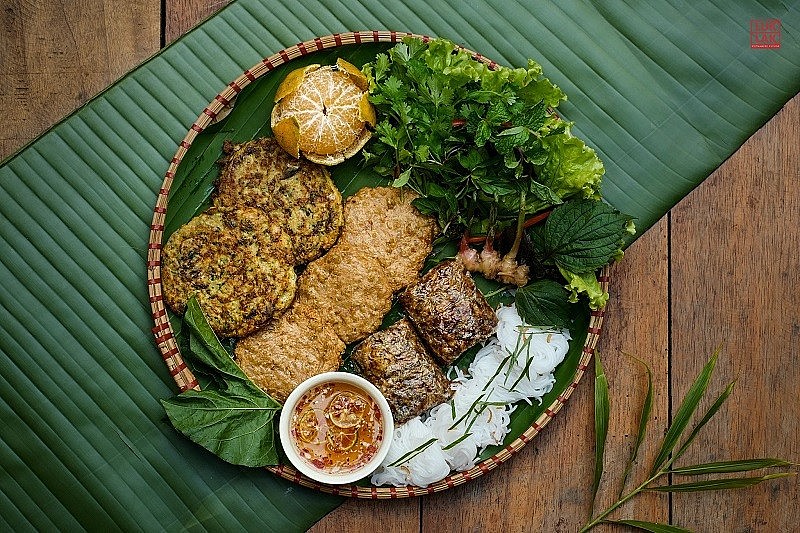 A variety of Hanoi specialties like cha ruoi (sandworm omelet), cha com (young sticky rice sausage) or spring rolls are always available at the restaurant of Luklak Vietnamese Cuisine.
"Visitors come on a food tour not only to eat but also to explore and participate in the preparation of the food and experience the Hanoian taste," Thang explained.
Nguyen Cong Hoan, CEO of Flamingo RedTours, said that culinary tourism is a highly cultural and artistic service.
"Therefore, Hanoi should have a master plan for the stable development of food tourism, encouraging both luxury restaurants and street food, and Hanoi should have a policy for branding and developing internationally recognized restaurants, thus strengthening the position of Hanoi food in particular and Vietnamese food in general," he suggested.
To promote food tourism, Hanoi has opened many specialized streets, such as Tong Duy Tan Food Street in Hoan Kiem District or Dao Ngoc - Ngu Xa Night Food and Walking Street in Ba Dinh District, for tour operators to conduct food tours.
On a food map of Hanoi after its restaurants were honored by Michelin, Dang Huong Giang, director of the Hanoi Department of Tourism, said that according to Hanoi's tourism development direction to 2030, culinary products and services will be diversified.
To make food tourism products the strength of the capital's tourism, the Hanoi Department of Tourism will soon intensify the promotion of Michelin-starred restaurants and other prestigious diners and eateries through media channels, social networking sites, and domestic and international tourism promotion events.
"We will create a food map so that tourists can discover and experience local cuisine," Giang said.