Vietnam News Today (Jun 24): Vietnam Attends New Global Financial Pact Summit
Vietnam News Today (Jun 24): Vietnam attends New Global Financial Pact Summit; Music helps boost Vietnam-France friendship; Hanoi makes huge leap in global livability ranking; Vietnam considered rising star to become emerging market.
Vietnam News Today (Jun 24) notable headlines
Vietnam attends New Global Financial Pact Summit
Music helps boost Vietnam-France friendship
Hanoi makes huge leap in global livability ranking
Vietnam considered rising star to become emerging market
Korea-Vietnam Partnership Fair to boost bilateral trade
Six streets in Hanoi to be named after Truong Sa's islands
RoK receives more Vietnamese migrant workers under EPS Program
Vietnam needs to enhance vaccine production capacity: experts
Vietnam presents petroleum laboratory equipment to Cambodia army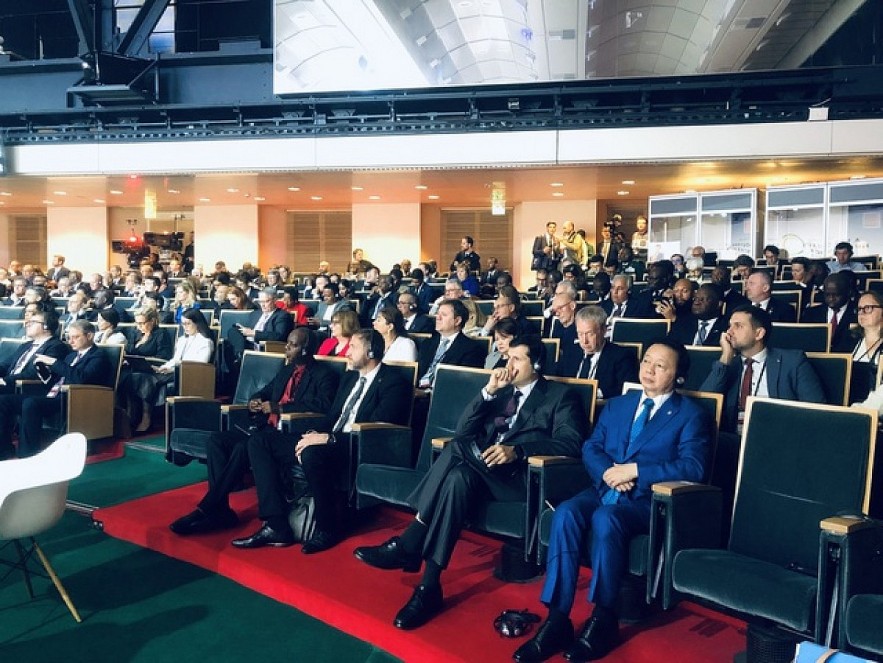 Veitnamese Deputy Prime Minister Tran Hong Ha (first row, first from lright) attends the opening ceremony of the New Global Financial Pact Summit in Paris (Photo: VGP)
Vietnam attends New Global Financial Pact Summit
Vietnamese Deputy Prime Minister Tran Hong Ha joined State and government leaders of 40 countries at the opening of an international summit for a New Global Financing Pact held in Paris, France, on June 22.
Leaders of many international organisations and financial institutions such as the United Nations, the World Bank, and the International Monetary Fund, as well as business executives and leaders of socio-political organisations also attended the ceremony.
The gathering initiated by French President Emmanuel Macron at the G20 summit 2022 is to build a new contract between the countries of the North and the South to address climate change and the global crisis.
The COVID-19 pandemic, the military conflict in Ukraine and their successive consequences have reduced the fiscal and budgetary space of many countries, affecting their ability to finance their populations' access to basic social services.
Delegates examined ways to build a new vision for the global financial system, assist developing countries with high debt levels, and mobilize private finance for global goal implementation. They also looked at measures to encourage investment in infrastructure for energy transition, and achieve climate, biodiversity and sustainable development goals.
In his opening remarks, French President Emmanuel Macron pointed out that the summit is to seek to find financial solutions to the interlinked global goals of tackling poverty, curbing planet-heating emissions and protecting nature, cited VOV.
He emphasized that the world needs a "public finance shock" – a global push of innovation and financing – to fight these challenges, and that the current system was not well suited to address the world's challenges.
"Policymakers and countries shouldn't ever have to choose between reducing poverty and protecting the planet," Macron said.
Meanwhile, UN Secretary-General Antonio Guterres noted that the global financial structure is unfair and no longer effective that requires early reform to realize the sustainable development goals (SDG).
"We can take steps right now and take a giant leap towards global justice," he said, adding that he has proposed a stimulus of US$500 billion a year for investments in sustainable development and climate action.
The leaders emphasized the role of solidarity and cooperation in building an inclusive, transparent, and people-targeted global financial system, and listening to the voices of developing and underdeveloped countries, as well as making commitments with concrete actions.
Music helps boost Vietnam-France friendship
A musical show was organised in the central city of Da Nang on June 22 to mark the 50th anniversary of the establishment of diplomatic relations between Vietnam and France (April 12, 1973 - April 12, 2023), 10 years of their strategic partnership (September 2013 - 2023), and the 41st anniversary of World Music Day (June 21, 1982 - June 21, 2023).
More than 1,000 people attended the show with performances by Vietnamese and French artists.
At the event, Vice Chairman of the Da Nang People's Committee Ho Ky Minh said the relations of friendship and cooperation between Vietnam and France have grown strongly.
France is currently the third biggest European investor in Vietnam. More than 7,000 Vietnamese students are studying in France and about 1,500 Vietnamese students travel to France for studying every year, according to VNA.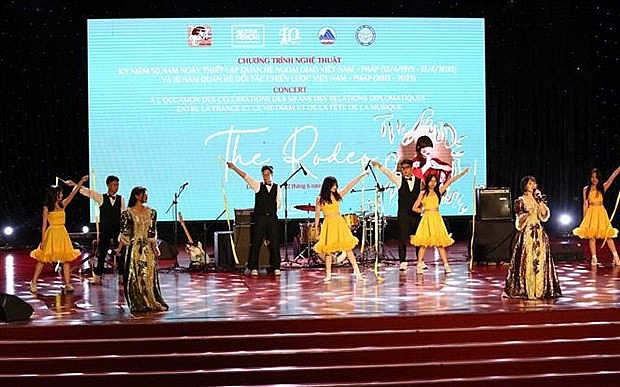 A performance by Vietnamese artists at the event. (Photo: VNA)
In Vietnam, the number of students learning French ranks second with nearly 40,000 learners in 35 provinces and cities nationwide, just after those learning English.
Minh added that Da Nang city also sees remarkable progress in its cooperation with France.
Sophie Maysonnave, Counselor for Cultural Cooperation and Activities at the French Embassy in Vietnam, Director of the French Institute in Vietnam, said that the musical performance honours values that have linked the two countries in the past, present and future, and the goodwill of both countries to continue building and developing this relationship.
Hanoi makes huge leap in global livability ranking
The Vietnamese capital has moved up 19 notches to 129th position out of 173 cities in the Economic Intelligence Unit (EIU)'s livability ranking this year, making it one of the top five biggest risers.
According to CNN, Hanoi joins the likes of Wellington of New Zealand, Auckland of New Zealand, Perth of Australia, and Bucharest of Romania among the top five cities in the world to make the most significant improvements to their overall livability rankings.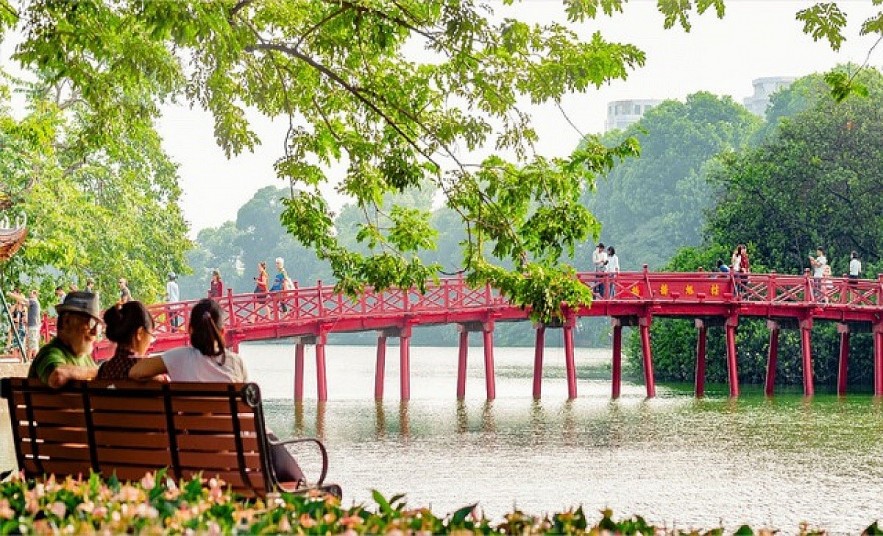 Hanoi is among the top five cities in the world making the most significant improvements to their overall livability rankings.
"The removal of COVID-related restrictions has overall boded well for global liveability in 2023," Upasana Dutt, head of Livability Index at EIU, said in a statement.
"Education has emerged stronger with children returning to schools alongside a significantly reduced burden on hospitals and healthcare systems, with some notable improvements in cities across developing economies of Asia and the Middle East," she added.
The EIU's index ranks 173 cities in five categories, namely stability, health care, culture and environment, education, and infrastructure, reported VOV.
The Austrian capital of Vienna retained its top position as the world's most livable city on the index this year.
Vietnam considered rising star to become emerging market
A recent article posted on portfolio-adviser.com, a news website based in the UK, has pointed out the frequent hope that Vietnam will be upgraded from its frontier-market status to the emerging market status.
Many years of consistently high GDP growth have been due to a highly attractive combination of political stability with sound pro-market execution from the government which has managed to slash poverty from 17% to less than 5% in a decade, the article wrote.
"Perhaps the best-known growth driver for Vietnam is its step-change in foreign direct investment (FDI), benefiting from an increase in exports due to what is widely known as China Plus One," it said.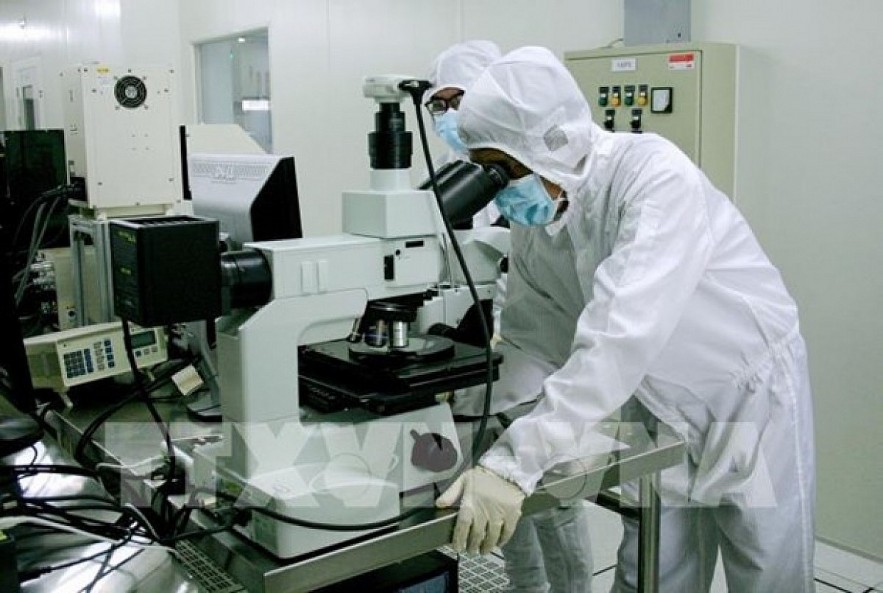 Workers at a microchip laboratory in the Saigon Hi-Tech Park in Ho Chi Minh City.
The country continued to sign more than a dozen key trade agreements during the pandemic-triggered lockdown. These partnerships will make it easier for companies to do business in Vietnam, positioning itself ever more as a manufacturing expert with ease of access to broad, international markets and benefitting from 3,000 kilometres of coastline and the close connections to China.
According to the writing, Vietnam is now moving more towards manufacturing higher-value products, more in electronics rather than textiles.
One of Vietnam's most critical FDI sources is Samsung Electronics. The technology giant employs tens of thousands of people in Vietnam and is the largest investor in the country, with 50% of its handsets being produced there.
There is frequent hope that Vietnam will be upgraded from its current, off-benchmark, frontier market status to emerging market status by MSCI. The Vietnam stock market overall now meets the size and liquidity requirements to be included, with a four-fold surge in retail participation during the past 2-3 years, driven by digital account technology, the article added.
Korea-Vietnam Partnership Fair to boost bilateral trade
Vietnam offers abundant business opportunities for Korean companies thanks to its political stability, fast economic growth, and cultural similarities to the Republic of Korea (ROK).
This was a remark by Tran Thi Hai Yen, Head of the Korea Trade-Investment Promotion Agency (KOTRA), at the Korea-Vietnam Partnership Fair on Thursday.
She said Korean companies see Vietnam as a market with significant untapped potential as Vietnamese consumers are shifting their buying patterns towards a more diverse range of products.
About 120 Korean companies, including nine heavyweights, were showcasing their products at the event. KOTRA aimed to help those companies strike deals with more than 300 Vietnamese companies searching for new suppliers.
"Around 1,000 deals between the Korean and Vietnamese companies will be negotiated at the fair today," said Yen.
SaeFarm, a Korean company that provides farmland analysis based on AI-powered satellite images, had an exhibition booth in the corner.
SaeFarm CTO Kang Jun Seo saidthat his company attended the fair to look for Vietnamese clients. SaeFarm wants to do business in Việt Nam because the country has a fast-growing agricultural sector.
"Vietnam has a larger agricultural market than the ROK. We attempt to enter the Vietnamese market to expand our customer base," said Kang Jun Seo.
The CTO believed that AI-powered satellite images would soon rise to prominence since the EU's new regulations on deforestation-free products require geographic information on agricultural land plots.
Another Korean company present at the fair was SMSBio, which sells pine needle distilled concentrate oil, cited VNS.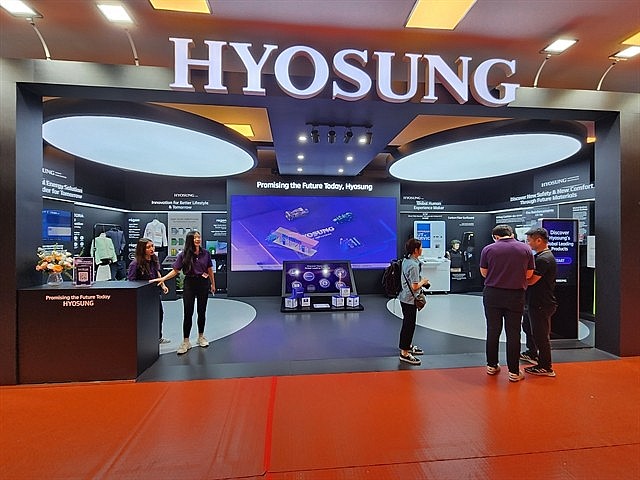 The exhibition booth of Hyosung Corporation. Around 120 Korean companies, including nine heavyweights, showcased their products at the event. Photo: VNS
SMSBio CEO Lee Il Gyun said that his company first established in Việt Nam seven years ago. Despite the global economic downturn, its business in the country kept flourishing thanks to the local demand for herbal supplements.
"We will expand our business by opening more branches in Vietnam," said Lee Il Gyun.
The CEO also said Vietnamese administrative procedures had been overhauled in favour of foreign investors, especially Korean investors, in recent years. Some of his new products obtained permits from Vietnamese authorities last year.
Vu Thi Thu was among the Vietnamese entrepreneurs on the lookout for partners yesterday. Thu is the CEO of FASO Vietnam CO LTD, an importer of Korean products for the last 10 years.
Thu said that ROK-made products won favor with Vietnamese consumers because ROK Government had always been active in promoting the products abroad through trade fairs and favorable tax policies.
Many products FASO imported from ROK were tax-favored by ROK Government, including garimi roasted seaweeds, which had been made exempt from duties.
Hong Sung, Chairman of the Korean Chamber of Business, said Vietnam provided a fertile business ground for Korean companies owing to the close cultural affinity between the two countries.
In fact, Vietnam remained ROK's third-largest trade partner, behind only the US and China. The third position, as the chairman said, "speaks volumes about the special nature of the Vietnam-ROK relationship".
Hong Sung revealed that the two countries were aiming to reach US$100 billion in accumulated bilateral trade this year and $150 billion by 2030. He said Vietnamese agricultural, forestry and fishery exports hold the key to a more balanced trade relationship.
He cited the current visa policy as a major hindrance to Korean companies in quest for business opportunities in the country. He said a more relaxed visa policy would serve the country well in terms of foreign investment.
Co Han Deog, Director of the Korea International Cooperation Agency (KOICA), said his agency would be eager to assist Vietnam in management enhancement, quality control, and education and training with regard to mega projects.
"In light of the presidential visit to Việt Nam, the ROK will initiate a loan of $4 billion for infrastructure development in the country," said the director.
KOICA would follow suit with a non-repayable package of $30 million, aimed at innovation, science, and technology. It was also working on projects to improve the competitive advantages of Vietnamese agricultural products.
Tran Hai Linh, Chairman of the Vietnam-Korea Businessmen and Investment Association, said his association had launched scores of cooperative programmes to facilitate the investment flows from ROK to Vietnam.
The programmes bore fruits with more business opportunities available for Vietnamese small- and medium-sized enterprises in recent years.
"The comprehensive strategic partnership between the two countries is a milestone laying the grounds for further business cooperation," said Linh.
The Korea-Vietnam Partnership Fair was organised on the sidelines of the visit by ROK President Yoon Suk Yeol to Vietnam from 22 to 24 June.