Vietnam News Today (Jun 3): Various Events Celebrate 50-year Vietnam-Italy Ties in Lombardy
Vietnam News Today (Jun 3): Union of Vietnamese in Europe,Ton Duc Thang University co-operate in education; Vietnam-Laos agreement on mutual judicial assistance in civil matters ratified; RoK firms' corporate social responsibility in central region highlighted; Various events celebrate 50-year Vietnam-Italy ties in Lombardy.
Vietnam News Today (Jun 3) notable headlines
Union of Vietnamese in Europe,Ton Duc Thang University co-operate in education
Vietnam-Laos agreement on mutual judicial assistance in civil matters ratified
RoK firms' corporate social responsibility in central region highlighted
Various events celebrate 50-year Vietnam-Italy ties in Lombardy
Vietnam's exports of goods to hit US$618 bln by 2030: Standard Chartered
Hanoi to host Global Economic Forum
More than 10,000 people to attend 2023 International Yoga Day in Vietnam
PM Chinh offers congratulations on Lord Buddha's 2567th birthday.
Vietnam boosts co-operation with Germany's Cottbus city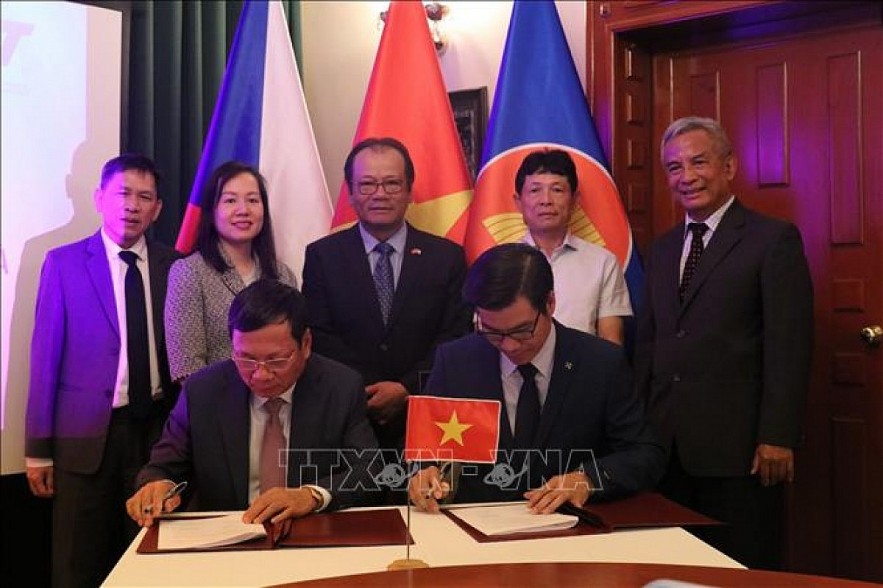 At the signing ceremony (Photo: VNA)
Union of Vietnamese in Europe, Ton Duc Thang University co-operate in education
The Union of Vietnamese in Europe and the Ho Chi Minh City-based Ton Duc Thang University signed an educational cooperation agreement in Prague in the Czech Republic on June 1.
Under the terms of the signed agreement, both sides will co-organize activities for students from the Vietnamese community in Europe, including study tours, research work, and cultural activities at Ton Duc Thang University and vice versa.
The two sides will also strive to create the optimal conditions possible for students of Ton Duc Thang University in which to study and take internships at Vietnamese corporations and businesses based in Europe, cited VOV.
Furthermore, the Union of Vietnamese in Europe will collaborate with Ton Duc Thang University to organize trade and investment promotion programs and to introduce typical products of Vietnamese localities to European customers.
During the course of the meeting, the Vietnamese Ambassador to the Czech Republic Thai Xuan Dung underscored the importance of the agreement in terms of promoting the country's prestige, image, and people to countries in Europe, as well as expanding employment opportunities for the younger generations.
He expressed his belief that the agreement will bring about practical benefits to both sides, whilst also contributing to promoting the relationship between Vietnam and the Czech Republic.
Vietnam-Laos agreement on mutual judicial assistance in civil matters ratified
President Vo Van Thuong has signed a decision approving the Vietnam-Laos agreement on mutual judicial assistance in civil matters.
The approval was made at the request of the Government on May 22.
The ratified agreement is expected to help modernize the legal basis for mutual legal assistance cooperation in civil matters between authorized agencies of Vietnam and Laos, and at the same time, supplement regulations to improve the legal basis related to mutual legal assistance, thereby contributing to the enhancement of the fine relationship between the two countries, reported VNA.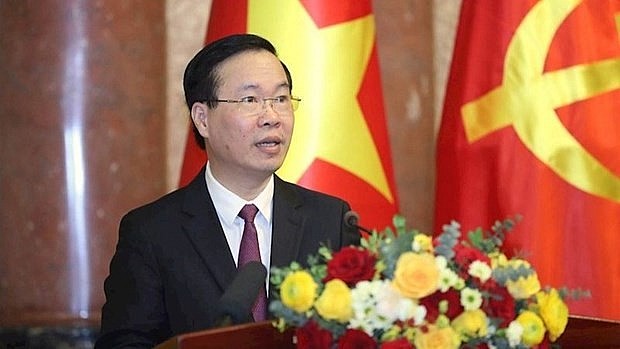 President Vo Van Thuong. (Photo: VNA)
The approval of the agreement aims to realize the Party and State's policy on strengthening international cooperation in legal and judicial fields, and perfect the legal mechanism for protecting the rights and legitimate interests of Vietnamese citizens and entities abroad, in line with Resolution No. 27-NQ/TW dated November 9, 2022, adopted by the 13th Party Central Committee's 6th meeting on continuing the building and improvement of the law-governed socialist State of Vietnam in the new period.
RoK firms' corporate social responsibility in the central region highlighted
The Republic of Korea (RoK)'s Consulate General in Da Nang held a forum in Quang Nam province on June 2 aimed at highlighting the corporate social responsibility (CSR) of RoK firms in the central region.
Participants noted that since Vietnam and the RoK first established joint diplomatic ties, their partnership has grown steadily across multiple areas, especially in terms of economics. At present, the RoK is currently Vietnam's biggest investor with a total investment of US$81 billion.
Two-way trade surged over 160 times across 30 years to reach US$81.1 billion in 2022, whilst the two countries have become each other's third largest trading partners.
Although the central region of Vietnam has received less than 10% of the RoK's total investment in the Vietnamese market, it has drawn increasing attention from Korean firms thanks to the Government's policies aimed at ensuring equal development among regions and investment attraction efforts of regional localities.
About 250 Korean businesses operating in the region have shown a high level of satisfaction regarding the local business environment, VOV reported.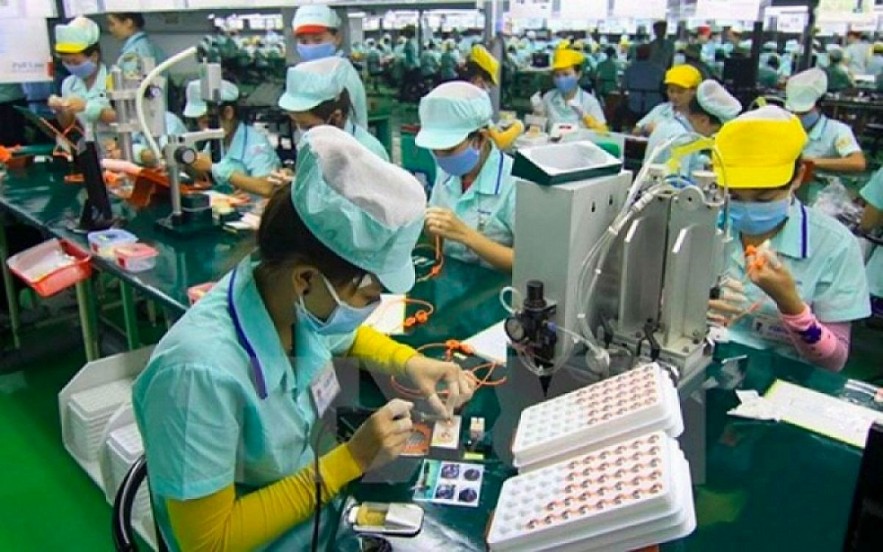 Photo: VOV
Over the years, the firms have made positive contributions to the local community by generating jobs, as well as initiating charity activities. They have helped to improve the infrastructure system and health care services, whilst providing financial support to disadvantaged people in society.
Kang Boo Sung, consul general of the RoK in Da Nang, said that the forum aims to seek measures aimed at ensuring that regional localities and Korean firms can enjoy benefits during the businesses' operations.
Le Tri Thanh, chairman of the People's Committee of Quang Nam province, said that CSR activities of RoK companies have not only contributed to the sustainable socio-economic development of the locality but have also contributed to improving the living conditions for workers, as well as the local community.
He noted that RoK firms operating in Quang Nam have conducted various CRS activities in the locality. The Hyosun Quang Nam JSC has poured nearly VND5.8 billion into the activities since 2020, while Panko Tam Thang has spent more than VND4 billion since 2017, he added.
Various events celebrate 50-year Vietnam-Italy ties in Lombardy
The Vietnamese Embassy in Italy recently held a series of political, economic, and cultural events in Lombardy, the largest economic and financial hub in Italy, as part of Vietnam – Italy Year 2023 celebrating the 50th anniversary of bilateral diplomatic ties.
The events include working sessions between Vietnamese Ambassador to Italy Duong Hai Hung and leaders of the Lombardy region and the cities of Milan and Bergamo; the Vietnam-Lombardy economic and investment forum in Lombardy under the auspices of the region's authorities; meetings with various corporations and enterprises to promote investment and open manufacturing plants in Vietnam, a Vietnam photography exhibition, donation of books to the Braidensen National Library in Milan, handover of outstanding Vietnamese films 2022 to the Bergamo Film Theatre, and an introduction about Vietnam at the Rotary Club Bergamo Città Alta.
Meeting Mayor of Milan city Giuseppe Sala and Vice President of the Lombardy region Marco Alparone in the city, Ambassador Hung expressed hope that the events will serve as important bridges to enhance understanding and cooperation in various fields between the two countries, while also contributing to the efforts to honor President Ho Chi Minh in Italy.
He said the embassy held a photo exhibition on Vietnam and its people, presented 50 important publications about President Ho Chi Minh, the Vietnamese history, culture, people, socioeconomic development, and foreign policy from the National Political Publishing House and the World Publishing House to the Braidense National Library, and visited the Italian Institute for International Political Studies (ISPI).
The host leaders said the events have opened up specific cooperation opportunities, especially in fields of Lombardy and Milan's strength such as economy, tourism, tertiary education, and innovation, cited VNA.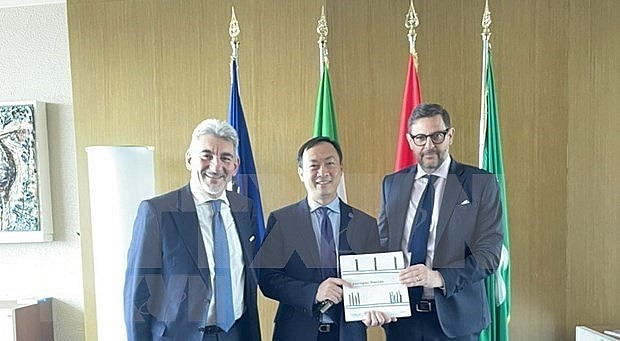 Vietnamese Ambassador to Italy Duong Hai Hung (C) and Vice President of the Lombardy region Marco Alparone (R). (Photo: VNA)
They hailed Vietnam as a priority partner and a strategic market of Lombardy, as its trade with Vietnam accounted for 40% of the total 6.2 billion USD worth of trade turnover between the two countries last year.
They expressed their intention to consider sending business delegations to Vietnam to explore more opportunities in areas of Vietnam's demand, such as transportation infrastructure, renewable energy, and high-tech agriculture.
Mayor Sala emphasized the need to launch a direct flight service connecting Milan and Vietnam, which would elevate Vietnam-Italy and Vietnam-Lombardy cooperation in particular to new heights.
In Bergamo, a cultural capital of Italy in 2023, its Mayor Giorgio Gori wished to boost ties with Vietnam in the fields of economy, culture, and tourism.
The Ambassador also presented two Vietnamese films that recently joined international film festivals, namely "Hoa nhai" (Jasmine) directed by Dang Nhat Minh, and "Dem toi ruc ro" (Brilliant Darkness) by Aaron Toronto, to the Conca Verde cinema. These works will be screened during cultural festivals in Bergamo, promising to provide Italian audiences with a clearer perspective on Vietnam's people, culture, and the development of contemporary Vietnamese cinema.
On the occasion, Hung met and talked with Rotary Club Bergamo Città Alta, with its members interested in learning about Vietnam as an attractive destination for tourism, business, and investment.
Vietnam's exports of goods to hit US$618 bln by 2030: Standard Chartered
Vietnam's exports of goods could reach US$618 billion by 2030, with an average annual growth rate of 7 percent in the 2021-2030 period.
The information was highlighted in Standard Chartered's report themed "Future of Trade: New opportunities in high-growth corridors" released on May 31.
Meanwhile, the nation's imports are predicted to hit US$578 billion by 2030 with an average annual growth rate of 6.9 percent during the 2021-2030 phase.
According to Standard Chartered, Vietnam is set to become a key high-tech manufacturing hub in ASEAN.
In addition to its large and educated workforce and competitive manufacturing costs, the nation also benefits from its wide-reaching web of free trade agreements (FTAs) across North America, Asia and Europe.
These fundamentals, conducive to manufacturing and trade are expected to continuously drive Vietnam's economic development and competitiveness.
Besides, Vietnam continues to attract major global businesses in recent years to set up their manufacturing bases in the market.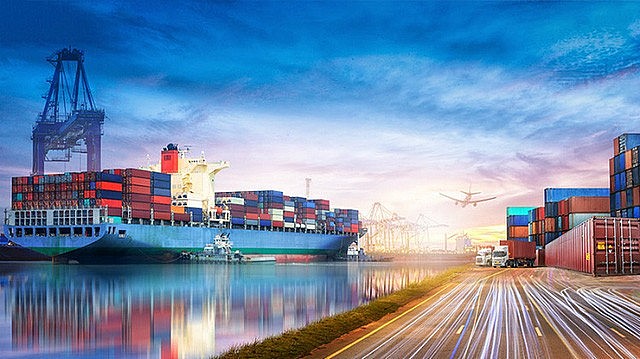 Photo: VNN
To further integrate itself into the international trade system, the country is also improving the quality of the market's logistics infrastructure.
Mainland China, the Republic of Korea and the U.S. are expected to be Vietnam's key trade partners in the coming years. Trade with India, Singapore, and Indonesia is forecast to experience robust growth from 2021 to 2030, noted the bank.
Vietnam is estimated to have the world's second-largest exploitable rare earth resources, after Mainland China. Rare earth are critical raw materials for electric vehicles and wind turbines, which are key to the clean energy transition.
The market is well-positioned to play a key role in the fast-expanding global rare earth supply chain, as other markets look to widen their supply base. Additionally, as the market moves into higher-end metal production, Vietnam's iron, steel and nickel exports will continue to dominate export growth in coming years, forecasted Standard Chartered.
To support the market's ambition to become a manufacturing hub for consumer electronics in Southeast Asia, the nation imports key electronic components, such as integrated circuits, micro assemblies and electrical apparatus as inputs and tools, to produce finished electronics goods for exports.
Vietnam's booming industries including construction, automobiles and home appliances, are expected to drive the imports for steel and iron over the next decade.
This growing demand is expected to drive imports from partners such as Mainland China, India and Indonesia.
The total value of Vietnam's export and imports in 2022 was estimated at US$732 billion, up 10 percent from 2021, reported the Ministry of Industry and Trade (MOIT).