Vietnam News Today (Jun 7): Vietnamese, Turkish National Flag Carriers Sign Codeshare Agreement
Vietnam News Today (Jun 7): Vietnam, Laos share experience in religious affairs; TasteAtlas names five Vietnamese pancakes as most popular in Southeast Asia; Vietnamese, Turkish national flag carriers sign codeshare agreement; FM Son applauds contributions by Vietnamese community in France.
Vietnam News Today (Jun 7) notable headlines
Vietnam, Laos share experience in religious affairs
TasteAtlas names five Vietnamese pancakes as most popular in Southeast Asia
Vietnamese, Turkish national flag carriers sign codeshare agreement
FM Son applauds contributions by Vietnamese community in France
People, enterprises save electricity in prolonged hot weather
Vietnam attaches importance to comprehensive relations with France: FM
HCM City, RMIT University strengthen cooperation
ASEAN Para Games 12: Athletics team bags more gold medals for Vietnam
Cross-border e-commerce conference to take place in Hanoi, HCM City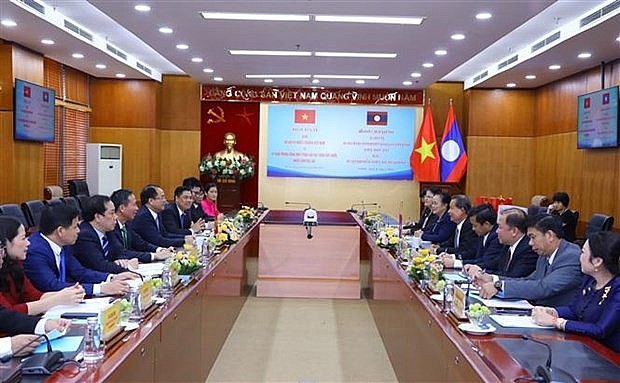 An overview of the meeting (Photo: VNA)
Vietnam and Laos share experience in religious affairs
Deputy Minister of Home Affairs Vu Chien Thang held talks with visiting Vice President of the Lao Front for National Construction (LFNC)'s Central Committee Chanpheng Sutthivong in Hanoi on June 6, focusing on exchanging experience in State management over religious affairs.
The two sides highlighted the outcomes of the bilateral agreement on cooperation in religious affairs and sketched out collaboration orientations in the coming time.
They noted that the agreement has yielded certain results with various delegation exchanges, joint personnel training activities, as well as the sharing of experience in religious affairs among localities along the Vietnam-Laos border and the creation of favorable conditions for Buddhists in the two countries to strengthen connectivity.
The outcomes of cooperation activities between the Government Committee for Ethnic Minority Affairs and the LFNC's Central Committee have contributed to promoting religious work in each country and further strengthening the traditional friendship and comprehensive cooperation between the two countries as well as the close ties among Buddhists of the two countries.
They also discussed the completion of legal policies regarding beliefs and religions, and experience in coping with new religious issues, cited VNA.
According to Thang, amid the difficulties in the domestic and international situation, the Party and the State of Vietnam have directed drastic measures to settle obstacles to promote economic growth, thus ensuring social welfare, defense and security.
Chanpheng Sutthivong said that basically, religious organizations and followers have implemented legal regulations without any religious divisions. All religions in Laos have joined social activities and preserved the cultural values of the country, she said.
The two sides agreed that in the coming time, they will increase the exchange of delegations and cooperation in training of officials engaging in religious affairs while supporting Buddhist organizations of the two sides in conducting their religious practices.
TasteAtlas names five Vietnamese pancakes as most popular in Southeast Asia
Renowned international food magazine TasteAtlas has recently honored five Vietnamese cakes among the 10 most popular Southeast Asian pancakes.
Crispy Vietnamese pancake (Bánh xèo) topped the list as the famous Vietnamese dish combines crunchy crêpes with a variety of savory ingredients.
Bánh xèo has eaten anywhere in Vietnam, with slight regional differences in ingredients. Traditionally, it is served in a unique way, together with fresh vegetables such as lettuce, carrot, and cucumber slices, heavily seasoned with fresh cilantro, mint, and parsley.
Vietnamese mini pancake (Bánh căn) from Ninh Thuan province ranked 10th on the list.
This savory pancake is made with a thin rice flour batter. It is cooked on outdoor grills equipped with a specialized terracotta bánh căn mold. The mixture is poured into the mold, and the pancake is then topped with a whole shrimp and scallions, or optionally pork or quail eggs, the article wrote.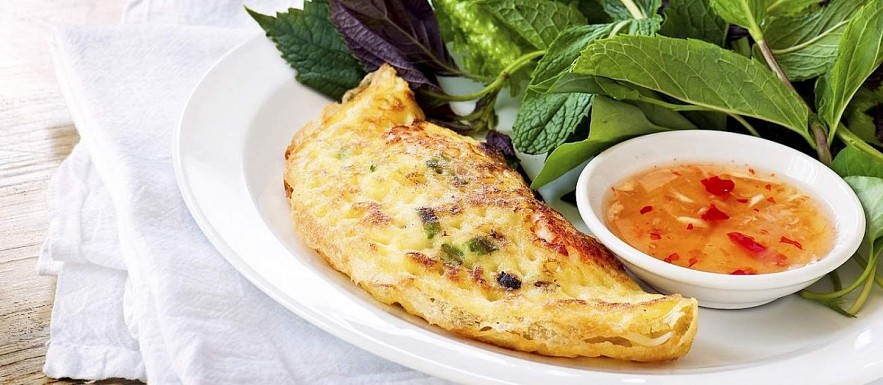 Crispy Vietnamese pancake (Bánh xèo) tops the list of 10 most popular Southeast Asian pancakes as compiled by TasteAtlas. (Photo courtesy of TasteAtlas)
The 9th position went to steamed wet pancake (Bánh ướt) from Nha Trang province. Traditionally, the cake is steamed on specialized steamers and is typically served rolled, usually accompanied by nước chấm (fish sauce), chả lụa sausage, pork, and fried shallots.
Vietnamese mini savory pancake (Bánh khọt) from Ba Ria-Vung Tau province was placed 8th on the list.
TasteAtlas noted that Bánh khọt is a savory Vietnamese pancake made with a thin rice flour batter and cooked on outdoor grills equipped with a specialized terracotta bánh khọt mold. The batter is poured into the mold, and the pancake is then topped with various savory ingredients.
Another Vietnamese dish on the list is the Hue pancake (Bánh khoai) which ranked 5th in Southeast Asia.
The pancake originating from the central province of Thua Thien-Hue is typically made with a combination of rice flour, water, eggs, sugar, and salt. It's fried in the pan and topped with sliced mushrooms, pork, shrimp, bean sprouts, carrots, Vietnamese sausage bits, and spring onions, according to the international food magazine,
Others in the list include Serabi and Dadar gulung of Indonesia, Apam balik and Roti jala of Malaysia, and Khanom khrok of Thailand.
Vietnamese, and Turkish national flag carriers sign codeshare agreement
Vietnam's national flag carrier, Vietnam Airlines, and its Turkish counterpart Turkish Airlines have signed a codeshare agreement, aiming to offer passengers more flexible, diverse flights between the two countries and their adjacent regions.
Under the agreement, passengers can buy tickets via both airlines for the Istanbul – Hanoi/Ho Chi Minh City, Hanoi – Da Nang, and HCM City – Da Nang routes.
The deal will help consolidate cooperation between the two national flag carriers while spurring their development, said Turkish Airlines CEO Bilal Ekşi, according to VNA.
At the signing ceremony. (Photo: VNA)
Vietnam Airlines CEO Le Hong Ha said the cooperation will give more options and benefits to passengers, expand air routes and diversify the services of the two airlines.
It will also help promote economic, cultural, and tourism exchanges between Vietnam and Turkey, and attract more visitors to the two countries, he added.
Established in 1933 with an initial fleet of five aircraft, Turkish Airlines currently boasts a fleet of 416 (passenger and cargo) aircraft flying to 344 destinations across the world, including 291 international and 53 domestic.
Meanwhile, Vietnam Airlines is offering services on nearly 100 domestic and international routes, with a fleet of 100 aircraft. It is the first airline in Asia-Pacific that has used Boeing 787-9 Dreamliner and Airbus A350-900 XWB, the most modern generation aircraft in the world so far.
FM Son applauds contributions by the Vietnamese community in France
Vietnamese Minister of Foreign Affairs Bui Thanh Son has praised the Vietnamese community in France for their practical contributions to the home country.
Meeting representatives of the Vietnamese community and representative diplomatic agencies in France on June 5, FM Son lauded their "profound, dedicated, and intellectual" feedback on various fields, including politics, diplomacy, economy and culture.
The French Government hailed the Vietnamese community for their rich history and continuous contributions to the development of France, especially for the friendship between Vietnam and France, Son said, adding that the Vietnamese Party and State also appreciate their dedication.
Briefing them on Vietnam's socio-economic performance as well as achievements in internal and external affairs, he said it is the foreign policy of independence, self-reliance, multilateralization and diversification of ties in line with international law and the United Nations Charter that Vietnam has gained respect from the world.
Vietnam now has diplomatic ties with 192 out of the total 193 UN member states, including 30 countries with strategic partnerships or comprehensive partnerships, and many countries are proposing upgrades to their relations with Vietnam, reported VOV.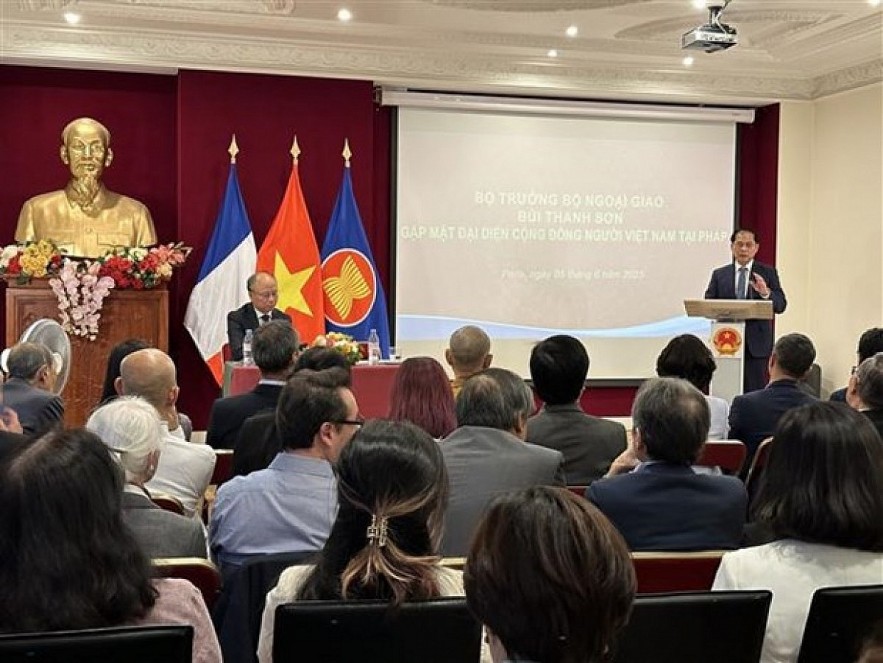 Vietnamese Minister of Foreign Affairs Bui Thanh Son speaks at the event (Photo: VNA)
He vowed to partner with agencies concerned to best meet the legitimate aspirations of the Vietnamese communities globally and in France, and wished that they would continue making positive contributions to the host country while promoting Vietnamese identity globally.
Meeting French Minister for Europe and Foreign Affairs Catherine Colonna, the Vietnamese diplomat asked both sides to continue upgrading their relationship and France consider Vietnam a priority in its foreign policy towards Southeast Asia and Asia-Pacific.
Vietnam regards France as a center in its external policy towards the European Union thanks to France's significant role in the region and bilateral long-standing relationship, nurtured by both nations' people, including the Vietnamese community in France.
People, and enterprises save electricity in prolonged hot weather
The power supply in the dry season this year is predicted to be challenging due to the significant rise in electricity demand.
To save electricity, instead of turning on all the lights every evening as before, her house now only uses half the lights.
In addition, she always reminds her family members to turn off unnecessary light bulbs and electrical equipment.
"I read newspapers about the electricity shortage, so I always remind my family to reduce electricity as much as possible. Moreover, if we don't conserve electricity, our monthly costs will increase significantly," said Hoa.
During April and May, there were several prolonged hot weather periods across the country. The temperature sometimes reached 39-40 degrees Celsius.
This year, it is forecast that the temperature will be approximately 0.5 degrees Celsius higher than the multi-year average. Consequently, the demand for electricity will increase in the near future.
The power supply in the dry season this year is predicted to be challenging due to the significant rise in electricity demand.
Recognizing the difficult situation, many businesses have also actively implemented various solutions to conserve electricity in their production processes.
The Hung Yen Garment Corporation has 13 plants with 16,000 workers and 300 sewing lines, so its demand for electricity is huge.
To save electricity, the company gives instructions about electricity saving to every worker and builds a process to save electricity.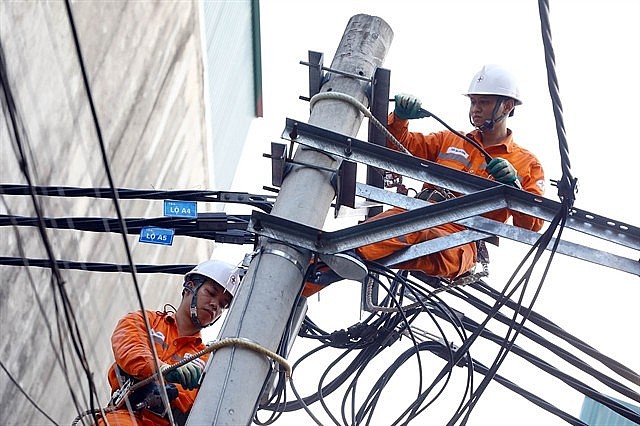 Workers from EVNHANOI check power cables. Photo: VNS
It replaces electrical equipment with new technology that consumes less electricity, turns off electricity in unoccupied rooms, and limits lighting equipment in corridors.
Nguyen Xuan Duong, chairman of the corporation's board of directors, said that all enterprises under the corporation had relatively large roofs, thus the corporation aimed for each enterprise to install solar power.
With the methods that had been implemented, the corporation reduced about 20 percent of electricity, said Duong.
Tran Viet Ngai, chairman of the Vietnam Energy Association, said that in the context of prolonged hot weather, it was essential to implement electricity saving. The work needed to be done immediately and consistently.
"Saving electricity is a national policy that is extremely important and necessary. Not only the electricity industry but every family must raise awareness of saving electricity," he said.
Ngai proposed the Party, the State, and Government create conditions for the electricity industry, the oil, gas, coal-minerals, and other energy industries to build more factories to overcome the electricity shortage.
Capital City's efforts
Hanoi has instructed citizens about saving electricity.
Administrative agencies, offices, and schools are required to turn off or reduce 50 percent of the lighting system in corridors, parking lots, campuses, and public areas.
They are recommended to use 50 percent of the elevators depending on the use frequency and encourage the use of stairs.
They are also encouraged to take advantage of natural light in the office.
Trading and services enterprises are asked to turn off all decorative lighting, advertising, and signs from 10 pm. They are encouraged to use backup generators and solar power if possible.
Every evening, electricity workers in Hoang Mai District go around the streets and alleys and use loudspeakers to instruct people to use electricity sparingly.
The work often starts at 7.30 pm and ends at 10 pm, cited VNS.
Thai Van Bien, an electricity worker, said that most of the residents followed the instructions.
Since May 17, the Hanoi Urban Lighting Company (Hapulico) has operated a power-saving mode for the public lighting system, ensuring both lighting and public security and order.
The work is in response to Prime Minister Phạm Minh Chính's Official Dispatch No 397/CĐ-TTg on May 13 on implementing urgent measures to cope with drought, and water shortage, and conduct the national program on economical and efficient use of energy.
Hapulico general director Nguyen Anh Tuan said that the company turned on the lights 30 minutes later and turned them off 30 minutes earlier than the normal operating mode.
For street lights, lights in alleys, and suburban areas, the company will cut down one-third of the number of lights.
As for streets with four lanes of lights such as Vo Chi Cong, Hoang Sa, and Thang Long, it cuts 50 percent of the lights.
For lighting systems in parks and flower gardens, it operates up to 50 percent of the lights and cuts off all lights after 11 pm.
Tuan said that in recent years, Hapulico had advised Hanoi authorities to use light-emitting diode (LED) in public lighting systems to replace traditional bulbs, thereby reducing 50 percent of power consumption.
From the last days of May, although the Noi Bai International Airport was crowded with passengers, nearly 80 percent of the lights in the terminal were turned off.
All billboards' lights that are not used and decorative lighting are completely turned off.
According to the Hanoi Electricity Corporation (EVNHANOI), by saving electricity in public lighting, the city saved a significant amount of power.
From May 15 to 30 this year, the city saved more than 12 million kWh of electricity.
EVNHANOI will continue to deploy different solutions and plans to save 18 million kWh this month.