Vietnam News Today (Mar. 2): Vietnam, Spain Seek Stronger Strategic Partnership
Vietnam News Today (Mar. 2): Vietnam, Spain seek stronger strategic partnership; Vietnam to remain important link in global supply chains; Ministry of Health warns of risk of H5N1 avian influenza entering Vietnam; CNN praises nine magnificent caves in Vietnam.
Vietnam News Today (Mar. 2) notable headlines
Vietnam, Spain seek stronger strategic partnership
Vietnam to remain important link in global supply chains
Ministry of Health warns of risk of H5N1 avian influenza entering Vietnam
CNN praises nine magnificent caves in Vietnam
New chip-based passports to be issued from March
Vietnam welcomes 933,000 foreign visitors in February
Vietnamese doctors help with robotic surgeries in Philippines
Singapore leads foreign investment in Vietnam
Measures sought to foster cooperation between Vietnamese, Thai localities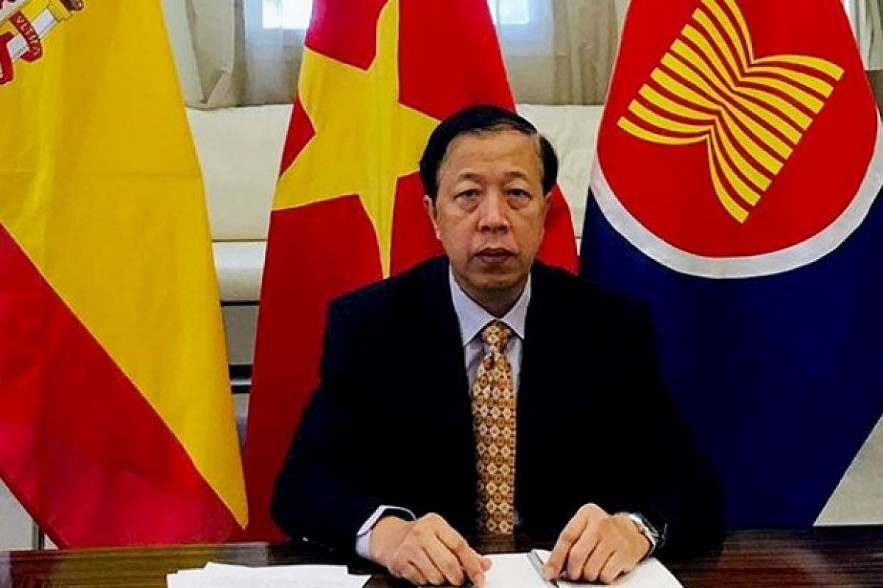 Vietnamese Ambassador to Spain Hoang Xuan Hai. Photo: Vietnamese Embassy in Spain
Vietnam, Spain seek stronger strategic partnership
Deputy Prime Minister Tran Luu Quang's visit to Spain from March 1 to March 3 will contribute to carrying out the Vietnamese foreign policy of independence, self-reliance for peace, friendship, co-operation, development, multilateralization, and diversification of external ties.
Vietnamese Ambassador to Spain Hoang Xuan Hai made the statement in a recent media interview held to discuss the significance of the first visit to Spain by a Vietnamese Government leader since 2017 due to the COVID-19 pandemic.
During the course of the visit, the two sides will spend time to review the bilateral relationship over recent years and reach a consensus on specific measures aimed at removing obstacles, as well as discussing new co-operation mechanisms in priority areas. This includes basic infrastructure, green energy, climate change response, and water resource management towards carrying forward bilateral strategic partnership in the near future, Minister Hai said.
According to details given by the Vietnamese diplomat, friendly co-operation between Vietnam and Spain has continued to improve over the past 46 years. Indeed, Spain was the first EU country to establish a strategic partnership with Vietnam back in December, 2009, cited VOV.
The country has become the main ASEAN trading partner of Spain with more than US$3 billion on average each year. Last year alone witnessed Vietnamese exports to Spain exceeded EUR4 billion, equivalent to US$4.2 billion, while importing more than EUR525 million from the European country. However, Spanish investment in the Vietnamese market remains modest, with 88 projects valued at more than US$143 million.
The Ambassador expressed his hope that with the validity of the EU-Vietnam Free Trade Agreement (EVFTA) and the approval of the EU-Vietnam Investment Protection Agreement in late January, 2022, firms from the two countries will tap into the benefits brought about by the two deals to turn economic ties into a solid pillar in their relationship.
In his view, the two governments, ministries, and agencies should consider amending or signing new agreements in a bid to create a legal framework for bilateral ties, particularly in the fields of their strength such as infrastructure, renewable energy, digital transformation, green technology, climate change response, hi-tech agriculture, health care, education-training, culture, sports, and tourism.
In the immediate future, both sides should soon resume and launch several important co-operation mechanisms, such as deputy ministerial-level political consultations and the first meeting of the Bilateral Cooperation Committee for Trade and Investment, thereby reaching a consensus on measures and roadmaps aimed at elevating bilateral ties to a higher level, he stated.
Vietnam to remain important link in global supply chains: economist
Vietnam will remain an important link in global supply chains and a destination favoured by many businesses, said Tim Leelahaphan, Standard Chartered's economist for Thailand and Vietnam, on February 28.
Michele Wee, Chief Executive Officer at Standard Chartered Bank Vietnam Ltd., said that Vietnam has medium- and long-term development outlooks, which helps increase growth potential and attract investment.
Vietnam is playing an increasingly important role in international trade activities and global supply chains, she affirmed, adding that Standard Chartered always strives to support Vietnam's recovery and sustainable growth in 2023 and the coming years.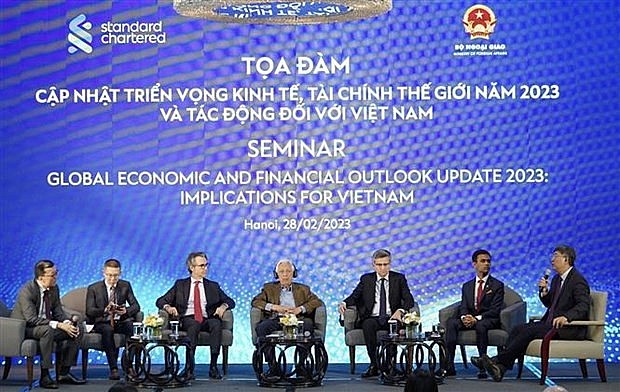 Delegates attend the seminar. (Photo: VNA)
Ambassador Giorgio Aliberti, Head of the European Union Delegation to Vietnam, and many economists attending the seminar agreed that Vietnam should promote green trade and provide comprehensive support for sustainability goals in the context that accelerating the implementation of commitments to digital transformation and green transformation associated with environmental criteria is a mandatory trend for almost all countries.
They proposed Vietnamese enterprises take appropriate preparations to catch up with this inevitable trend by innovating the way of thinking, changing governance methods, and building a green export strategy, according to VNA.
Speaking at the seminar titled "Global Economic and Financial Outlook Update: Implications for Vietnam" held by the Ministry of Foreign Affairs and the British bank, he said that Vietnam's GDP growth rate may hit 7.2% this year and 6.7% in 2024.
The country's economy still faces some macro risks such as inflation, public debt, and confidence recovery in the first half of 2023, but the recovery outlook is positive in the second half, he predicted.
Speaking at the event, Assistant to Foreign Minister Nguyen Minh Hang stressed that the promotion of international cooperation to take advantage of the collaboration and support of international partners for socio-economic recovery measures, and for boosting new growth drivers such as green growth and digital transformation is very important to Vietnam.
Ministry of Health warns of risk of H5N1 avian influenza entering Vietnam
The Ministry of Health sent a telegram on March 1 to various chairman of People's Committees at municipal and provincial levels regarding drastic measures aimed at preventing the H5N1 avian influenza from potentially spreading from poultry to humans.
The move comes after Cambodia recorded two human cases of H5N1 avian influenza in one family in Prey Veng province, with one of the infected subsequently dying of the virus on February 22. These are the latest human cases of H5N1 avian influenza in Cambodia since 2014.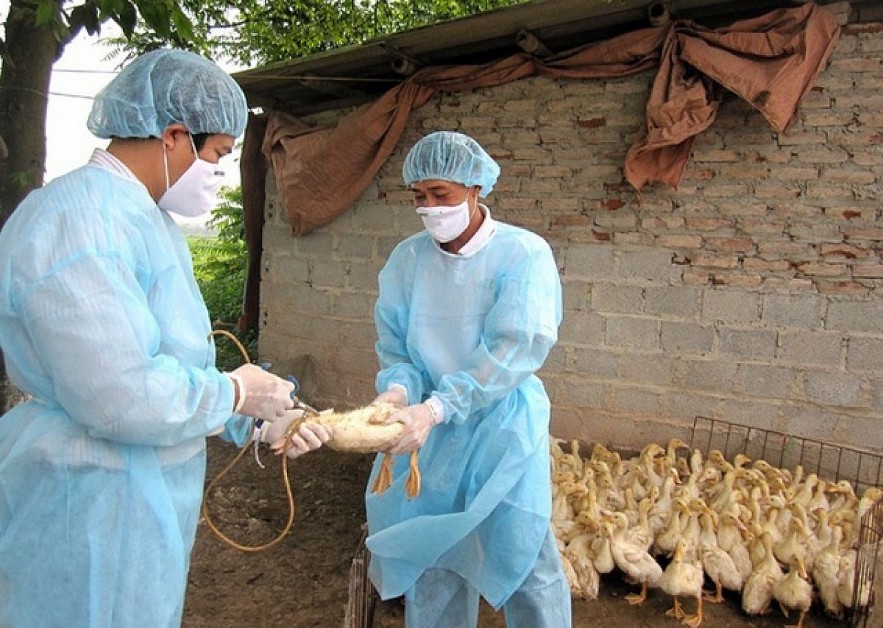 Photo: VOV
According to details given by the Ministry of Health, amid the increasingly trade exchanges between Vietnam and other countries around the world, there represents a high risk of avian influenza entering the nation, especially in provinces that share borders with epidemic-affected places.
In Vietnam, the changing of seasons makes it favourable for the development of avian influenza viruses. Furthermore, there are numerous festivals typically held after the Lunar New Year holiday, which also poses a potential risk of transmission of avian influenza to humans.
In late 2022, the nation also reported the first human case of A/H5N1 avian flu in the northern province of Phu Tho, reported VOV.
In order to actively prevent H5N1 avian influenza from entering the country, the Ministry of Health has suggested that localities and cities take urgent steps by strengthening close supervision of people entering the country, especially people who slaughter, trade live poultry and poultry products, and those coming from an epidemic area to timely detect infected cases.
Hospitals are therefore urged to prepare medical supplies and chemicals to provide timely support for localities seeking to implement measures to handle any potential outbreaks moving forward.
CNN praises nine magnificent caves in Vietnam
US-based multinational news channel CNN has praised nine Vietnamese caves, including six caves in the central province of Quang Binh, the provincial Department of Tourism said on February 28.
Accordingly, the six magnificent creations of Mother Nature in Quang Binh which were rated as world-class caves by CNN included Son Doong, En, Va, Nuoc Nut, Tu Lan and Thien Duong (Paradise) caves.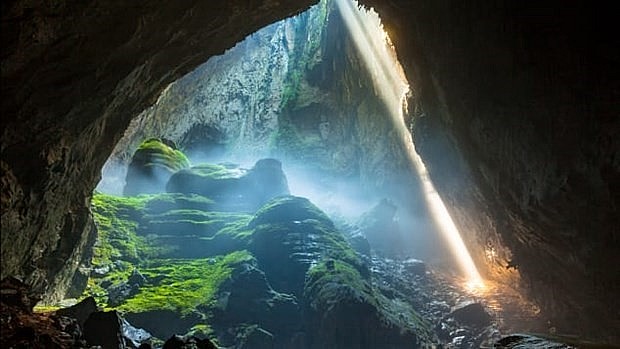 Son Doong cave is one of the world's most precious natural wonders. (Source: CNN Travel)
Tam Coc cave in the northern province of Ninh Binh, Sung Sot cave in Ha Long Bay and Luon cave in Ha Long city in the northern province of Quang Ninh were acclaimed as strangely beautiful ones.
CNN quoted a member of the British Royal Cave Research Association as saying that his team has explored more than 500 caves in Vietnam, but they have still only explored about 30% of the area. There are many more caves to be discovered.
Vietnam's caves praised by CNN are expected to attract more tourists to explore caves in the Southeast Asian country.
New chip-based passports to be issued from March
The Ministry of Public Security will issue chip-based passports for Vietnamese citizens from March 1 of 2023, in line with the Law on exit and entry of Vietnamese Citizens.
The chip-based passport is a passport attaching electronic device storing encoded personal information of the passport holder and the signature of the passport issuer.
This is an innovative step to create favorable conditions for Vietnamese citizens, enhancing the effectiveness of the State management on exit and entry and meeting the requirement of international integration of the country.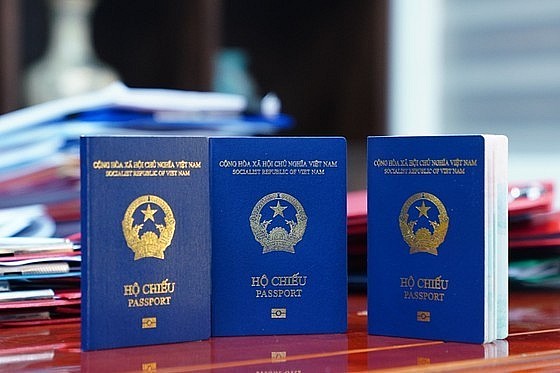 New chip-based passports will be issued from March. (Photo: Do Trung)
According to the Ministry of Public Security, the chip-based passport is a prerequisite and a base to control the border automatically, creating favorable conditions for traveling, exit and entry activities among countries, especially in countries applying biometric identification technology to control e-passports at some international borders.
The chip-based passport will not only show personal information, including full name, date of birth, nationality but it also stores biometric information of people comprising fingerprint, iris, face, blood group and so on, cited VNN.
The more information it has, the more accurate it will be on citizen identification. Therefore, officials in charge of controlling exit and entry will promptly identify information of passengers when they perform procedures.
The chip is placed at the ending page of the passport on hardcover, ensuring aesthetics and safety during the usage process.
According to the Immigration Department, the passport without chip and chip-based passport will be circulated at the same time. Vietnamese citizens from 14 years old have the right to choose a passport without a chip or a chip-based passport when they submit the procedures.