UKVFTA Promotes UK-Vietnam Medical Cooperation Potential
British businesses are optimistic about the potential for cooperation in the pharmaceutical sector in Vietnam, when the UKVFTA agreement continues to be implemented.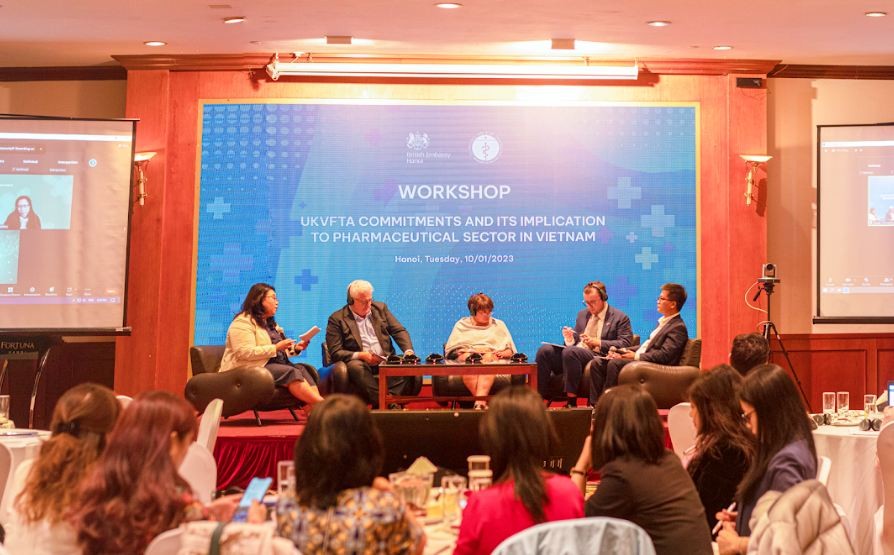 At the workshop. Source: British Embassy in Hanoi
A workshop themed "UK-Vietnam Free Trade Agreement (UKVFTA) commitments and its implication to the pharmaceutical sector in Vietnam" took place in Hanoi on January 10.
The British Embassy in Hanoi organised this event in collaboration with the Drug Administration of Vietnam under the Ministry of Health.
Vietnamese Vice Minister of Health, Do Xuan Tuyen and British Ambassador to Vietnam, Iain Frew delivered keynote speeches at the event. In addition, presentations from the Health Ministry's Drug Administration and British Embassy in Hanoi focussed on the impact of the UKVFTA to bilateral trade, and Vietnam's ongoing review of legislative changes in the pharmaceutical sector.
In his speech, Ambassador Iain Frew shared that British appreciates the Vietnamese government and Ministry of Health's ongoing efforts to revise legal regulation in relations to pharma registration and management and to accelerate the review and approval of the dossiers for pharmaceutical registration and renewal.
British is looking forward to more legislative changes in the coming time, especially the amendment of Pharma Law, which they hope to be drafted and put in National Assembly's agenda for review and endorsement before the end of 2024. "The British Embassy and the UK's Medicines and Healthcare products Regulatory Agency (MHRA) are keen to support Vietnam's Ministry of Health during this process," he said.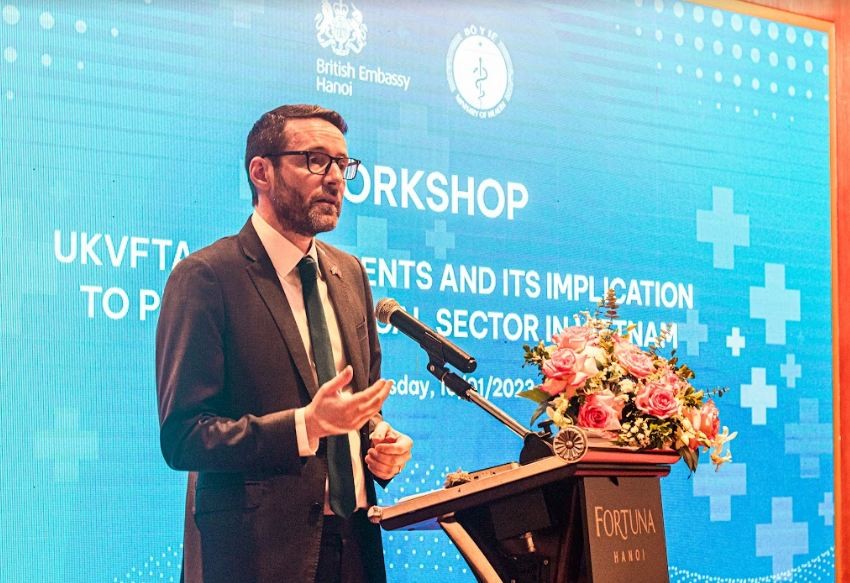 British Ambassador to Vietnam Iain Frew delivers keynote speeches at the event. Source: British Embassy in Hanoi
According to Soren Bech, general director, Reckitt/Mead Johnson Vietnam, the development of a free trade agreement such as the UKVFTA offers an opportunity to reduce taxes and trade barriers. another commercial, "to ultimately bring better solutions, better drugs for patients at a fair price".
"I think the Vietnamese agencies are doing a great job on this and I'm really optimistic and ready to assist with my product offering," he said.
Vice Minister of Health Do Xuan Tuyen said that since UKVFTA took effect in 2021, bilateral turnover has recorded impressive growth. In 2022, although there are still many impacts leading to disruptions in global production and supply chains, there are still positive signs, including 462 FDI foreign investment projects into Vietnam.
In the pharmaceutical sector, Vietnam is an attractive destination. With the growing relationship between the two sides, Vietnamese businesses are also facing great opportunities to transfer technology from the UK. Therefore, the Health Ministry and agencies are always aware of the importance of perfecting the mechanisms in this field, so that the laws are not only suitable for the two countries but also can come to life.
2023 marks 50 years of diplomatic relations between Vietnam and the UK. Regarding medical cooperation, some of the topics that will be covered in 2023 include digital health care, education and training, clinical services, pharmaceuticals, vitamins and dietary supplements. .
The workshop also opened the floor for the UK's Medicines and Healthcare products Regulatory Agency (MHRA) to share with Vietnam on UK's best practices in drug and vaccine registration.
A panel comprising of Vietnam's Health Ministry, the British Embassy and pharmaceutical companies then exchanged ideas and feedback on the pharmaceutical sector, and UK's investments in pharmaceuticals in Vietnam, including opportunities, potentials, challenges.
The panel further discussed how the implementation of UKVFTA commitments has changed how the pharmaceutical sector does business.
As the implementation of the UKVFTA enters its third year, the UK will continue to focus on boosting bilateral trade to new heights, particularly in such key sectors as healthcare.
Having entered into force in May 2021, the UK – Vietnam Free Trade Agreement (UKVFTA) represents a significant step forward in our two nations' economic and trade ties. The agreement removes 99% of tariffs by full implementation, with both sides able to use the FTA and its provisions to advance business interests and remove barriers to market access.
British businesses are also benefiting with British exports to Vietnam in medicinal and pharmaceutical products enjoying particularly strong growth, increasing over 32% year on year during the first nine months of 2022.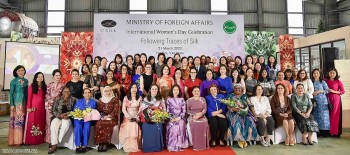 Friendship
Female ambassadors, representatives from diplomatic corps and international organizations, along with spouses of diplomats in Vietnam gathered together to find about more about silk weaving and silk products in Vietnam.