Vietnam News Today (Mar. 2): Vietnam to Get Highest Trade, Income Gains Among RCEP Members
Vietnam News Today (Mar. 2): Covid-19: New cases almost reach 99,000 on March 1; Vietnam, Canada seek stronger economic and trade ties; Vietnam to get highest trade, income gains among RCEP members; Vietnam attends high-level segment of 49th UNHRC session.
Vietnam News Today (Mar. 2) notable headlines
Covid-19: New cases almost reach 99,000 on March 1
Vietnam, Canada seek stronger economic and trade ties
Vietnam to get highest trade, income gains among RCEP members
Vietnam attends high-level segment of 49th UNHRC session
Four surgeries in succession by Vietnam's blue-beret doctors in South Sudan
Deputy PM requests inter-sectoral inspections in ensuring aviation security
Airlines ready to repatriate Vietnamese in Ukraine
International arrivals to Vietnam surge in first two months
Another increase seen in fuel prices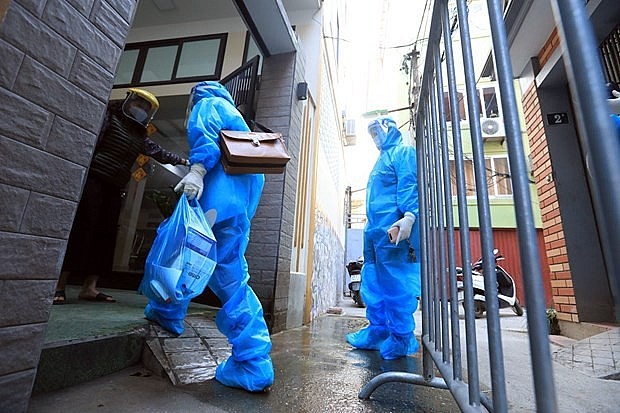 Medical workers hand over medicine to a COVID-19 patient treated at home. Photo: VNA
Covid-19: New cases almost reach 99,000 on March 1
A total 98,762 cases of Covid-19 were recorded from 4 p.m. February 28 to 4 p.m. March 1, including 19 imported cases, according to the Ministry of Health.
Hanoi continued to record the highest number of infections with 13,323 cases, followed by Quang Ninh with 4,011 and Bac Ninh with 3,933.
Besides, the northern province of Ha Giang supplemented 15,382 cases after verifying information.
The national tally reached 3,557,629.
There are 3,851 patients in critical conditions, while an additional 86 deaths were recorded in the past 24 hours, taking the total fatalities to 40,338, accounting to 1.1 percent of the caseload, cited VNA.
A total 40,932 patients were given the all-clear, taking the total number of recoveries to 2,479,883.
By February 28, the country had injected over 194.97 million doses of vaccines to date, with over 67.456 million people over 18 and 8.15 million children from 12-17 having received two shots, while more than 39.98 million booster shots and third shots had been administered.
Vietnam, Canada seek stronger economic and trade ties
The nation and Canada need to redouble efforts to remove obstacles and create the best possible conditions to allow businesses from both sides to access and exploit each other's markets as a way of propelling economic and trade ties forward.
Minister of Industry and Trade Nguyen Hong Dien hosted a reception for Canadian Ambassador to Vietnam Deborah Paul on February 28 who came to bid adieu before ending her working term in the country.
During the meeting, Minister Dien congratulated the Canadian Ambassador on a successful term and noted her role in making positive contributions to promoting ties of friendship and greater co-operation between the two sides, especially in terms of economics, trade, and investment.
Regarding trade co-operation, Minister Dien hailed the results achieved by the two sides in the past, despite the impacts of the Covid-19 pandemic, whilst also emphasizing the market attractiveness and the supplement of the two economies. This is along with the opportunities that the Comprehensive and Progressive Agreement for Trans-Pacific Partnership (CPTPP) bring to the economic, trade, and investment ties between the two countries.
Minister of Industry and Trade Nguyen Hong Dien (R) receives Canadian Ambassador to Vietnam Deborah. Photo: congthuong.vn
However, current bilateral trade exchanges remain commensurate with both nations' full potential. Indeed, Vietnam boasts great potential for boosting exports of key products such as garments and textiles, footwear, agricultural products, and furniture to the Canadian market. On the other hand, Canada represents a reliable manufacturer of machinery, equipment, and raw materials for industrial production.
Moving forward it can be viewed as important for the two sides to redouble efforts to remove obstacles and create the best possible conditions in which businesses can access and exploit each other's markets.
As part of the occasion, Minister Dien also expressed concern about the recent increase in trade remedy measures that Canada has applied to Vietnamese goods, requesting that the Canadian side conduct trade remedy investigations into Vietnamese products in an objective and fair manner in accordance with the regulations of the World Trade Organization (WTO), according to VOV.
Minister Dien added that the Ministry of Industry and Trade has been devising policies and carrying out tasks and solutions to promote the structural transformation of the energy industry and bring into full play internal resources, while simultaneously bolstering co-operation and support from development partners, including Canada, not only in terms of investment capital but also in industrial and technical transfer.
In response, Ambassador Paul expressed her satisfaction at the positive results in friendship, economic, and trade co-operation between the two countries within the bilateral and multilateral frameworks achieved during her term of office in Vietnam. She emphasized that co-operation between the private businesses of the two countries is growing across multiple fields such as agriculture, biodiversity conservation, and green energy.
The Ambassador affirmed that Vietnam is Canada's leading trading partner in the region, with the North American nation keen to create closer co-operation with the country in the process of negotiating the ASEAN-Canada Free Trade Agreement.
The Canadian diplomat also expressed her pleasure at the establishment of the Vietnam - Canada Joint Economic Committee, suggesting that both sides work closely to organize the first meeting of the Committee as soon as possible.
Relevant Canadian agencies have been and will be co-ordinating with the Ministry of Industry and Trade and competent Vietnamese agencies in promoting and creating conditions for the business communities of the two countries to augment investment and business co-operation.
She went on to outline her belief that moving forward, no matter what position she will take up, the Ambassador will continue to pay close attention to and contribute to the friendship and co-operation between the peoples of Vietnam and Canada. This will serve to deepen the ever-growing comprehensive partnership between the two countries.
Vietnam to get highest trade, income gains among RCEP members: WB
Vietnam is expected to register the highest trade and income gains among Regional Comprehensive Economic (RCEP) members, according to a World Bank (WB)'s working paper.
To estimate the economic and distributional impacts of RCEP in Vietnam, WB constructed a baseline and four alternative scenarios. The baseline reflects the business-as-usual conditions, where the tariff schedules of previous agreements, including the most recent CPTPP, have been implemented, in parallel with the US-China trade war.
In the baseline, between 2020 and 2035, the average trade weighted tariff imposed by Vietnam declines from 0.8 percent to 0.2 percent, while the tariffs faced by Vietnam are reduced from 0.6 percent to 0.1 percent. To measure the effects of RCEP, the policy scenario will be compared against this baseline.
The four policy scenarios will measure the RCEP implementation incrementally. The first scenario, the Tariffs scenario, is exclusively the implementation of tariffs according to the RCEP tariffs' reduction schedules.
In the second scenario, the RCEP scenario, WB implemented reductions of tariffs and of non-tariff measures, including the tariff reduction of 35 percent on agricultural goods; 25 percent on manufacturing goods; and 25 percent on services.
Only when tariff reductions are combined with lower non-trade barriers (NTBs), are exporters able to take full advantage of the preferential rates under liberal Rule of Origin (ROO).
WB assumed that with the ROO regime, the third scenario, trade costs among its members are reduced by 1 percent over the implementation period of 2022-2035. However, in WB's simulations, implementation of ROO policy is costless, resulting in upper bound estimates of potential gains.
For the final shock, the productivity kick scenario, an increase of productivity, as the result of a higher degree of openness and falling trade costs, is implemented, cited VNA.
Vietnam's real income and trade expand faster than the baseline in the scenarios with tariffs, non-tariff measure reductions and rules of origin, and in the productivity kick scenario.
"In the productivity kick scenario, where a productivity shock is included, Vietnam has the highest gains of all RCEP member countries. Real income increases by 4.9 percent relative to the baseline, higher than the gains for the bloc as a whole, where real income increases by 2.5 percent," WB reported.
"Trade also increases the most in this scenario, with exports expanding by 11.4 percent and imports by 9.2 percent, relative to the baseline."
In the baseline, which incorporates long-term trends and accounts for all the current tariff liberalization commitments within the region (except RCEP), real income in Vietnam is expected to grow 112.7 percent between 2020 and 2035, with exports and imports increasing by 155.5 percent and 134.8 percent, respectively.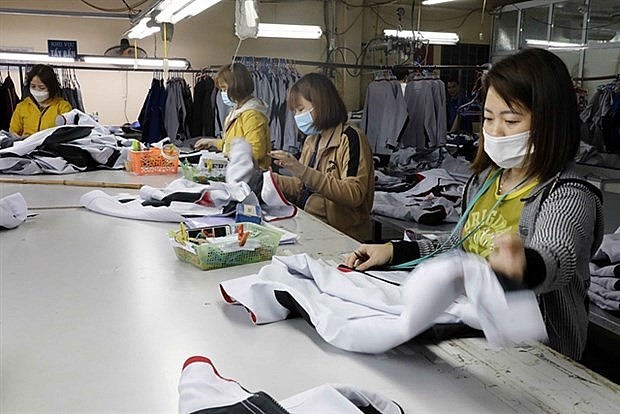 Production of workwear for export. Photo: VNA
With implementation of RCEP, when rules of origin and productivity are included on top of tariffs and non-tariff measures reductions, real income grows faster, with an increase of 123.1 percent between 2020 and 2035.
The benefits of the implementation of these measures are also reflected in trade, with exports and imports growing 182.5 percent and 155.5 percent, respectively, and between the same period.
In the scenario where only the tariff reduction is implemented, the impact on Vietnam's economy is negligible, with real income close to zero. Trade sees a small reduction relative to the baseline, with both exports and imports declining by 0.3 percent.
"With the implementation of RCEP, the market for Vietnam will expand, particularly to China, where Vietnam does not currently possess any trade agreement. Gains in the productivity kick scenario are concentrated mostly in the manufacturing sectors, in particular wearing apparel, electrical equipment, and textiles," WB reported.
"Some sectors will suffer losses with the implementation of the agreement, due to a redistribution of resources to more productive sectors."
The Covid-19 pandemic has taken a high toll in human and economic terms. RCEP could help cushion the negative effects of Covid-19 on economic growth by supporting regional trade and value chains, according to this report.
In the medium/long run, RCEP would increase the resilience of its members, it would make them better prepared in the face of future shocks by enhancing regional collaboration, reducing trade costs, and further diversifying their economies. RCEP offers an opportunity to boost growth and support recovery from the Covid-19 pandemic.
Vietnam attends high-level segment of 49th UNHRC session
Vietnamese Minister of Foreign Affairs Bui Thanh Son gave an online speech at a high-level segment of the 49th session of the UN Human Rights Council (UNHRC) which opened on February 28 in Geneva, Switzerland.
The session featured the participation of many high-ranking leaders and representatives from 47 member countries, in addition to over 100 observers of the UNHRC, along with inter-governmental and non-governmental organizations which are headquartered in Geneva.
As part of his opening speech at the online event, Antonio Gutteres, Secretary-General of the UN, underlined the importance of equal access to vaccines against Covid-19, particularly as the unequal approach demonstrates the disregard for human rights around the world.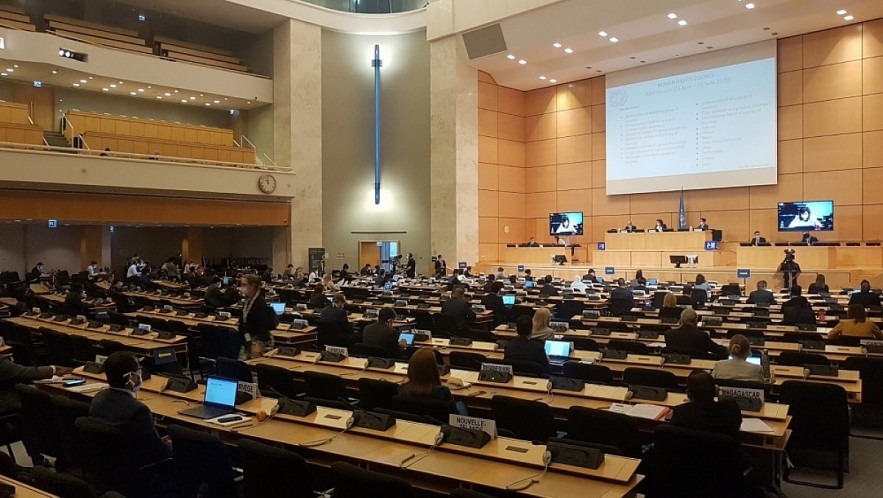 Photo: VOV
He therefore called on governments, pharmaceutical companies, and partners to urgently provide political and financial support for the global vaccination strategy of the World Health Organization (WHO) in order to rapidly achieve the goal of 70% of the world population being vaccinated.
The UN chief also appealed to countries issuing social policies to follow the target of ensuring that human rights and opportunities are equal for all, with a specific focus on poverty reduction, investment in education, and protection of the rights of women and children. This is in addition to responding to climate change, environmental pollution, and biodiversity loss, reported VOV.
The high-level session of the 49th UNHRC is taking place over three days from February 28 to March 2 and will draw the participation of more than 140 senior leaders of various international organizations and countries, including a number of heads of state and foreign ministers.
The session will adopt around 24 resolutions and reports of 13 countries on the protection and promotion of human rights under the Universal Periodic Review Mechanism, and discuss the human rights situation in some countries.
Four surgeries in succession by Vietnam's blue-beret doctors in South Sudan
Among the patients, three cases were diagnosed with chronic appendicitis - a rare condition.
The Field Hospital No 3 of the United Nations Mission in South Sudan (UNMISS) has successfully carried out four consecutive surgeries for patients who are South Sudan's UN officers.
Of these, four patients were diagnosed with chronic appendicitis with atypical clinical symptoms: long-lasting Right Iliac Foss Pain (about 1 year) with many acute episodes.
The patients said they had been to many hospitals, including Level-3 Field Hospital in Uganda and hospitals in Kenya and Egypt, but the treatment was ineffective. The pain greatly affects the quality of life.
After a thorough examination, close monitoring of symptoms and diagnostic imaging, doctors thought it might be chronic appendicitis - a very rare disease.
After consultation, doctors concluded that the patients need surgery. The surgeries all succeeded, helping remove the worry which had existed for a long time.
As the clinical symptoms are atypical and other diseases have not been excluded, the patients were monitored closely in the postoperative period, not only in the first days but throughout the hospital stay and after they were discharged.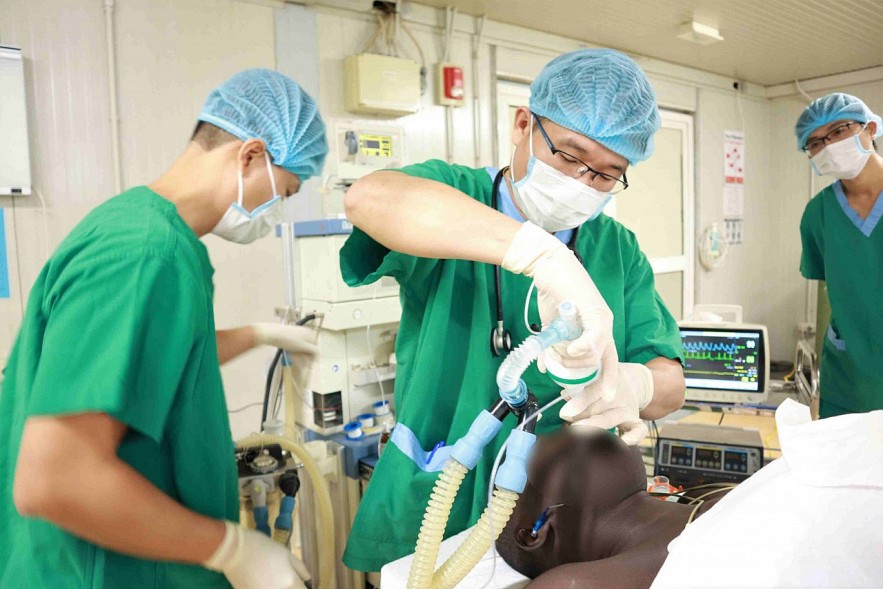 PhotoL VNN
Doctors also applied TAP-block, a newer method for management of postoperative pain after abdominal surgery, which makes patients feel more comfortable, reduces anxiety, and allows them to exercise early. These are important for abdominal surgery.
The fourth case was an abscess near the anus, 10cm large. The situation lasted two months and the patient was examined many times at a UN hospital but the treatment did not improve. The abscess caused a lot of pain to the patient as well as difficulties in daily activities, which could have led to whole-body infection, cited VNN.
The doctors at the Field Hospital No3 conducted surgery to remove pus from the abscess and took care of the patient in the postoperative period. The patient became well and was discharged from the hospital.
In the letter of thanks to the Field Hospital No 3, Bwangani Issac, one of the four UN officers who had surgery, wrote that the Vietnam Field Hospital provided very good healthcare services and says he was very satisfied with the professional doctors and nurses there.
He expressed his appreciation to the Government of Vietnam and the United Nations for having sent the best doctors and nurses to South Sudan to protect the lives of UN staff who are helping the people of South Sudan.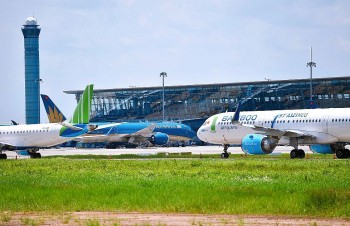 Economy
Vietnam Business & Weather Briefing (August 9): Vietnam's economic growth is expected to reach 7.5% in 2022, new securities accounts hit a near two-year low in July.