Vietnam News Today (Mar. 26): Vietnam Greatly Contributes to 144th IPU Assembly's Success
Vietnam News Today (Mar. 26): Vietnam greatly contributes to 144th IPU Assembly's success; Number of foreign passengers via airports in Q1 sees 441% rise; Virtual exhibition marks Earth Hour 2022; Vietnam, WB strengthen partnership to meet goal of high-income economy by 2045.
Vietnam News Today (Mar. 26) notable headlines
Vietnam greatly contributes to 144th IPU Assembly's success
Number of foreign passengers via airports in Q1 sees 441% rise
Virtual exhibition marks Earth Hour 2022
Vietnam, WB strengthen partnership to meet goal of high-income economy by 2045
Vietnam joins 6G race
Tourists return to U Minh Thuong National Park
HCM City to bolster digital transformation for economic recovery
USAID, UNICEF provide 1 million USD in Covid-19 supplies to Vietnam
Tourists to Hanoi increase by nearly 50 percent
At the opening ceremony of the 144th General Assembly of the Inter-Parliamentary Union in Bali, Indonesia. Photo: Balipost
Vietnam greatly contributes to 144th IPU Assembly's success: Official
The Vietnamese delegation to the 144th General Assembly of the Inter-Parliamentary Union (IPU-144) and relevant meetings in Bali, Indonesia from March 20-24 have actively participated in the event's discussions and activities, thus contributing greatly to the event's success, according to an official of the National Assembly.
According to Thai Quynh Mai Dung, standing member of the NA's Committee for External Relations, Vietnam has made five proposals on enhancing parliaments' role in climate change-related issues at the plenary debate.
The proposals focused on promoting stronger and more effective implementation of policies to respond to climate change and developing roadmaps towards achieving net-zero emissions as committed at the 26th United Nations Climate Change Conference (COP26); strengthening cooperation on the basis of the principle of fairness and responsibility sharing but with distinction, in accordance with the capacity and condition of each country.
Vietnam underlined that parliaments should strengthen law making, monitor and allocate funds to ensure implementation of national climate commitments.
It also suggested the IPU to coordinate with the Secretariat of the UN Framework Convention on Climate Change to build a mechanism for monitoring, sharing information, experience and good models in implementing national commitments.
At a debate on emergency issues within the IPU-144, the Vietnamese delegation stressed that all international conflicts must be settled through peaceful measures in respect of basic principles of international law and the UN Charter as well as sovereignty equality and political independence and territorial integrity, non-interference in internal affairs of states and not using or threatening to use forces.
In particular, in the context that Tuvalu could not assume the role of the Asia-Pacific geopolitical group (APG)'s President due to the Covid-19 pandemic, on the basis of the proposal of the IPU Secretariat and the approval of the Vietnamese NA Chairman, Vietnam successfully chaired the APG meeting, contributing to strengthening solidarity and parliamentary cooperation within APG, cited VNA.
In the framework of the IPU-144, the head of the Vietnamese delegation - Chairman of the NA's Committee for External Relations Vu Hai Ha - met with the President and the General Secretary of the IPU; joined a tripartite meeting with his Lao and Cambodian counterparts on activities to strengthen parliamentary cooperation between the three countries. He also had bilateral meetings with heads of delegations of the Republic of Korea, China, Thailand, and Indonesia to strengthen bilateral and multilateral parliamentary relations; discuss issues of post-pandemic sustainable recovery, and solutions to respond to climate change.
Dung stressed that the Vietnamese delegation's active participation at the IPU-144 conveyed three important messages, affirming the joint efforts of the Vietnamese NA and Government in implementing climate change adaptation and sustainable development goals in the future; the importance of parliamentary diplomacy to world peace and security; and the active participation of Vietnamese young and female NA deputies in activities of the IPU.
Number of foreign passengers via airports in Q1 sees 441% rise
The number of foreign travelers traveling through local airports during the first quarter of the year is forecast to grow by 441% against the same period from last year to reach 141,600 passengers, according to statistics released by the Civil Aviation Authority of Vietnam (CAAV).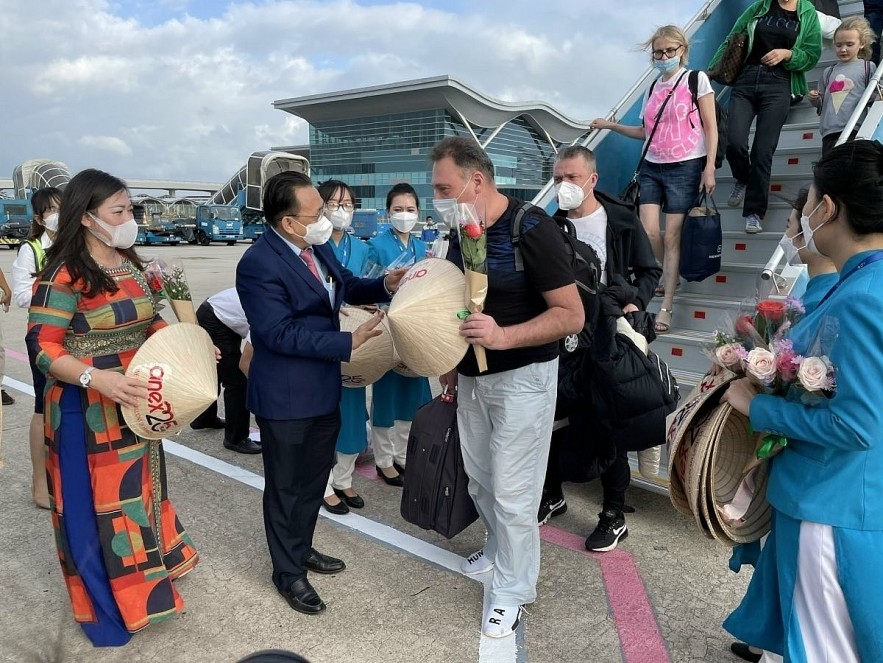 Photo: VOV
Furthermore, international cargo being transported through airports is anticipated to soar by 113.9% compared to the same period in 2021 to reach 38,000 tonnes.
This comes following Vietnam reopening international routes both to and from 20 countries and territories globally from March 15, with the ultimate aim of welcoming approximately five million foreign visitors in the year ahead, according to VOV.
In total, the number of domestic and foreign passengers during the first quarter is forecast to stand at 6.5 million. In addition, approximately 48,400 tonnes of cargo will be transported during this period.
Virtual exhibition marks Earth Hour 2022
The Ministry of Natural Resources and Environment has organized a virtual exhibition using VR360 virtual reality application to mark Earth Hour 2022.
The exhibition, themed "Shape the future", is available at vr.trienlamgiotraidat.vn through the website: trienlamgiotraidat.vn.
More than 100 photos and video clips on display carry the message regarding climate change.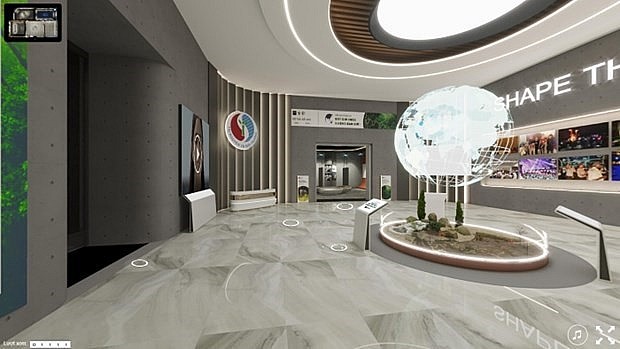 Virtual exhibition marks Earth Hour 2022. Photo: dwrm.gov.vn
Through the exhibition, the ministry expects to call for efforts of people, businesses and the entire society in environmental protection and raise public awareness of energy saving and climate change response.
It will seek new solutions and utilize new technologies in the communication work, towards a sustainable future, reported VNA.
Started in 2007 by WWF and partners as a symbolic lights-out event in Sydney to raise awareness of climate change, Earth Hour is now one of the world's largest grassroots movements for the environment. Held every year on the last Saturday of March, Earth Hour engages supporters in more than 190 countries and territories, all taking action to ensure a brighter future for people and the planet.
Earth Hour has also gone far beyond the symbolic action of switching off - it has become a catalyst for positive environmental impact, driving major legislative changes by harnessing the power of the people and collective action.
Earth Hour is open-source and we welcome everyone, anyone, to take part and help amplify our mission and impact.
On March 26, from 8:30 pm to 9:30 pm local time, everyone should switch off lights in response to Earth Hour 2022 themed "Creating the future - Now or never".
Vietnam, WB strengthen partnership to meet goal of high-income economy by 2045
World Bank Vice President for East Asia and Pacific Manuela V. Ferro on March 25 concluded a five-day visit to Vietnam, reaffirming the institution's commitment to supporting Vietnam in realizing its goals of becoming a high-income economy by 2045 and reaching net zero emissions by 2050.
"We are committed to work with Vietnam as it charts a renewed course towards ambitious development goals," Ferro said.
"Our partnership will focus on strategic areas that promote productivity-led, climate-resilient, inclusive growth, contributing the World Bank's global and local expertise, embedded in evidence-based analysis and financing," she noted.
On her first official visit to Vietnam, Ferro met with Prime Minister Pham Minh Chinh, National Assembly Chairman Vuong Dinh Hue, and other high-ranking officials. In these meetings, she discussed Vietnam's development priorities and challenges and how the country can use support of the World Bank to achieve transformational and tangible improvements in the lives of the Vietnamese people.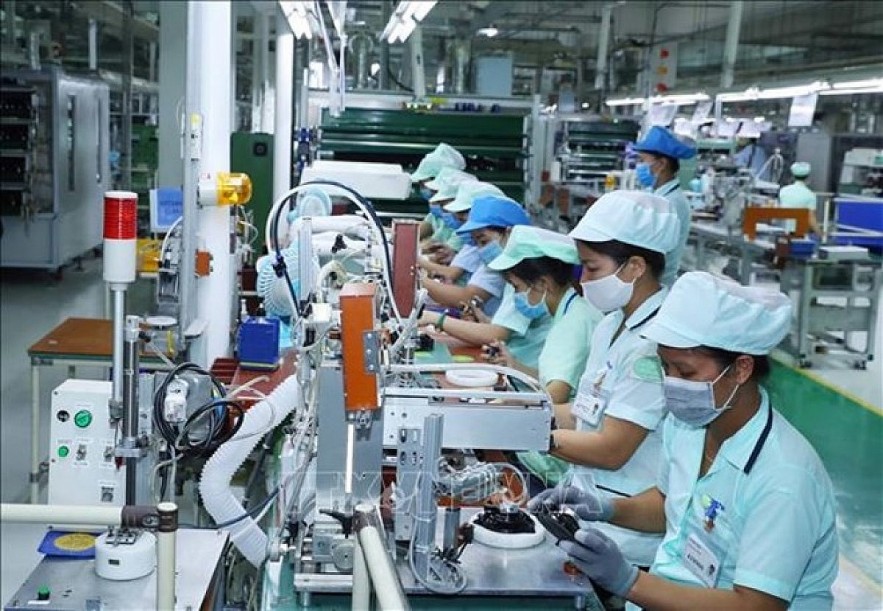 Photo: VNA
A highlight of the trip was the agreement between Ferro and Prime Minister Chinh to jointly produce a report, Vietnam 2045 that will offer pathways and solutions for Vietnam to realize its aspiration of becoming a high-income economy by 2045, cited VOV.
The report will take stock of the pace of reforms laid out in 2016's Vietnam 2035 roadmap, analyze how Vietnam's economic trajectory has been affected by the Covid-19 pandemic and other global mega-trends, and provide recommendations to inform policy reform discussions leading up to the fourteenth Party Congress, scheduled for early 2026.
"Vietnam's development journey is evolving and so is the nature of our partnership," said Ferro. "The World Bank will offer innovative solutions that address new development challenges and fit the unique profile of Vietnam's development opportunities."
Ferro also visited Ho Chi Minh City to broaden the partnership between the World Bank and Vietnam's economic powerhouse. During the meeting with Chairman of Ho Chi Minh City People's Committee Phan Van Mai, the two sides discussed key challenges the city is facing as it bounces back from Covid-induced recession and explored how it could mobilize knowledge and financial resources from the World Bank to boost its competitiveness and resilience.
A joint HCMC-World Bank Working Group was formally launched to prepare an engagement plan for the coming years.
The World Bank's current portfolio in Vietnam consists of 33 operations, worth a total of US$5.72 billion focused on transforming livelihoods and increasing infrastructure's resilience to climate risks, education, health care, transport, energy, water resource management, and urban resilience. Since its re-engagement in Vietnam in 1994, the Bank has committed a total of more than US$25.3 billion toward financing Vietnam's development.
Vietnam joins 6G race
Although the 5G network has yet to be commercialized, Vietnam plans to enter the 6G technology race in 2022.
In 2021, mobile network operators Viettel, VNPT, and MobiFone tested 5G services in 16 provinces/cities, with more than 500,000 subscribers.
Nguyen Phong Nha, Deputy Director of the Department of Telecommunications (Ministry of Information and Communications - MIC), said that the MIC will officially license 5G commercialization in 2022 and soon cover industrial parks, high-tech parks and high-demand areas. Along with the commercialization of 5G, Vietnam aims to start researching 6G networks in 2022.
"Vietnam must be in the leading group in terms of 5G and 6G development. Vietnam will allocate 5G frequencies and developing 5G networks nationwide, and start 6G research right in 2022," said Minister of Information and Communications Nguyen Manh Hung.
He also announced that Vietnam will be one of the first 10 countries in the world to have a 6G Steering Committee. He said that 6G frequency will be licensed in 2028 (if possible), before the commercialization of 6G services.
China began researching 6G technology in 2018 and plans to introduce the technology to the public by 2029. The US started implementing 6G research in the same year and a wireless technology research alliance in North America named Next G was established in 2020 with the participation of technology and telecommunications corporations such as Apple, Google and AT&T.
South Korea plans to introduce 6G in 2026 with the participation of LG, Samsung and SK Telecom. Korea's investment in the digital economy, including 6G, amounts to US$11.7 billion.
Meanwhile, Japan started 6G research with the participation of Sony, NTT and Intel in 2020 and plans to launch this next-generation connectivity technology by 2030, with a US$9.6 billion development fund for 6G and other technologies.
European countries, with the participation of Finland, Germany, the UK and Russia, have embarked on 6G research since 2020.
Vietnam is one of the few developing countries that have announced participation in 6G technology research.
Vietnam is also one of the first countries that trialed 5G technology. In early 2020, the first 5G call was made on Viettel's network in Hanoi, VNN reported.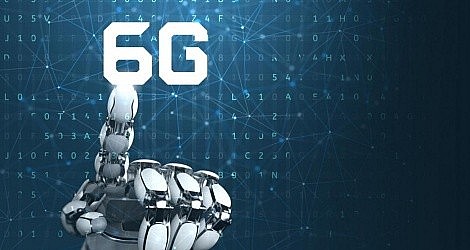 Photo: VNN
In Vietnam, Viettel has successfully researched 5G products, including 5G core network, 100G Site Router, gNodeB Micro and Macro radio network. This group has also tested a complete 5G network cluster in December 2021. This has created a springboard and confidence for Vietnam to enter a future-led technology game.
Although 5G has not been commercialized in Vietnam yet, 6G, with a wireless network replacement cycle every 10 years, could be launched as early as 2030. Therefore, if countries develop 6G technology, they will have a huge advantage in commercializing and leading the technology. Some Vietnamese mobile network operators have planned to join the 6G game.
There aren't any 6G standards yet, but in theory, 6G is estimated to achieve speed of 1 terabit/s, which means that on average, users can download 142 hours of video content at the highest resolution per second. Compared to 5G, the theoretical speed of 6G network is 100 times faster.
A Viettel leader said that in 2022, Viettel will continue to develop semiconductor technology to produce 5G chipsets in Vietnam, and at the same time start research 6G technology. But perhaps the world will start testing 6G in 2025, so at least by 2023, Viettel will have to research 6G and wait for application in 2028 or in 2030.
Huynh Quang Liem, General Director of VNPT Group, said that the country that masters the world's new technology will have many advantages. It is not too early to research 6G technology from the time 5G is commercialized, because the research process for a new generation usually takes 8-10 years.
VNPT leaders said that in 2022 VNPT continues its strategy of expanding 4G coverage and commercializing 5G as planned and according to customer needs. At an appropriate time, VNPT will join the 6G game.
Obviously, research and development of 6G is a game of the future, with the participation of the most potential technology powers. Vietnam's participation in that game shows its confidence and willingness to join the world in the latest technology generations.