Vietnam News Today (Mar. 27): Local Dairy Products Make Foray into 56 Countries and Territories Globally
Vietnam News Today (Mar. 27): Additional 103,126 Covid-19 cases recorded in Vietnam on March 26; Cuba, Vietnam work to bring economic and trade ties on par with traditional friendship; UKVFTA boosts trade and investments between UK, Vietnam; Local dairy products make foray into 56 countries and territories globally.
Vietnam News Today (Mar. 27) notable headlines
Additional 103,126 Covid-19 cases recorded in Vietnam on March 26
Cuba, Vietnam work to bring economic and trade ties on par with traditional friendship
UKVFTA boosts trade and investments between UK, Vietnam
Local dairy products make foray into 56 countries and territories globally
Thousands run in HCM City in response to Earth Hour
Khanh Hoa province welcomes 254,000 tourists in Q1
Exhibition displays Hue royal antiques in Hanoi
Vietnam sets goal of US$18.5 billion for wood exports in 2025
Vietnam works to preserve vulnerable wildlife amid climate change
A man in Cao Bang City is vaccinated against Covid-19 on Saturday. Photo: VNS
Additional 103,126 Covid-19 cases recorded in Vietnam on March 26
Vietnam reported 103,126 new Covid-19 infections, including two imported cases, on March 26, the Ministry of Health announced.The capital city of Hanoi continued to log the highest number of infections, with 9,623.
It was followed by northern Phu Tho and central Nghe An provinces, with 4,679 and 4,362 cases, respectively.
Also on March 26, the northern province of Nam Dinh registered an additional 55,179 infections.
The new infections brought the country's total caseload to 8,919,557, ranking 121st among 225 countries and territories in the world, cited VNA.
As many as 164,553 patients were declared to be free from coronavirus SARS-CoV-2 on the day, raising the total number of recoveries to 5,166,117.
Meanwhile, 62 fatalities were recorded, lifting the national death toll to 42,258, accounting for 0.5 percent of the total infections.
More than 204.86 million doses of Covid-19 vaccines have been administered in Vietnam so far.
Cuba, Vietnam work to bring economic and trade ties on par with traditional friendship
Chairman of the Vietnamese National Assembly Vuong Dinh Hue and President of the National Assembly of People's Power of Cuba Esteban Lazo Hernández have expressed their wish to bring economic-trade-investment ties to be on a par with the traditional friendship between the two nations.
During the online talks held on March 25, both sides informed each other about their respective country's recent situation, and discussed a host of measures to further reinforce the fraternal friendship and comprehensive cooperation between the Parties, National Assemblies and people of Vietnam and Cuba.
Hue emphasized that Cuba always holds a very important position in the heart of each Vietnamese person and that Vietnam supports the request for ending embargo policies against the Caribbean nation.
Hernandez affirmed that Cuba gives the top priority to cooperative relations with Vietnam and desires to strengthen economic, trade and investment ties as well as exchanging experience in parliamentary activities with the Southeast Asian country.
NA Chairman Vuong Dinh Hue affirms that Vietnam attaches great importance to and will continue to closely coordinate with Cuba. Photo: VOV
Cuba is appreciative of Vietnam's efforts in carrying out the dual goal of combating Covid-19 and boosting economic development, Hernandez said, adding that Cuba aspires to cooperate with Vietnam in the fight against the pandemic based on its current capacity, according to VOV.
The two leaders held that despite their geographical distance, Vietnam and Cuba have been and will be backing each other in the process of national construction and defense. The Vietnam-Cuba special fraternal friendship and solidarity are a valuable asset that the two Parties, States and people need to preserve, nurture, develop and pass to future generations, they stressed.
They went on to state that the bilateral relationship has continued to witness positive development steps in the recent past despite adverse impacts from the Covid-19 pandemic. The two countries have maintained high-level phone talks and meetings and cooperation mechanisms in the online form, and built mechanisms to remove difficulties in economic-trade-investment ties. Vietnam and Cuba have assisted each other in coping with the pandemic, showing their special sentiments.
Hue affirmed Vietnam's recognition of great importance to and will continue working hand in hand with Cuba to implement high-level commitments and contents of bilateral cooperation, including cooperation in health care, pharmaceuticals and Covid-19 prevention and control, reached by the inter-government committees.
The pair consented to continue intensifying the exchange of delegations at all levels in suitable forms; and organizing seminars, talks and exchange of experts to share experience in renewal, especially in law-making, supervision, building and perfecting the rule-governed socialist State and deciding important issues of each country.
The two sides pledged to create more optimal conditions in terms of mechanism and policy for Vietnamese businesses investing in Cuba, and continue pushing up economic and trade relations as well as cooperation in the fields where both nations have advantages and potential such as agriculture, fishery, biotechnology and tourism.
UKVFTA boosts trade and investments between UK, Vietnam
The UK-Vietnam free trade agreement (UKVFTA), effective on May 1, 2021, is expected to help not only boost trade but also promote investment between Vietnam and the UK.
Despite global supply chain disruptions because of the Covid-19 pandemic, trade between Vietnam and the UK has seen positive results.
One year after UKVFTA came into effect, two-way Vietnam-UK trade turnover reached US$6.6 billion in 2021, an increase of 17 percent over 2020.
Regarding investments, as of the end of 2021, there were 447 UK-invested projects in Vietnam, which accounted for 1.3 percent of a total number of foreign direct investment (FDI) projects, with total investment capital of US$4 billion.
Meanwhile, Vietnam has had nine projects with total registered capital of US$11.5 million in the UK. The UK is Vietnam's third largest trade partner in Europe and the ninth largest export market for Vietnam.
These figures clearly demonstrate Global Britain in the Age of Competition, the strategy announced by the British Prime Minister in the context of post-Brexit and Covid-19. The UK is determined to shift its strategic focus to the Indo-Pacific region, prioritizing Southeast Asia in finding new partners and markets.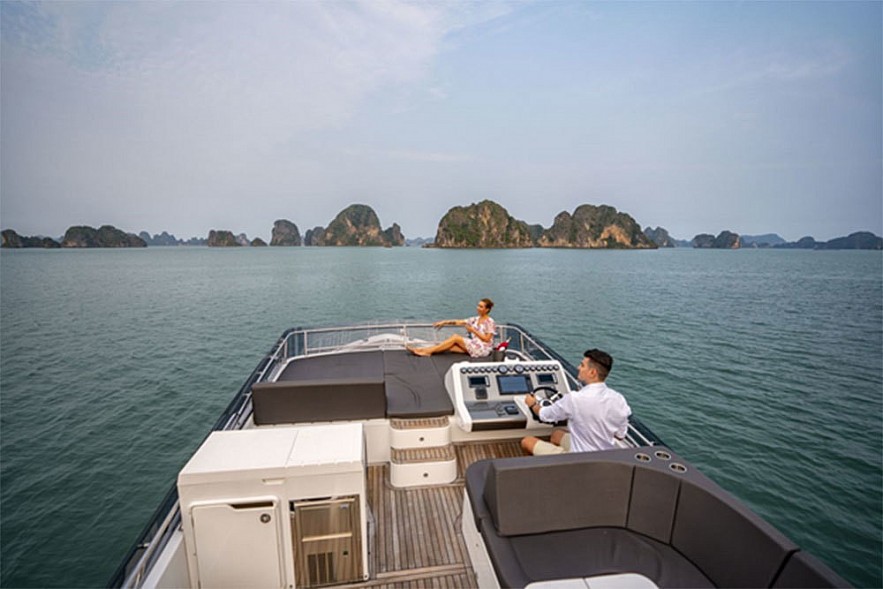 Vietnam is a favorite destination for the British.
According to economists, the space for trade cooperation between the UK and Vietnam remains large, especially because Vietnam is considered a market with high potential when entering the new economic development period with targeted income per capita of US$3,500 by 2025 and US$7,000 by 2030.
The Vietnamese side can take advantage of UK supply chains and technology, while large corporations in Vietnam can take advantage of business fields such as aviation, tourism, real estate and farm-forestry-seafood products.
In the tourism sector, Vietnam is a favorite destination for the British. This is due to natural conditions as well as diverse tourism products, especially golf tourism, reported VNN.
Before the pandemic outbreak, the number of British travelers to Vietnam grew by 10-15 percent per annum. The figure is expected to see a boom as Vietnam has restored the visa waiver policy applied to citizens of 13 countries, including the UK.
Both Vietnam and the UK consider the aviation sector as one of the most important fields that facilitates trade exchange, tourism and economic development. Bamboo Airways opened a non-stop air route between Hanoi and London on March 22, a positive sign for cooperation between Vietnam and the UK.
The private air carrier also plans to put into commercial operation non-stop air routes between HCM City (Tan Son Nhat Airport) and the UK (Heathrow, London Airports) and other non-stop routes to Europe once it gets the licenses.
The upcoming "Vietnam Week in the UK", to be organized to celebrate the Platinum Jubilee to mark the 70th anniversary of the accession of Queen Elizabeth II, from March 28 to April 3, will be a major event that connects the two important partners.
Within the framework of the event, to introduce to British investors and partners cooperation opportunities, FLC, Bamboo Airways and the Vietnamese Embassy will organize an investment promotion forum.
Local dairy products make foray into 56 countries and territories globally
Vietnam's milk export turnover has consistently seen annual growth in recent years, reaching roughly US$300 million, with the milk export market expanded to nearly 56 countries and territories globally, according to the Vietnam Dairy Association (VDA).
Over the past five years, especially in the 2020 to 2021 period, the Covid-19 pandemic has negatively impacted the business activities of several sectors and fields, including the dairy industry. However, thanks to the joint efforts in overcoming these difficulties, the dairy industry has still been able to record an impressive growth rate in terms of output, products, and revenue.
According to the VDA, before the initial global Covid-19 outbreak, dairy enterprises faced numerous obstacles, such as logistics problems and product distribution, with many factories, farms, and distribution stores forced to suspend their operations due to the ranging pandemic.
Recognizing these challenges in order to avoid supply chain disruptions, dairy businesses have made every effort to both maintain their traditional distribution systems and promote modern distribution systems by intensifying business activities through e-commerce platforms, cited VOV.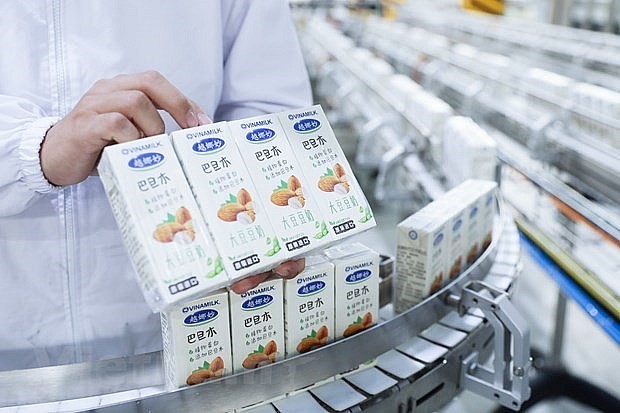 Vinamilk has shipped nut milk products to China. Photo: VNA
Most notably, dairy businesses have expanded their export markets by actively conducting research and increasing investment in a bid to market many products which can meet consumers' need.
Upon entering the period of post-pandemic economic recovery despite enduring many difficulties, the VDA forecasts that the development prospect of the Vietnamese dairy industry remains very large.
Accordingly, the demand for milk and dairy products, including immune-boosting nutritional foods are prioritized for selection, while high-value dairy products are also expected to increase sharply moving forward.
Furthermore the National Strategy on Nutrition for the period 2021 to 2030 with a vision towards 2045 is said to be the driving force for the entire dairy industry as it strives to make every effort to promote milk consumption at a higher level.
As an organization representing the dairy business community with 118 members, after being in operation for over six years, the VDA has made an active contribution to promoting the development of the Vietnamese dairy industry. This has served to bring the voice and aspirations of member enterprises to all levels and sectors, whilst also demonstrating the role of cohesion and co-operation as a bridge between local businesses.
Assoc. Dr. Tran Quang Trung, chairman of Vietnam Dairy Association, emphasized that thanks to efforts made to overcome the "Covid-19 storm", along with the support of the policies implemented by the State, dairy enterprises were still able to achieve an average annual revenue of 5% over the past five years. Indeed, the output of liquid milk and powdered milk both enjoyed impressive growth, whilst the dairy industry is one of the livestock industries with the best growth, he stressed.
Committed to accompanying businesses, the VDA affirmed that it will further enhance its role as an organization representing the dairy business community. In line with this, it will serve as a bridge to step up co-operation between members in order to improve the overall competitiveness of enterprises in the process of economic integration and development, Dr. Trung added.
Thousands run in HCM City in response to Earth Hour
The Ho Chi Minh Communist Youth Union (HCYU) of Ho Chi Minh City and the HCM City Power Cooperation (EVNHCMC) on March 26 hosted a run to mark the 91st anniversary of the HCYU and respond to Earth Hour and Olympic Day Run 2022.
The event is intended to encourage young people to improve their physical health and raise public awareness of limiting the use of vehicles that produce emissions, causing environmental pollution.
Thousands run in HCM City in response to Earth Hour. Photo: VNA
Up to 1,500 people participated in the 3,500m run from the headquarters of the city's HCYU to the Youth Cultural House.
The organizers handed over one first prize, one second prize, one third prize and five consolation prizes to each of the men's and women's groups.
Started in 2007 by WWF and partners as a symbolic lights-out event in Sydney to raise awareness of climate change, Earth Hour is now one of the world's largest grassroots movements for the environment. Held every year on the last Saturday of March, Earth Hour engages supporters in more than 190 countries and territories, all taking action to ensure a brighter future for people and the planet, reported VNA.
Earth Hour has also gone far beyond the symbolic action of switching off - it has become a catalyst for positive environmental impact, driving major legislative changes by harnessing the power of the people and collective action.
Earth Hour is open-source and we welcome everyone, anyone, to take part and help amplify our mission and impact.
On March 26 this year, from 8:30 pm to 9:30 pm local time, everyone should switch off lights in response to Earth Hour 2022 themed "Creating the future - Now or never".