Vietnam News Today (Mar. 8): Vietnam is Becoming an Attractive Startup Valley
Vietnam News Today (Mar. 8): Vietnam has 147,358 Covid-19 cases to report on March 7; Vietnam, US seek to propel trade ties forward; Vietnam is becoming an attractive startup valley; Vietnamese "blue beret" doctors help raise South Sudanese women's awareness of health care.
Vietnam News Today (Mar. 8) notable headlines
Vietnam has 147,358 Covid-19 cases to report on March 7
Vietnam, US seek to propel trade ties forward
Vietnam is becoming an attractive startup valley
Vietnamese "blue beret" doctors help raise South Sudanese women's awareness of health care
Women's great contributions to national development and international integration praised
Vietnam demands China respect its sovereignty in Bien Dong Sea
Poland asked to provide support and temporary shelter for Vietnamese citizens
Overseas Vietnamese invest in 370 local projects
Hurdles remain for tourism sector as new Covid-19 rules fuel controversy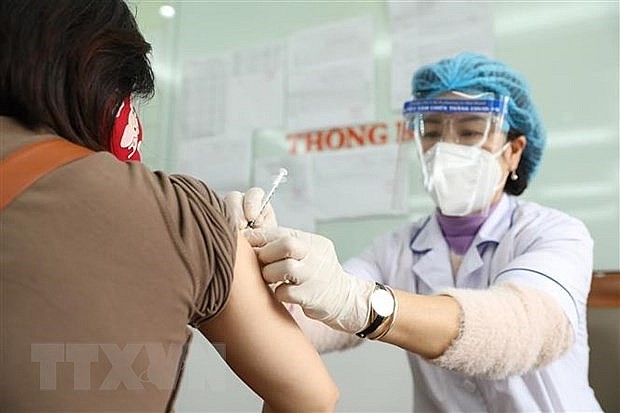 A health workers gives a COVID-19 vaccine shot to a resident of Le Dai Hanh ward in Hanoi's Hai Ba Trung district. Photo: VNA
Vietnam has 147,358 Covid-19 cases to report on March 7
Vietnam logged 147,358 Covid-19 infections on March 7, bringing the country's caseload since the start of the pandemic to 4,582,058, according to the Ministry of Health.
Of the new cases, 23 were imported and quarantined upon arrival.
Hanoi continued to top the daily numbers with a record 32,317 transmissions, and 15 deaths, in the past 24 hours. It was followed by Nghe An (10,153), Bac Ninh (7,873), Phu Tho (4,326), cited VNA.
A further 78 Covid-related deaths were reported, raising the nation's death toll to 40,891.
As many as 36,993 Covid patients made a full recovery, with the total number of recovered patients in Vietnam reaching 2,718,440.
4,104 COVID patients are in serious or critical condition with the majority requiring oxygen, 327 requiring invasive ventilation and eight on life support.
More than 197.9 million Covid vaccine doses have been administered in Vietnam so far, including over 180.8 million doses for adults and about 17 million for children aged 12-17.
Vietnam, US seek to propel trade ties forward
The Vietnam-US Business Summit 2022 on reshaping the future of the bilateral economic ties is set to open on March 8 and will discuss ways to promote bilateral trade and investment, with Prime Minister Pham Minh Chinh scheduled to make an important speech at the event.
The Vietnam-US Business Summit 2022 on March 8 will be co-hosted by the American Chamber of Commerce in Hanoi (AmCham Hanoi) and the Vietnam Chamber of Commerce and Industry (VCCI) ahead of the US-ASEAN Summit which is due to run from March 28 to March 29 in Washington.
According to AmCham Hanoi, US President Joe Biden is set to welcome PM Chinh and other ASEAN leaders to attend the US-ASEAN Summit. This will mark the first face-to-face meeting between President Biden and ASEAN leaders since he took office early last year.
PM Chinh and US Secretary of Commerce Gina Raimondo will deliver keynote speeches at this important event, with the function featuring the participation of numerous US and Vietnamese leaders from the private economic sector and those from across the region.
Key issues which will be discussed during the occasion include driving future growth and innovation through the digital and creative economy, meeting energy development needs to boost future Vietnamese growth, and promoting sustainable investment and stable policies to fuel economic recovery.
Bilateral trade between the nation and the US surpassed the US$100 billion mark at the end of last year, representing a new milestone in two-way trade, according to VOV.
Apparel product is one of Vietnam's major export items to the US. Photo: VOV
According to the General Department of Customs, both side's import and export hit US$111.56 billion, marking an increase of nearly US$21 billion compared to 2020, thereby making the US the country's second trading partner to achieve over US$100 billion, behind China.
Last year witnessed Vietnamese exports to the US reach US$96.29 billion, representing a year-on-year increase of 24.9%. Indeed, world's largest economy continued to be the country's largest export market, accounting for up to 28.6% of the nation's export turnover.
There are 13 groups of goods exported to the US market with a turnover of US$1 billion or more, of which three groups recorded more than US$10 billion.
The group of export items with the largest turnover was machinery and equipment with US$17.82 billion, followed by garments and textiles with US$16.1 billion, and computers, electronic products and components with US$12.76 billion.
The US is also a market that imports several billions of US$ worth of wood, agricultural, and aquatic products from the nation, of which the export of timber and wood products to this market hit US$8.77 billion, seafood stood at more than US$2 billion, and cashew nuts was over US$1 billion.
In the opposite direction, last year saw the country spent US$15.27 billion importing goods from the US, an increase of 11.4% on-year, and making up 4.6% of the Southeast Asian nation's turnover.
Vietnam is becoming an attractive startup valley
In 2021, investment capital in start-ups hit a record level of US$1.35 billion, making Vietnam the most attractive startup valley in the region.
According to the latest data from the Department of Market Development and Sci-tech Enterprises (Ministry of Science and Technology), investment capital poured into start-ups in Vietnam grew dramatically in 2021, reaching more than 1.35 billion USD.
Le Hoang Uyen Vy, Director of Do Investment Fund, said Vietnam has the advantage of a population of nearly 100 million people, a young population structure, and a large emerging middle class. Besides, the number of Internet users in Vietnam is nearly 70 million, and the mobile usage rate is about 70% of the population. That is why Vietnam attracts a lot of venture capital.
Tim Evans, General Director of HSBC Vietnam, said in recent years, Vietnam has emerged as a startup hub, nearly catching up with countries like Indonesia and Singapore. With a young intellectual population, high Internet coverage and smartphone usage, and the support of the Government, Vietnam will continue to maintain its position as an attractive destination for both investors and technology companies.
New startup valley
Golden Gate Venture said that Vietnam is a "rising star" of Southeast Asia and will become the country with the third largest startup ecosystem in the region by 2022. "Along with the development of the startup ecosystem, Vietnam is considered one of the most attractive destinations for venture capital funds in Southeast Asia", the Southeast Asia Ecosystem 2.0 report of Golden Gate Ventures said.
Phan Minh Tam, Chairman of STI Holdings, said that capital flows will increase in 2022, but investors will be choosier.
According to Pham Hong Quat, Director of the Department of Market Development and Sci-tech Enterprises, many domestic and foreign investors are interested in N2TP (Layer 2 Tunneling Protocol) in the field of Medtech, GIMO in the field of Fintech invested by BK Fund, and Propzy in Proptech invested by FEBE Ventures. Besides, logistics is also an interest of investors.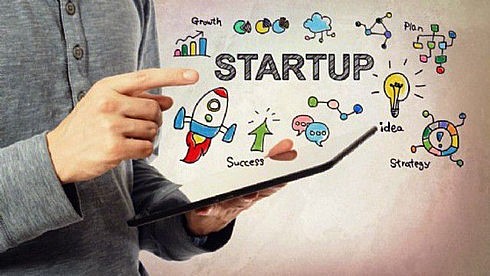 Photo: VNN
In 2021, the world witnessed the rise of Vietnam as a pioneer in blockchain game development and Metaverse (virtual universe) movement. In particular, the rise of Axie Infinity, My DeFi Pet, Faraland, MeebMaster, Theta Arena, Sipher, HeroFi... has created a strong inspiration for Vietnamese businesses and start-ups. In fact, a series of blockchain game projects have attracted hundreds of millions of US dollars in investment like Sky Mavis, but this field has not been recognized by the State and has no clear legal corridor, VNN reported.
Large investment funds believe that 2022 will be the explosive year of the Metaverse wave. Vietnam will be the new capital for this wave.
Citing the success of Axie Infinity, Dao Quang Binh, Head of Market Development Department of TECHFEST 2021, said that technology is changing much faster than policy. Management agencies and businesses need to cooperate to promote investment and development activities in this field. This will help avoid waste of resources, when many innovative enterprises related to new technologies of Vietnam have had to go to other countries to start a business.
Nguyen Dinh Thang, Chairman of the Vietnam Digital Startup Club (VDI), said that AI, Big Data, 5G, IoT and automation are considered new technology trends this year. Covid-19 is seen as a test, but also a push to accelerate the application of technology.
During the pandemic, the wave of investment in innovation and startup in the world and in Vietnam is still booming. To seize the opportunity to promote faster and stronger technology investment, Vietnam needs to soon complete the legal foundation to encourage investment, construction, and connection of domestic and international resources.
Vietnamese "blue beret" doctors help raise South Sudanese women's awareness of health care
Vietnam's Level-2 Field Hospital No. 3 which is performing duties at the UN Peacekeeping Mission in South Sudan has organized activities to raise awareness of health care and daily gynecological hygiene for local women on the occasion of the International Women's Day (March 8).
The program was accompanied by medical staff of the Mongolian mission who joined in providing medical check-ups and medicines.
This was a meaningful activity of Vietnam's "blue beret" doctors with the desire to convey a message on the role of women in all countries, even though that country is still facing difficulties, cited VNA.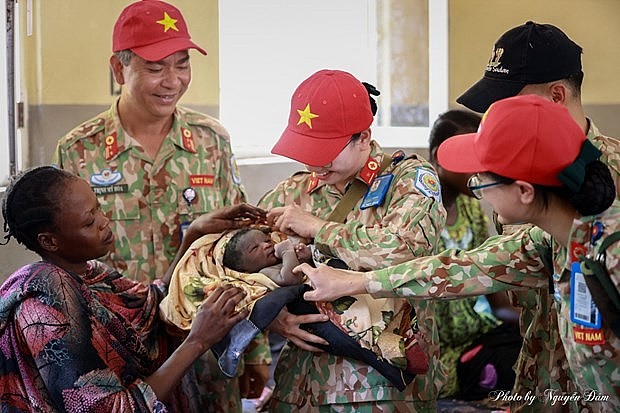 Vietnamese "blue beret" doctors help raise South Sudanese women's awareness of health care. Photo: Level-2 Field Hospital No. 3
According to Dr. Tong Van Anh, head of the women's group of the hospital, many South Sudanese women do not understand the importance of hygiene for women's reproductive health, and to prevent gynecological diseases. They also lack knowledge about feminine hygiene, she added.
She expressed her hope that after the event, local women will be more aware and concerned about their own health, especially reproductive health.
Other Vietnamese female doctors and nurses also gave many gifts to South Sudanese women, along with thoughtful advice.
The program has contributed to building a beautiful image of Vietnamese people in the eyes of international friends, and bringing a better life to the indigenous people, especially women.
Women's great contributions to national development and international integration praised
Vietnamese women have shown their capabilities and virtues in any situations, making great contributions to the causes of national construction, development, and international integration.
Prime Minister Pham Minh Chinh made these remark during a meeting with female leaders, intellectuals, and artists on March 7 in Hanoi in the lead up to International Women's Day on March 8.
Throughout Vietnamese history, women have upheld patriotism and indomitability, shining in all aspects of social life whilst carrying on the country's fine traditions, he affirmed.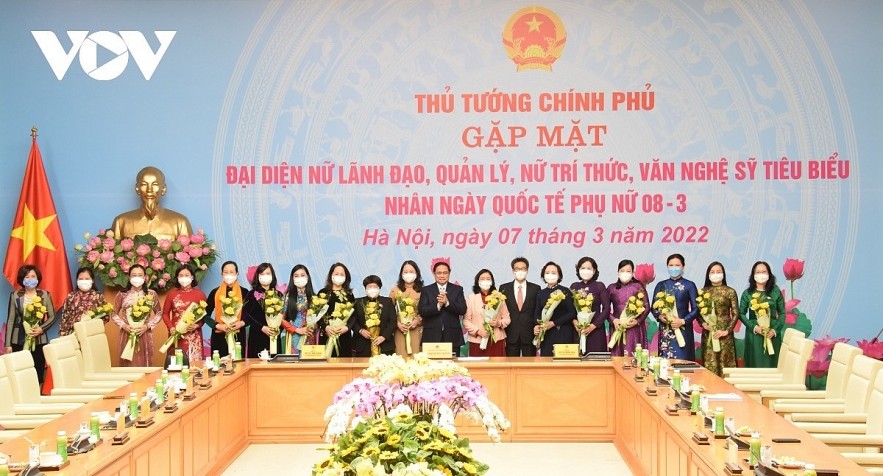 Photo: VOV
The Government chief said the Party and State have always paid great attention to policies, mechanisms, and regulations in order to facilitate women's greater development and the realization of gender equality targets.
He therefore pointed to the fact that the rate of female deputies hit 30.26% in the 15th National Assembly, the highest level recorded so far.
Vietnam ranks 60th in the world, fourth in Asia, and first in the ASEAN Inter-Parliamentary Assembly (AIPA) in terms of the percentage of women in people's elected bodies, VOV reported.
The country also ranks third in ASEAN and 47th out of 187 countries and territories in terms gender equality in political participation.
PM Chinh took note of several proposals and recommendations put forward by female delegates at the event, therefore assigning competent agencies to consider and handle issues under their jurisdiction.
He went on to underline the necessity of promoting the overall quality of female human resources in order to meet the requirements of sustainable development and international integration, whilst simultaneously carrying out sustainable development goals.
At the event, female delegates pledged to maintain and develop the traditional culture of the country and virtues of Vietnamese women, whilst making further contributions to the national construction.
They expressed their wish that the Party and State will continue to take heed of issues relating to women's development, strive to continue promoting gender equality, and take care of the material and spiritual lives of women.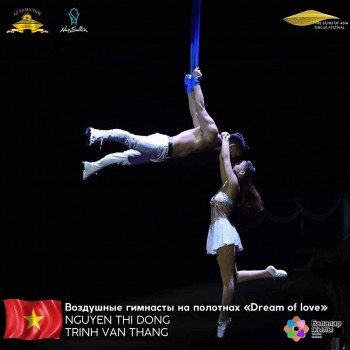 World
The Echo of Asia, an international annual circus festival returned to the stage of the Kazakhstan capital after a two-year suspension caused by the outbreak of the Covid-19 pandemic.