Vietnam News Today (May 10): Vietnam Steps Up Climate Change Response Efforts
Vietnam News Today (May 10): Covid-19: Only close to 2,200 cases recorded in Vietnam on May 9; SEA Games 31: Numerous special events, tours in Hanoi to promote tourism; Vietnam steps up climate change response efforts; Story-telling contest highlights Vietnam-Laos special friendship.
Vietnam News Today (May 10) notable headlines
Covid-19: Only close to 2,200 cases recorded in Vietnam on May 9
SEA Games 31: Numerous special events, tours in Hanoi to promote tourism
Vietnam steps up climate change response efforts
Story-telling contest highlights Vietnam-Laos special friendship
Vietnam Blockchain Union to held first congress in mid-May
Border opening boost tourism among Cambodia, Thailand, Vietnam
Vietnam targets high-efficiency agriculture
Media center for SEA Games 31 opens
Vietnam jumps 30 notches in latest Covid-19 Recovery Index by Nikkei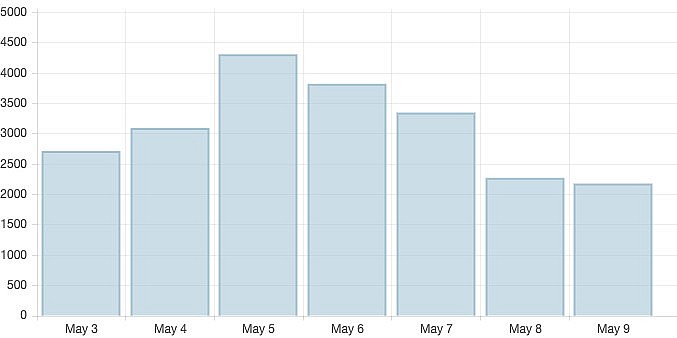 Daily coronavirus infections in Vietnam in the past week. Photo: VOV
Covid-19: Only close to 2,200 cases recorded in Vietnam on May 9
The Covid-19 pandemic is on a downward trajectory in Vietnam as only 2,175 new coronavirus cases were detected on May 9, a fall of 93 cases compared to the previous day.
The Ministry of Health reported in its coronavirus update that all the new cases were locally acquired and registered in 48 out of 63 localities nationwide. Of the total, 1,767 cases documented in the community.
Hanoi capital topped localities nationwide, registering 601 new cases, followed by Quang Ninh (116), Phu Tho (113), Tuyen Quang (107), and Nghe An (103).
In the South, Ho Chi Minh City detected 47 new cases, followed by Ba Ria – Vung Tau (24), Dong Thap (8), Tay Ninh (8), Binh Phuoc (7) and Ben Tre (6).
Localities that saw the number of infections decrease most compared to the previous day were Bac Ninh (-92), Quang Binh (-47), and Lam Dong (-41).
Meanwhile, localities that saw the number of infections rise most compared to the previous day were Hanoi (+263), Hai Duong (+46), and Quang Ngai (+36). On average 3,101 cases were recorded in Vietnam daily in the past seven days, cited VOV. The same day, the Ministry of Health announced an additional 1,574 patients recovering from the disease, and only one death.
At present, 447 patients are relying on mechanical ventilation and two patients are receiving extracorporeal membrane oxygenation (ECMO), a sophisticated form of therapy that is used to save the lives of patients in critical condition.
As of 6pm on May 9, Vietnam has confirmed nearly 10.7 million infections, ranking 12th out of 227 countries and territories worldwide.
Of the total, more than 9.3 million patients have recovered, and 43,057 patients have died of the virus and underlying illnesses.
Nearly 216 million Covid-19 vaccine doses have been administered nationwide.
SEA Games 31: Numerous special events, tours in Hanoi to promote tourism
Hanoi is holding a myriad of events and tours to capitalize on the ongoing 31st Southeast Asian Games (SEA Games 31) to popularize images of the capital and Vietnam as a whole among international friends.
The municipal Tourism Department said it has ordered management boards of local destinations, accommodation establishments, and travel companies to develop and launch new and special tourism products on this occasion, including a cycling tour of the Bat Trang ancient pottery village, night services on Son Tay and Trinh Cong Son pedestrian streets, night tours of the Thang Long Imperial Citadel and Hoa Lo Prison, a double-deck bus city tour, and a tour for visitors to experience Southeast Asian cultures at the Vietnam Museum of Ethnology.
Some prestigious travel companies such as Hanoitourist, Vietfoot Travel, LUX Travel, VI Travel, and Vietravel have debuted dozens of tours in which travelers can enjoy famous scenic landscapes and dishes of the capital and neighboring localities.
A series of activities have been organized before SEA Games 31 and planned to take place during and after the region's biggest sporting event.
Kicking off those activities, the Tourism Department held the "Get on Hanoi 2022" in late March, a highlight of which is a hot air balloon festival. This program was followed by the Friendship Journey in Quoc Oai district, the Tourism Gift Festival in the pedestrian zone around Hoan Kiem Lake, the Bat Trang Tourism Week, the launch of the Son Tay Tourism Year and the Son Tay Ancient Citadel pedestrian street, the opening ceremony of the Saint Giong Festival, and the Love Festival in Thuong Tin district.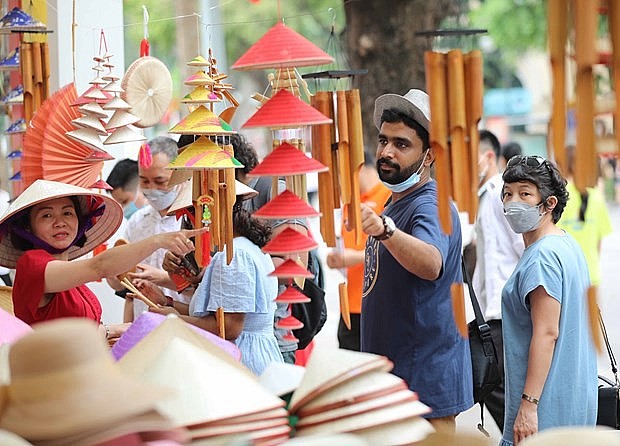 A foreign visitor to the Hanoi Tourism Gift Festival 2022 that took place from April 29 to May 1. Photo: VNA
On this occasion, the Hanoi Centre for Investment, Trade, and Tourism Promotion will organize a tourism festival at the Hoan Kiem Lake pedestrian zone on May 13 - 15 and a craft village food and tourism festival on Le Quang Dao street in Nam Tu Liem district from May 19 to 23.
Communications have also been increased with the production of publications and gifts to introduce local tourism such as reprinting 3,500 tourism maps and 4,000 copies of a book on Hanoi.
The Tourism Department has been coordinating with the Vietnam Television and the Hanoi Television and Radio Station to produce and broadcast a tourism promotion program titled "Hanoi - Den de yeu" (Hanoi - Come to love) in two phases, from April to August and from September to December this year, according to VNA.
It is also working with CNN International to make and broadcast a video clip on local tourism with the presence of the SEA Games 31 logo. Efforts are also being made to increase introducing the city to international friends via tourism websites and social networks.
To gear up personnel for the Games, the Tourism Department has opened training courses for the cadres in charge of culture and tourism of the localities hosting competitions, travel businesses, and the 14 hotels accommodating the Games participating delegations, it noted.
For 2022, Hanoi looks to attract 9 - 10 million visitors, including 1.2 - 2 million foreigners. It targets around 3.2 million tourist arrivals in the second quarter of this year, including 150,000 - 200,000 foreigners.
The capital city welcomed about 2.8 million domestic visitors in the first quarter, an increase of 45.3 percent compared to the same period last year.
Themed "For a Stronger Southeast Asia", SEA Games 31 will take place in Hanoi and 11 nearby localities from May 12 to 23.
The biennial event was initially slated for late December but delayed due to the Covid-19 pandemic.
This is the second time Vietnam has hosted a SEA Games, after the first in 2003.
Vietnam steps up climate change response efforts
By giving its commitment to reducing carbon emissions to zero by 2050 at the recent 26th UN Conference on Climate Change (COP26), Vietnam has both opportunities and challenges to achieve this target.
The commitment of Vietnam, a developing country with numerous difficulties, shows the country's strong resolve to address global issues on climate and environment in the context that it is also one of the six countries that suffer from severe impacts of climate change.
Immediately after the COP26 summit, the Government established the National Steering Committee for implementing its commitment at the COP26 led by Prime Minister Pham Minh Chinh. This decision has been applauded internationally as the right step, demonstrating the country's determination in this roadmap.
Although it has only been in operation for a few months, the Steering Committee has carried out a number of effective activities. It is currently focusing on eight main areas, with priority to be given to energy conversion and greenhouse gas emission reduction.
To meet its commitment, Vietnam is required to carefully calculate the amount of CO2 to be absorbed equivalent to that CO2 emitted. It has put forward solutions toward reducing gas emissions, mostly through energy transition, as the energy industry accounts for up to 70% of emissions.
Tackling global warming requires international cooperation, as well as efforts from everyone. (Illustrative image).
According to the Power Development Plan VIII submitted to the Government in early April, Vietnam will gradually reduce coal power generation and increase renewable energy sources in the coming decades. It plans to cross out 27 coal-fired power projects and instead to develop solar and wind power sources. By 2045 coal power is expected to account for just 9.6% of the whole system, while the supply of renewable energy and clean energy is set to reach 80%.
The roadmap for converting coal-fired power plants will be considered carefully. Many mechanisms and policies will also be introduced to develop clean and renewable energy sources. As for other manufacturing industries, Vietnam aims to reduce emissions in the direction of a green economy and a circular economy, reported VOV.
Green production will be considered a highly competitive advantage for businesses when attracting investment capital at the moment. A recent survey by the European Consumer Centre reveals that one in four consumers decides to buy products based on environmental factors.
For forest resources, Vietnam will also have plenty of opportunities. With a national coverage rate of over 42% and an ongoing program to plant 1 billion trees by 2025, the country has the potential for absorbing carbon, and it will even sell carbon credits by 2025 to deliver economic, environmental and climate benefits.
Apparently, the commitment at the COP 26 summit will be a turning point for accelerating economic restructuring towards a low carbon and green economy. This process will also present numerous challenges, especially in terms of technology and finance. In the energy industry alone, the total investment in electricity and energy development from now till 2045 is estimated at about US$380 billion.
Green development is inevitable, and many countries are willing to see this trend as an opportunity to build their green brand. Vietnam is at the beginning stage, which has been appreciated internationally for its commitments to carbon neutrality towards green development. However, whether or not such a goal is achieved much depends on the determination and cooperation of everyone.
Story-telling contest highlights Vietnam-Laos special friendship
A story-telling competition on Vietnam-Laos friendship was launched in Hanoi on May 9, as part of a special communications campaign for the 60th founding anniversary of the nations' diplomatic relations (September 5, 1962-2022).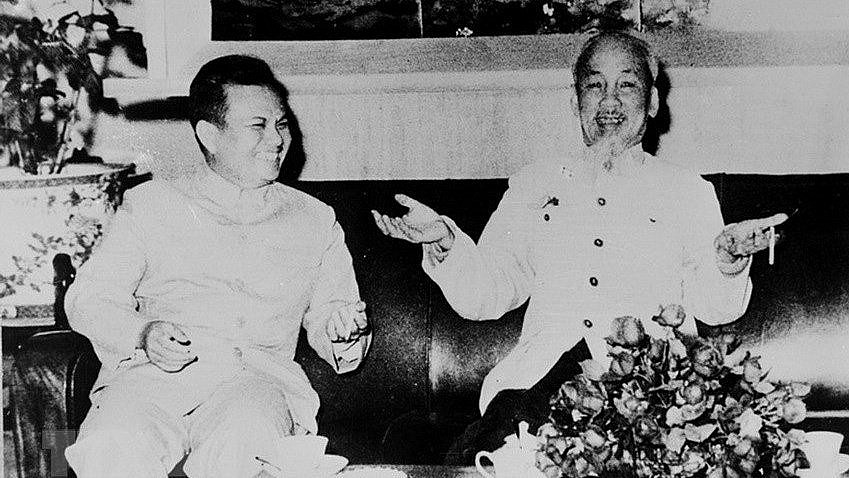 President Ho Chi Minh (R) receives head of the LPRP delegation Kaysone Phomvihane. Photo: VNA
Co-organized by the Vietnam-Laos and Laos-Vietnam Friendship Associations, the Lao Embassy in Vietnam, and Vietnam Times magazine, the contest receives entries in the forms of writing or video clips until August 31. All Vietnamese citizens with relations to Lao people are eligible to participate. Entries are to tell stories about the contestants' keepsakes, which are required to be owned for at least five years.
Via the judges' decisions and readers' votes and shares on the official website of the competition, one special, five first, 15 seconds, 20 third and 30 consolation prizes will be awarded, cited NDO.
At the launch ceremony, Nguyen Tien Long, Vice President of the Vietnam-Laos Friendship Association, said the contest will popularize values of the countries' special amity to the younger generations in a fresh and interesting way.
Chanthaphone Khammanichanh, Lao Deputy Ambassador to Vietnam, said the keepsakes hold invaluable spiritual values on the affection and relations history shared between the two peoples.
Vietnam Blockchain Union to held first congress in mid-May
The Vietnam Blockchain Union (VBU) will hold the first congress in mid-May, aiming to establish an organization to connect the technology business community and provide consultancy to related agencies to develop policies and legal frameworks on technology, digital assets, and currencies.
According to Hoang Van Huay, former deputy minister of Science, Technology and Environment (now the Ministry of Science and Technology) and head of the preparatory committee for the establishment of the VBU, the coming into being of the union will create an important milestone, marking Vietnam's position on the world technology map, VNA reported.
It will create an environment for the development of high-quality human resources in Vietnam to hold the Blockchain core technology in order to compete in the world's digital technology, he said.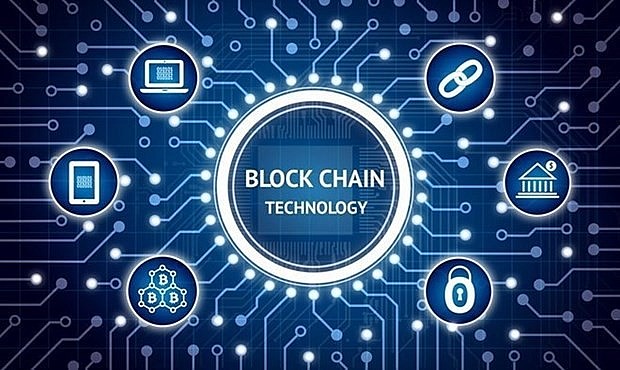 Illustrative image. Photo: VNA
The VBU members will share experiences and resources to study, deploy and trade Blockchain technology in accordance with Vietnamese law. It will cooperate with relevant universities in conducting research on Blockchain technology as well as training human resources in the field.
The union will partner with State management agencies and other social organizations in raising awareness of the community and developing policies and legal frameworks for the development of products and services based on the Blockchain technology platform, Huay said.