Vietnam News Today (May 7): SEA Games 31: U23 Vietnam Stun U23 Indonesia 3-0
Vietnam News Today (May 7): Vietnam reports 3,819 new Covid-19 cases on May 6; SEA Games 31: U23 Vietnam stun U23 Indonesia 3-0; New cities to be built within Hanoi capital; SEA Games 31 offers chance to promote Vietnam's image to regional sport fans.
Vietnam News Today (May 7) notable headlines
Vietnam reports 3,819 new Covid-19 cases on May 6
SEA Games 31: U23 Vietnam stun U23 Indonesia 3-0
New cities to be built within Hanoi capital
SEA Games 31 offers chance to promote Vietnam's image to regional sport fans
Vietnam closely monitors acute hepatitis of unknown aetiology
Vietnam ranks 59th in global education rankings
New, impressive tourism products at Hanoi Tourism Festival 2022
Vietnam seeks ESCAP assistance for post-pandemic recovery
Exquisite venues ready for SEA Games 31 in Quang Ninh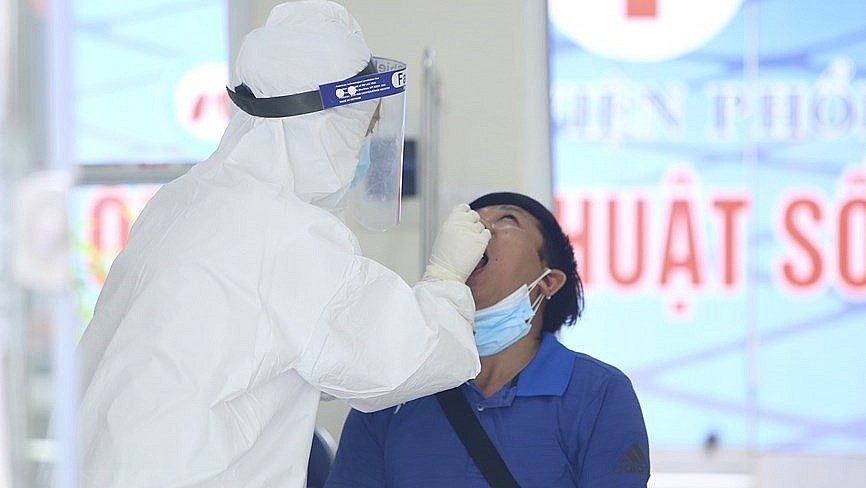 Photo: NDO
Vietnam reports 3,819 new Covid-19 cases on May 6
A total 3,819 new cases of Covid-19 were recorded in the past 24 hours from 4pm May 5 to 4pm May 6, according to the Ministry of Health.
Hanoi continued to report the highest number of infections on the day with 673 cases, followed by Phu Tho with 292 and Vinh Phuc with 203.
The national tally reached 10,670,570.
A total 1,817 Covid-19 patients were given the all clear on May 6, bringing the number of recoveries so far to 9,316,237.
There are 480 patients needing breathing support, while six death were recorded in the past 24 hours, taking the total fatalities to 43,055, cited NDO.
By May 5, the country had injected 215,350,776 doses of Covid-19 vaccines, including 1,706,497 first shots for children from 5 to 11 years old.
SEA Games 31: U23 Vietnam stun U23 Indonesia 3-0
Coach Park Hang-seo's U23 Vietnam performed well on May 6 to outplay their Indonesian opponents 3-0 in their opening game of Group A at SEA Games 31.
Coach Park showed his resolve to get three points in the match against Shin Tae-yong's U23 Indonesia by sending in all three overage players, Hung Dung, Hoang Duc, and Tien Linh at the beginning alongside experienced players like Van Xuan, Viet Anh, Thanh Binh, Hoang Anh or Van Toan.
Holding the ball much of the first half, Vietnamese players carved out several scoring chances, but they all failed. Striker Tien Linh was the best player in the first half who overpowered the goal of the Indonesian side.
Photo: VGP
In the second half, it was Tien Linh who put Vietnam ahead in the 54th minute after receiving a pass from Manh Dung, according to VOV.
U23 Vietnam continued to put pressure and got the second goal 20 minutes later. Tien Linh poked a slot for Hung Dung to hammer the ball into the back of the net, extending Vietnam's lead.
Vietnamese players rushed to attack for the rest of the match, but Tien Linh, Thanh Minh or Manh Dung did not take advantage of chances.
However, U23 Vietnam got another goal in the 87th minute when Van Do put the ball in, but an Indonesian defender missed the ball, making the goalkeeper unable to turn back. The ball went into the net to the surprise of the Indonesian defenders.
Defeating U23 Indonesia 3-0, U23 Vietnam temporarily rose to second place in Group A with three points.
In another Group A match, U23 Philippines trounced U23 Timor Leste 4-0 to stay atop.
Politburo Resolution: New cities to be built within Hanoi capital
The Politburo has issued a fresh Resolution which will allow Hanoi to explore the possibility of building new cities from its existing districts over the coming years to take full advantage of the capital's development potential.
The Politburo's Resolution 15 has set out a range of development directions and tasks for the capital leading up to 2030 with a vision towards 2045.
According to the Resolution, Hanoi will be developed into a smart, modern, and unique urban area, with high hopes that this will have a spillover effect that can link the northern urban area with the whole country.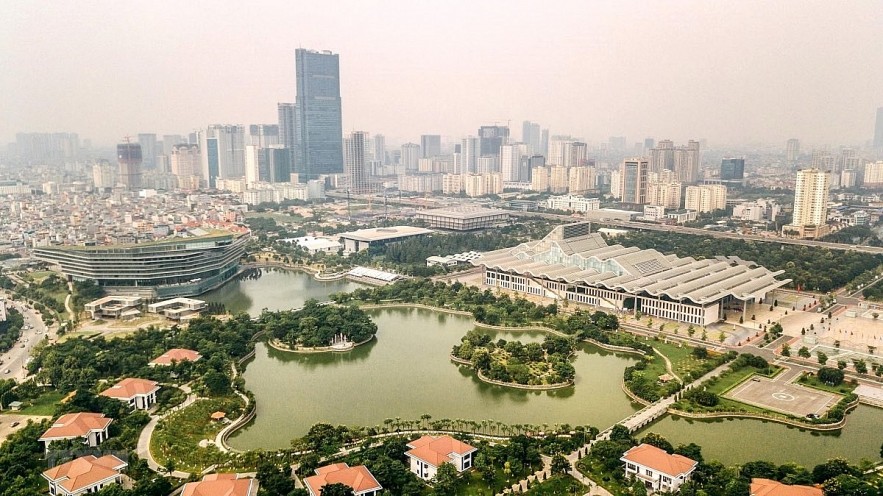 Hanoi capital will have new cities to be built within its urban area in the coming years. Photo: VOV
Among the numerous directions and tasks, new cities will be built in the northern part of the capital covering Dong Anh, Me Linh, and Soc Son districts, along with the western part covering Hoa Lac and Xuan Mai areas.
The capital will strive to record an annual gross regional domestic product (GRDP) growth rate of between 8.0% and 8.5% from 2026 to 2030, with a GRDP per capita reaching between US$12,000 and US$13,000.
By 2045, the capital will be a globally connected city that will boast a GRDP per capita of over US$36,000, and have a development level on par with capitals of developed countries throughout the region and the wider world.
The Politburo noted that it can be viewed as necessary to develop the capital's economy quickly and sustainably by accelerating economic restructuring in association with renovating growth model, mobilizing and effectively using all available resources, VOV reported.
The Politburo also requested that relevant agencies spend time to review and perfect the legal system with outstanding specific mechanisms and policies in order to ensure the capital remains the political-administrative centre of the country.
SEA Games 31 offers chance to promote Vietnam's image to regional sport fans
Deputy Minister of Information and Communications Pham Anh Tuan, head of the information and communications subcommittee for SEA Games 31, presided over a meeting on May 6 to review preparations for the event.
The subcommittee has launched seagames2021.com and set up a media press centre and an international broadcast centre (IBC) at the National Convention Centre slated to open on May 9, as well as press facilities in host localities.
It is also working with relevant agencies to issue more than 2,000 press passes, 500 of them for foreign reporters.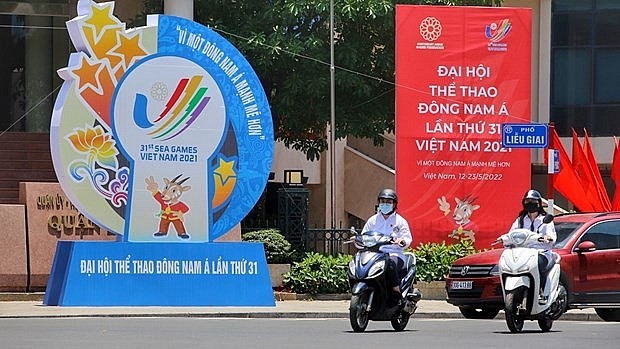 Signboards welcome SEA Games 31 in Hanoi. Photo: VNA
Press agencies have been asked to increase SEA Games 31 coverage to promote the landscapes and people of Vietnam to Southeast Asian friends, and train volunteers.
The subcommittee has devised communication plans before, during and after the regional sporting event, cited VNA.
It will join hands with relevant agencies to roll out tourism promotions and campaigns aiming to reduce plastic waste during the Games.
SEA Games 31, themed "For a stronger South East Asia", will be held in Hanoi and 11 neighboring provinces and cities from May 12 to 23.
It will feature 40 sports with 526 events and is expected to attract around 10,000 participants. The biennial event was initially slated for late 2021, but was delayed due to Covid-19.
Vietnam closely monitors acute hepatitis of unknown aetiology
The Ministry of Health on May 6 requested the local health sector to strengthen surveillance for early detection of acute hepatitis of unknown aetiology which has been reported in approximately 20 countries globally.
More than 200 cases of acute hepatitis of unknown aetiology have been recorded in 20 countries in Europe and East Asia, South Asia, Western Pacific, since the first cases were detected in the United Kingdom in early April. Four of them have died of the disease dubbed mysterious hepatitis.
The disease occurs in children from 1 month to 16 years old with major symptoms like jaundice, diarrhoea, vomiting and abdominal pain. Most patients recover completely, however, there are some severe cases, and nearly 10% of cases require liver transplantation.
Currently, Vietnam has not recorded any such cases. However, the Ministry of Health does not rule out the possibility that the disease could enter the nation, cited VOV.
The Preventive Medicine Department under the Ministry of Health asked the regional Institutes of Hygiene and Epidemiology and Pasteur Institutes to closely monitor the situation and implement measures to limit the number of cases and deaths if the disease is reported in Vietnam.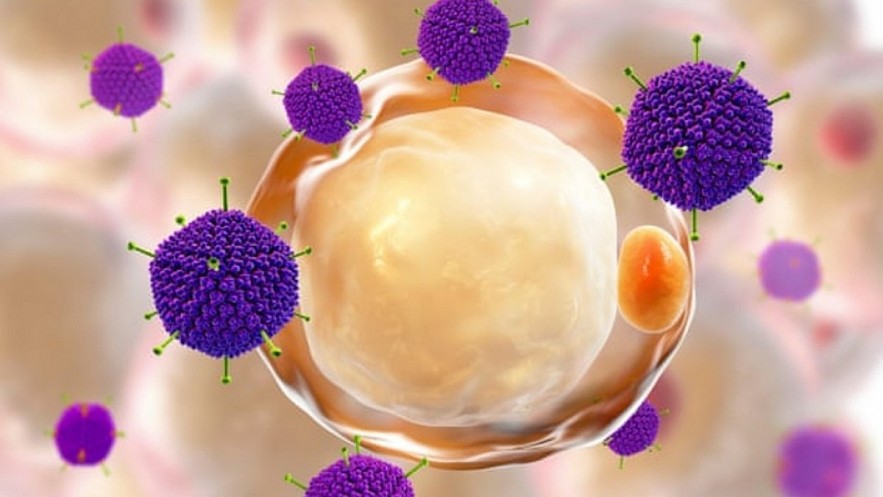 Simulated adenovirus has been found in some child patients contracting the mysterious hepatitis. Photo: the Guardian
Newborns, children under one year of age, and high-risk groups should be vaccinated against hepatitis B to prevent the disease, the department said in its dispatch.
According to the World Health Organization, laboratory testing has excluded hepatitis type A, B, C, and E viruses (and D where applicable) in these cases while severe acute respiratory syndrome coronavirus type 2 (SARS-CoV-2) and/or adenovirus have been detected in several cases.
The WHO has not recommended travel and trade restrictions with the United Kingdom and other countries where acute hepatitis cases have been detected.