Vietnam News Today (May 11): Vietnam Highlights Significance of Peace in Global Development
Vietnam News Today (May 11): Vietnam supportive of relations between US and ASEAN partners; Vietnam highlights significance of peace in global development; Google Doodle celebrates late Vietnamese doctor's 110th birthday; Aviation busy again in April.
Vietnam News Today (May 11) notable headlines
Vietnam supportive of relations between US and ASEAN partners
Vietnam highlights significance of peace in global development
Google Doodle celebrates late Vietnamese doctor's 110th birthday
Aviation busy again in April
Quang Binh conducts attractive tourism programs to welcome SEA Games 31
Seminar seeks to remove obstacles for Vietnam-Cambodia logistics activities
Export turnover exceeds US$120 billion with high trade surplus
EVFTA contributes to pushing up steel exports to EU market
Vietnam International Fashion Week set for HCM City return in late May
Vietnamese Ambassador to the US Nguyen Quoc Dung. Photo: VOV
Vietnam supportive of relations between US and ASEAN partners
The nation is an active contributor to co-operation frameworks and mechanisms between ASEAN and the US, Vietnamese Ambassador to the US Nguyen Quoc Dung said in a recent interview given to a Washington-based VOV correspondent regarding Vietnamese contributions to promoting joint ties.
Prime Minister Pham Minh Chinh and other ASEAN leaders are scheduled to attend a special ASEAN-US summit marking the 45th anniversary of relations between the two sides in Washington D.C. from May 12 to May 13.
Along with celebrating the 45th anniversary of mutual relations, ASEAN leaders and President Joe Biden will discuss a range of measures which seek to step up co-operation across multiple of fields, such as Covid-19 response, global health security, climate change, maritime co-operation, and education.
According to details given by the Ambassador, this conference indicates the US's importance to the Asia-Pacific region, as well as the role of the bloc as part of the US strategy for the region.
The latest meeting will provide a prime opportunity for leaders to present, introduce, as well as consult each other on the development direction moving forward. Such exchanges between leaders are very important and their results will certainly contribute to shaping the relationship between both sides in the future, as well as each side's policies towards the region and each other, Ambassador Dung went on to say.
Regarding Vietnamese contribution and role as part of US-ASEAN relations over recent times, the Vietnamese diplomat said the country has always supported the development of greater relations with ASEAN partners, including the US as the superpower represents a very important partner for the regional bloc, cited VOV.
"The country has always made a very active contribution to ASEAN, towards the external relations of ASEAN, including the US. Vietnam also supports ASEAN's upgrading of its relations with the US in 2015 and in the coming time, when the relationship is further enhanced, Vietnam will certainly support that. Within many cooperation frameworks and mechanisms between ASEAN and the US, Vietnam is also a very active member contributing to the process. We have always encouraged the active participation of the US in the region, as well as the US involvement that brings stability, peace, and respect for international law in the region. In the coming time, I think Vietnam will go ahead with this trend," Ambassador Dung stated.
According to Ambassador Dung, priorities during the working visit of the Vietnamese delegation to boost bilateral activities with the US, apart from attending the ASEAN-US Summit, will see PM Chinh run a host of bilateral activities with the US Government and US Congress involving American businesses and scholars. The Vietnamese PM will also meet with Vietnamese community representatives in the US and senior officials of the UN.
"It can be said that this visit is both multilateral and bilateral goals. The Vietnamese Government chief is also scheduled visit a number of high-tech US facilities. This important visit will have many effects for Vietnam's relations with ASEAN, ASEAN relations with the US as well as bilateral relations between Vietnam and the US," he added.
Vietnam highlights significance of peace in global development
Vietnam has highlighted the significance of maintaining peace for the promotion of global development at the high-level virtual meeting of the Group of Friends of Global Development Initiative (GDI), which was held in New York on May 9 with the theme "Deepening Cooperation under Global Development Initiative for Accelerated Implementation of the 2030 Agenda".
The event was attended by UN Secretary-General Antonio Guterres, State Councilor and Foreign Minister of China Wang Yi, and Under-Secretary-General for Economic and Social Affairs Liu Zhenmin, among others.
Addressing the event, Ambassador Dang Hoang Giang, Permanent Representative of Vietnam to the UN, underlined that without peace, SDGs will not be achieved, adding that maintaining peace and stability is a prerequisite for post-pandemic recovery and development.
The Vietnamese representative stressed the need to uphold the spirit of peace, cooperation, transparency, openness, inclusiveness, equality and mutual benefit, and the respect to the principles of the UN Charter and international law, taking into account interests and cultural diversity of member countries.
Ambassador Giang said developed countries should strengthen support to developing ones in terms of science-technology, digital technology, infrastructure development, capacity improvement and financial resources. The diplomat highlighted the role of the UN development system in sharing knowledge and expertise to assist developing countries in implementing the 2030 Agenda.
Participants at the meeting. Photo: UN
Regarding the operation of the Group of Friends in the time to come, Ambassador Giang held that the concerns and interests of the member countries should be fully considered during the negotiation and decision-making processes. At the same time, in order to achieve substantial outcomes, the group should consider a number of priority areas to focus on for each year, he said.
The Friends of Global Development Initiative was established in January 2022 at the proposal of China, with 53 members, to accelerate the implementation of the 2030 Agenda, according to VNA.
Speaking at the event, Wang called for close coordination of all countries to implement the GDI and resume global cooperation for the 2030 Agenda, along with the creation of favorable conditions for development and the reform of the global governance system to strengthen the representation of developing countries and promoting the building of an open economy. In addition, developed countries also need to fulfill their commitments to support development and scale up financial and technological support to developing countries, he said.
Guterres expressed his belief that the GDI will help speed up the realization of SDGs through the reform of the global financial system, climate change response and green transformation commitments, and the promotion of peace and human rights and re-commitments to multilateralism.
Google Doodle celebrates late Vietnamese doctor's 110th birthday
Google Doodle, a temporary logo displayed on the Google homepage, featured Dr Ton That Tung on May 10 to mark the occasion of his 110th birth anniversary.
Dr Tung is a Vietnamese innovative surgeon who revolutionized the approach to liver resection surgery for doctors around the world.
He was originally born in the central province of Thua Thien Hue province in 1912, a time when the French colonial government forbade local people from pursuing advanced medical education.
According to Google, as an adult Dr. Tung protested this harsh policy and launched an equal education movement. His efforts eventually forced the colonial government to permit Vietnamese students to take residency admissions exams in 1938.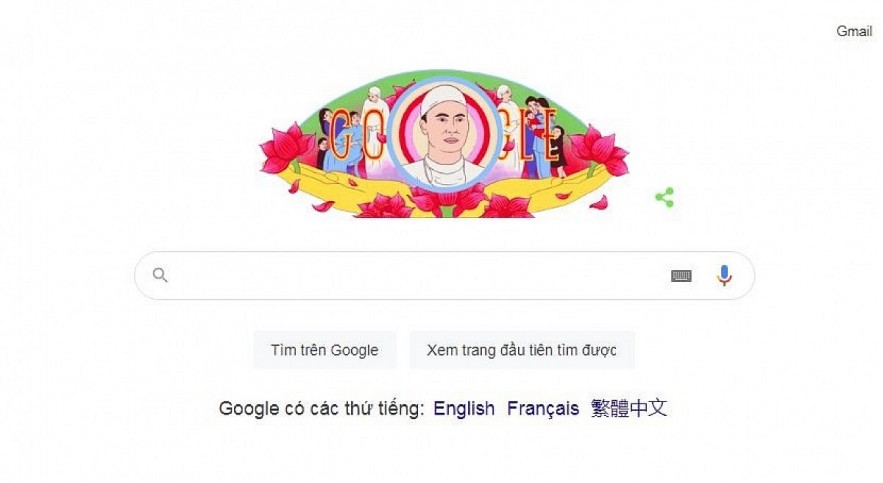 A Doodle of Dr. Ton That Tung on Google's homepage on May 10. Photo: VOV
During his four years of postgraduate school, Dr Tung dissected more than 200 livers and became the first person to conduct such meticulous research on the organ. His deep knowledge of the liver anatomy helped him to realize that the traditional approach to liver surgery, a method that typically took three to six hours to complete, was both unnecessarily risky and cumbersome.
The Vietnamese doctor was able to discover a new surgery method that minimized bleeding by tightening the hepatic veins before the operation, thereby shortening the operation down to only four to eight minutes.
His groundbreaking technique, commonly referred to as the "Ton That Tung Method," is renowned among surgeons globally for its ability to reduce blood loss, with this method saving countless lives, reported VOV.
"Happy birthday Dr. Ton That Tung! Thank you for pushing the boundaries of surgery to change the medical field forever," says Google.
This marks the fourth time that a famous Vietnamese figure has been featured on the homepage of the world's most popular search engine.
Google Doodle previously honored late Vietnamese songwriter Trinh Cong Son on his 80th birthday, late Vietnamese painter and artist Bui Xuan Phai on his 99th birthday, and late female poet Xuan Quynh on her 77th birthday.
Aviation busy again in April
Domestic airlines operated 30,000 inbound and outbound flights in April, down 2.4 percent year on year, including 12,000 transit flights, a rise of 25 percent over the same period last year, according to the Civil Aviation Authority of Vietnam (CAAV).
In the month, Vietnam's airports handled 6.6 million passengers, down 14.3 percent compared to the same time last year, including 232,000 foreigners, a surge of 502 percent compared to April 2021 when Covid-19 was developing complicatedly in Vietnam and the world.
Vietnamese airlines transported 3.28 million passengers, including 80,000 foreigners, cited VNA.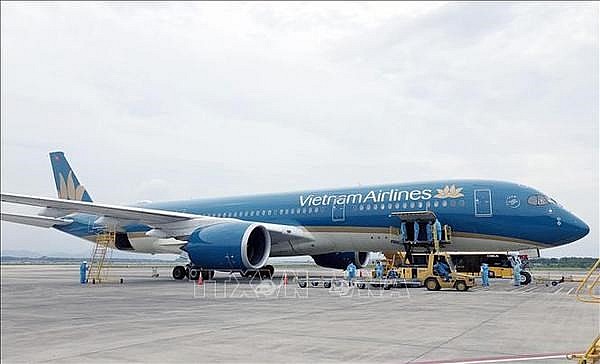 Illustrative image. Photo: VNA
Compared to the same period last year, the number of international passengers choosing services of Vietnamese airlines rose 214.7 percent, while the number of domestic passengers dropped 18.2 percent.
As for cargo transport, in April, 140,700 tonnes of cargo were transported through Vietnam's airports, up 18.4 percent year on year. Of this, 27,000 tonnes were transported by domestic airlines.
In April, the CAAV applied measures to ensure aviation security and safety. From March 16 to April 15, the authority handled 17 individuals violating aviation regulations with fine of VND110.75 million (US$4,817).
Quang Binh conducts attractive tourism programs to welcome SEA Games 31
Quang Binh Province will work with Vietnam National Administration of Tourism (VNAT) to carry out many attractive tourism programs during the second international media conference of the 31st Southeast Asian Games (SEA Games 31), which will be held in Hanoi.
Director of the Quang Binh Provincial Department of Tourism Nguyen Ngoc Quy introduced the tourist attractions and magnificent landscapes in the land of caves, especially the World Natural Heritage of Phong Nha-Ke Bang.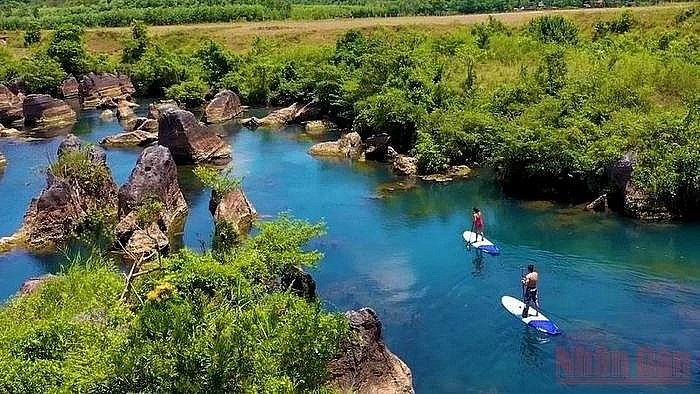 Kayaking on Chay river in Quang Binh. Photo: NDO
On the occasion of SEA Games 31, Quang Binh will present several special gifts to international athletes, coaches and reporters attending the games such as two vouchers from Oxalis Adventure to explore Son Doong – the largest cave in the world– for the most outstanding athletes.
In addition, 3-day 2-night tours around Quang Binh Province worth a total of VND300 million will be presented to 50 international reporters to the SEA Games 31, reported NDO.
The coaches and athletes who bagged gold medals in Karate sports will receive tours to Quang Binh and Cha Loi Cave from Netin Travel.
The business and service accommodations in the province will provide coaches and athletes who win gold medals with special promotional programs.
During the propaganda campaign, the programs to promote Quang Binh tourism will be also introduced via digital platforms.