Vietnam News Today (May 16): Vietnam Firm on Top of SEA Games 32 Tally with 107 Golds
Vietnam News Today (May 16): Vietnam, Bangladesh agree to build a long-term vision for bilateral ties; Vietnam firm on top of SEA Games 32 tally with 107 golds; Vietnam underlines strengthening connectivity in Indian Ocean; Foreign invested sector - important growth driver of Vietnam: official.
Vietnam News Today (May 16) notable headlines
Vietnam, Bangladesh agree to build a long-term vision for bilateral ties
Vietnam firm on top of SEA Games 32 tally with 107 golds
Vietnam underlines strengthening connectivity in Indian Ocean
Foreign invested sector - important growth driver of Vietnam: official
Death rate from Covid-19 higher than from other infectious diseases in Vietnam
Canada to promote its foods online to reach Vietnamese consumers
Vietnam logs nearly 2,000 new COVID-19 cases on May 15
Vietnam, Bangladesh organise second political consultation
Vietnam Festival 2023 to take place in Japan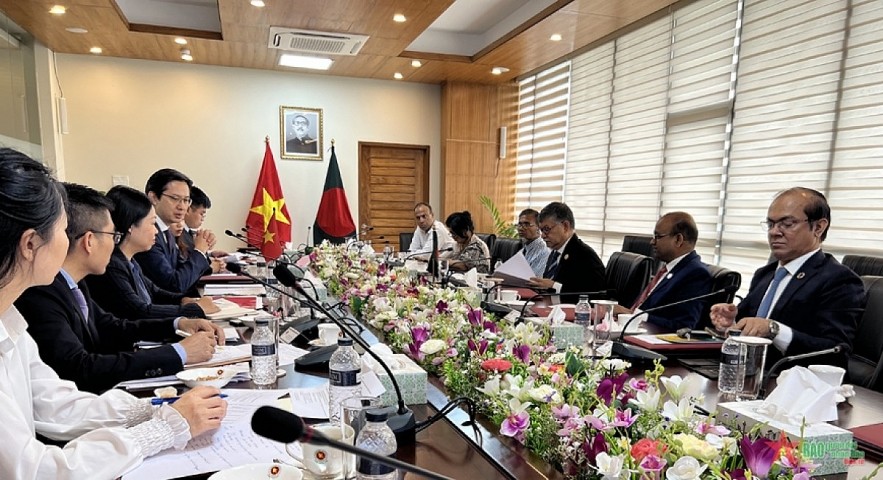 At the meeting. Photo: Ministry of Foreign Affairs
Vietnam, Bangladesh agree to build a long-term vision for bilateral ties
Deputy Foreign Minister Do Hung Viet and his Bangladeshi counterpart Masud Bin Momen have recently co-chaired the second Vietnam-Bangladesh political consultation in the Bangladeshi capital of Dhaka.
During the course of the meeting, the two sides compared notes regarding the situation, setting out the strategies and orientations for socio-economic development in each country, as well as discussing a range of measures aimed at strengthening bilateral ties across a multitude of fields and regional and international issues of mutual concern.
They agreed that both sides share a history of national liberation struggles and now have many things in common in the process of economic development, thereby enabling them to share experience, whilst learning and supporting each other.
After 50 years since the establishment of diplomatic relations on February 11, 1973, the friendship between the two sides has always been strong, with both countries' leaders and people always giving friendly feelings based on high political trust, which serves as a solid foundation for boosting co-operation in multiple fields.
On that basis, the two sides consented to work together in a bid to build a long-term vision for their relations, intensify the exchange of high-level visits, strengthen regular meetings of existing co-operation mechanisms, and consider soon restarting and upgrading the joint committee on economic, cultural, scientific, and technical co-operation in the coming time.
They concurred to step up linkages in the fields of defence - security, economy - trade and investment, education, agriculture, fishery and animal husbandry, cultural exchanges, and tourism.
Both sides will co-ordinate and prompt relevant ministries and sectors to review and extend a number of co-operation documents, cited VOV.
Both diplomats highlighted the huge potential that exists to achieve stronger economic co-operation in the future, with Bangladesh currently being the second largest Vietnamese trading partner in South Asia, with trade between the two sides increasing fourfold over 10 years, from about US$350 million in 2012 to approximately US$1.5 billion in 2022. The aiming is to achieve the trade target of US$2 billion and beyond, as set by the two countries' leaders.
The officials underlined the need to enhance closer ties in urging relevant ministries, sectors, and business communities of the two countries to increase the exchange of trade promotion delegations, explore markets, as well as researching products and fields in which the two sides boast great potential.
The two sides are therefore set to accelerate the opening of direct flights connecting the two countries as a means of creating favourable conditions to strengthen links and exchanges.
Bangladesh suggested that the Vietnamese side consider investing in Bangladeshi industrial and software technology parks, while affirming that there will be many incentives for Vietnamese investors. The South Asian country hailed Vietnam for increasing exports of key products to the Bangladeshi market, such as agricultural machinery, raw materials, household goods, electronics, and processed agricultural and aquatic products.
Both Deputy FMs shared the spirit of trust and openness about the current regional and international situation, as well as climate change-related issues, disaster management and mitigation, water security, energy security, and migration.
The two sides highly appreciated the central role of ASEAN in solving regional problems, with Bangladesh affirming its desire to augment ties with ASEAN and is actively implementing substantive co-operation activities with the regional bloc in a bid to speed up the process of becoming ASEAN's dialogue partner.
They consented to bolster links at regional and international forums, support each other's candidacy, as well as share views at forums of developing countries such as the Non-Aligned Movement, and South-South co-operation in order to strengthen the voice, promote solidarity, and self-reliance of countries in the region.
This comes after Deputy Foreign Minister Do Hung Viet paid a courtesy visit on May 13 to State Minister for Foreign Affairs of the People's Republic of Bangladesh Shariar Alam. Vietnam congratulated the Bangladeshi Ministry of Foreign Affairs in general and State Secretary Shariar Alam personally for successfully chairing the sixth Indian Ocean Conference (IOC).
He assessed that the conference had achieved important results which have contributed to the process of peace, co-operation, and trust-building in the Indo-Pacific region.
Minister Alam expressed his pleasure that the two foreign ministries resumed the Political Consultation after a six-year hiatus, while emphasising that amid many regional and international challenges, both sides must strengthen ties to take their relations to new heights moving forward
The two countries need to co-ordinate closely, offer mutual support, and actively contribute to common regional and international issues, he added.
Vietnam firm on top of SEA Games 32 tally with 107 golds
Vietnamese athletes on May 14 won an additional 20 gold medals at the ongoing 32nd Southeast Asian Games (SEA Games) in Cambodia, raising their total golds to 107 and consolidating their top position.
On the day, divers brought home five gold medals in the men's and women's singles and teams.
Nguyen Tran San San once again broke the SEA Games record in women's 800 m surface, clocking 7 minutes and 13.91 seconds, after breaking abitger in the women's 400m surface a day earlier. Following San's May 14 gold, the Vietnamese diving team won four others.
After striking a hat-trick on May 13, Vietnamese Aerobic athletes continued to grab two more gold medals in the duo and group performances, according to VNA.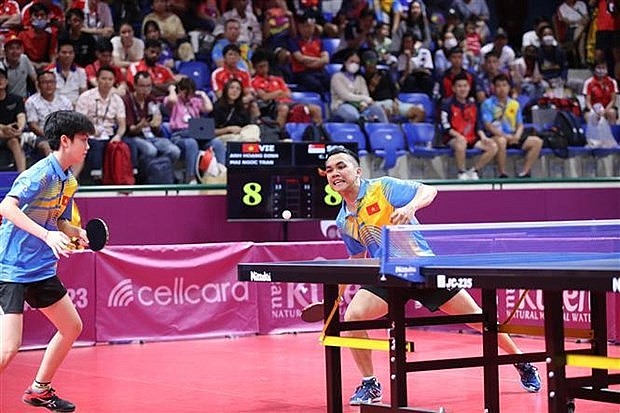 Table tennist players Dinh Anh Hoang (right) and Tran Mai Ngoc at the SEA Games 32. (Photo: VNA)
Fencers, Judokas, and wrestlers also have two more gold medals in each sport.
Other gold medals were won by Vietnam in weightlifting, rowing, table tennis, and Chinese chess.
On the tally, Vietnam is followed by Thailand with 90 and Cambodia with 67 gold medals.
Vietnam sent a 1,003-strong sports delegation to the SEA Games 32, about 700 of them athletes.
Competing in 31 sports events, the Vietnamese team aims to bring home 90-120 gold medals and enter the top three.
SEA Games 32 is held in Phnom Penh, Siem Reap, Preah Sihanouk, Kampot, and Kep in Cambodia from May 5 and will be closed on May 17.
Vietnam underlines strengthening connectivity in Indian Ocean
Deputy Foreign Minister Do Hung Viet joined with 300 senior officials, researchers, and scholars from more than 30 countries worldwide to attend the sixth Indian Ocean Conference (IOC) in Dhaka, Bangladesh, which took place from May 12 to May 13.
As part of his address at the plenary session, the Vietnamese official shared his assessment of the situation in the Indian Ocean and Asia-Pacific regions, especially major challenges facing the region due to the impact of conflicts, disputes, and strategic competition among major powers, as well as non-traditional security issues.
He conveyed a three-point message for a peaceful, prosperous, and solid future of the region, underscoring the necessity of building an open and inclusive regional architecture based on fundamental principles of international law with ASEAN playing the central role. This is along with strengthening mutual understanding and respect, building trust and conducting an independent and self-reliant foreign policy amid competition among major powers; as well as promoting ties, especially maritime co-operation, through bilateral and multilateral mechanism and a comprehensive approach.
The Vietnamese representative also stressed the importance of respecting and complying with international law, especially the 1982 UN Convention on the Law of the Sea (1982 UNCLOS); and the necessity of respecting the sovereignty, sovereign rights, jurisdiction, and legitimate maritime interests of each country in accordance with international law. This is in addition to resolving disputes and differences through peaceful measures in line with international law, VOV reported.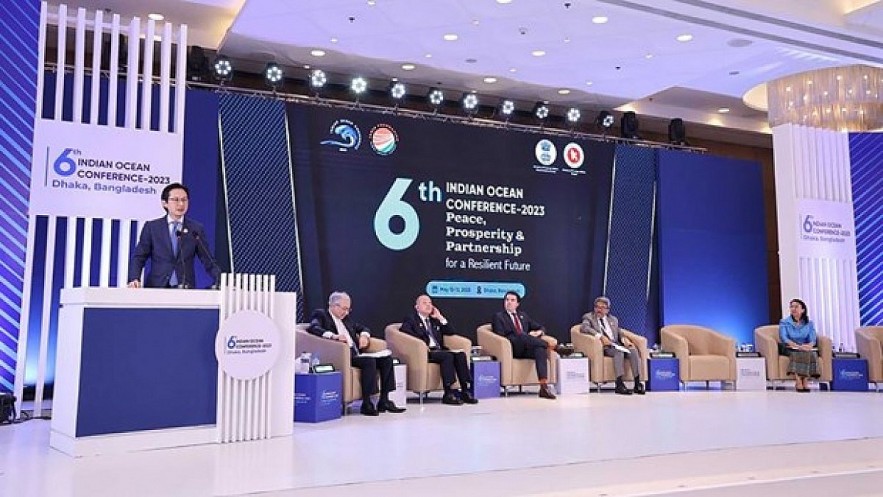 Deputy Foreign Minister Do Hung Viet addresses the conference's plenary session (Photo: VNA)
The Vietnamese diplomat therefore applauded ASEAN's efforts in implementing the Declaration of the Conduct of Parties in the East Sea (DOC) and building a substantive and effective Code of Conduct in the East Sea (COC) in accordance with international law.
He proposed boosting co-operation and connectivity among countries in the Indo-Pacific region, especially with ASEAN member countries, thereby promoting sustainable development and turning the blue-sea economy into a motivation for sustainable and inclusive economic growth, along with addressing non-traditional challenges.
In the framework of the conference Deputy FM Viet held bilateral meetings with State Minister for Foreign Affairs of Sri Lanka Tharaka Balasuriya, Australian Assistant Minister for Foreign Affairs Tim Watts, and Secretary (East) of the Indian Ministry of External Affairs Saurabh Kumar.
During their meeting, FM Viet and Minister Balasuriya affirmed that Vietnam and Sri Lanka will continue to co-ordinate and support each other at international forums, agreeing to soon organise meetings of important bilateral co-operation mechanisms; step up links on Buddhism and spiritual tourism; consider the opening of air routes connecting the two countries; and seeking solutions to expand two-way trade and investment in the time ahead.
Meeting with Minister Viet, Assistant Minister Watts affirmed that ties with Vietnam remain Australia's priority in both bilateral and multilateral frameworks. In response, the Vietnamese official suggested the two countries fully tap into the growth momentum of bilateral trade; facilitate links in agriculture, labour and tourism; and expand co-operation to new areas of mutual benefit such as climate change response, digital economy, and energy transition.
During his meeting with the Indian official, Deputy FM Viet affirmed the unwavering Vietnamese policy of attaching importance to the traditional friendship and comprehensive strategic partnership with India. He suggested that the two sides strengthen the exchange of high-ranking delegations, bolster links in trade, investment, tourism, culture, people-to-people exchanges, and security - defence; as well as working closely to co-ordinate at multilateral forums.
Minister Kumar said India will continue to further expand co-operation with Vietnam, especially in trade, oil and gas, and defence, and at international forums.
Running with the theme of "Peace, Prosperity & Partnership for a Resilient Future", the sixth IOC discussed issues related to politics, economy, security, environment, and climate change, contributing to creating a premise for countries in and outside the region to promote co-operation, towards building an environment of peace, development, and prosperity.
Foreign invested sector - important growth driver of Vietnam: official
With the increasing project number and investment value, foreign invested enterprises have become a dynamic sector and an important growth driver for the Vietnamese economy, said Deputy Minister of Planning and Investment Do Thanh Trung.
With open policies and a favourable, stable, and increasingly improved business climate, Vietnam is one of the leading countries and has obtained many major achievements in foreign investment attraction, he told a workshop held by the Vietnam Investment Review in Hanoi on May 15.
Over the last 35 years, the foreign invested sector has always been considered an important part of the Vietnamese economy and given conditions by the Party and State to develop, cooperate, and compete healthily and fairly with other economic sectors, the deputy minister noted.
As of the end of April, Vietnam attracted nearly 446 billion USD in foreign investment, 280 billion USD of which had been disbursed, statistics show.
As of the end of April 2023, Vietnam attracted nearly 446 billion USD in foreign investment, 280 billion USD of which had been disbursed. (Photo: VNA)
Despite impacts of the COVID-19 pandemic, Vietnam was still among the 20 biggest recipients of foreign investment in 2020 as reported by the UN Conference on Trade and Development (UNCTAD). This proves Vietnam's successes in attracting external resources, Trung said.
The foreign invested sector has made substantially contributions to the country's integration into the world, expansion of relations with other countries, and promotion of its position and role in the region and the world, he went on.
Vietnam is still assessed as an attractive investment destination, he said, citing a recent survey by the Japan External Trade Organisation (JETRO) which revealed that 60% of Japanese firms plan to expand operations in Vietnam in the next one or two years. Meanwhile, European investors rank Vietnam fifth among the leading global investment places.
Choi Joo-ho, General Director of Samsung Vietnam, said Samsung has invested in the country since 2008 and is now present in many localities like Thai Nguyen, Hanoi, and Bac Ninh.
As of 2022, the Korean group had poured 20 billion USD into Vietnam and created about 300,000 jobs. In particular, half of the Samsung mobile phones exported globally is produced in the country, cited VNA.
However, the UNCTAD report also pointed out that competition in foreign investment attraction among developing countries will become fierce, especially amid a forecast decline in foreign investment flows in 2023 and an increase in investment demand for post-pandemic recovery and development.
To attract more foreign direct investment (FDI), many foreign firms recommended Vietnam continue building a transparent, predictable, and optimal investment and business climate. Samsung Vietnam held that foreign investors should also boost social activities and contribute more to local economic growth.
Deputy Minister Trung said aside from measures for keeping macro-economic stability, improving infrastructure, and developing human resources, Vietnam will also carry out others, including promoting an ecosystem for science, technology, and innovation, devising a flexible management mechanism, developing a strong domestic sector able to cooperate with the foreign invested one, and focusing on high and new technologies, modern services, the manufacturing industry, information technology, and financial services.
The country will also bring into play its internal strength and competitive edges to enhance the ties between the domestic and foreign invested sectors so as to secure sustainable economic development, he added.
Death rate from Covid-19 higher than from other infectious diseases in Vietnam
The rate of people dying from Covid-19 in Vietnam is at 0.37 percent, still higher than the rate from other infectious diseases which is at 0.09 percent, said a senior health official.
According to Dr. Nguyen Trong Khoa, Deputy Director of the Department of Medical Examination and Treatment under the Ministry of Health, although the daily number of new Covid-19 cases is still high, the death rate from Covid-19 has decreased very low compared to the previous period, especially in 2021.
Even so, the death rate from Covid-19 is at 0.37 percent, still higher than the rate from other infectious diseases which is at 0.09 percent. Therefore, in order to reduce mortality, it is necessary to continue to be vigilant in addition to detecting cases early and improving the capacity of the resuscitation system and limiting cross-infection in hospitals.
The Ministry of Health yesterday said that during the week, the country recorded more than 15,600 new Covid-19 cases, an average of about 2,234 cases a day including five deaths. On average, the number of deaths recorded in the past 7 days was one death a day. Worse, about 100 severe Covid-19 patients are still requiring supplemental oxygen and being monitored closely in the country, SGGP reported.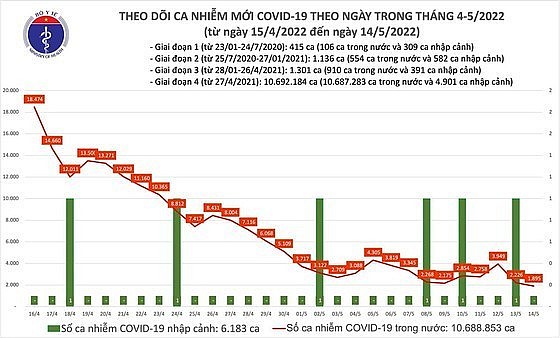 Photo: MoH
Meanwhile, Associate Professor Duong Thi Hong, Deputy Director of the National Institute of Hygiene and Epidemiology, said that Covid vaccine immunity is waning over time; similarly, Covid-19-infected people's immunity will reduce gradually. Therefore, she advised people in high-risk groups including people with diabetes, heart and lung conditions, weakened immune systems, kidney disease and more need to get booster vaccines to prevent disease.
In the coming time, the health sector will integrate Covid-19 vaccine vaccination into the national expanded vaccination program; however, medical workers don't administer regular injections, but each health station will have 3-4 sessions of Covid-19 vaccination a month.