Vietnam News Today (May 13): Online Apple Store to be Inaugurated in Vietnam Next Week
Vietnam News Today (May 13): Vietnam, Cuba see ample room for trade-investment cooperation; Online Apple Store to be inaugurated in Vietnam next week; Vietnam carries out sustainable prevention of COVID-19: expert. Searches for Vietnamese tourism rise globally.
Vietnam News Today (May 13) notable headlines
Vietnam, Cuba see ample room for trade-investment cooperation
Online Apple Store to be inaugurated in Vietnam next week
Vietnam carries out sustainable prevention of COVID-19: expert
Searches for Vietnamese tourism rise globally
Da Nang mountain among Asia's most scenic: Microsoft Travel
HCM City, Cuba partner in agricultural development
Vietnam wushu team claim three more gold medals
Vietnam calls for stronger int'l cooperation to help middle-income countries achieve sustainable development
Vietnam still tops SEA Games medal standings on May 11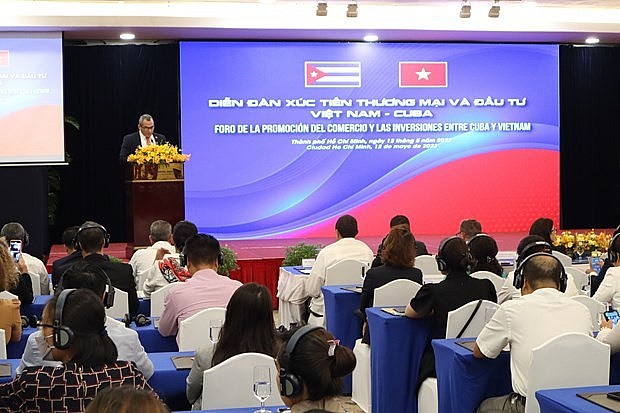 At the forum (Photo: VNA)
Vietnam, Cuba see ample room for trade-investment cooperation
There is lots of room available for Vietnam and Cuba to step up commerce and investment cooperation, especially in farming and food processing, heard a forum promoting trade between the two countries held in Ho Chi Minh City on May 12.
Vietnam is currently Cuba's second biggest trade partner and biggest foreign investor in Asia. Bilateral trade value ranged between 250 and 350 million USD in the 2015-2020 period, with Vietnam running five projects in Cuba. Meanwhile, the Caribbean country has conducted a project on producing bio-products in Vietnam, cited VNA.
Duong Anh Duc, Vice Chairman of the HCM City People's Committee, said boosting the economic relationship to be on par with the political and diplomatic ties is a key mission agreed by leaders.
Regular trade-investment promotion programmes and exchanges of business delegations will enhance mutual trust and connectivity and help Vietnamese firms seek investment opportunities in the Cuban market, he noted.
Deputy Minister of Agriculture Maury Hechavarria Bermudez said Vietnamese and Cuban leaders' agreement on increasing economic cooperation has so far been translated into specific actions, particularly the promotion of new investment projects in Cuba's farm produce and food production sectors.
Cuba wishes to strengthen joint work with Vietnam in producing rice and coffee products, manufacturing machinery for agricultural production, expanding export markets, attracting financial investment, and promoting research and development of new energy, the official stated.
He affirmed that Cuba is committed to assisting investors with special tax incentives, human resources, infrastructure, and technology.
At the forum, the Cuban Ministry of Agriculture introduced 54 priority projects to attract investment, with Cuban businesses calling on able investors to supply seed materials, fertilizers, pesticides, and agricultural machinery serving cooperation in production and productivity improvement.
Online Apple Store to be inaugurated in Vietnam next week
Apple is scheduled to officially open an online store, the first of its kind in Vietnam, on May 18, Apple Vietnam has said in its statement.
Apple said it will provide all of its products and the Vietnamese language service directly for customers nationwide.
The online store will provide customers with the same superior services and personalized support as Apple Stores worldwide do. Accordingly, the online store will have a team of experts who are ready to share expertise in Vietnamese to support customers in need.
Apple is honoured to have the opportunity to expand in the Vietnamese market and provide its superior care and support for customers with the launch of the online Apple Store, said Deirdre O'Brien, Senior Vice President of Retail and People, at Apple.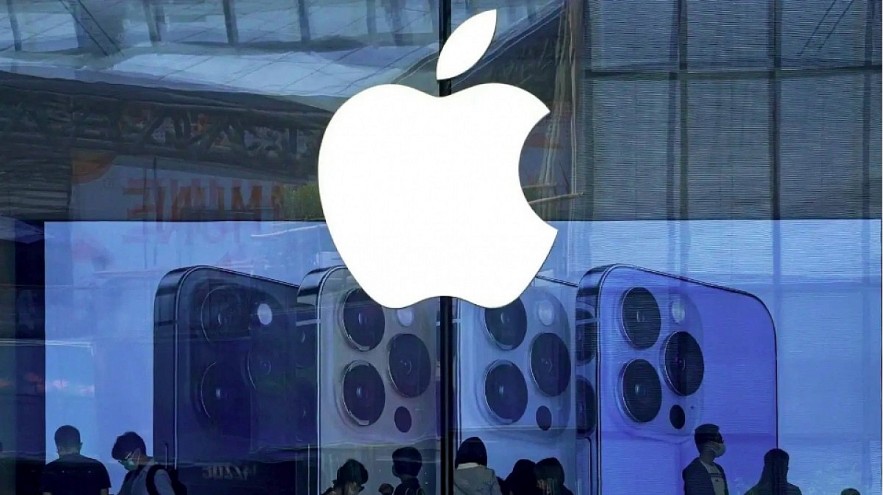 Vietnamese customers will be able to have access to Apple products and services when an Apple Store online is inaugurated on May 18. (Photo: markettimes.vn)
Retail experts says the inauguration of the online Apple Store in Vietnam paves the way for the tech giant to open its first physical store in the market in future, according to VOV.
Local consumers are expected to have soon access to official products when Apple will launch its iPhone 15 series in the coming time.
In Vietnam, Apple has so far worked with retail partners and distributors. The selling price of Apple products in the local market is floating according to market demand. Therefore, the official Apple store is where users can refer to the standard price, before deciding to buy.
Apple Inc. is an American multinational technology company headquartered in Cupertino, California. It is the world's largest technology company by revenue. Its major products are Macbook, iPhone, iPod, iPad, Apple Watch, Apple TV and Home Pod.
Vietnam carries out sustainable prevention of COVID-19: expert
The Ministry of Health is continuing to develop a sustainable response plan to the COVID-19 pandemic in the new situation, considering the context of dangerous new variants appearing.
The plan is also to strengthen integrated surveillance of COVID-19 and other respiratory infections.
The World Health Organisation (WHO) recently announced that COVID-19 is no longer a public health emergency of global concern. However, the WHO Director-General stressed that the declaration does not mean COVID-19 is no longer a threat or that COVID-19 is less dangerous, said Prof. Dr. Phan Trong Lan, Director of the Ministry of Health's Department of Preventive Medicine.
The WHO assessed the risk of COVID-19 as still high globally. Although the number of cases and deaths has decreased globally, there is still an increase in each region.
The SARS-CoV-2 virus itself is still changeable. At the beginning of April, WHO announced there were about 400-500 sub-variants of Omicron, but by early May, this number was 900, Lan said.
The organisation always reminds countries to be wary of emerging variations.
According to the director, currently, the pandemic is increasing in Southeast Asia, including Vietnam. Every day, Vietnam records about 2,000 COVID-19 cases, including deaths, one of ten post-COVID-19 related.
COVID-19 still burdens the health system, he noted.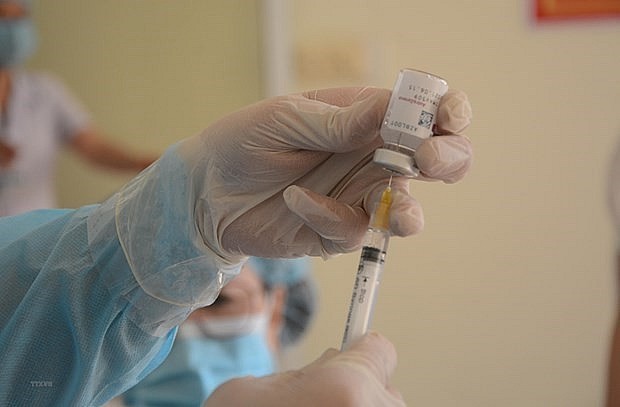 Vaccination is still the best way to control COVID-19 spreading out. (Photo: VNA)
Vietnam has appropriately responded to the epidemiological situation in each period. Since October 2021, Vietnam has switched to safe, flexible adaptation and effective control.
The Ministry of Health is to develop a sustainable response plan to the COVID-19 pandemic in the new situation.
In addition, the ministry diversifies disease surveillance activities to properly assess the epidemic situation to implement appropriate response measures, including key, regular, integrated, event-based and random monitoring.
Random surveillance at the border gate is not mandatory, but it still brings benefits to the community, so people need to coordinate, Lan said.
Regarding the question of when Vietnam will announce the end of COVID-19, Lan said that currently, the country no longer has travel restrictions. In contrast, the nature of SARS-CoV-2 can still travel on healthy people and cross administrative barriers.
Immunity to COVID-19 will decrease over time, and new waves may still emerge from one area to another, VNA reported.
Therefore, the COVID-19 pandemic is difficult to predict and unpredictable and has increased in each region.
Regarding the announcement, the Law on Prevention and Control of Infectious Diseases stipulates that epidemic announcement includes five contents; time, place, scope and scale; cause and transmission route and dangerous nature of the pandemic; prevention measures; and medical examination and treatment facilities.
With these five contents, it is still necessary to continue to publish data on the pandemic for relevant agencies and the people to understand helping to control the pandemic quickly, Lan said.
The Ministry of Health continues to recommend that people must maintain the 2Ks measures (wearing masks and disinfection), vaccines, medicines, and people's awareness in the long-term prevention and control of COVID-19, he added.
Searches for Vietnamese tourism rise globally
The volume of international searches for information on Vietnamese tourism has been increasing rapidly, ranking 11th in the world, the Vietnam National Administration of Tourism (VNAT) has reported.The administration noted that the index clearly shows a strong recovery for the country's tourism industry.
According to information provided by Google's market trend tracker tool, large volumes of searches for Vietnamese tourism information can be seen in the United States, Japan, Australia, Singapore, India, Thailand, France, Germany, the UK, and the Republic of Korea (RoK).
The 10 most searched international destinations include Ho Chi Minh City, Hanoi, Da Nang, Phu Quoc, Nha Trang, Hoi An, Da Lat, Hue, and Phan Thiet, VOV reported.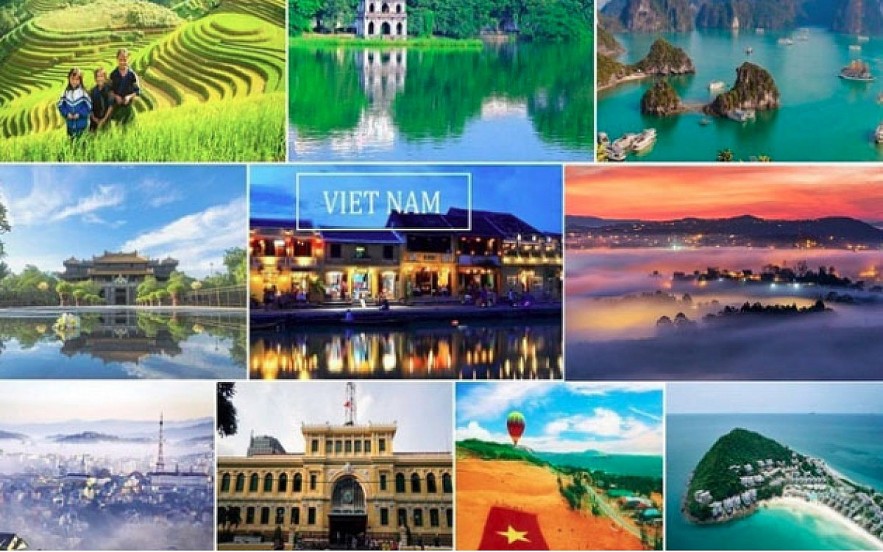 International search volume for Vietnam tourism ranks 11th in the world (Photo: Internet)
Vietnam welcome nearly 3.7 million international visitors in the first four months of the year, duly meeting nearly 50% of the annual planned target.
With these positive results coupled with the trend of growing demand, the VNAT says that the international tourism market continues to boast high potential for strong growth, especially during the peak season in the final months of the year.
Currently, the RoK makes up the largest market for Vietnamese tourism, followed by the US and China.
Da Nang mountain among Asia's most scenic: Microsoft Travel
The Microsoft Travel news site has listed the central coastal city of Da Nang City among the eight places with the best scenic mountain views in Asia.
It wrote: "To the west of the city is a hill station and resort called Ba Na Hills, where you can find the majestic Golden Bridge. You can take a cable car ride to and from the resort."
Ba Na Hills, around 25 kilometers from downtown Da Nang, lies 1,400 meters above sea level and has a complex of luxury resorts, theme parks, and amusement facilities.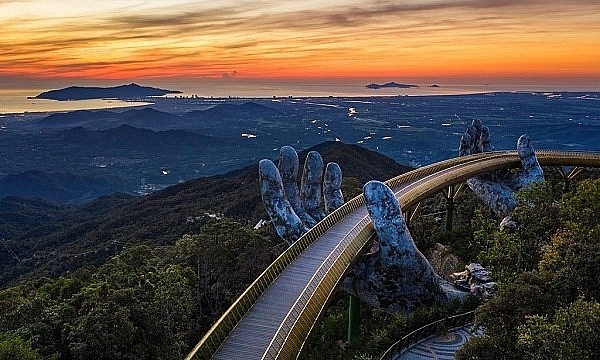 Golden Bridge in Da Nang city (Photo: danang.gov.vn)
In 2018, the 150-metre-long Golden Bridge, designed like giant hands from fiberglass and mesh wire, was built on Ba Na Hills and quickly became one of the tourism symbols of the city.
Another leading attraction in the city are the Marble Mountains, a cluster of five marble and limestone hills with pagodas on top and hidden caves with Buddhist shrines.
Other destinations in the list are India's Srinagar and Gangtok, China's Huangshan and Lhasa, the Philippines' Baguio, and Nepal's Kathmandu.